Your company has implemented an inbound marketing strategy and all indicators are positive. Your website is generating more traffic. You have converted some of this traffic into leads. Up until now, bravo…but here is where things get complicated. Are you prepared to process all these leads without burning out? Can your sales team keep up with the pace? And what if marketing automation was the solution?
01. What inbound marketing is (and isn't)
I'm guessing you already know what inbound marketing is? No? OK, for those of you who are less informed, here is the definition again:
Inbound marketing is a range of techniques that will:
1. attract visitors to your website (by offering them relevant content that addresses their concerns)
2. convert these visitors into leads (by using calls-to- action, landing pages, and forms
Recall the conversion tunnel: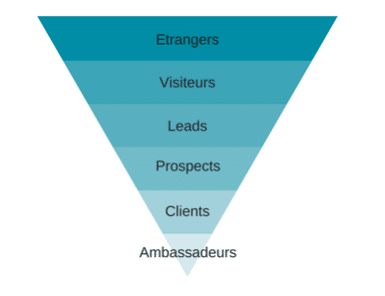 If you look at inbound marketing in the strictest sense, it concerns the first two stages: turning outsiders into visitors, and then visitors into leads. Its efficiency for these two has been proven. Companies that use inbound marketing generate on average 3 times the number of leads.
How then can we continue to advance leads through your tunnel? By offering targeted, personalized content that will bring them to further engage with you.
Here is where inbound marketing alone will hit its limits, for two reasons:
– Inbound marketing attracts "clusters" of visitors when you don't yet know if they meet your targeting criteria
– Inbound marketing generates leads who are not yet ready to buy
– Inbound marketing generates leads, but does not differentiate between hot and cold leads
– Inbound marketing does not directly encourage them to make decisions
In other words, inbound marketing helps leads find you. But that does not mean that you have found the leads you were looking for. You must still do a great deal of work to separate the wheat from the chaff. This work is even more tedious since you have multiplied your leads. Then, you must bring the most promising leads to the end of the tunnel.
So, marketing automation?
02. How marketing automation complements your inbound marketing strategy
By using a marketing automation tool alongside your inbound marketing strategy, you are acting on several steps of the conversion tunnel. Not only are you generating more leads, but you are also better equipped to convert these new leads into clients. Here are the different levers that marketing automation supports.
This is not always what you are most anticipating from your marketing automation solution, but it's always something gained. Inbound marketing, by itself, boosts lead generation. By optimizing data collection from your sites' forms, marketing automation reinforces lead generation.
Lead qualification is a major challenge which inbound marketing cannot handle alone. Just because someone downloads a whitepaper from your website does not necessarily mean they are a potential client for your product. It could just as well be someone curious, a student, or a competitor searching for information. Or an inquiring visitor whose profile does not correspond at all to your targeting criteria.
A marketing automation solution will automatically process the data collected from your inbound marketing actions to determine which profiles and which behaviors bring forth the highest conversion rates. Each lead will be given a dynamic score, and only the most qualified leads will be sent over to the sales team.
If inbound marketing alone cannot precisely qualify leads, it seems obvious, with good reason, that it cannot supply them with sufficiently personalized content to push them to conversion.
Within complex purchasing cycles in B2B, if you implement an effective inbound marketing strategy, you will have dozens, hundreds, even thousands of leads interacting with some or other of your content. These leads will be at different phases of the purchasing cycle, will adopt different behaviors, and may or may not be the final decision maker. You cannot continue to interact with them as if they are a homogenous group. At this stage, inbound marketing alone will no longer suffice.
Marketing automation will allow you to identify a lead's stage in the purchasing cycle and will use their activity history to determine the next relevant content that should be shared with them. You can then guide each lead individually to their own conversion path.
Regarding inbound marketing, certain KPIs are vital. With a marketing automation tool, you will have access to a dashboard to visualize all these indicators. Instead of isolated charts, you will have a real- time view of all your marketing actions and their efficiency. You will know at what point you need to make corrections. From this point of view, marketing automation will allow you to be reactive in your decisions in order to improve your ROI. This is also the perfect tool for showing your superiors the ROI of your actions.
Are you set up with inbound marketing? Have you become a lead generation pro? Don't get overwhelmed! By combining a marketing automation tool with your inbound marketing strategy, cherish your leads and guide them to the end of your conversion tunnel. Do you want to know more about marketing automation? Contact us for a free demo of the Plezi software…
You want to generate more leads, increase your sales and better manage your marketing actions ? What if you adopt a marketing automation solution ?

lire l'article

Wondering what can bring you inbound marketing software? Here are 5 unstoppable reasons to equip you.

lire l'article

Learn to become an ace of content marketing. These 8 tips will help you create and distribute content that is noticeable.

lire l'article