You've learned that content is the foundation of your inbound marketing strategy. So, before becoming an inbound marketing superhero, you should first learn how to become a content marketing superhero. Here are 8 tips that will help you create and publish content that will stand out.
What exactly is quality content ?
The other day, I was explaining to a marketing manager that in order to implement a fully-functioning inbound marketing strategy, you must first ensure that quality content is being produced. The client interrupted me: "OK, but what does that mean, quality content?"
How do we measure the quality of content? What makes one piece of content better than another? Of course, I could compile a list of KPIs to measure the efficiency of your content marketing. But let's discuss the essential – good content is:
– Content that is read: it must therefore be well-referenced on search engines and respond to the challenges of your personas.
– Content that generates engagement: it must live up to expectations, reflect your expertise in your field, and encourage the internet user to interact with you.
To succeed in content marketing is not just a matter of content creation. A formalized strategy must
be implemented, supported by a 4-step methodology: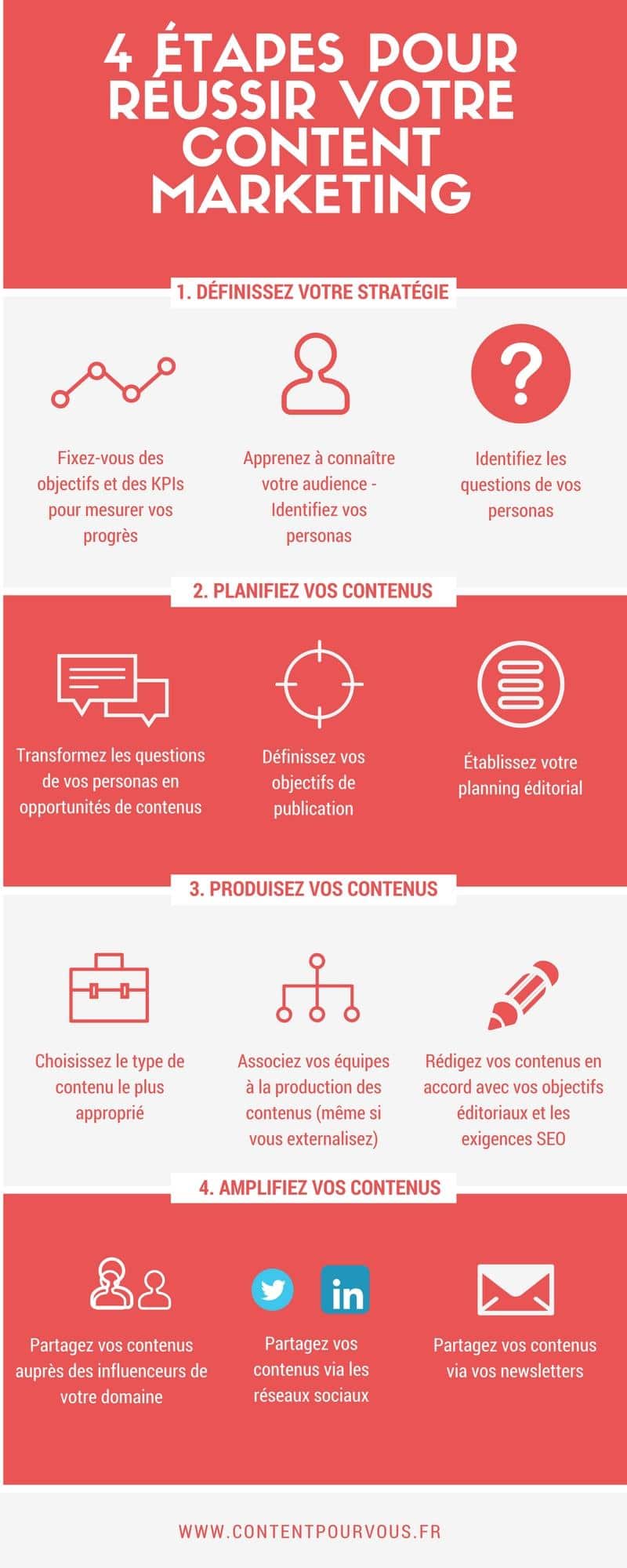 Once you master this method, you can optimize your content strategy by following the 10 tips that will allow you to stand out from your competitors.
It is impossible to create quality content if you don't know exactly who you are addressing. This is the golden rule of content marketing. If you don't define (or poorly define) your buyer personas, you are either crying out into the wilderness, or discussing steak tartare with vegetarians. In any case, whatever you do otherwise, your content will be off the mark.
Your content must meet your personas. It must resonate with them, with their areas of frustration, and their expectations. This means you must define who your personas are ahead of time. And then, you will have transposed their concerns into content opportunities. This will help you ensure that your content responds with relevance to the questions your target clients are asking themselves. And you know what? This is also good for SEO…
02. Use the right keywords
Creating SEO-compatible content ensures that your content is shown as high as possible on search engine results pages (SERP). Particularly on Google. Google algorithms are complex and evolve with each new update.
Their strong tendency is to favor relevant content in terms of user response. This brings us back to my first point. If you have clearly defined what your personas are looking for and what keywords they are using, you will have a better chance of being on the same track as Google.
Nevertheless, do not rely only on your intuition. There are very good tools for SEO and keyword research. Personally, I use Yooda Insight to create a list of keywords that relate to my target clients' challenges. Insight allows you to consult the keywords used by your competitors.
03. Create sufficiently long content
Among the criteria of Google algorithms for penalizing or promoting content, the length of text is also taken into account. Texts containing less than 300 words are penalized. In contrast, Google has a tendency to promote longer editorial content (1300, 1500 words, or even longer). This is always the prevailing logic. The longer a text is, the more it is assumed that it responds to the user's needs in a satisfactory manner.
04. Select your content structure
Google promotes well-structured content. Adopt a clear structure for your content, with well-defined titles and paragraphs. On the one hand, search engine robots will scrutinize your titles and subtitles (the famous h1, h2, and h3 tags). On the other hand, content on the web is generally perused. So, in addition to getting Google to like you, you will make it easier on your readers, who will be better able to identify the passages that interest them.
Make your titles and subtitles more visible by modifying their font and color to make them stand out. Spread out the text and add visuals where relevant.
05. Create attractive titles
Do you want users to stop on your content and take the time to read them? Give them the desire to make this effort. Your content's title must contain a strong promise. In just a few words, it must hint at the added value that reading it will bring.
Make it so that your advice is "foolproof" and reading your articles will make your readers "better." The content, whose figures are referenced by the titles, will also be consulted: 5 tips, 8 good reasons… In the end, users will are looking for responses to their challenges. Tell them "how" to improve, to succeed…
Above all, don't forget the golden rule: your content must live up to the promises made in the title!
In order to be better than your competitors, you must first be different. If you are evolving in a competitive field with other brands using content marketing, your must double down on your efforts to stand out.
Are you aiming for the same target groups as your competitor? Do your respective personas have the same challenges? So, will you respond to them in exactly the same way? Obviously not!
Use content as a point of difference. Impress with your own style. Say your competitor is a known expert in the field, and consequently, will adopt an "expert" style that is more academic. So, adopt a more quirky tone. Try humor and emotion. Play up the contrasts. You can be relevant without being boring. You know it, right?
07. Diversify your content
You can set yourself apart with your content's style. You can also set yourself apart by the nature of the content you are sharing. If editorial content is good for SEO, other types of content are more adapted for virality. Visual content is better for sharing on social media.
Keep in mind that your marketing content is not for a single channel. The content that you publish on your website must also be designed to be shared on social media networks.
On Twitter, a solid infographic will go further than a giant wall of text. On Facebook, a photo or video has a higher chance of going viral. By diversifying your formats, you are giving your content a better chance of being shared, and therefore more often read and engaged with.
08. Make it easy to share your content
Hurray – you have followed our advice! Google likes you, and internet users are stampeding to your site. You can't just let them come and go, without doing anything. First of all, take advantage of your content's quality to create engagement with attractive calls-to- action. This is the logic of inbound marketing. Now, from a purely content-marketing perspective, it is your challenge to bring to life the content that you worked hard to create.
Expand your content to social media with email marketing. Make it easy to share; include in your content an invitation to share on Twitter. Or at least add visible sharing buttons to your articles. For more on this topic, you can consider the advice of the Content Marketing Institute that quotes its best practices in article after article.
Have you implemented a fruitful content marketing strategy? Don't hesitate to share your tips and tricks that make your articles are more visible and generate more engagement. We look forward to reading about your best practices in the comments section…
You want to generate more leads, increase your sales and better manage your marketing actions ? What if you adopt a marketing automation solution ?

lire l'article

Wondering what can bring you inbound marketing software? Here are 5 unstoppable reasons to equip you.

lire l'article

Learn to become an ace of content marketing. These 8 tips will help you create and distribute content that is noticeable.

lire l'article