Whether it is matrix 4 to 7 or even BCG matrix, all of these concepts can be considered reassuring for people looking for a marketing strategy.
But are they operational? How do you define a B2B strategy worthy of its name which can be applied on a day to day basis?
1st step: forget everything you learned at school, but not all of it.
If you do some research into different marketing strategies, in the end, you'll find two types of content:
Classic marketing theories, the obsession with growth hacking, things we have already seen in marketing courses. There are strategic matrixes, like 7P, that can be found in a consultant's PowerPoint, which only serves to reassure marketers with their nose to the grindstone.
After a certain moment, the word "strategy" becomes ubiquitous, whether that's your social media strategy, content dissemination strategy, Linkedin strategy, keyword placement strategy in the semantic cocoon subpage of a site for a company that has been acquired by a holding company……in short, with everything considered, it's actually quite difficult to say to your boss "Here's my strategy for the coming year".
So, what can we do? Should we get rid of everything we know? No! Ideas such as 4P or the marketing mix have become outdated, but they still form the basis of all the new theories that are emerging. So we should see them as foundations, of a sort.
On the one hand, a marketing strategy for a B2B director is a plan that has a vision and targets, it can't be just a graphic or theory.
2nd Step: Understand and segment your targets
Personas are essential to any marketing strategy, but we often forget the reason we do it: to put ourselves in the customers place so we can have a relevant conversation from their point of view. To understand that persons need and how to develop the right language to discuss it.
Segmentation means that we can give our product value by understanding the problems faced by our potential customer. For this, we can either use a Persona kit, or look at the example of "The Value Proposition Canvas"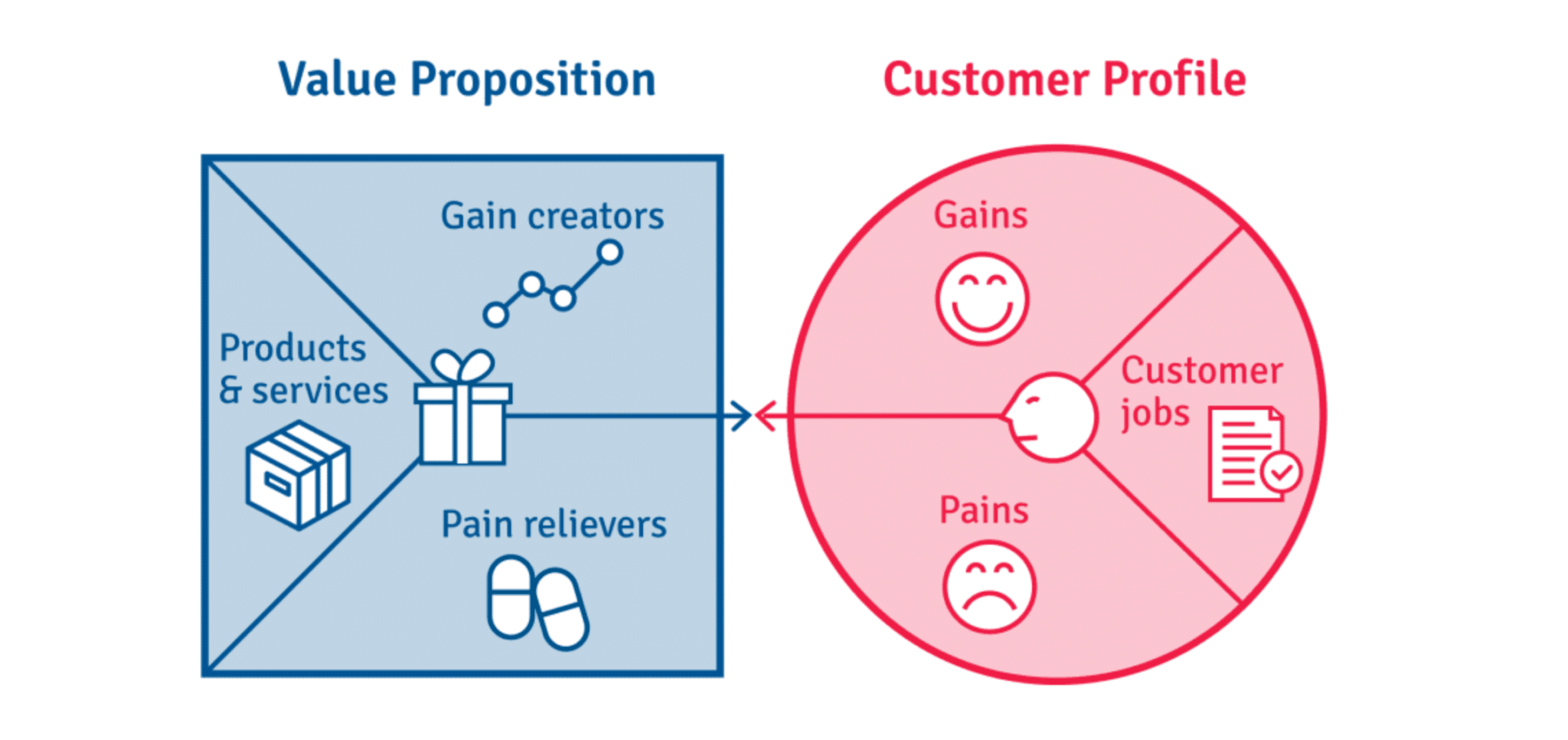 If, for example, you are a software publisher, very often people try and highlight your features and functionalities. This can sometimes be useful for convincing an operational target, but does it help clinch the decision-maker? For Plezi it is:
Functionality: scoring leads
Value proposition: prioritise and focus on hot leads
High-level issues: generate more revenue and reduce the cost of acquisition
There isn't a good or a bad pitch – everything can be important at first. However, this step will allow you to calibrate your discourse and your strategy as you move to the next step.
3rd step: Analyse the market
Once you've defined your targets and segmented your offer you can move on to market research. You need to ask yourself: what are you battling against? Nothing? If that's the case, it could be a bit worrying, as it would suggest that there is no market or that the market is not yet ready for your product, or that you think you are unique (which is normally very rare).
To make this clear: let's take the example of Plezi, "Marketing automation software and inbound marketing tool" We would be very foolish if we thought we were the only ones.
Plezi doesn't include just marketing automation, it also features emailing, scoring, tracking, social media publishing, landing page creation etc.
Let's look even closer: if we take the high-level issues we identified earlier (generate more revenue and reduce the cost of acquisition) a decision-maker may want to look also at outbound marketing as their strategy. So we also have to consider this in our analysis.
Market analysis is essential if you want to find your 'blue ocean'. It is a question of thinking through every aspect of your competitors to find what makes you different and creates your competitive edge.
4th step: Break down the marketing funnel to find its targets
The marketing funnel takes you from strategy to tactics. By analysing each step of the funnel and the actions you can take, you will find that you have more strategic choices for acquisition, loyalty, conversion…
For example, say we want to improve the top of the funnel, to generate more leads, you could use several tactics, inbound, outbound, or both. We then have to choose how: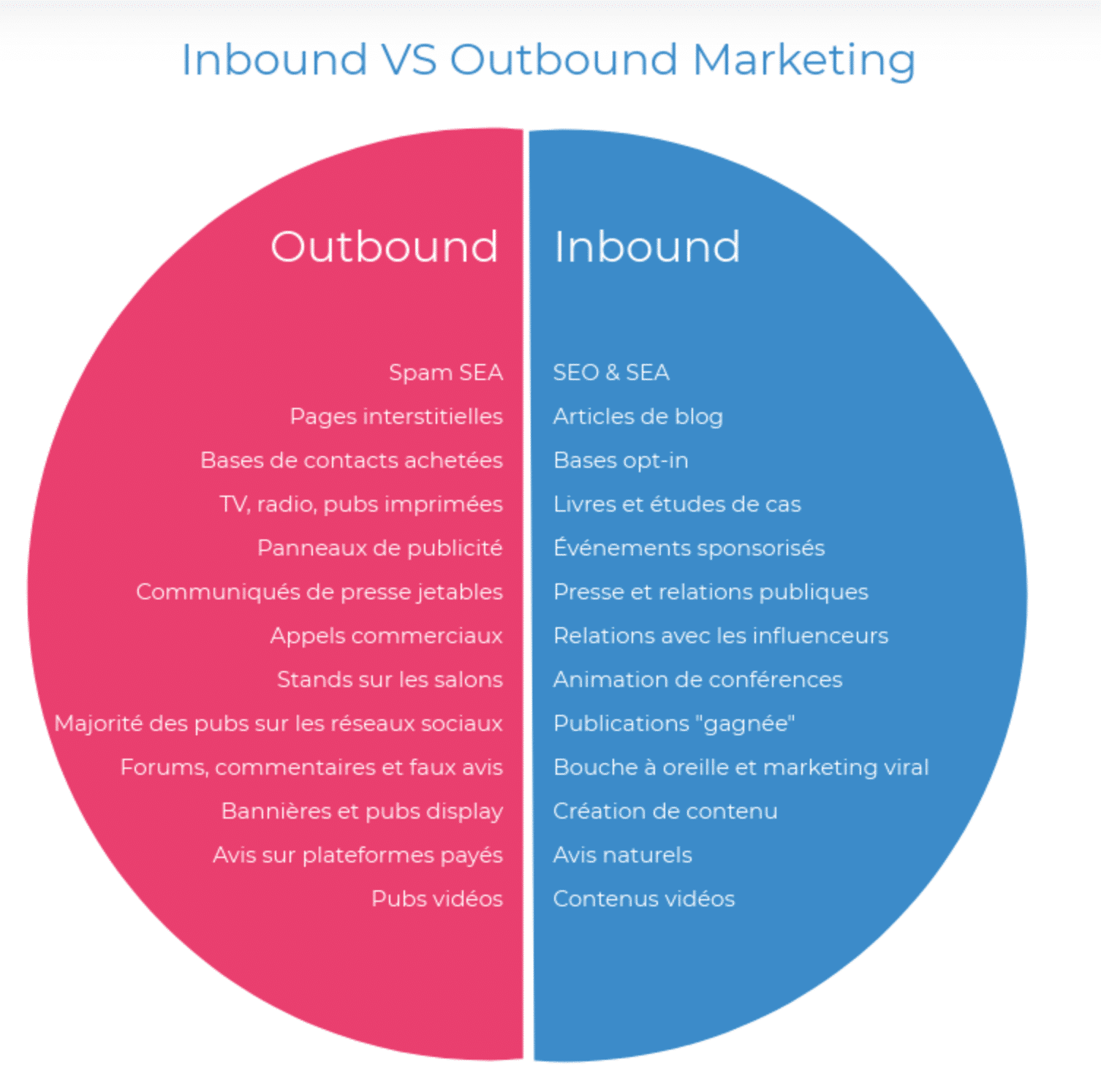 In our strategic plan, we need to create reliable and measurable targets, starting with our actual figures, or to make a target in terms of expected turnover.
5th Step: Multiply the contact points
Once you start to get operational, it means that you can optimise this content on different channels. The idea is to be as visible as possible during the visitors buying journey; search engine results, social media, events etc.
Indound marketing lends itself well to this strategy, as you move closer and closer to your target's needs, creating content that responds to their issues and have them available on multiple resources on the web. If you can have different pieces of content for each stage of the buyers' journey you will be able to accompany and convert that lead to give to your sales team.
6th Step: Become agile
The difference between a successful and a failed business is not necessarily in the plan but in its execution. It isn't just those who create the best strategies or the best product who succeed, but those who perform well.
Garret Moon explains in his book"10x Marketing Formula" that marketing teams would benefit from adopting agile methods in order to continuously test and improve their marketing strategy. This means you can avoid stubbornly following your plan and actually head in the wrong direction. Strategy is all-important, but you need to make sure that you also have an agile action plan, made up of weekly sprints so you are consistently focused on your ultimate goals.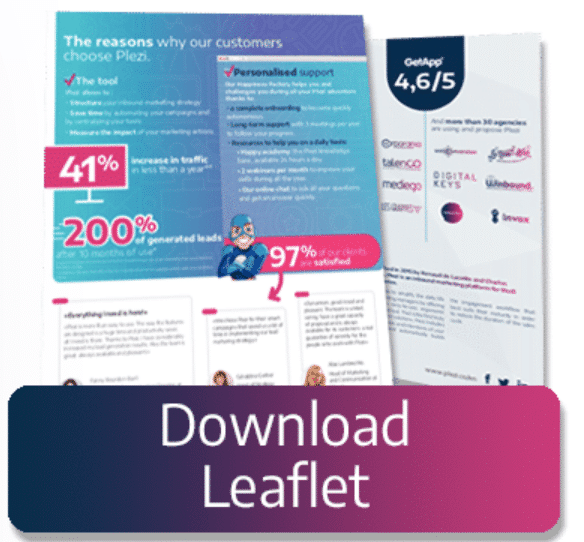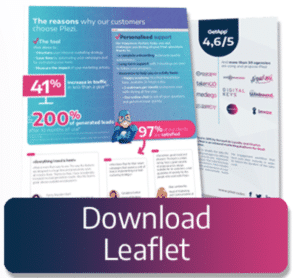 There is a real gap between theoretical marketing strategies and that experienced by day to day marketers. We'd love to know what steps you take to deploy your marketing strategy and on what budget. Let us know in the comments section!