It takes different skills and resources to carry out different aspects of B2B marketing. These include things like generating leads, creating content, attracting traffic, or converting prospects. Fortunately, there's now a huge range of B2B marketing tools available that will let you be more effective and save you valuable time.
So, we've put together a list of 14 free marketing tools which can help you with many of the tasks involved in your B2B marketing strategy.
Sumo, to add pop-ups to your website
Used wisely, pop-ups can be a good way to increase conversions on your website. From web banners to content overlays and pop-ups for your blog, Sumo makes it easy to create pop-ups anywhere on your website.  You can also embed online forms into these pop-ups to generate leads.
At Plezi, we use Sumo with our blog posts to help showcase related premium content. We've only added these pop-ups to specific posts, so visitors don't feel overwhelmed by them. For example, our post on lead nurturing displays a pop-up which lets visitors download our guide to lead nurturing.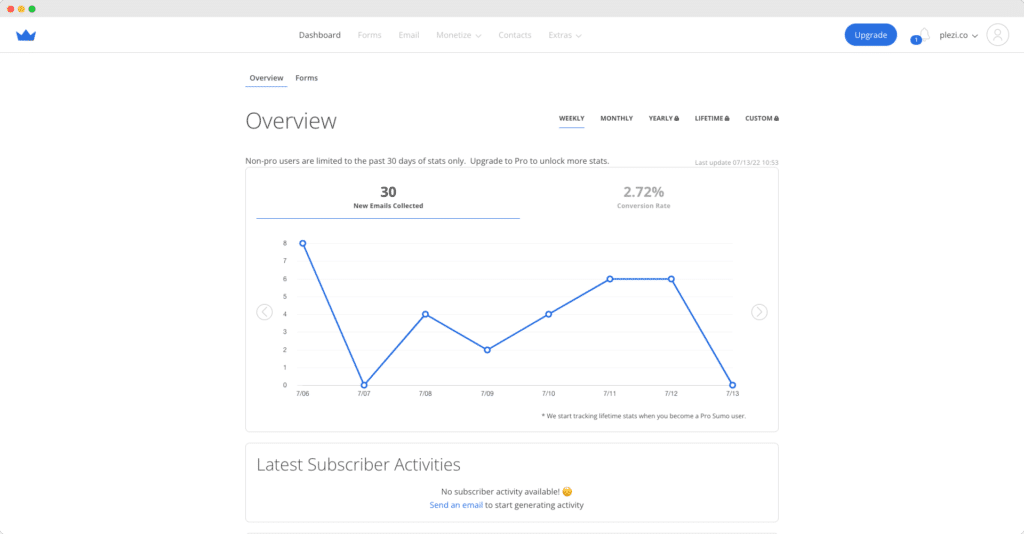 Sumo's free plan lets you create pop-ups, but these retain Sumo's branding. This plan has limited features, but lets you start to create pop-ups for your website.

Plezi One, to generate B2B leads
Does your website get a lot of traffic but doesn't generate many leads? Instead of spending more money to attract even more visitors, try and convert the ones you already have.
This is exactly what Plezi One will let you do. This tool lets you create online forms and lead magnets with automated emails to generate leads. You can then track each lead's clickstream on your website to get information about how best to approach them.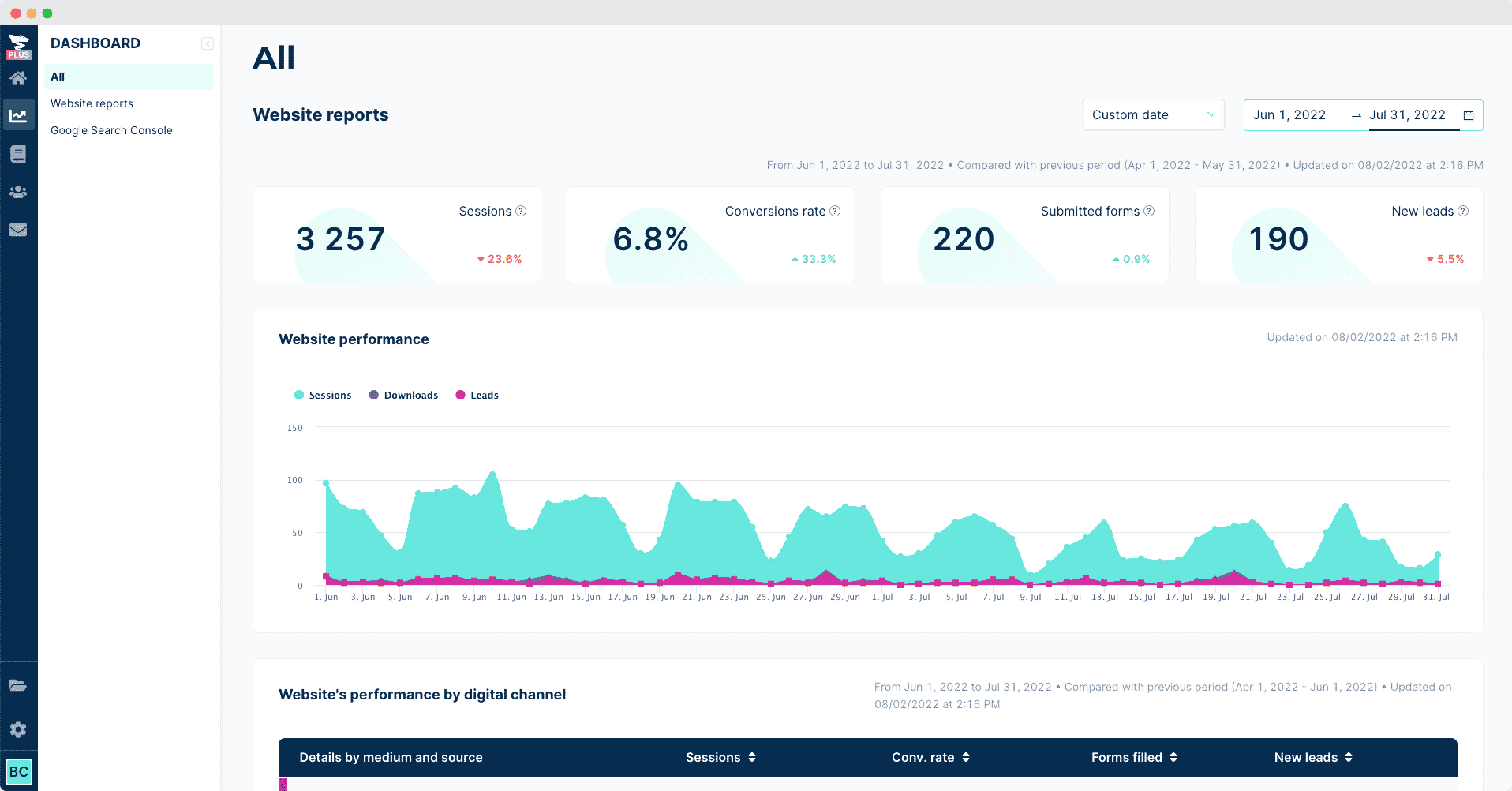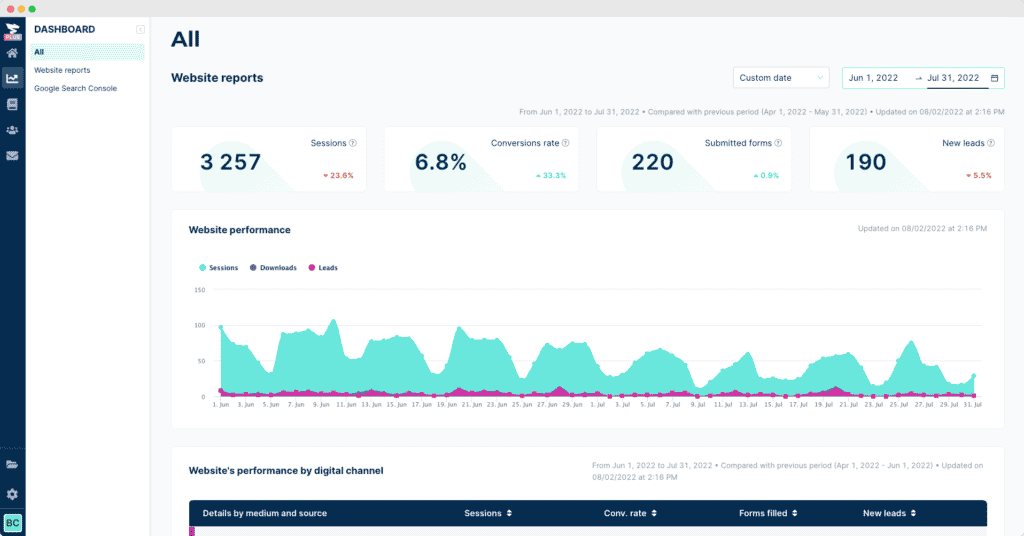 The tool also provides SEO and conversion reports to help you understand where your current traffic and leads are coming from. This then lets you further improve where you rank in search engines and conversion rates.
The free plan lets you create as many online forms, and generate as many leads, as you want. The premium plan gives access to other features like creating automated email marketing campaigns.

Canva, to easily create visuals
With more than 75 million users, Canva doesn't really need an introduction. This graphic design tool has made a name for itself by offering users a simple and intuitive interface and a large range of templates.
Canva helps you create all the visual elements you need for your B2B business. These include banner ads, social media visuals (including the famous LinkedIn carousel), presentation templates, or even business cards. At Plezi, we also use it to create small infographics that let us explain some of the ideas presented in our blog posts visually.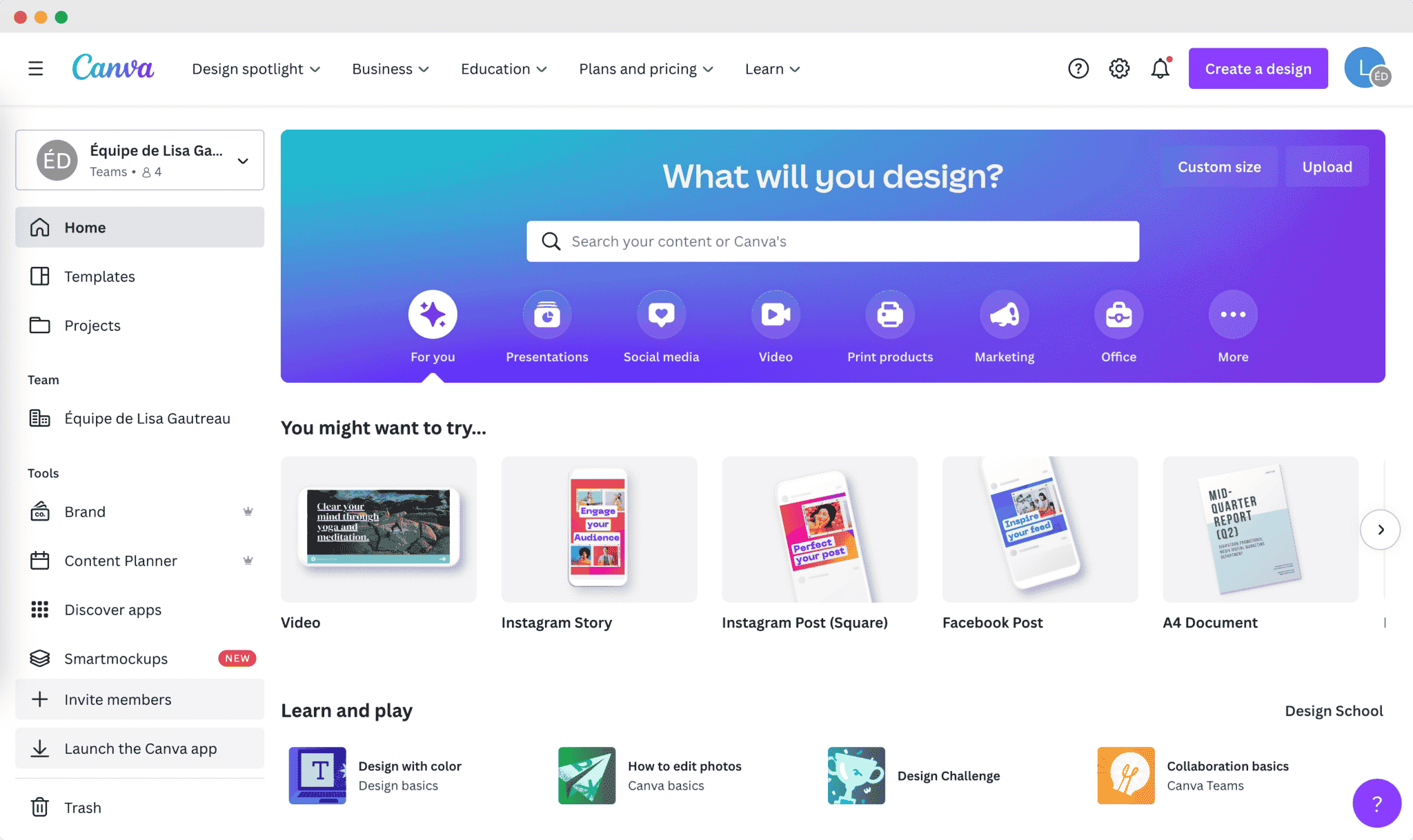 Canva's free plan gives you access to over 250 templates and up to 5GB of online storage. To unlock more features and templates, you'll need to upgrade to the Pro plan.

Buffer, to manage social networks
Being able to manage all of your social media accounts with one tool is a major time saver. Ideally you want it to be able to manage inbound requests, schedule posts, and analyse how your social media strategy performs across different social networks.
Buffer is a social media management tool that lets you manage all aspects of your social media strategy from a single platform.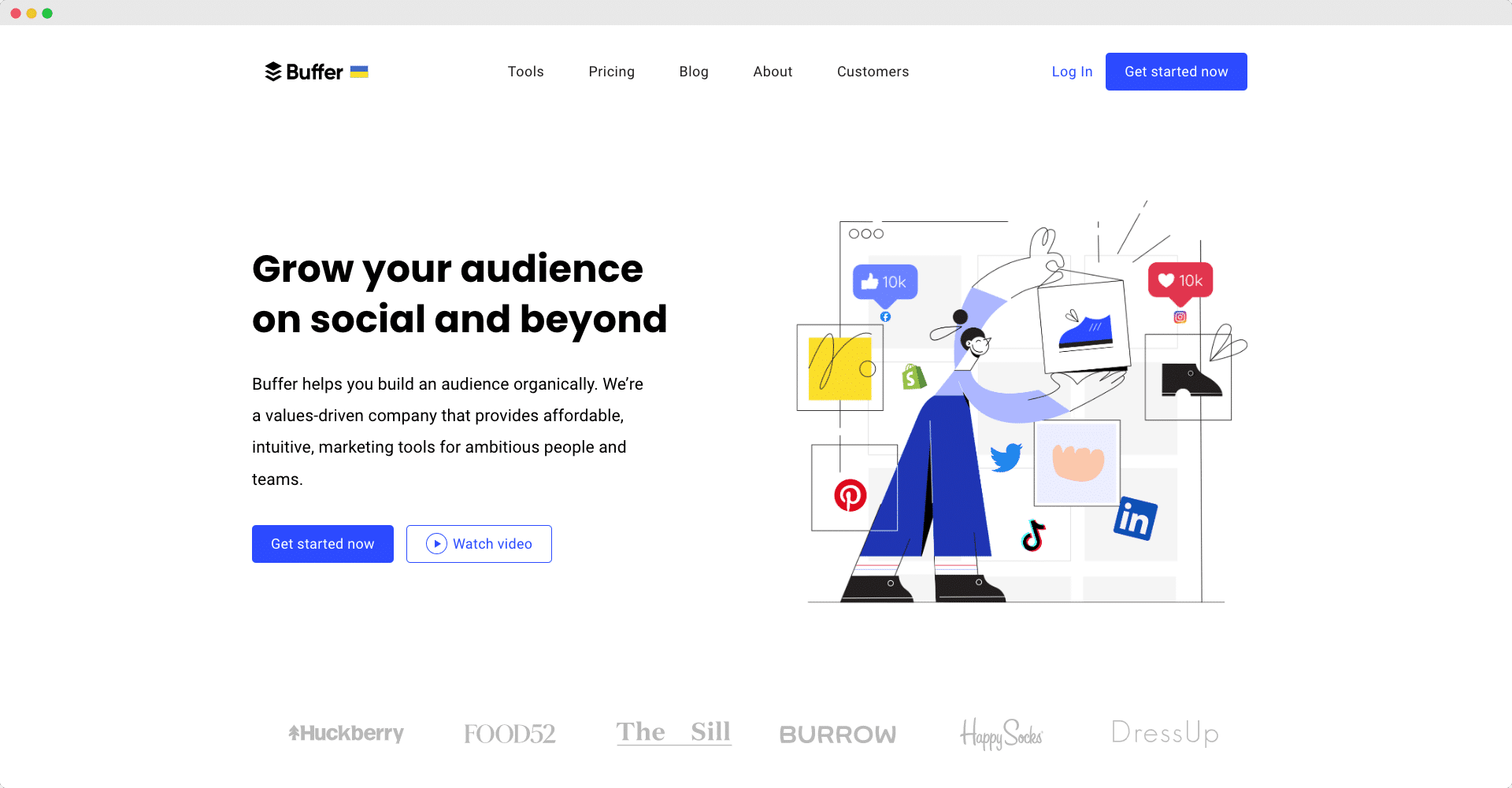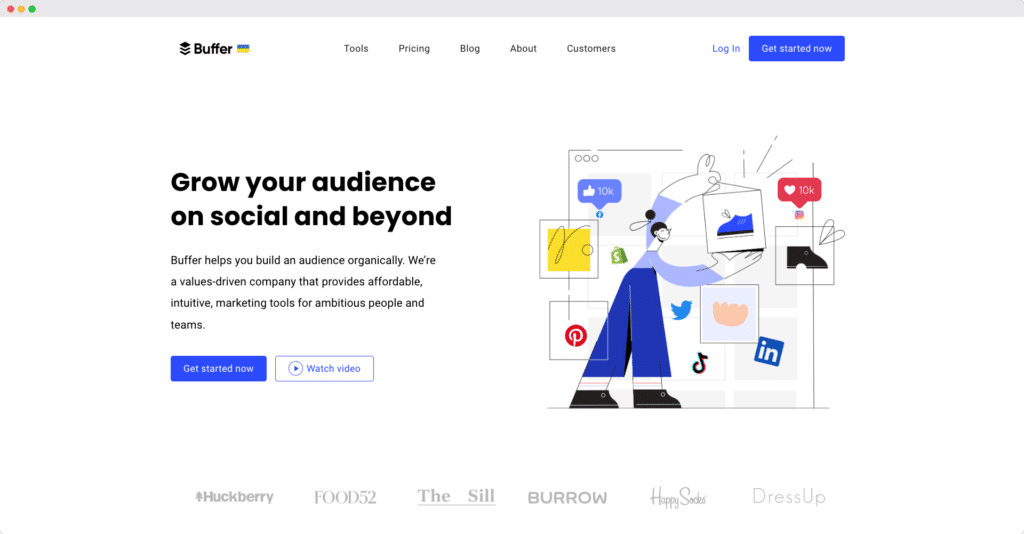 The free plan allows you to manage up to three different social media accounts with one user linked to the account.

PhantomBuster, to automate LinkedIn prospecting
Sending private messages on LinkedIn can be a highly effective way to reach leads. You can use it to invite your network to an upcoming webinar or to promote a new white paper, for example.
But sending messages to all your contacts or looking for new contacts can take a huge amount of time. PhantomBuster lets you automate these tasks and track how both your messages and strategy perform.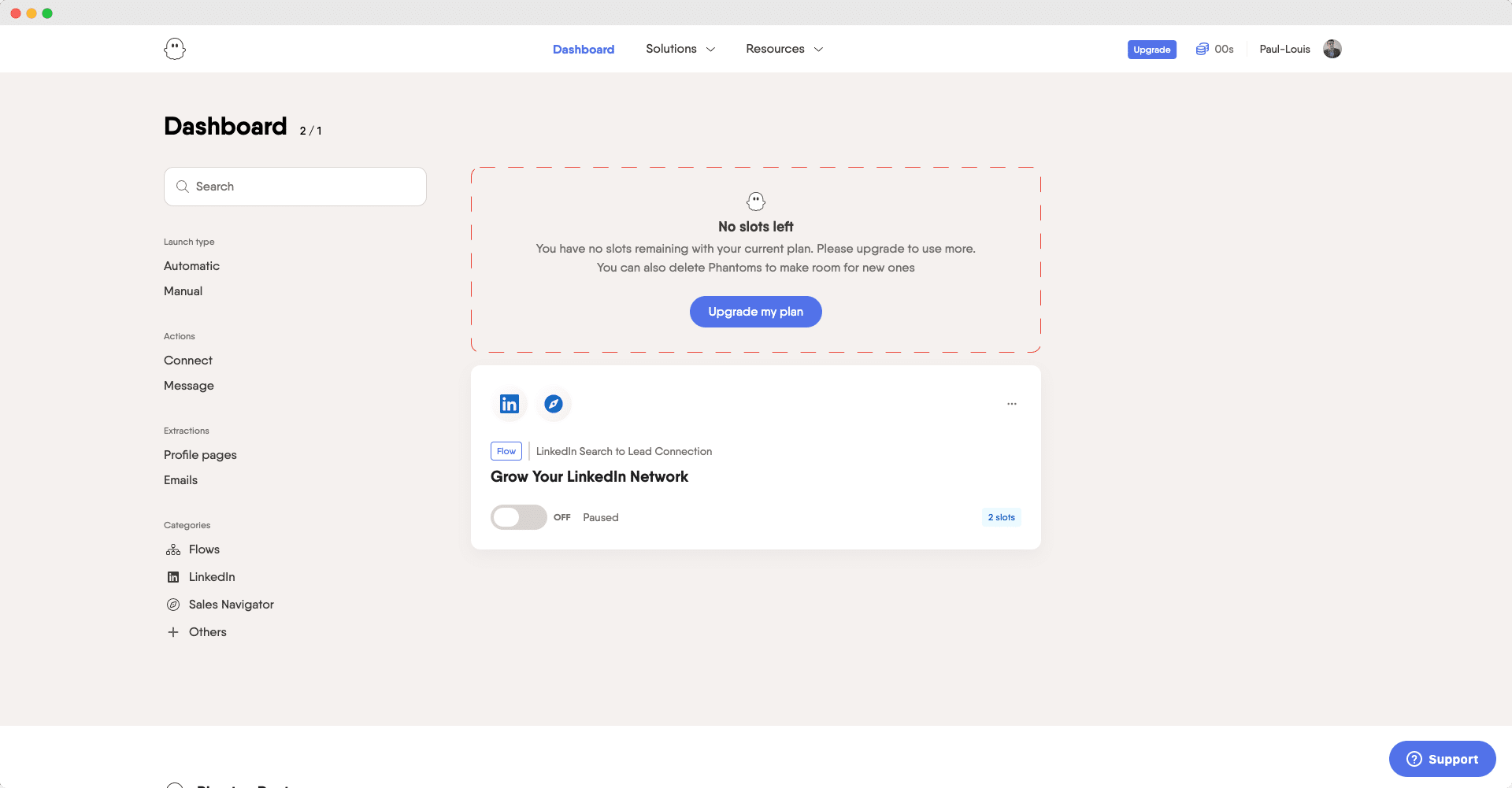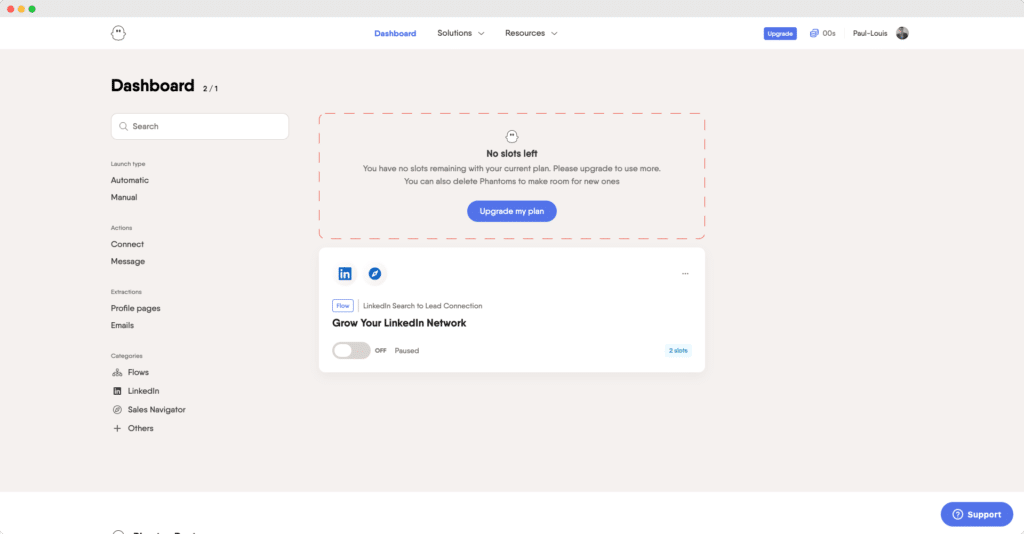 You still need to be careful how you use this tool, because no one likes to be spammed on LinkedIn.
The free plan lets you create an automated workflow that will run for up to 30 minutes each month.

Calendly, to make booking appointments easier
Calendly is a handy tool for scheduling meetings ahead of time. By letting contacts select an available time in your calendar, you can avoid sending emails back and forth to find out who is available and when.
While it's use for salespeople is obvious, it can also help marketing teams organize appointments with customers or industry peers.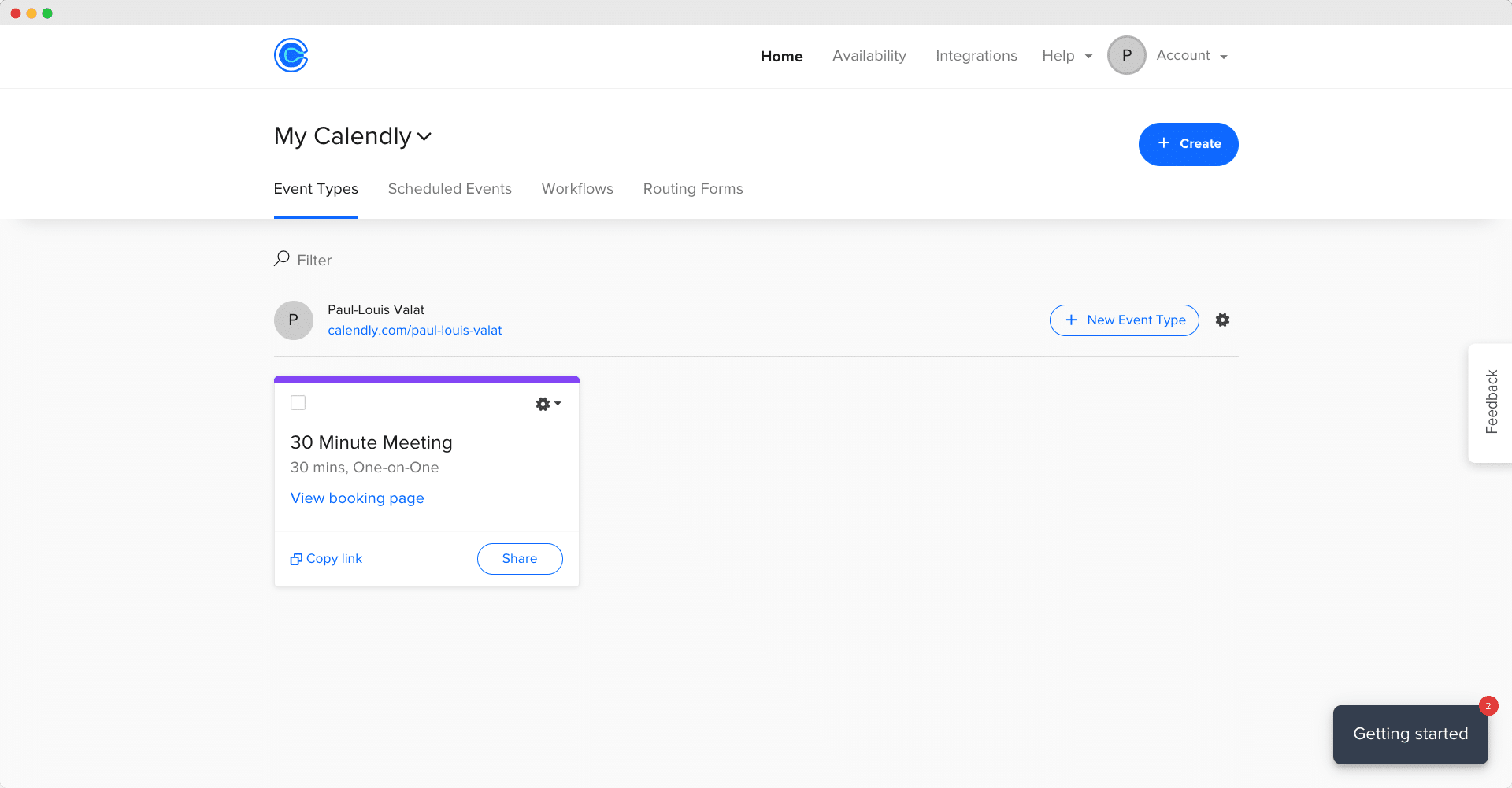 The free plan lets you manage one calendar per person and have access to the tool's basic features.

Mention, to track brand awareness
From blog posts and comments to online media, social media, and online forums, there are a lot of conversations happening online. And some of these are about your company and your product or service.
To help you follow all of the conversations that concern your company, one tool deserves a special mention… Mention. This social listening tool lets you track mentions of your company and social media accounts. You can also use it to set up alerts for mentions of your competitors, or the specific name of your product or service to get better market intelligence. The weekly email report gives you an overview of the mentions generated by your marketing strategy.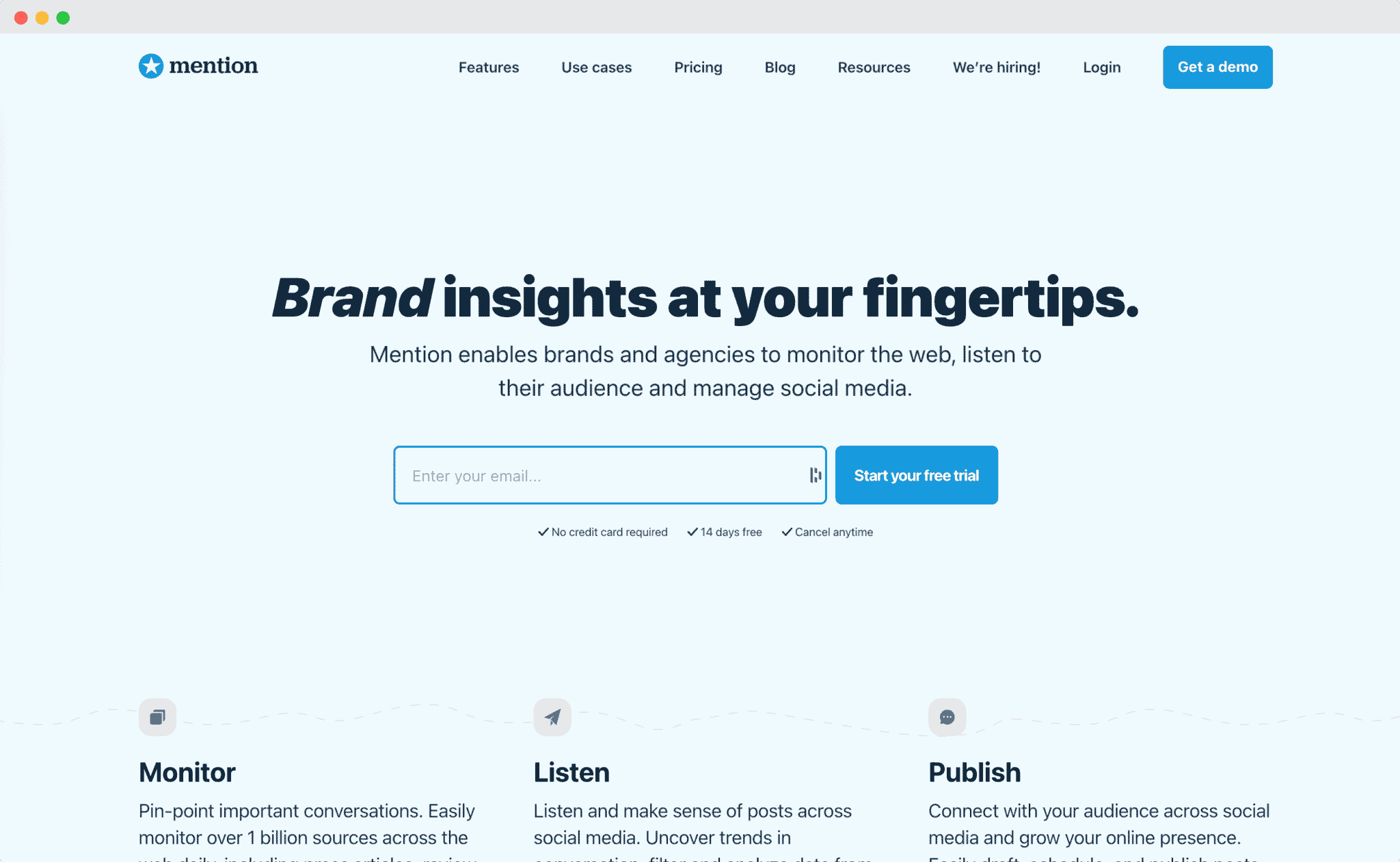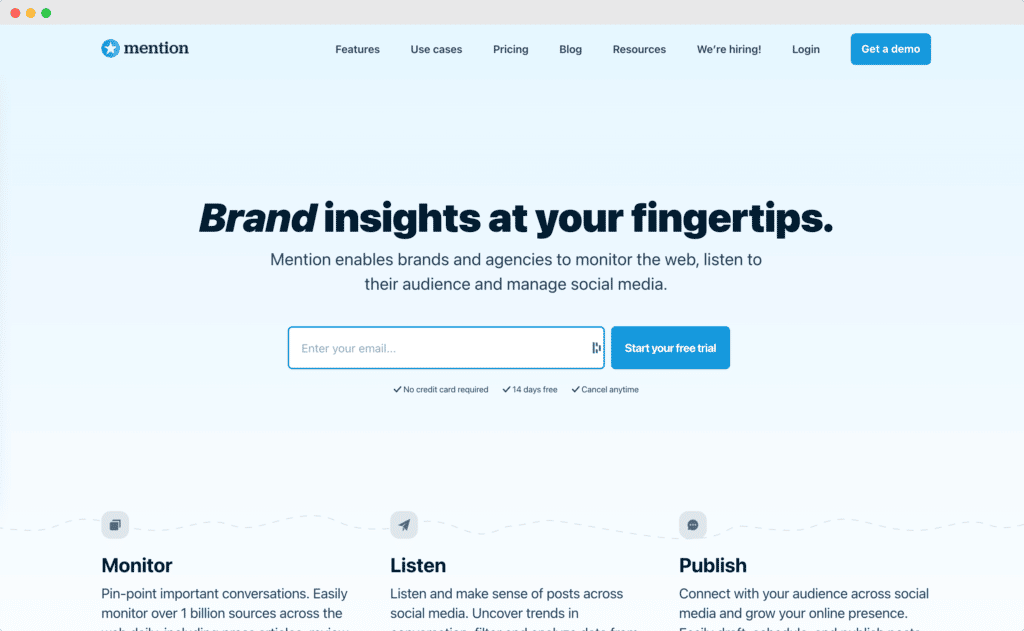 At Plezi, we use Mention for several reasons. Identifying mentions of Plezi in blog posts lets us contact the website concerned to negotiate a link back to our website or to set up a partnership. And identifying people who mention us on Twitter lets us start a conversation with them and try to turn them into brand ambassadors.
Mention's free plan lets you create an alert for up to 1,000 mentions.

BuzzSumo, to guide your content strategy
Content marketing doesn't just involve writing content. It also requires research, preparation, promotion, and monitoring content that others are posting.
BuzzSumo lets you keep an eye on the latest or most-shared content online, as well as content published by influencers in your sector by topic or keywords. This tool helps you find new content ideas and identify insightful new angles for content. BuzzSumo also lets you analyse the content strategy of your competitors and identify their most successful content.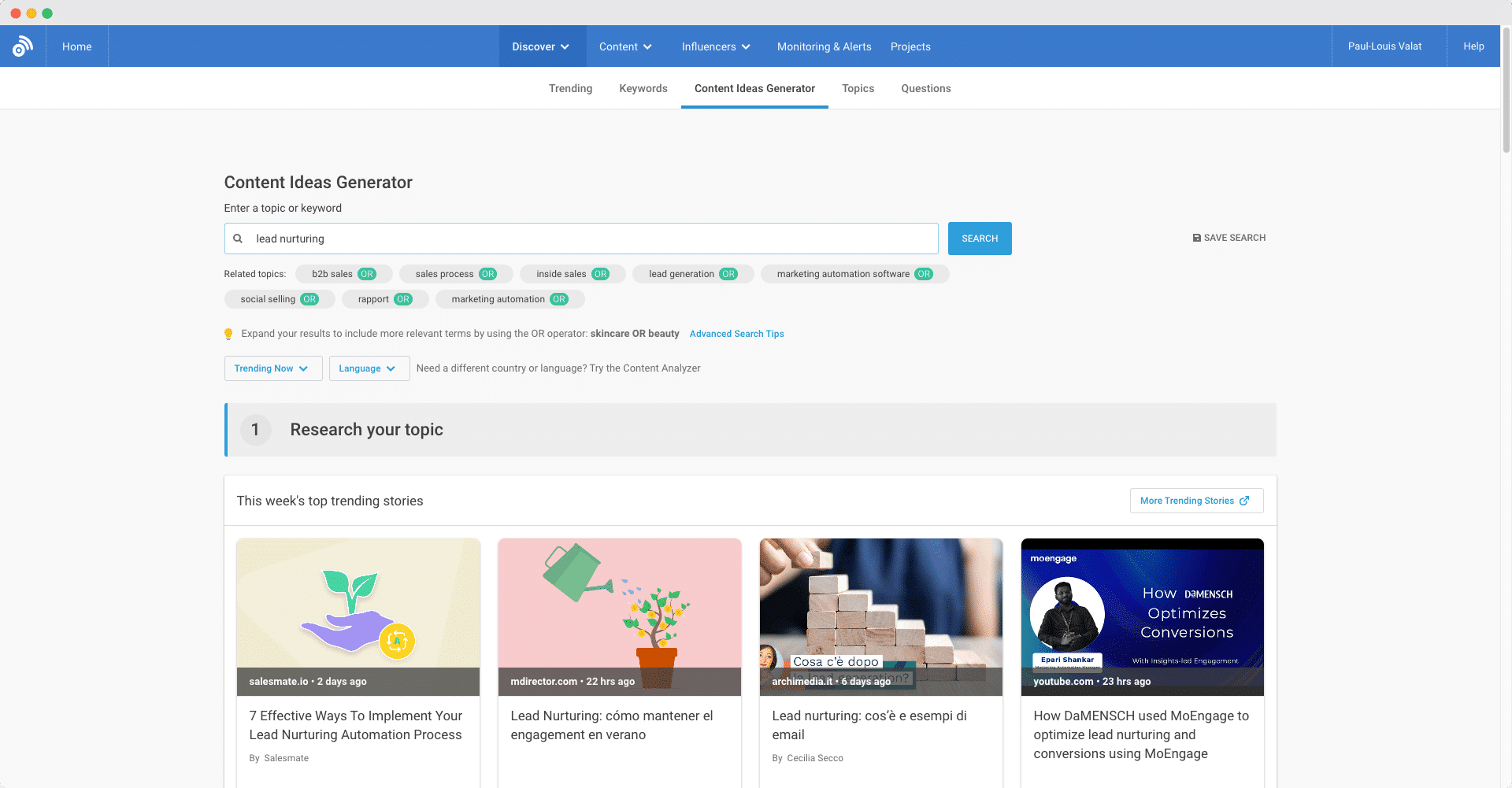 The free plan gives you up to 10 searches each month of online data from the past year.

MozBar, to analyse search results
MozBar is an SEO toolbar that lets you analyse search engine results for things like page authority or domain authority. This is a handy tool to help you connect with other websites or to estimate how easy it is to rank for certain keywords.
The tool is free to use. The premium plan gives you access to other metrics like the number of links obtained by web pages.

SEMrush, to target the right keywords
When you start writing a new blog post, you want to be sure that it will be read by as many people as possible. To do that, you need to target an appropriate keyword which is actively used as a search query.
This is just one of the possible ways to use SEMrush. This SEO tool lets you analyse the potential of a given keyword, the keywords that your competitors rank for, and track where your blog posts rank on search engines. It includes a whole range of useful features which are great for managing your SEO strategy.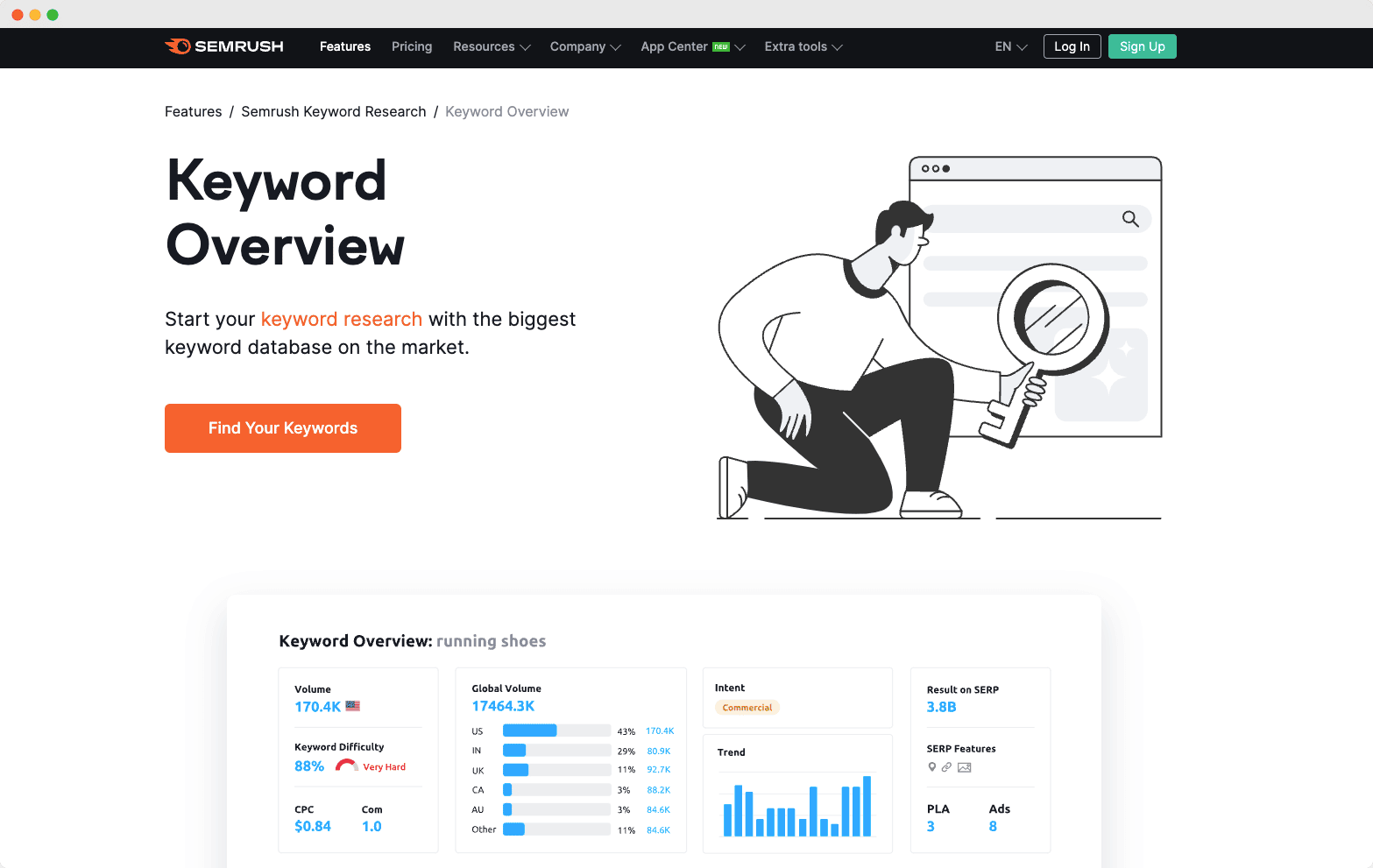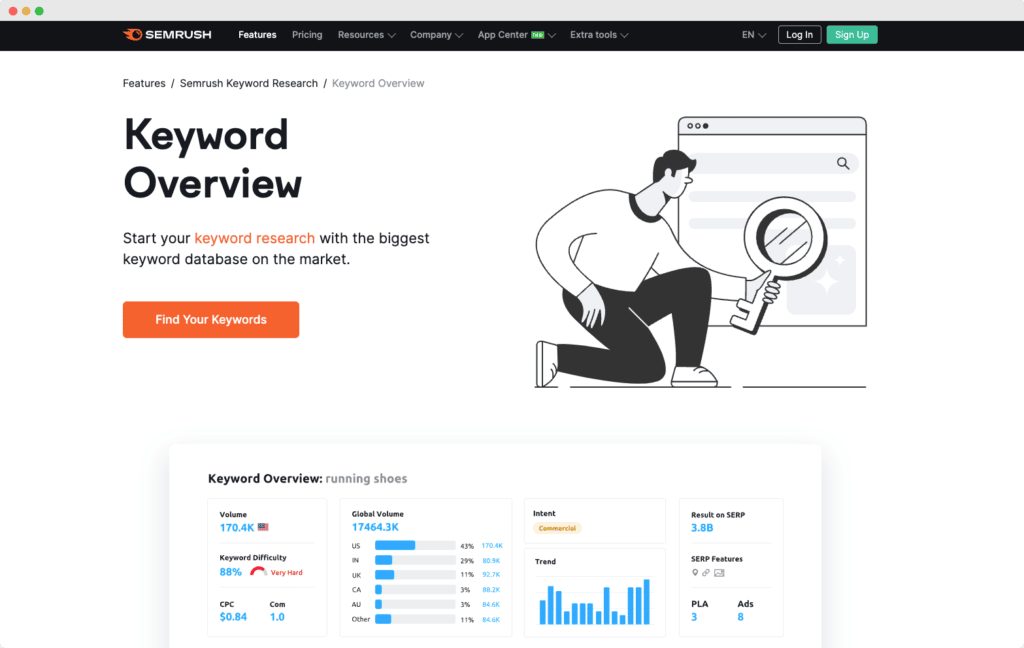 The free plan lets you perform up to 10 searches each day and limits the number of results. But this is a good way to learn how to use an SEO tool and it still gives you actionable information.

Seobility, to analyse the health of your website
SEO isn't just about content; it also depends on the technical health of your website. 404 page not found errors, page load times which are too long, or images with file sizes which are too large will all be penalized by search engines.
There are a number of tools available which will crawl your website, analyse it, and tell you what needs to be fixed. One is Seobility, which helps identify things like sitemap errors, pages which are slow to load, and other technical problems.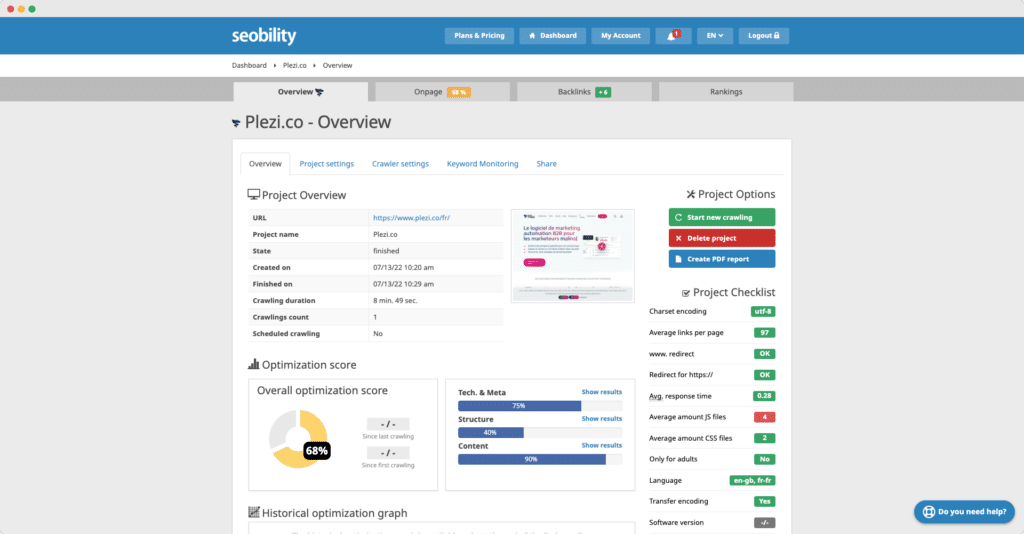 The free plan can be used with one website domain and analyse up to 1,000 web pages.

Pocket, for better market intelligence
After a few minutes scrolling through Twitter or LinkedIn you might find yourself with a dozen open tabs. These posts might seem interesting at the time, but you might never find the time to actually read them.
Pocket lets you save these posts and read them offline on different devices. You can also group the pages you save in different lists. For example, inspiration, things to learn, or competition.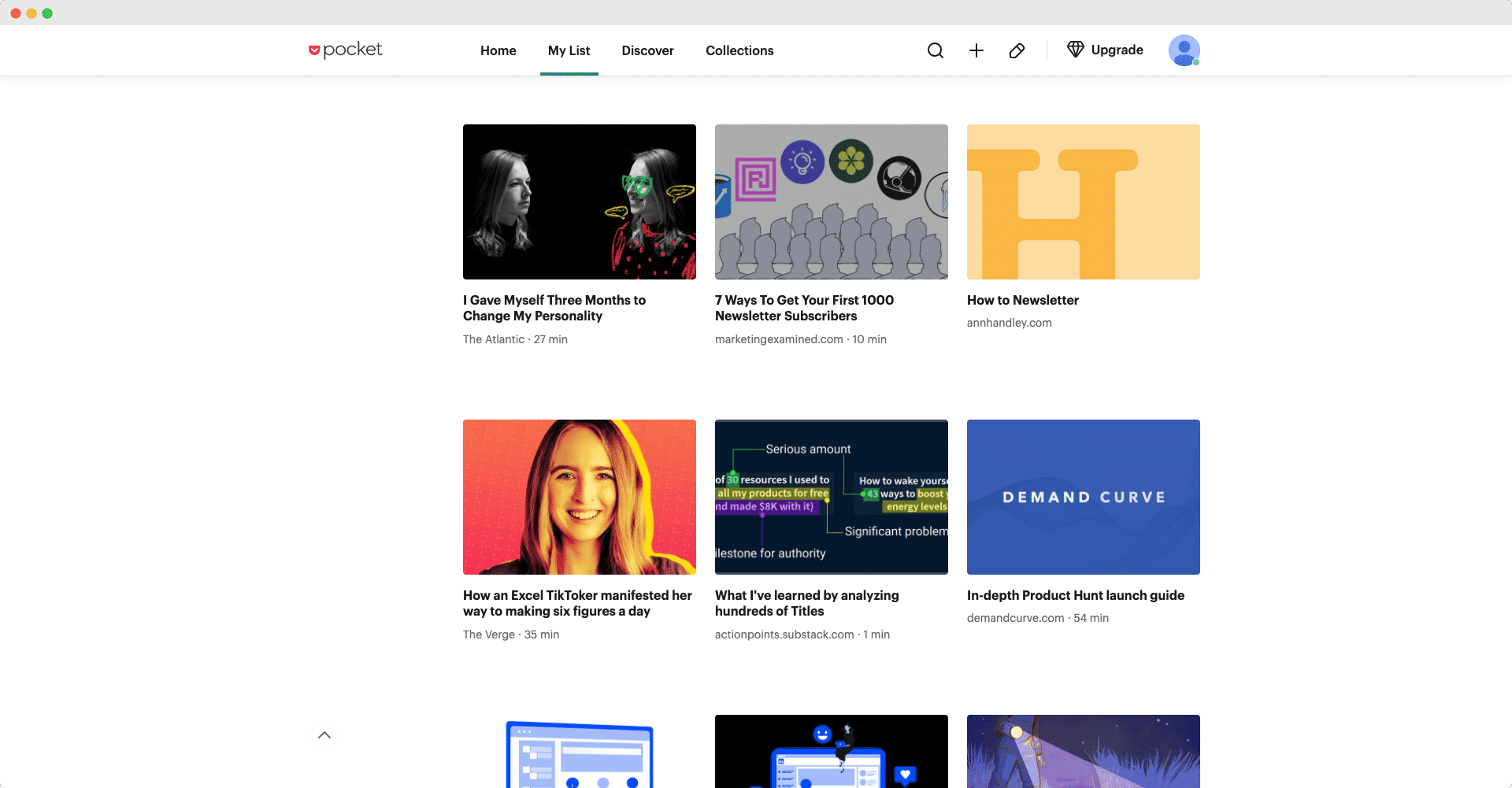 It's a really handy tool, which has a number of different uses. Pocket can also recommend new posts based on your what you've already read.
The free plan is very comprehensive, while the premium plan adds features like highlighting or searching within articles.

Trello, to organize team projects
Trello is a collaboration tool that helps both individuals and teams organize and manage their various projects. The tool lets you organize tasks, ask for help or feedback from people on your team, and follow a project's progress. It does this by creating boards, including the famous "To do / In progress / Done" board.
It can also be used to manage a B2B editorial calendar for your blog or social media accounts (using our template for example!)
The free plan lets you create up to 10 boards per workspace.

Zapier, to automate your actions
Zapier is a tool which lets you connect all of your other tools. For example, it can let you automatically send a message on Slack when you receive a reply on Typeform, share a post on Facebook by connecting it to your RSS feed, or save emails sent to your customers in a Google Sheet.
The tool gives you the ability to automate a whole range of tasks, saving you valuable time.
The free plan lets you automate up to 100 tasks each month by creating 5 different automations.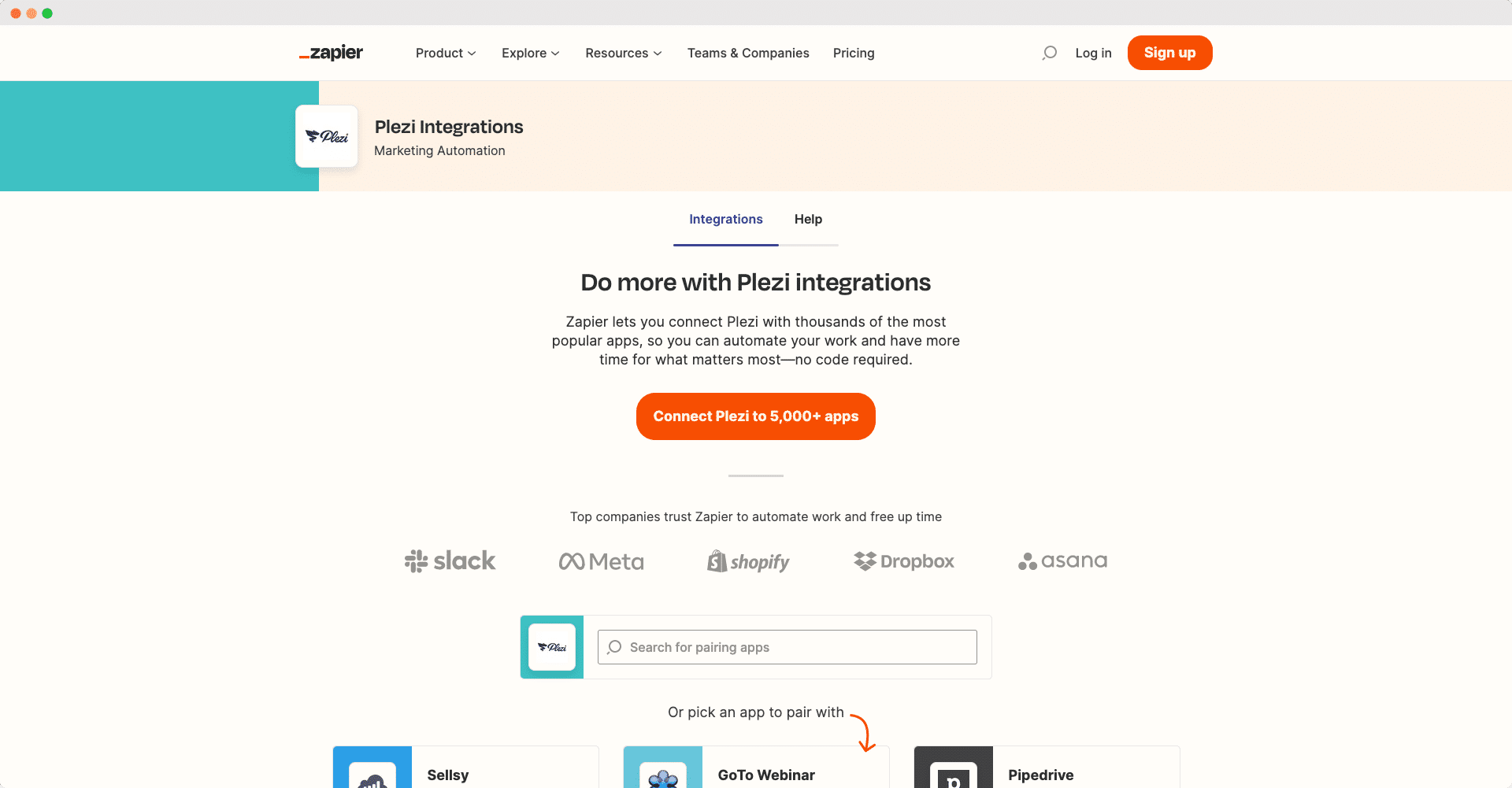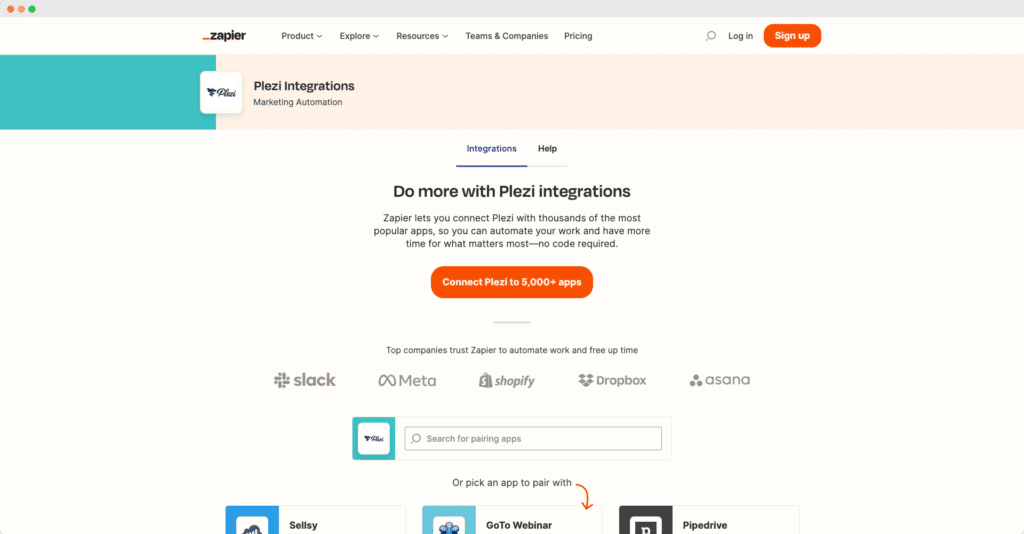 Bonus tool: Screely. We used this free browser extension to take all the screenshots included in this post.
The tools we've talked about in this post will help you to automate a wide range of tasks and increase your productivity. Which one are you going to try first?