If there is one thing Verve Search excels at, it's creating original content that travels internationally. This UK-based company created in 2009 has been racking up prizes, like the European Search Awards of 2019 or the Digital Impact Awards in 2018 for their outstanding work in the industry. Their international team has developed a wide array of SEO (search engine optimization) and PR (press relations)-mixed methods to deploy original content for their clients.
Laura D'Amato, Outreach Team Lead, shared some of her brand content strategy secrets in an exclusive conference on Saloon for Marketing Wild Wild West. Did you miss it? It's still available in replay… and here's our summary.

1. In a post-COVID world, choose to be different
COVID is still leaving its mark on all industries, including B2B. For press relations and digital marketing, says Laura, it's the same thing. Many editorial offices have had to reduce their teams, and have therefore left the remaining journalists with a mountain of work, as the public's expectations for quality content has remained the same.
In order to position our content with major national or international editorial offices, we must therefore expect to have teams in front of us with little time to take an interest in our messages. To make up for this "new normal", Laura tells us that we can do two things:
focus on the quality of our content:

original content, enriched with experts, quotes and research will always have a better chance of being spotted ;
focus on reactive content that brings value, for example with an expert point of view, or more feel good and lighter content to entertain our prospects and readers.
There's no secret to a good content strategy, Laura shared. This is even more true in inbound marketing: an original, researched and informed content will always make a difference. To find out how they managed to turn their "Profanity on film" campaign into optimized content, shared over 700 times in publications around the world in the midst of the COVID crisis, check out the replay on Saloon!

2. How to create quality content that can travel to other markets
Laura shared her process on how to create a marketing campaign that has the potential to be relayed in different markets or countries in a detailed case study.
Choose a topic that resonates with all your audiences
To address multiple countries, languages and cultures, we need to find a topic that speaks to all the people we want to reach. What are their expectations or prejudices about our subject? What kind of content already works on the same themes?
Choosing an easily-transposable topic from one country -or culture- to another, removes entry barriers for our campaigns. In order to develop prospect reach and engagement for one of their BtoB clients, Verve Search took the gamble of launching a campaign in a BtoB/ BtoC mix to reach the specialised press. Their client was in the banking world, so to maximise their impact, they addressed politics and money as themes, topics that travel easily – and that are talked about regardless of our culture.
Do your research
We have no choice but to do our homework! In order to provide truly original and punchy content, we have to tackle some serious research, whether it's calling experts, associations, or finding out more about the subject before starting to craft our campaign.
Laura and her team set up data-gathering comparing the respective salaries of OECD head of states for one of their clients. This rich database allows the cross-checking of national and international data, offers several rankings and is the result of a substantial amount of work.
We have to make sure to extend this diligence into the way we reach out to journalists. Laure recommends, depending on who we want to reach, to:
localise our emails and content for our target audience ;
select some specific points and data from our campaign that could speak best to those we are trying to reach, even if it means adjusting our angle.
In her talk, she details in particular how her team designed their emails to better speak to local journalists. To hear her detail the case study, have a peek at the replay on Saloon.

Be ready to adapt your pitch according to your first results
Monitoring the results of our campaigns should help us quickly identify where our messages are getting through best – and worst.
"For the latter, we shouldn't hesitate to rethink our approach", says Laura. "Campaigns and projects with substantial work should give us enough data to allow us to approach the same facts in a different light, one that can better speak to the target audience".
Their head of state salary-comparing campaign encountered weak coverage in French media in the first weeks following its launch. Verve Search corrected accordingly by targeting foreign French-speaking media and putting the spotlight on comparative data, allowing them to compare their countries to others. This new approach paid off, and the campaign got 131 links from publications around the world.
3. How to create quality content that travels by itself
It is totally possible to create conditions that allow content to travel on its own, says Laura. For a marketing campaign to travel internationally, it often requires the following elements:
it must be launched in a language spoken everywhere (often English) to multiply the results;
it must target international (or often English-speaking) publications of high quality, which local journalists value for their own story ideas in your mailings and distribution;
it must meet the journalist's KPIs for their content:

relevant content that is original and worthy of being reported on;
content supported by solid data;
content that can generate engagement (clicks, comments and sharing) on the web.
Verve Search has transformed an Anglo-Saxon study on 1000 people into an international marketing campaign that has been replicated in 10 countries and more than 80 media outlets. To find out all about their process, go over to Saloon!
4. Adapt your campaigns for a better spread
Sometimes we don't really know how or why our marketing campaigns fail to get off the ground. No matter how much we scratch our heads, our content is broadcasted in one language but not the other, in one country but not the neighbouring… To remedy this, Laura gave us her magic recipe:
understanding and studying the target market and above all its media horizon;
making a list of our target publications and how to reach them;
making our targets learn something or feel something.
One of their marketing campaigns took the form of a game that allowed visitors to test their colour vision. This format had been well distributed in the UK but had not been adopted at all in France. So the Verve Search team rolled up their sleeves and discovered that :
French journalists, like Italian, German or Swedish journalists, preferred more serious and sought-after content and tend to share very little gaming content ;

they were not used to be approached by press managers on digital formats, particularly on "light" formats as much as UK journalists;

Verve Search's approach did not tell a story strong enough to engage French journalists – and the public.
Laura and her team reviewed their approach. They made a list of target publications and adapted the approach to their themes and formats. To achieve this, they rethought their game into an interactive experience in partnership with an association, to enable able-bodied people to experience the vision of people with visual impairment.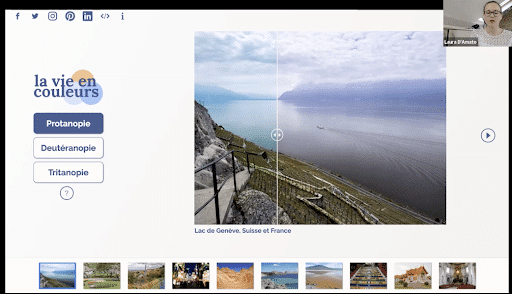 The team also interviewed the association and added copyright-free quotes and images to their emails to make it as easy as possible for the journalists to channel their information.
Following this, their campaign was taken up in major publications: Le Monde, l'Express, Figaro, France Bleu…
Their campaign worked because the approach was much more tailored:
the subject was speaking to journalists and their client alike;
this high value-added content enriched the readers;
the work was made easier for journalists who otherwise would not have been able to do as much research on the subject.
Getting a marketing campaign off the ground is never simple, and having several target countries can complicate everything. The secret is often quite simple: you have to offer quality content if you want it to be picked up. Rather than trying to copy the neighbour, let's engage in a race for original content that brings value to our prospects! To see Laura D'Amato's entire conference, her advice and detailed examples of Verve Search's projects, take a tour of the replay Saloon – it's free, and you won't be disappointed.