An increasing number of companies now use automated emails for a variety of different purposes. These include everything from saving valuable time for the marketing team to increasing their contacts' level of engagement.
So, how do automated emails work and how exactly can you use them for your business? We'll tell you everything you need to know in the post below.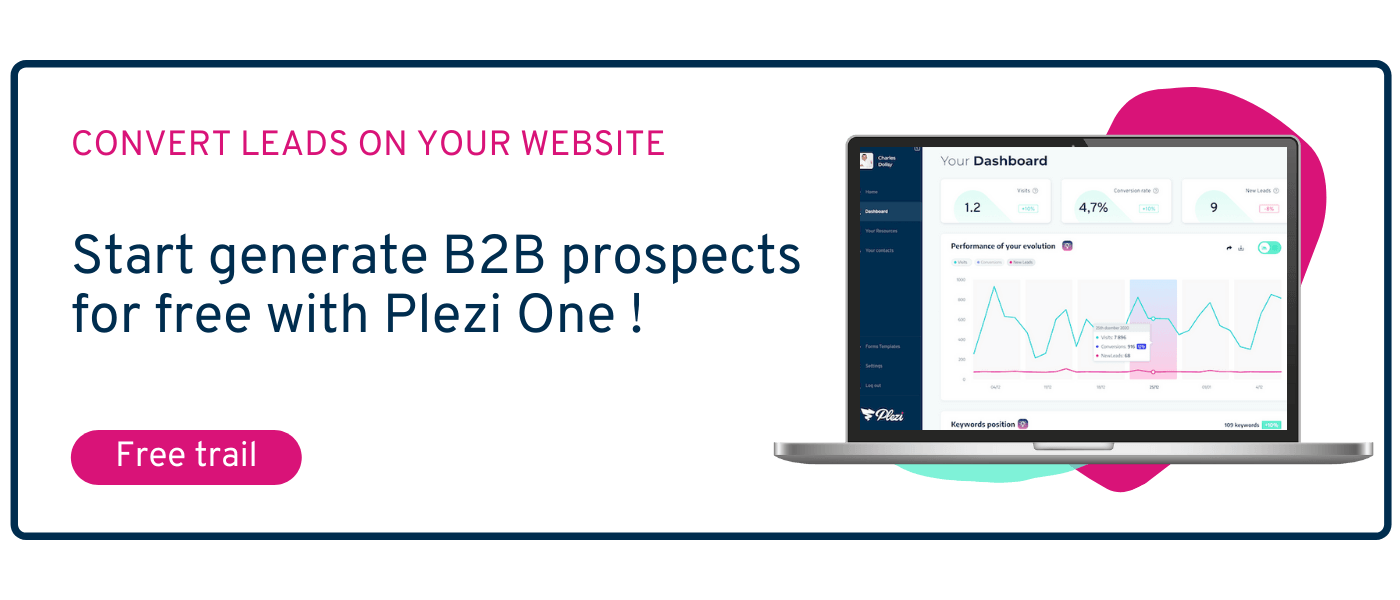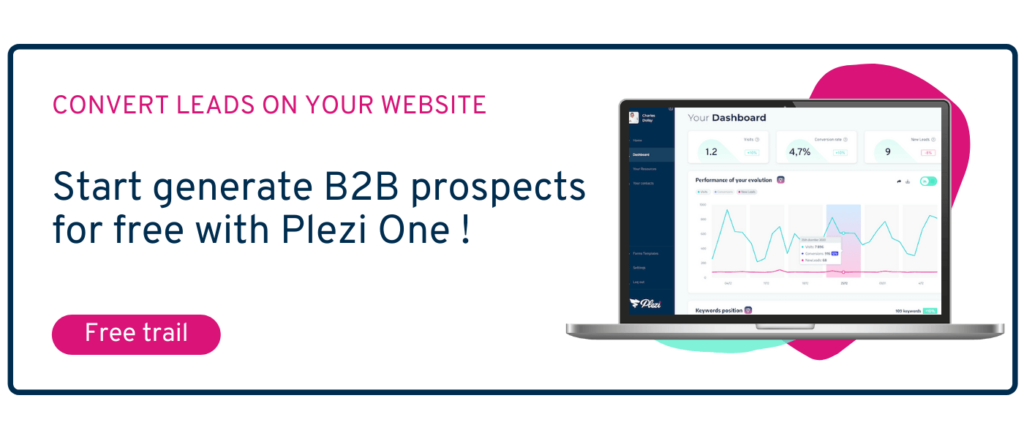 What are automated emails?
An automated email is simply an email that is automatically sent to one or more recipients. This automated sending of emails is something that can either be programmed ahead of time or triggered by certain criteria.
Also called transactional emails, these types of emails are now widely used in digital marketing across a number of sectors.
Why you should use automated marketing emails
There are a number of advantages to automating the sending of marketing emails.
1. Save valuable time
This is perhaps the most obvious benefit. For example, you can automatically send an email to leads each time they download a white paper from your website. This will save you hours of work compared to sending these manually.
Once you start to see increasing demand for your content, you'll certainly be glad to know that emails can be automatically sent to these leads.
2. Make a good first impression with leads
"Wow, this company is really responsive!"
That's what your leads will say when they automatically receive an email immediately after filling out a form on your website.
This will ensure you make a good first impression with leads, and we all know how important that is.
What's more, a study by Experian showed that automated emails have an open rate that is 8 times higher than emails sent manually.
3. Send relevant content to leads
You can also use automated emails to send other content which might be of interest to contacts.
Has a lead downloaded a brochure about your product or service? Why not ask them if they would like to request a demo?
Did a visitor download a guide to supply chain management? Follow this up with an automated email that shares your three most popular blog posts on this topic.
Rather than simply sending automated emails as a mere formality, use them to start a conversation. This way, they'll be more likely to generate engagement from your contacts.
4. Personalize your communication with leads
"Hi [first name], I really love what you do."
We've probably all received an email that starts like this. These types of poorly personalized messages ultimately do more harm than good to the company that sent them.
But because automated emails make use of information that contacts have shared with you, they make it easy to start personalizing your marketing communications.
This also ensures that you avoid making any embarrassing slip ups, addressing the email to the wrong person or the wrong company.
How automated emails work
To start sending automated marketing emails, you'll first need to have a marketing automation tool.
That's because you need to start by defining the conditions which determine when an email will be sent. In other words, when do you want a contact to receive an email?
As an example, this might be:
After they have filled in a form on your website (e.g., to download content, sign up for your newsletter, or to request a quote)
Depending on whether or not they have taken certain actions. For example, if a contact hasn't opened your first email, they might be grouped with other contacts that will be sent a reminder. They could also be removed from your scenario altogether.
According to whether they are qualified or not. You might choose not to send emails to contacts who you can see are not in your target audience. For example, students or contacts based in a country not covered by your offer.
If a contact meets the conditions that you've set, a marketing automation tool will let you programme automated emails to be sent immediately or after a specified period of time.
The emails that you send also need to be written ahead of time. Marketing automation tools often include email templates, which you can edit and customize.
But automated emails are certainly not set in stone once you've written them. A marketing automation tool will let you edit them or update them at any time. That's especially useful if you create new content that might be of interest to leads who've already downloaded one of your other resources. It means this new content can easily be included in a future email that you send, for example.
4 examples of automated marketing emails
Let's now have a look at some of the types of emails that can easily be automated with a marketing automation tool.
1. Email after a newsletter sign up
This welcome email is sent to everyone who has agreed to receive more emails from you or who has signed up to your newsletter. As a result, they will have been added to your contact database.
The aim here is to introduce your company and tell a contact what level of communication they can expect from you. This might include things like frequency, topics, and types of content sent.
This is the email where you have to pull out all the stops if you want to make a good first impression.
2. Email that sends content
This is probably the type of email that will be most frequently sent to contacts. For example, if someone chooses to download a white paper from your website by filling in a form, they'll receive an email with the link to download the white paper in question.
These emails are usually very straightforward. They typically start by thanking the recipient for downloading content and then quickly provide access to the content in question.
Unfortunately, most businesses make the mistake of stopping here. But this email is also a great place to suggest other content that might be of interest to a contact. This will help them increase their knowledge of a particular topic.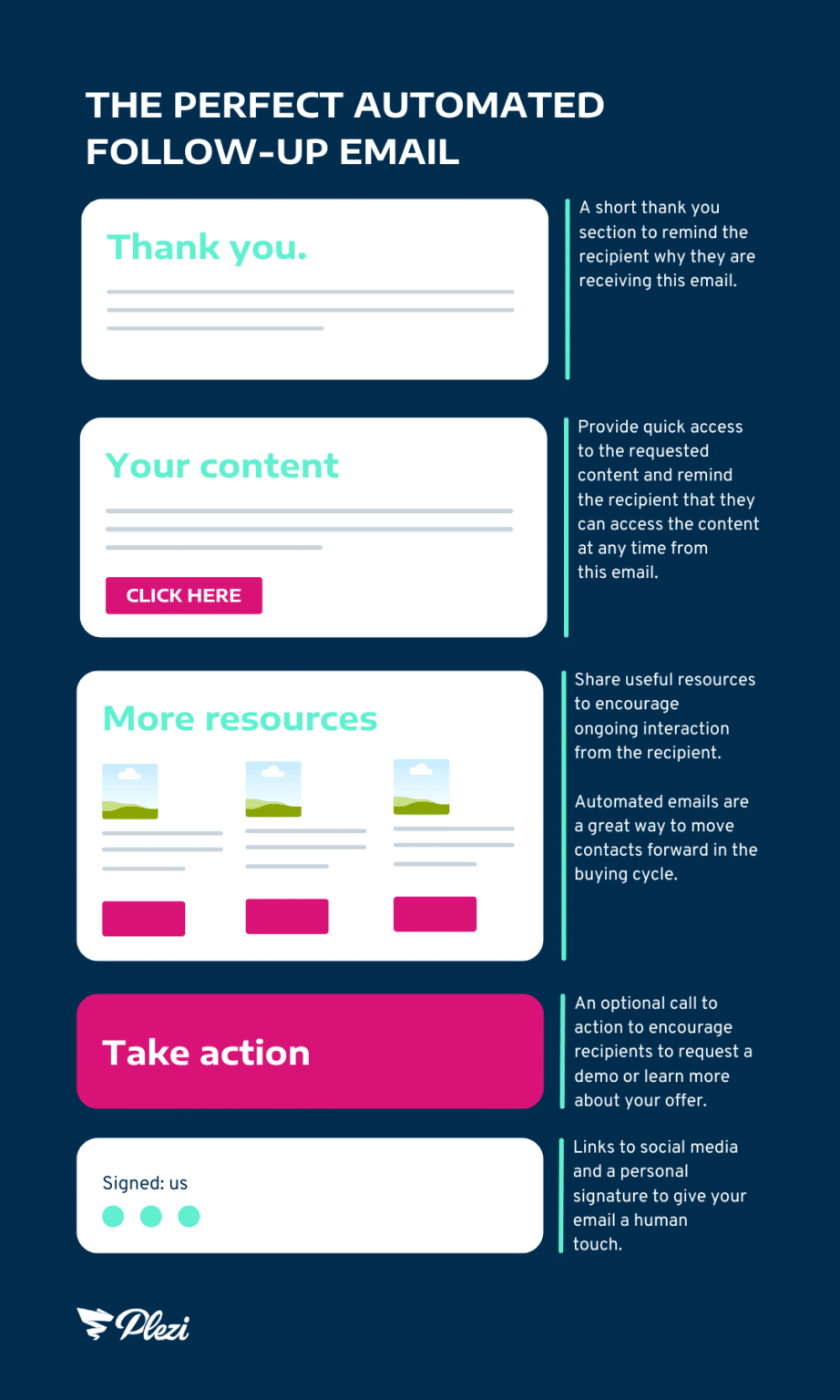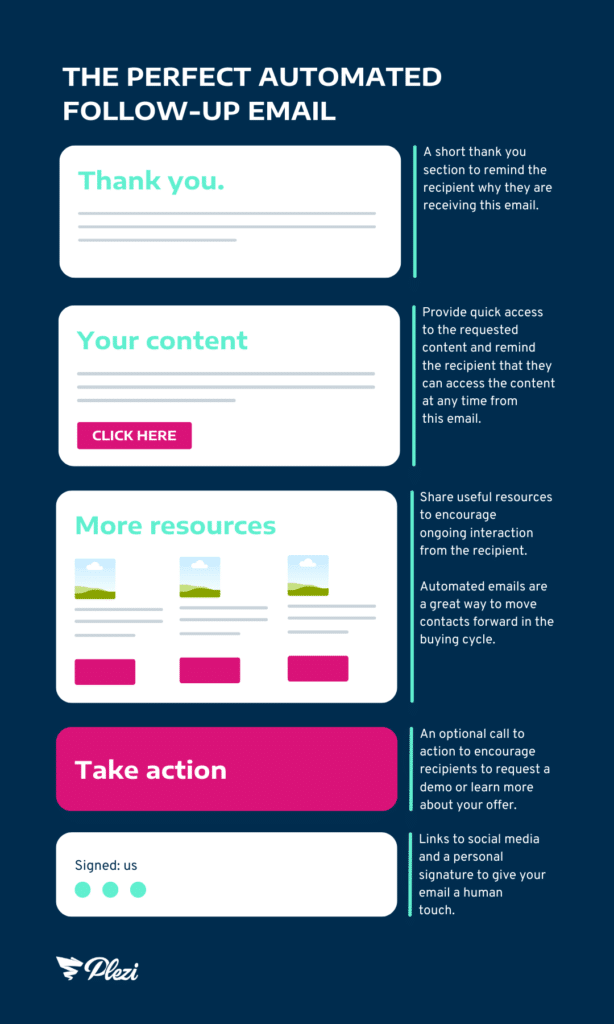 3. Email to confirm event registration
This email is sent immediately after a contact has registered for an event or webinar.
The main aim here is to clearly communicate that their registration has been successful.
You can then tell them how they can take part in the event:
for a physical event, provide information about the date and time, the location, and maybe even the closest public transport options
for an online event, provide the link to use to connect to the event
You can also suggest that a contact adds the event to their calendar to make sure they don't forget it.
4. Email following a contact enquiry
Contact form enquiries, along with requests for a quote or demo, usually require a bit more time to respond to if you're to give them the personalized attention they deserve.
That's why it's important to send the person who made the enquiry an automated email to confirm that you've received it.
This is also the perfect opportunity to indicate what will happen next and the expected timeframe for these actions to take place.
How to set up your first automated marketing emails
As we mentioned earlier, to be able to start automating your marketing emails, you'll need to have a marketing automation tool.
Here, we'll look at how you can do this using our free tool, Plezi One. If you want to follow the step-by-step guide below, you can create a free Plezi One account here if you haven't already done so.
1. Create the associated content and online form
Before you start creating automated marketing emails, you will need to:
Identify the content that you want this follow-up email to be about. In the previous section, we talked about the differences between emails sent to confirm an event registration, after downloading contact, or following a contact enquiry request.
Create the online form associated with this content. Completing this form will be the condition that triggers the automated sending of your email.
2. Write the automated email
Now go to the Form Templates tab > Follow-up Emails. Here you will be able to create and edit all your automated emails.
Click "Add a follow-up email" and enter the Sender name, Reply-to email address, and email subject. Make sure that the email title reflects the goal of your email.
Lastly, write your message. You can use smart fields to personalize your email using contact information (e.g., first name, company) and information about their request (e.g., name of downloaded content, content URL).
3. Link your automated email to content
Once the email is created, you can add it to the relevant resources using their Forms tab. And that's all you need to do to set up your first automated marketing emails.
Now you have everything you need to start creating automated emails for your business. And you can use Plezi One to start creating online forms for your website, along with follow-up and thank you emails, all for free.