At Plezi, we know that the best way to acquire and nurture leads effectively is by using a Smart Campaign. But we'll admit it, we still really love workflows! Used in a targeted manner and with a clear objective in mind, they can greatly help both experienced marketers and those just getting started – provided you don't let them overwhelm you.
We've produced this short guide to workflows to give you a helping hand: how they work, how to use them correctly, and how to get started simply and quickly with a workflow to welcome new prospects.

1.What are workflows?
A workflow refers to the set of automated marketing actions triggered by one or more actions taken by your prospects.
Marketing workflows are designed above all to save you time and to let you be more effective. Using them should also mean you don't have to repeat those tasks that don't provide any added value. In order for them to do this, you need to envisage both the "paths" that your prospects might take as part of their buyer's journey and the actions you will take as a result.
For example: a marketing workflow that sends an email to contacts a few minutes after they've looked at your Pricing page to set up a call to discuss their needs.
Depending on what marketing automation software you use, workflows will enable you to do much more than just send emails – but we'll come back to that later.
At Plezi, we don't make a secret of the fact that we prefer using a Smart Campaign to qualify prospects and gradually move them through the sales funnel.
A Smart Campaign eliminates the need for a large number of workflows that you would otherwise have to create and update, really freeing up your time.
However, if you have a very specific objective in mind, nothing beats a workflow! But before you get started, you need to have clearly defined the following things:
your target prospects

(at Plezi, our smart lists do this job for you);

your objective

, i.e. generally the action you would like your contact to take;

an idea of the steps you would like your prospect to go through

(the path).
To summarize: a workflow = a specific target + an objective + one or more possible paths.


In Plezi, users create a single smart campaign (Plezi automatically produces a unique path for each prospect), while the number of workflows necessary will change according to the number of planned marketing actions.
1.2 Some workflow examples
Technically, you can create as many different workflows as you can think of; the possibilities, at least, are endless. By thinking about the different paths that let you develop a narrative that's relevant to your contacts, you can ensure that they take exactly those actions that you want.
But if you don't want to get lost in creating, updating, and monitoring all these different workflows, we recommend that you don't have more than 5 workflows running at one time.
After all, a workflow is not just a series of tasks: it is both a marketing tactic and a real opportunity to think about what you would like your prospects to do.
To ensure their long-term effectiveness, you need to manage workflows as simultaneous campaigns: if you have too many of them at any one time, you'll lose sight of your objectives, they'll be less effective, and your ability to monitor them all will be reduced. Focus on quality rather than quantity!
Only you can decide on what workflows to create to best suit your needs. The following is a list of "essential workflows for getting started with marketing automation", all of which are highly effective at generating leads:
A workflow to welcome prospects

after they've signed up for your newsletter or after they've created an account (we'll look at this in the second part of the article);

A workflow around your events/webinars

to increase registrations (before) or as a result of participation (after) to continue the conversation;

An upselling workflow

that suggests additional offers to your customers;
A reactivation workflow to address inactive contacts in your database.
1.3 The different parts of a workflow
Every workflow consists of the following elements:
a trigger;

actions;

conditions.
These different elements are used to design the paths taken by your prospects.
1 – The trigger
This trigger is what enables you to move your targeted prospects into a workflow. It can be both an action taken by your prospects (e.g. registering for a webinar), as well as a specific piece of data (e.g. a prospect's role provided in an online form).
At Plezi, this step is fully automated: once the workflow has been created, our smart lists automatically add prospects that meet your criteria to the scenario. So, there's no need to manually add prospects to the workflow or to import them from an outside source.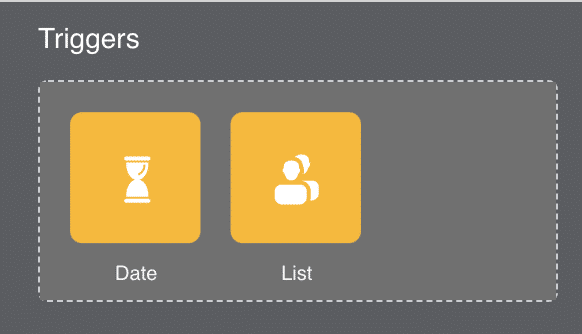 An example of a smart contact list comprising new marketing leads.
2 – Actions
Actions are the main steps your prospects will take once they enter a workflow. In Plezi, workflows don't just let you send emails. On the contrary, they enable you to automate a wide range of different tasks without having to make use of third-party tools like Zapier.
For example, you can:
Alert

salespeople when a lead opens an email or goes to a tagged page;

Allocate more points

to leads that meet the criteria for being one of your buyer personas;
Update key information about your contacts, for example by grouping them by buyer persona.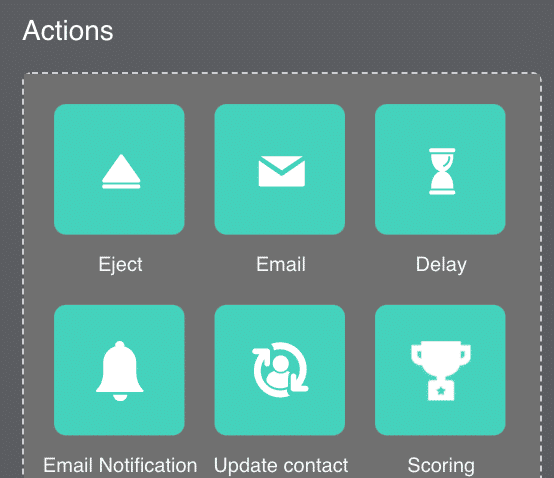 Types of actions available in the Plezi workflow menu.
3 – Conditions
Conditions are what really make your workflows "smart." You can create different branches in the path taken by your contacts based on their behaviour or the information you have available for each of them.
An example of a condition might be:
their level of qualification: for example, you can rule out certain contacts you don't want to target (e.g. students or contacts in a country where you offer isn't valid);
their form submissions

: for example, if your contact has previously downloaded a particular piece of content elsewhere, your workflow can suggest another piece of content instead;

their behaviour regarding emails

: for example, if your contact doesn't open an initial email, they can be moved into a branch that sends a reminder to do so – or removed from the workflow.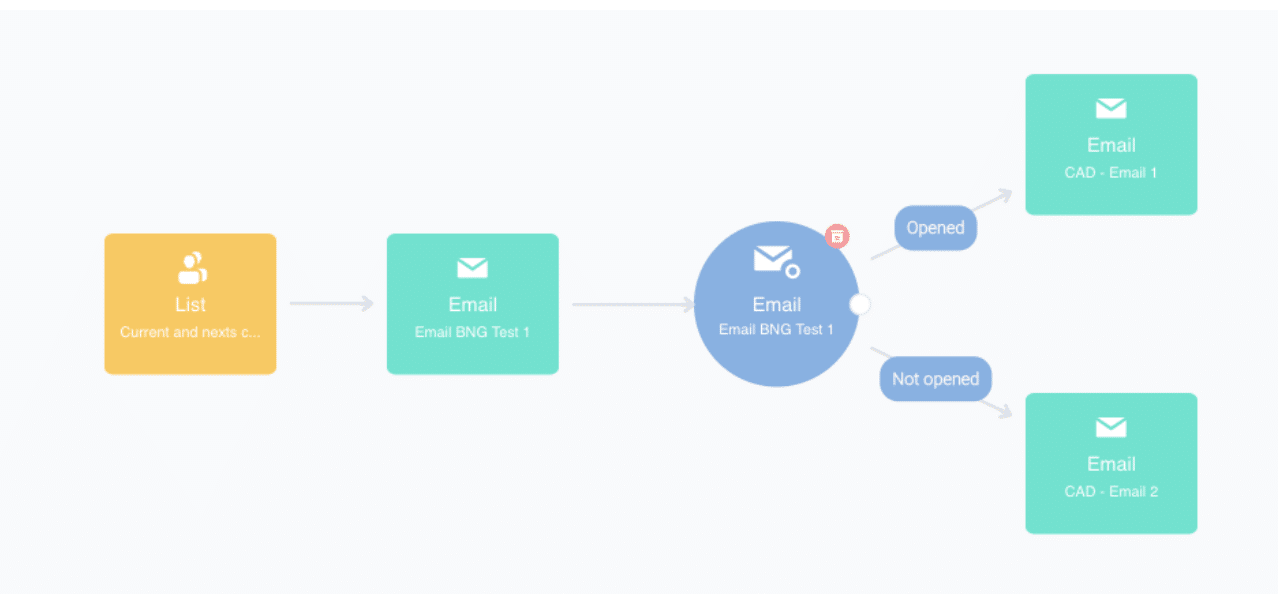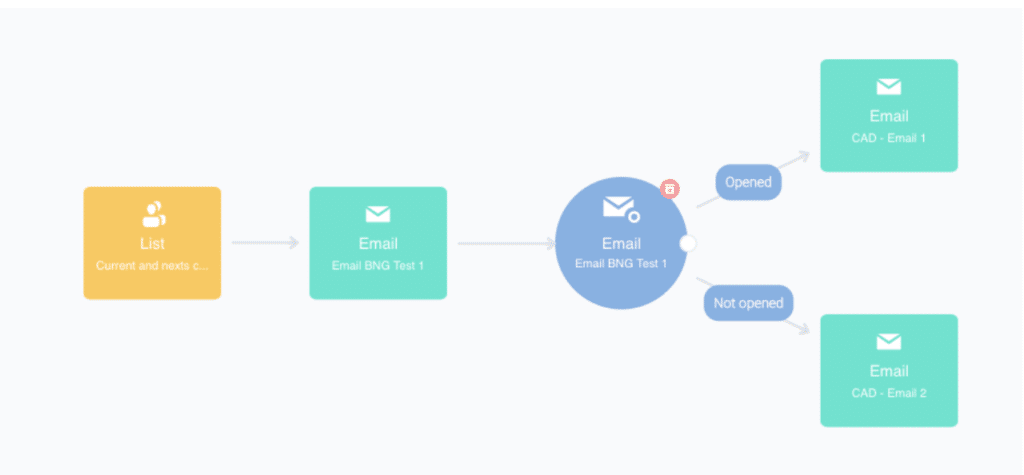 An example of using an email condition: you can advance a lead that has opened the first email and alert the right person internally if the email has not been opened.
2. The scenario to welcome prospects: a closer look at a workflow created by the Plezi marketing team
We took advantage the slower period over summer to update some projects that we'd put on the back burner.
We revamped our workflow to welcome prospects, triggered by their initial engagement with our blog and offers, so that it more closely matched our brand and message.
We wanted to use this first contact as an opportunity to welcome prospects, and to introduce both Plezi and our approach to marketing.
For us, this workflow is a "must-have" scenario for any marketing team because:
It's

easy to set up

– we designed it in 10 minutes and focused our efforts on creating the  content for it;

You don't necessarily need to have existing content in order to get started;

It's a great opportunity to quietly

present your offering

, taking the time to address the needs of your buyer personas without immediately launching into a sales pitch;

By using Plezi's smart forms and lists, it's a workflow that "runs itself". As soon as a target contact completes an online form, they enter the workflow.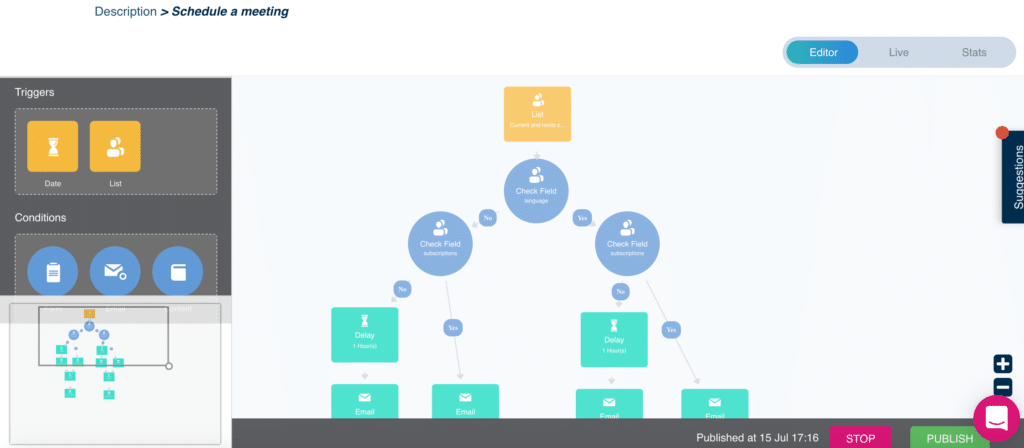 The workflow we set up in Plezi.
2.2 Elements of the workflow
Condition: Any new prospect who has completed a Plezi form online or signed up for the newsletter.
Workflow sequence:
The choice of the first email that is sent is determined by the condition "signed up for the newsletter".
If yes: a message that thanks prospects for signing up, introduces the newsletter, and provides links to our blog is sent within the hour;

If no: a message is sent introducing Plezi's approach to inbound marketing and the resources available on our website (e.g. webinars, kits, articles).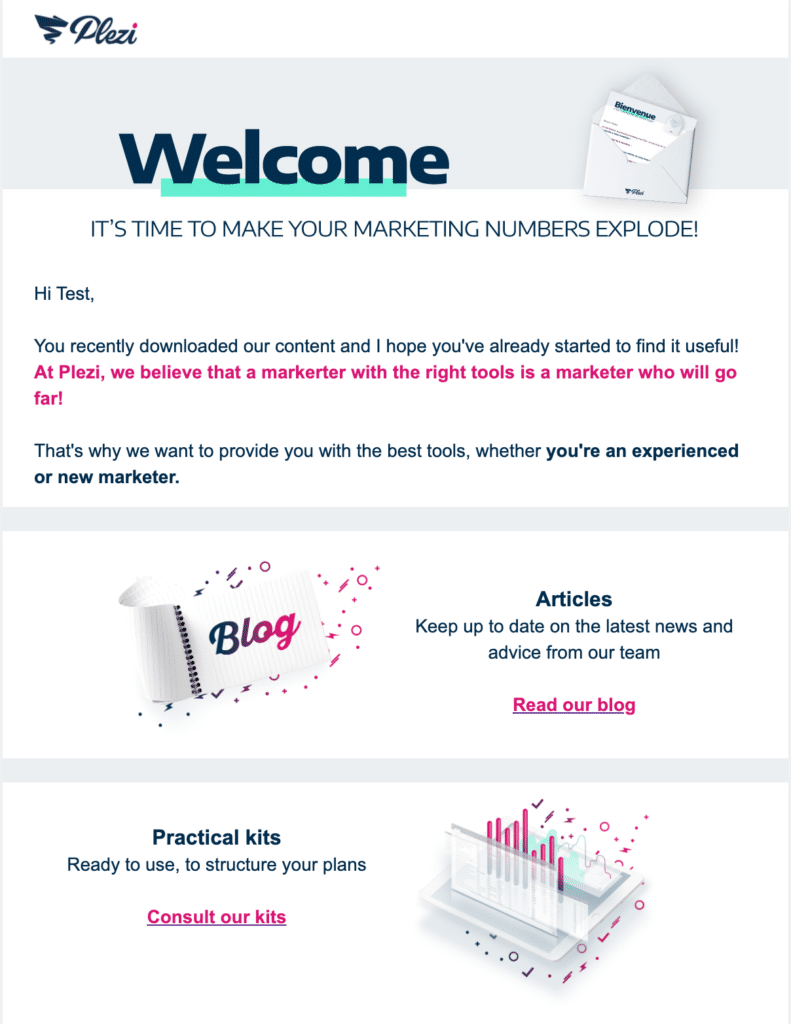 If the first email was opened, a second email is sent the following week presenting Plezi's marketing automation software and its flagship feature, the Smart Campaign.
Emails in this workflow were written in both English and French to increase efficiency and so that we could have the results available in one place (rather than creating a separate workflow for each language). This enables us to see overall results for each main marketing step without having them divided into results for English and French content.
2.3 Workflow monitoring and results
Plezi can tell us, in real-time, how many prospects there are at each of the workflow's different steps. This feature is called "live view" and it lets us very quickly see if a particular step in our workflow is not delivering the desired results.
In Statistics, we can monitor the performance of our emails in greater detail: number of emails sent, number opened, number of clicks, number of people who unsubscribe from emails, and conversions!
Can't wait to get started? Don't forget to ask yourself:
What repetitive messages would you like to automate?
What would you like your leads to do after a specific action?
What prospects do you want to target?
Once you have answers to these questions, grab some paper and a pencil and start designing your dream workflow. And, if you ever need a little help, feel free to contact us!