Often, when we're working flat out, one of the concerns we have as marketers is forgetting the reason we get up in the morning. Namely, our customers (prospects or leads).
That's why the Buyer Personas stage is essential: we step into the shoes of our customers: what are they looking for, what they want and how we can help them?
Here is a complete guide that can be applied to any B2B marketer who wants to define and, above all, use Buyer Personas!
In this article we'll tackle:
The definition of a buyer persona
Why define your buyer personas?
How do you create a persona with B2B?
How do you use personas in a marketing strategy?
01. What is a buyer persona?
A) Definition of a buyer persona
A buyer persona refers to the ideal target customer. It is a detailed, fictitious portrait of marketing targets: who they are, their tastes, habits, needs, problems etc. This helps you better target your communication and offering.
To achieve this, you need to consider current clients (yours and those of your competitors), understand how they work, know their online habits in order to understand what type of content is likely to appeal to them, the questions they ask, their motivations, their objectives and their influences. And above all, the real pain points to which you'll be able to respond.
B) What a buyer persona marketing is not
Buyer personas are not real people, target markets or positions in the company and do not depend on your products and services.
A marketing buyer persona mainly concerns the intentions of your prospects, their motivations, the questions that they want to answer and their behaviour.
It's a kind of representative sample of a specific target, in relation to a product.
C) B2B or B2C: what is the difference when it comes to personas?
In both B2B and B2C, buyer personas are detailed profiles of each type of buyer of your solution.
However, there are notable differences between the B2B and B2C buying processes which will undoubtedly influence the way in which you construct your personas.
In B2C, purchases are most often based on an individual decision. They are more emotional, less logical and can be impulsive.
In B2B, the decision to buy is generally collective. Buyers are several stakeholders weighing up the advantages and disadvantages of the solutions to their problem. In principle, there's no impulsive purchase. Decisions are based more on reason and less on emotion. Consequently, B2B buyers are more likely to rely on relevant content to help them make their decision. Purchasing cycles often being longer, it is necessary to build a relationship of trust upstream.
What are the consequences for buyer personas?
In B2B, the decision is made collectively. It is taken by a group of individuals within an organisation. You'll, therefore, need to construct your personas on two levels: company and individuals within this company.
You will then have distinct personas for each type of business and for each sector. But you will also have types according to employee roles within the company. Indeed, your first contact (the influencer) will not necessarily be the decision-maker. Additionally, you will undoubtedly need to work on several personas in order to implement actions that reach the final purchaser.
02. Why define buyer personas?
This is a key part of a successful inbound marketing strategy.  The real goal of persona marketing is to make contact with your ideal customers, where they are connected. In other words, to add value using content at the different points of contact. If you can attract your future buyers by creating content that interests them, being where they are and knowing their pain points, you will start to generate leads.
If you research what marketing personas want to achieve, you can then know how to help them achieve their goals by providing the right products and services, at the right time.
Personas enable you to:
Define your different client profiles;
Know which type of content to produce to attract them;
Know at which moment to publish your content;
Know which sensitive areas to tackle;
Define the right keywords (SEO).
Have a clear idea of the problems that your prospects want to solve, giving you a degree of certainty concerning which subjects to tackle in your content.
Know their sources of information and the influencers that they follow, allowing you to develop a content distribution plan suited to their behaviour.
All of your marketing team's actions must be carried out for one of your personas. If you can't associate the subject of your next blog article with one of your personas, you'll need to revise it.
Not developing buyer personas risks creating a content marketing plan that won't have any return on investment: it will be too far from the needs of your future buyers and companies and your value proposition, may be generating traffic, but very few prospect conversions.
03. How do you create your personas?
In order to help you create your personas, we've created an example of a questionnaire to help construct your buyer personas including:
A questionnaire with questions to ask your target market, which you can easily supplement with your own questions.
Here's an example of a persona to inspire you.
A persona template that you can duplicate as required.
First step: identify which questions to ask (yourself)
If you ask general questions, you'll get general answers. If you want specific answers, ask specific questions.
Each time, you need to ask yourself if the answer to the question will really help you better understand your audience and allow you to better respond to their problems.
Sociological profile:
Male or female?
Age
Training
Career path
Company?
Business sector
Type of company (Start-up, micro-business, SME, listed company etc.)
Number of decision-making levels
Role within the business:
The person's seniority (senior, junior)
Typical day
Degree of expertise required to carry out their role
Decision-making level
Specific information:
What tools do they already use?
What strategies are relevant to them?
What are their main objectives?
What are their obstacles/constraints (ecosystem, internal, financial, R&D etc.)
Sources of information:
How are they informed?
What websites/blogs do they read?
How frequently?
How present are they on social media?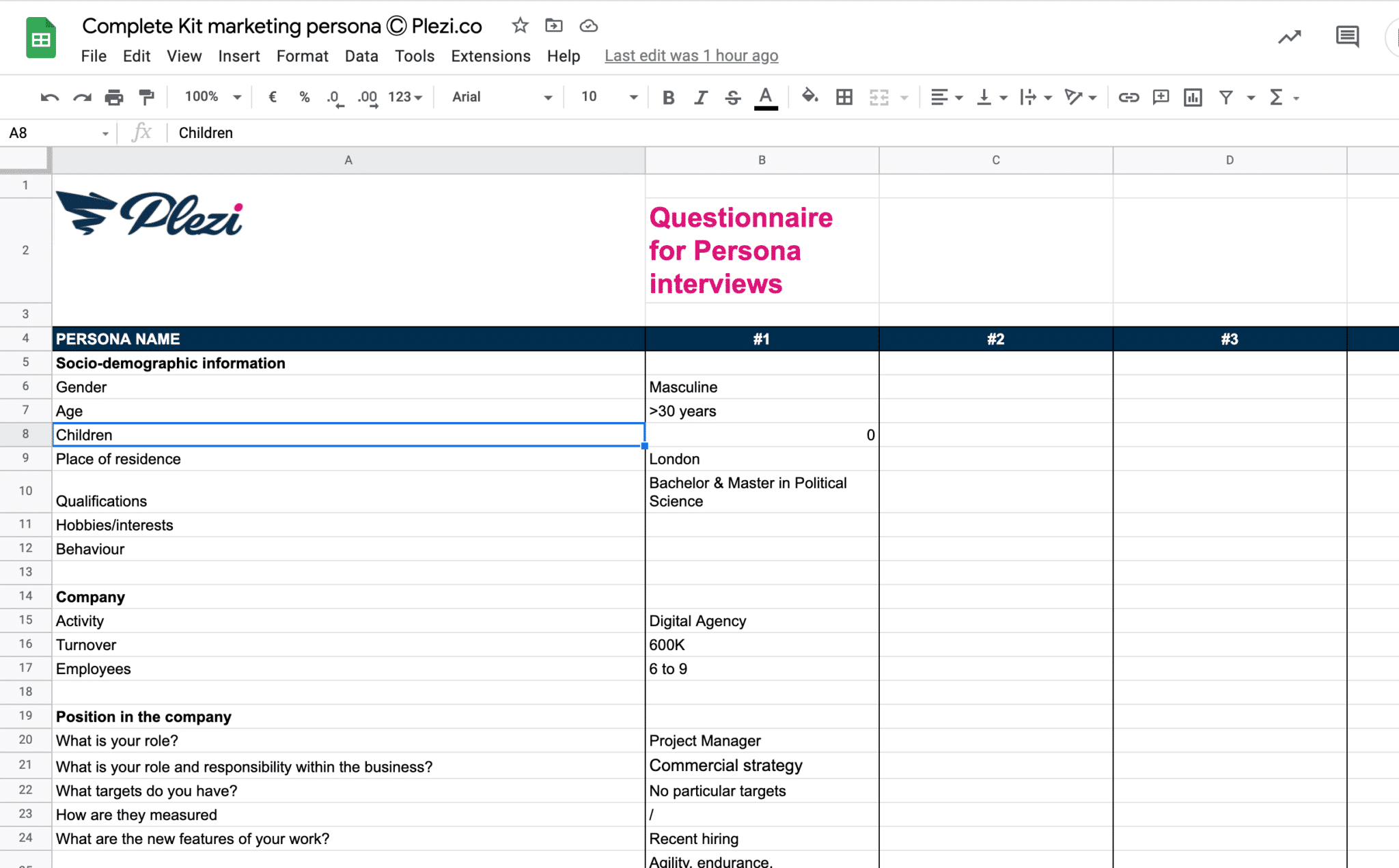 It is also helpful to list what does not correspond to them. This will be your negative persona:
They may be too expensive to acquire as a customer
They will never buy your product or service
They are too advanced for your product or service
They are students and are interested in your product or service
Second step: determine the research channels
Even if you can often respond to the questions yourself, creating personas requires qualitative investigation to avoid making often risky assumptions. In this phase of creating the persona, you will need to multiply your research channels.
Listen attentively by going to where your customers and prospects are.  For example, take inspiration from their LinkedIn accounts:
What type of people belong to their network?
What groups do they belong to?
Are they active? (publication of news or social media articles)
Through researching keywords on social networks, take a glance at comments on your sector's blogs, and don't be afraid to ask questions on social media, in dedicated LinkedIn or Facebook groups, for example.
Next, ask each of your employees to express their view of customers.  It is particularly relevant for those in sales who are in direct relationship with your customers. Feedback from sales staff on the objections they encounter will be a rich source of information when constructing your buying persona profile.
As a marketer, you can also listen-in on sales calls to better understand your target market's pain points.
Finally, pad-out your personas by interviewing real customers and prospects and/or conduct client surveys.
You can also use intelligent statistics from your various web-marketing tools (Analytics, Twitter, LinkedIn, Buzzsumo, Facebook, Plezi etc.) to refine your understanding of different profiles.
Third step: Compile the responses and research
Having data is great. Having organised data and bringing it to life is better. To set out your data clearly and precisely (but in a way that can evolve over time) you now need to compile this information in a concise way in order to bring out the very best analysis.
Here's an example of how we compile and synthesise our buyer persona at Plezi.

04. How to create good personas?
At Plezi, we try to create and redo our personas regularly. Here is some of the best advice we've drawn from our experience.
4.1 Ask the right questions at the beginning of the interview
Among the questions you plan to ask your clients/prospects, some are essential and others less so. It is also difficult to predict how much time your interviewee will spend on each question. To make sure you have a good exchange, you should prioritize the questions that you feel are most important and on which you want to get feedback from your contact.
4.2 Be a good listener and let the customer talk
It's important to think about the questions that we want to ask and also where we want to go with our allotted time, but not to the detriment of letting the other person speak freely and express themselves. Many times you'll get extra information that you wouldn't have imagined if you can earn to be a good listener.
4.3 Give up asking all your questions if necessary
Sometimes your interviewee may answer a question you already have before you've asked it. Others, you may need to leave out in order to let the person express themselves freely. The most informative conversation will be those that you can guide, but can have as a conversation. The aim is to make our client talk about themselves and their marketing.
5. How to use your personas?
Thanks to the personas you create, you will be able to adapt your inbound marketing strategy around it. In fact, your content, the topics you talk about, where and how you do it, can be driven by the information you got from your personas. Both marketing and sales will be able to make use of these resources. 
We also use all of our different content to nurture leads, in order to identify MQL's. We place them in our Smart Campaign's, which is the simplest way to educate, inspire and engage your contacts, as well as being able to personalise and segment your future buyers.
5.2 Adapting your communication with the right language
The conversations you have with your prospects and customers will help you to identify words and expressions that come up regularly. It can help you with your content, but also with potential Google Searches. Recurring phrases, words and interests are a gold mine as you work out what kind of language and tone you use to engage your audience and define your brand.
5.3 Identify the right channels to promote your content effectively
In order to get your content out to your target market, you have to be where they are. As you discuss with your personas it is important to understand where they are online, what they look at each day, where they get inspiration and advice as well as their daily habits. It will mean that you can start to push your targeted content out to your future customers, where they hang out.
5.4 Know the buying process to increase our conversion rates
Personas are also essential for you to be able to understand how you convert online. Defining personas helps us to be able to map out the buyer's journey. You can identify the content to cover all the stages of the acquisition funnel and increase conversion rates throughout the funnel.
Without a clear understanding of their buyer journey, it is impossible to create the content sequences that will allow you to move them along your conversion funnel.
Your prospects are looking to be educated and informed. They want to feel that your site was created specifically for them. Your copy should make them feel that way, but to do that, you must first understand your buyers' goals and needs. 
To stay close to your prospects, don't forget that your personas are not fixed and must be reviewed regularly! To create actionable personas, download our complete kit: