Do you want your website to generate new business? Inbound marketing generates three times more leads than outbound marketing techniques at a fraction of the cost. But if you want to see results from inbound marketing, you need to attract traffic to your website. And more than half of all web traffic comes from organic search results.
So, if you want to improve your website's performance, you need to master SEO. This will let you improve where it ranks in search engines. The only problem with this is that Google is constantly making changes to the algorithm it uses to rank websites.
By using an SEO analysis tool, you can improve your ranking in search results and more. In the post below, we'll look at what we think are five of the best SEO tools for your business.

1. Why you should use SEO analysis tools
More than half of all traffic on the internet comes from organic search results. These are the searches that internet users perform on search engines. What's more, 95% of the links clicked on by internet users come from the first page of search results. That means that all other search results receive a mere 5% of clicks.
So, if your content doesn't rank on Google's first page of results for your chosen keywords, it might as well not exist. Even on the first page of search results, web pages that rank first or second in Google generate the majority of clicks.
The hard truth is that content that doesn't rank in those first few positions generates considerably less traffic. And less traffic means less leads.
60% of marketers believe that SEO is what has the single greatest impact on lead generation. That's why they work so hard to improve where their content ranks in search results. But the challenge is that there's no magic formula to improve your ranking. How websites rank for different keywords is complicated by the fact that Google is constantly making changes to its search algorithm. It performs between 500 and 600 updates each year. Often these updates will have a negligible impact on your SEO. But sometimes they can wreak havoc on where your content ranks.
To ensure you won't be adversely affected by these changes, you need to regularly carry out an SEO audit of your website. Because Google's algorithm is constantly changing, you really can't afford to take anything for granted. SEO analysis tools will scan your website in a similar way to Google's algorithm. They'll give you a better idea of how your content performs and a list of actions you can take to improve your search rankings.
2. How SEO analysis tools can help you
SEO is a field that is in constant flux. Even with a good knowledge of how search engines work, online search, and keyword ranking, you can't be sure to always get it right.
There are a large number of factors to be taken into account. And that means your chances of effectively optimizing content for SEO without having a bit of outside help are slim. SEO analysis tools will give you all the information you need. They'll give you an assessment of how your web pages perform at a given period of time. They'll also give you a range of things you can do improve where content ranks in search results:
Technical SEO: Google's algorithm looks at the technical performance of your website, like page load times or how mobile-friendly it is. It's important to know therefore how your website measures up.
Keyword ranking: how many of your web pages rank on the first page of search results for their given keyword? What position are they on the first page? How does your content compare to that of your competitors?
On-page SEO: do the pages of your website meet the different SEO criteria? Do they follow SEO best practices for things like meta descriptions and tags?
Link building: the quantity and quality of inbound links to your website greatly affects SEO. It's a good idea to know how many websites include inbound links to your content and where those links come from.
Trust indicators: how secure is your website and what is its level of authority?
Here's a list of what we think are some of the best SEO tools available to help improve the SEO of your website.
3. 5 SEO tools to analyse your website's performance
Google Search Console: SEO analysis by Google
To understand what Google expects from your website, it seems logical that the best idea is probably to ask Google itself.
Fortunately, Google has a comprehensive free tool, initially designed for webmasters, to help you optimize your website for SEO: Google Search Console.
Google Search Console has a number of features essential for good SEO. It enables you to:
Get suggestions on how to fix problems related to the content of your web pages (in the "HTML Improvements" submenu). These might concern things like duplicate content, title tags, and missing or problematic meta descriptions.
Visualize your search analytics. You can see the most popular searches that bring traffic to your website, the devices used, and the location these searches were performed from. This will let you see what keywords bring you the most traffic.
Analyse your inbound links. You can see the total number of inbound links to your website and where they come from. You also see which pages the links point to and the structure of these links.
Consult your website's indexing report ("Google Index") to see how many of your web pages are being indexed and if any pages block robots from crawling them.
Identify crawl errors like 404 page not found errors and URLs for non-existent pages.
View a web page as Google's bots see it and correct any SEO errors using "Fetch as Google". This is especially useful if you have made significant changes to your website.
Google Search Console is a comprehensive, free SEO analysis tool that lets you identify any areas for concern on your website. It will also help you make the necessary changes to optimize your ranking in search engines.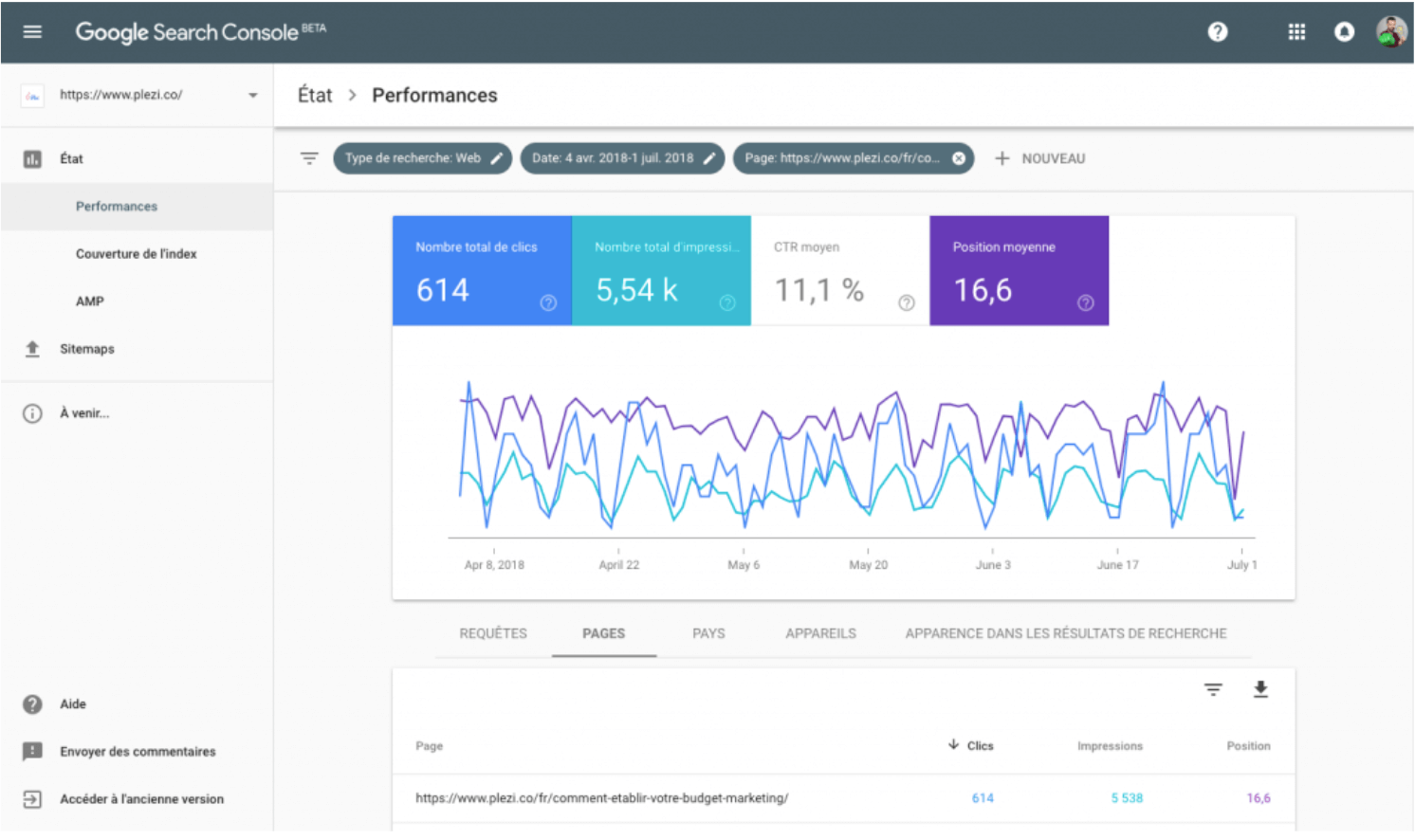 2. SeeUrank, for complete SEO analysis and reporting of your website
Developed by French company, Yooda, SeeUrank is a suite of tools that provide you with a complete SEO report for your website.
SeeUrank is easy to use and will perform a mostly automated SEO audit of your website based on the following criteria:
Measurement of SEO performance: track where your website ranks for a large number of keywords and SEO performance for both desktop and mobile
How your performance compares to your competitors
SEO audit: identify factors that adversely affect your SEO and optimize both the content and structure of your website
Backlink analysis
On-page optimization
Indexation analysis of your website
In addition to SeeUrank, Yooda has also developed another very useful tool for keyword research: Yooda Insight.
3. Check My Links, to identify broken links on your website
The importance of link building for SEO can't be stressed enough. If you want to improve how you rank for certain keywords, you need to increase the number and quality of inbound links to your website.
But you also can't overlook the importance of outbound links. These are often given in exchange for inbound links to your website. But outbound links also affect how your content ranks in search engines. Google's algorithm will penalize web pages that have broken outbound links.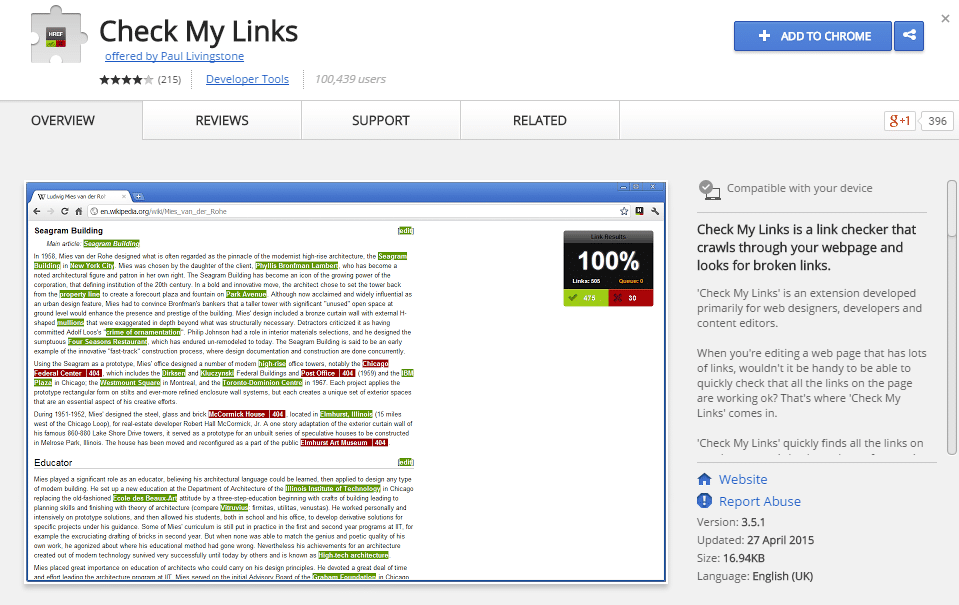 Check My Links makes it easy to check if your outbound links work. Good links are shown in green and broken links in red. This is another free SEO tool that is very useful.
4. SEO Report Card, for a free, quick overview of website performance
Sometimes it's good to get straight to the point. SEO Report Card, developed by UpCity, does exactly that. It analyses the main factors that affect the SEO performance of your website on Google and Bing. Its report also indicates how your website ranks for your main keyword compared to those of your competitors.
It's a handy tool to quickly check the SEO health of your website which also lets you identify areas for improvement.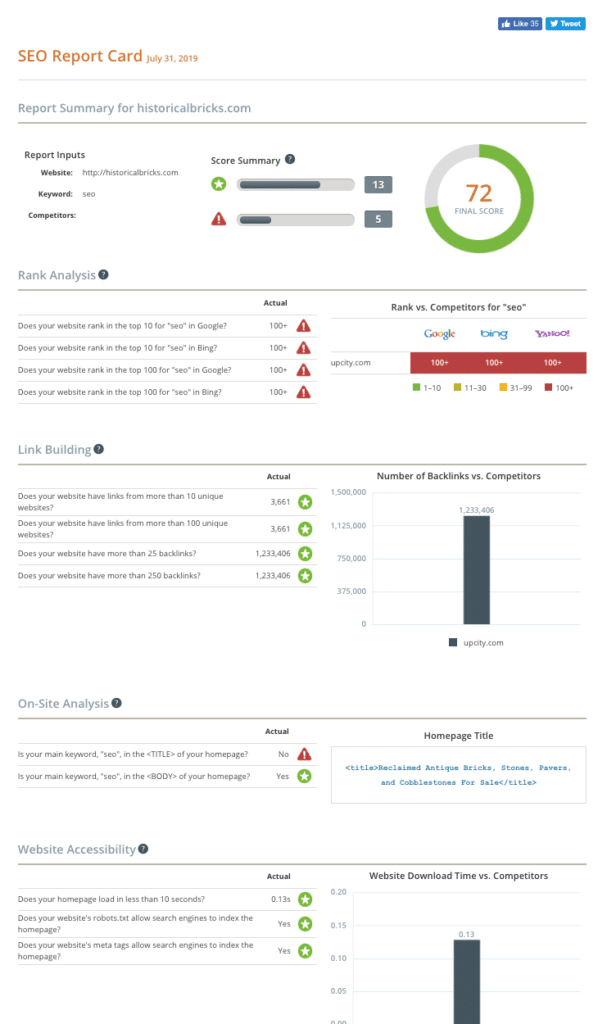 5. SEO Spider, to crawl your website
The well-known SEO Spider was developed by Screaming Frog. It lets you perform a complete crawl of your website (i.e., it analyses all the pages of your website link-by-link in the same way as Google's robots).
This enables you to identify common issues that can affect the SEO of your website. For example, broken links, redirect loops, orphan pages, duplicate content, and missing metadata.
There is also a premium version of the tool available. But the free version lets you identify any issues with the internal link structure of your site.
SEO analysis tools let you keep pace with changes to Google's algorithm and track the main SEO metrics. These include the position of your website in search engines, how you rank for different keywords, the quality of inbound and outbound links, as well as website security and accessibility.
Without these tools, you'll probably only carry out a complete SEO audit of your website from time to time. Using them will let you identify any problems with your website SEO in real-time and make the changes necessary.
Obviously these are just a few of the many SEO analysis tools now available. What SEO analysis tools do you use with your website? Why not tell us about them in the comments below ?