If you've already been told that one of your first jobs as a marketers is to "work on the brand image"… but without any specifics, raise your hand! Brand is one of the biggest catch-all concepts in marketing. Our bosses, our colleagues and even ourselves put different things into it and we always have a bit of trouble understanding where to start. Yet it is a fact: a customer does not only buy a product, they buy a set of values that attract them and match their own. Once you're convinced, great, but where do you start? 
Spendesk, a business expense monitoring software for companies, needs (almost) no introduction anymore. More than their product, it's their approach, their tone and their brand that makes all the difference. Stéphanie Bowker and Tim Whitehead, Head of Marketing and Head of Performance Marketing respectively, came to Marketing Wild Wild West on Saloon to tell us their secrets. How to make your brand, your identity and your values your best marketing weapon… for real? A little spoiler: everything has to start from the inside.

1. Your brand is your strongest weapon 
If anyone doubted the importance of a good branding strategy, Stephanie and Tim make a clear statement: the world of BtoB marketing is a cacophony. To back up their point, they make four simple observations: 
679 startups have been created in the last 90 days; 
there are over 30 million active companies on LinkedIn; 
an average adult sees about 5,000 advertisements a day; 
a BtoB company employee receives an average of 40 newsletters – and opens 2 of them. 
So the question is: how do we get our voice and messages heard amid all this noise? Spendesk's answer is clear: brand. 
For them, the notion of brand brings together your company's values, the story you want to tell, why the company exists and what people will remember about you.
A good brand allows you to reassure and start your prospects on an adventure: you should not hesitate to share your thoughts on your industry, your ambitions and your objectives with your customers to attract them and attract new talents. 
Stephanie and Tim agree on that: people remember your story, not your pitch. And to have that, there's no shortcut: it's a daily internal job. 
2.Build a brand from the inside-out
Brand image doesn't happen by accident. It takes time, research and a lot of questioning. Why do we do this, and not something else? Why do we choose this approach and not another? 
Our first step, Spendesk says, is to formalise the informal. To do this, we have to put our famous "why" on paper; the company's raison d'être and its great values. If we don't manage to be concise and clear on these points, our clients and prospects will not be able to guess them! 
To do this, we need to : 
know our corporate values (the real ones, those lived daily); 
know our customers and targets (the more precise, the better); 
know our product; 
know our market. 
It all starts with values
We need to take the time, together with all our colleagues, to define values that speak to us, are honest and bring positivity to the team.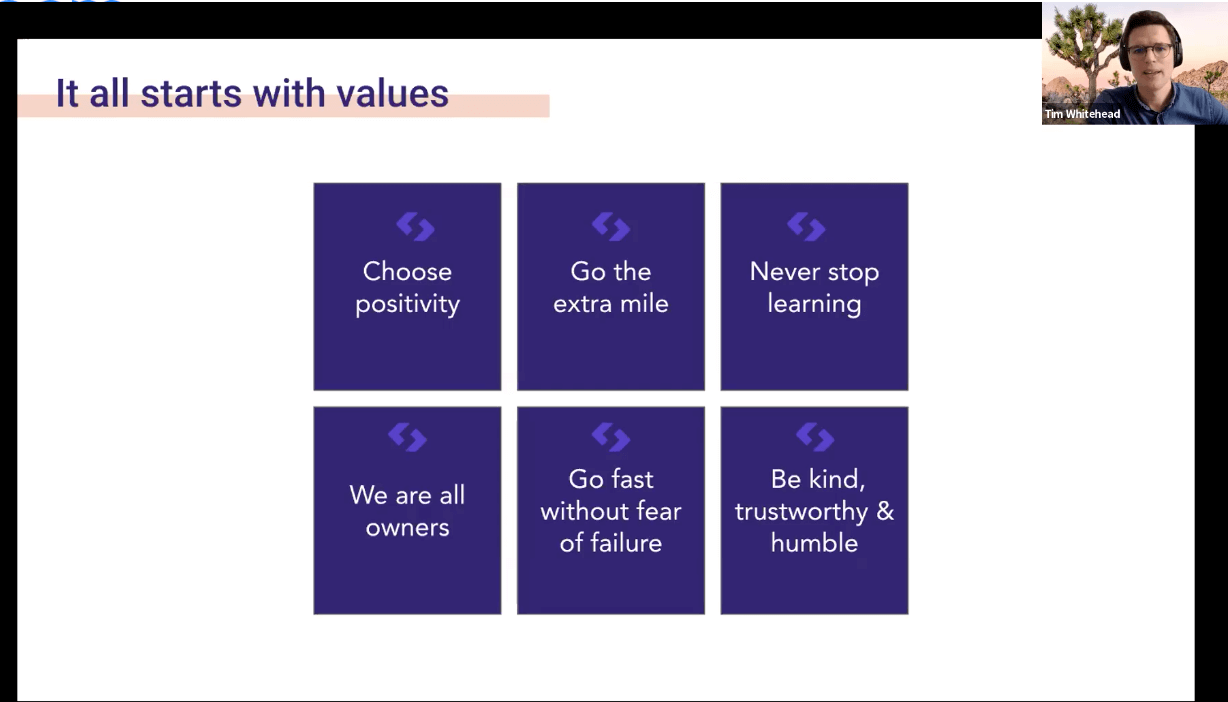 These values must be shared by all of the employees because we all carry our company's values, Stéphanie and Tim told us. These values are a reflection of our company's system but also what we want to be known for. Taking the time to work on them is crucial. 
These values then feed into all our processes: 
our internal rituals; 
the way we tell our story; 
our corporate mission; 
how we build and talk about our product.
    2.Get uncomfortably close with your prospects  
Segmenting our audience as much as possible and building a strong and precise persona allows us to collect feedback from our prospects and clients, which enriches our persona in turn, allows us to adjust our content, collect new results… etc. 
In the early days of Spendesk, their CEO would go to customers' (and a few willing prospects') offices to observe their work and adapt the product to their feedback. It is this way of doing things that they are still reproducing today and advising us to do. 
By knowing our target audience precisely, we can adjust our messages and not spread ourselves too thin. We have to be comfortable with the fact that our product is never really for everyone and focus on being the best possible for a well-defined target. This will only make our messages and brand strategy stronger. 
 3. With all this info, put your product positioning on paper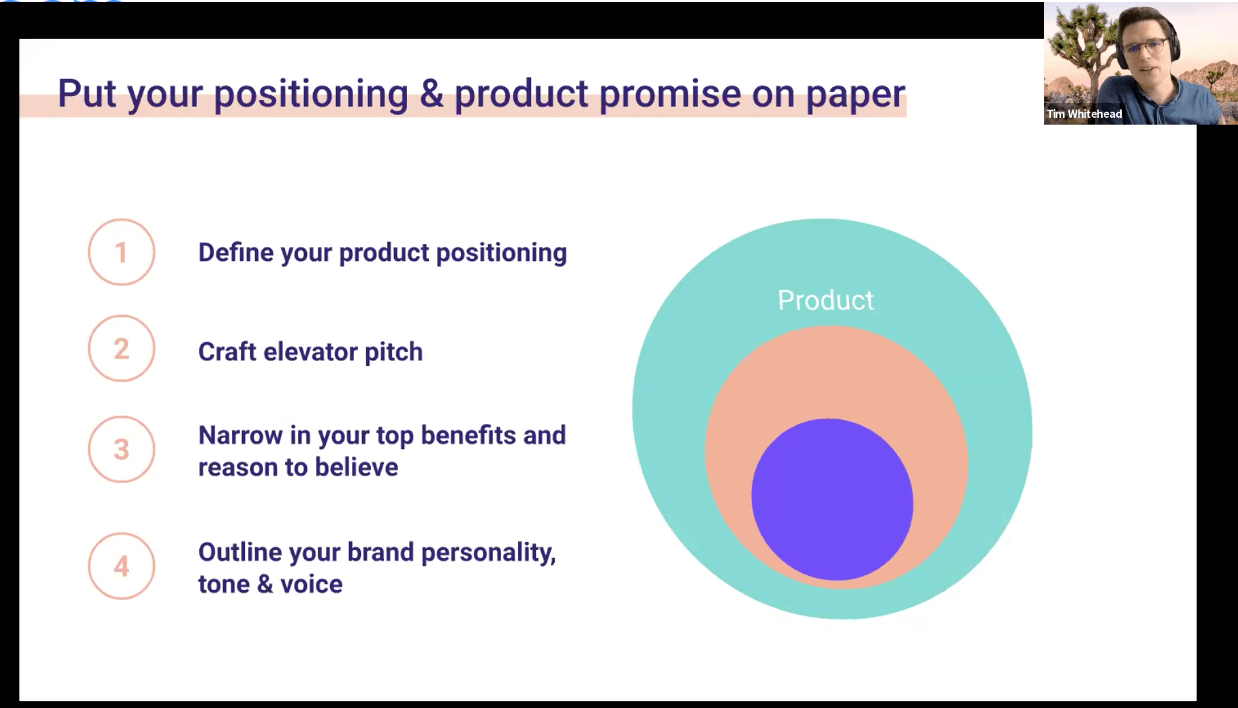 Once our values and our audience are in front of us, we can finally build our product positioning. This is the best moment! It's up to us to distil our values and our story into well-chosen sentences, to select which features will be most meaningful to our users, to build a tone that sounds like us and speaks to our audience.  
4.Draw an honest comparison with your competition
Research on how we stack up should only happen once we are sure of our positioning. This is Tim and Stephanie's main point: don't build your brand image based on others, but for yourself and your customers first. Research and a good SWOT analysis (Strengths/weaknesses/opportunities/threats) are always valuable indicators, but only once we are confident about who we are and what we stand for.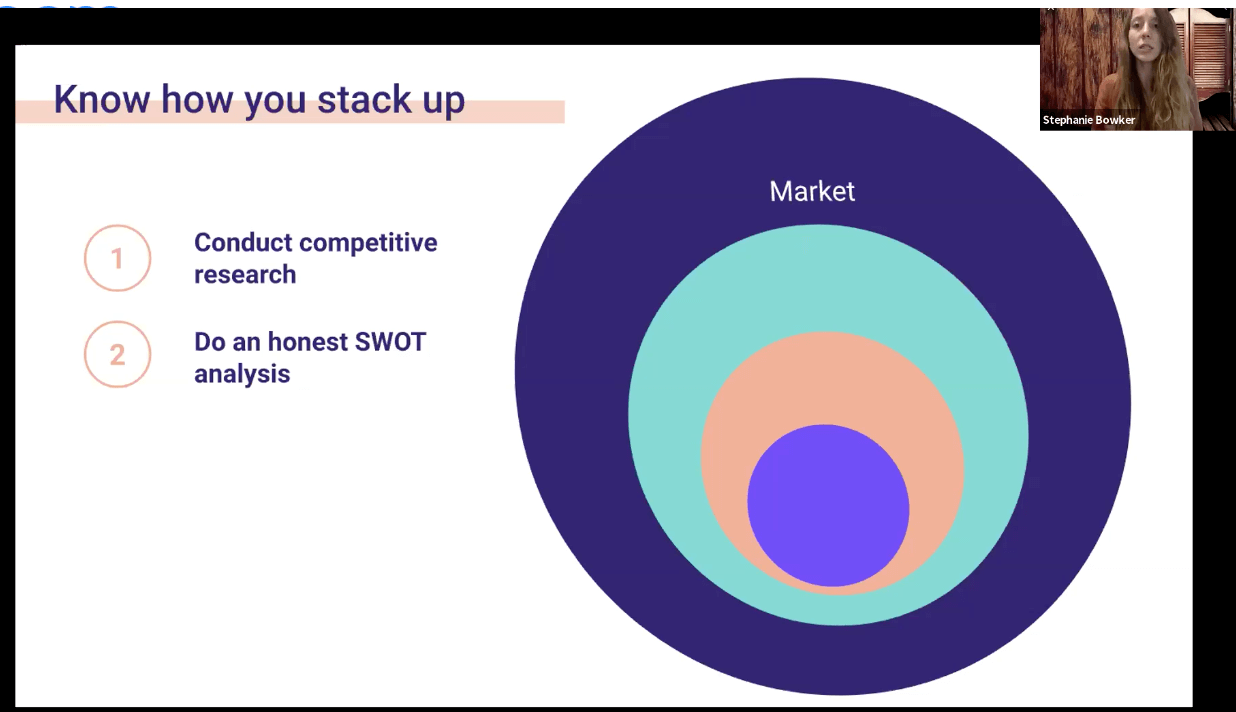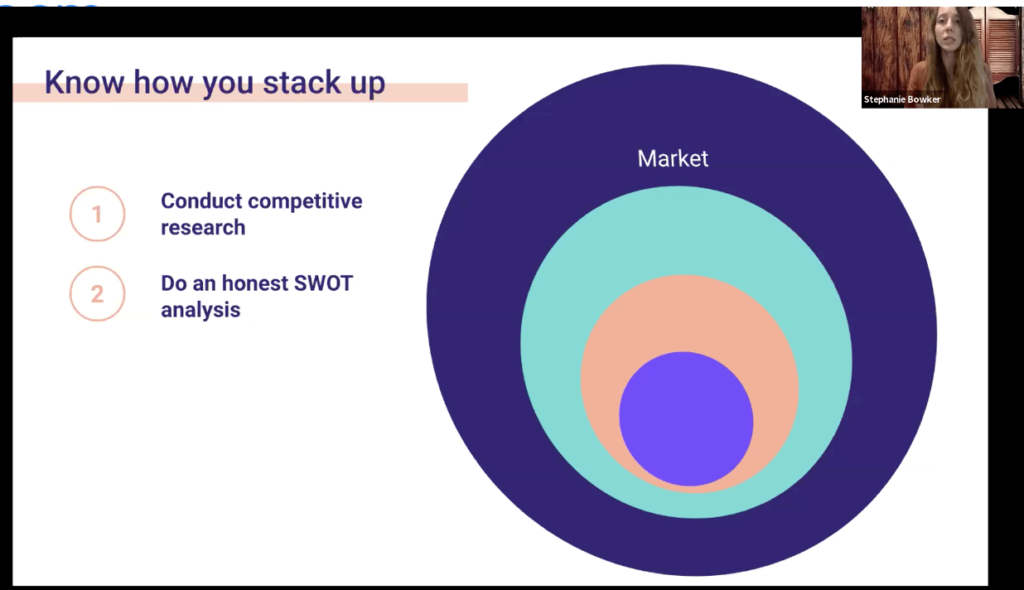 3. Talk about your brand, all the time and everywhere 
Once you've set your image, stick to it. Be ruthless" say Stephanie and Tim. For our brand strategy to be felt in our marketing actions, our brand and our values must be lived out daily.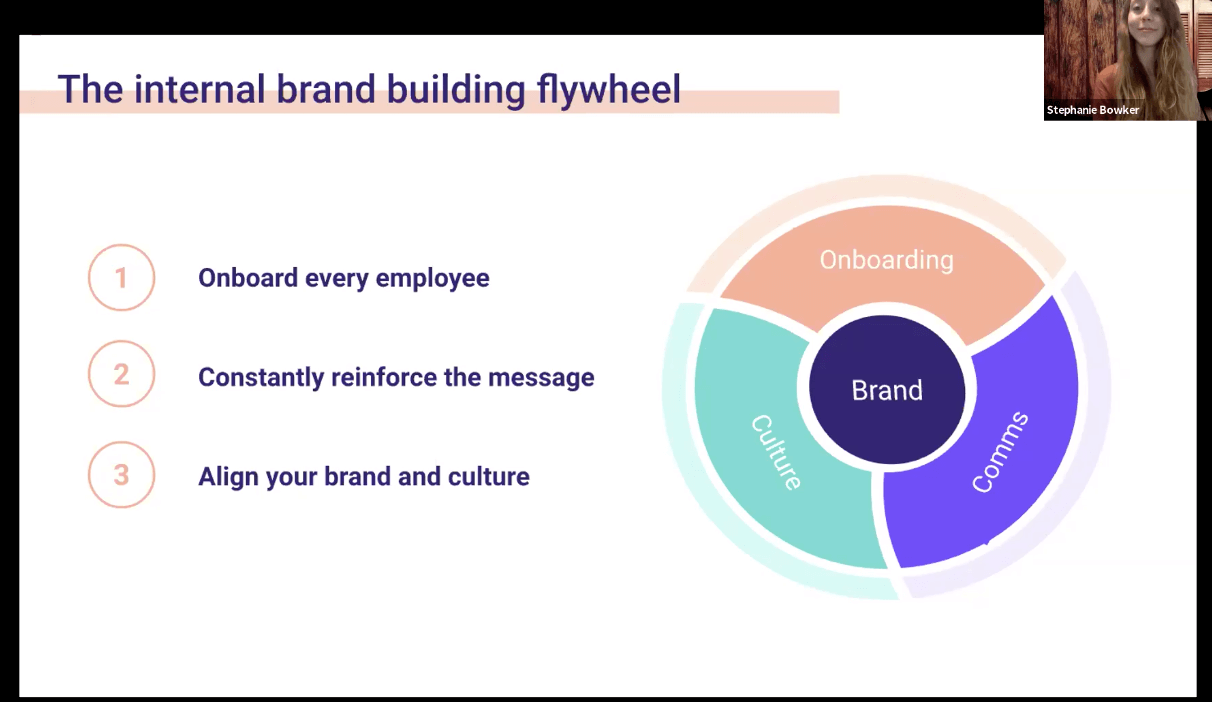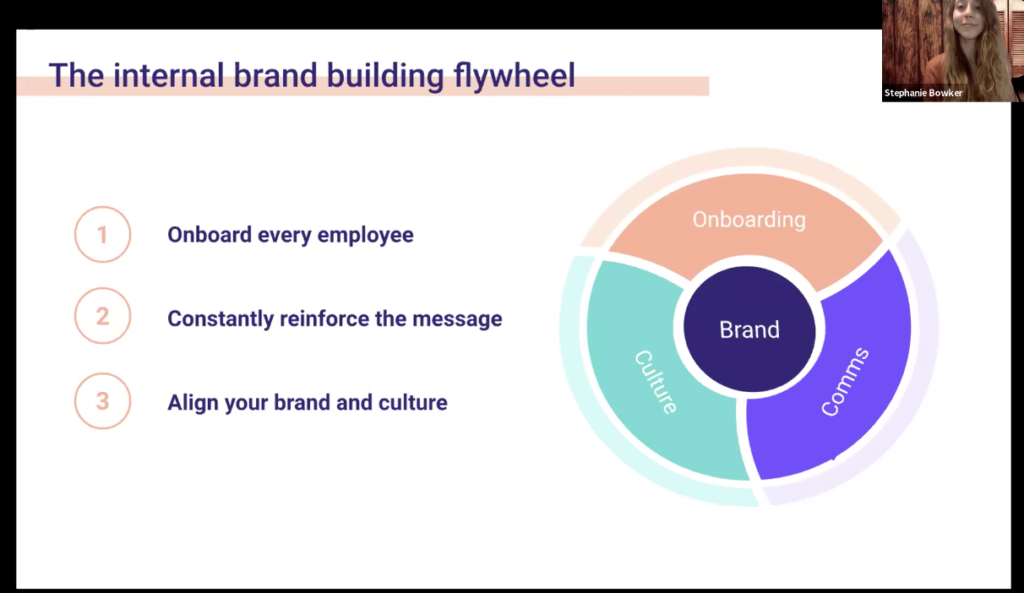 For this, they presented us with their internal brand building flywheel.
Their in-house brand development flywheel consists of three steps: 
employees onboarding; 
internal communication; 
brand and culture alignment. 
These three elements feed into each other to achieve a strong brand identity, shared by all, one of the best results of which is the natural emergence of internal brand ambassadors.
1.Onboarding with values 
The arrival of new employees is a priority for Spendesk. It is, according to them, one of the best ways to share and implement your values. During onboarding, we can share our values in a workshop, presentations or small exercises so that newcomers understand and appropriate your employer brand as well as possible. 
2.Internal communication: repeat, repeat, repeat 
Spendesk tells us not to neglect internal communication. It's easy to lose sight of our values when we're caught up in the daily grind. To make sure that our brand identity is understood and taken up by everyone, here is their advice: 
Make our values visible and display them everywhere; 
Don't hesitate to repeat them in internal communications; 
Align our performance with our corporate values; 
Ensure that the values and the brand help make key decisions for the company. 
3.Brand and culture alignment 
To help the internal diffusion of the brand, there is nothing better than distilling it in everyday rituals. For Spendesk, it's one email per week by each team leader or a Monday morning meeting where the corporate mission is repeated. At Plezi, for example, we have "Plezi talks", each Wednesday lunchtime,  for any team member to talk about a subject that animates them, professional or not. 
By simultaneously building a good product and a great company to work at, we can ensure that our message is spread and amplified from the inside, by our colleagues, customers and prospects.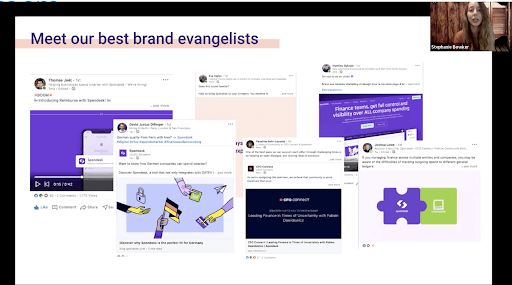 To conclude: good internal marketing is good marketing: a brand strategy can only emerge from the team, its values and rituals. 
A good brand strategy is the best way to cut through the ambient noise and get our messages heard. To spread it best, it must be deeply integrated into our rituals, our process and our product. To see their case study, in particular, the creation of their "CFO connect" community and the result of their internal reflection on their values, take a look at Saloon!