Webinars are currently riding a wave of popularity, in particular, due to COVID and the resulting strange new world of work we all find ourselves in. In addition to being entertaining, webinars are a great way to build customer loyalty, maintain relationships with your prospects, and nurture your target audience by providing them with high-quality content. They can also be leveraged over a long period of time and used to generate leads for many months after they originally took place.
At Plezi, we've been doing webinars for more than three years now, and we love doing them. They're a great way to nurture prospects and answer their questions, and conversion rates continue to improve as a result. But you'll probably have to try out different ideas and make some adjustments before you find the magic formula for webinars. And you might make a few mistakes along the way.
We wanted you to benefit from the mistakes we've made ourselves and what we've learnt about webinars. So, we've planned a series of articles to help you make the best use of this exciting content format.
In this article, we'll look at the tricky question of how to choose a topic for your webinar. Your choice of both a webinar topic and the particular angle you choose to take will play a major part in whether your webinar is a success or not. How can you create a webinar that really addresses the needs of your prospects and which maximizes your chances of success?  How do you find great topic ideas for a B2B webinar? All you need to do is read our guide!
In this article, we'll look at:
What a webinar is

How to plan a webinar on a specific topic

How to host a webinar: the speakers
1. What is a webinar? A quick definition
Let's start by looking at the basics: what exactly is a webinar?
Our definition is pretty simple: a webinar is online video content aimed at your customers or prospects in which, just like a real-life seminar or conference, you present a certain topic and have a discussion with invited guests or your audience.
This content is prepared and distributed using dedicated platforms like GoToWebinar, Zoom, Livestorm, or Webikeo, for example. 
This web seminar allows you to "invite" your customers or prospects into a kind of virtual room, where you can interact with them during your presentation using online Q+A tools or chatbots, for example.
2. How to plan a webinar on a specific topic
The key to any successful webinar is to make sure you've prepared it well ahead of time. Here are a few steps that we've used a number of times to help us do this and which we've found are essential for any successful webinar. Whatever you do, don't skip these!
Identify your target audience
This should be the starting point for any webinar. You should ask yourself, "Who is my content aimed at?". To help find an answer to this question, it's a good idea to break it down:
Who do I want to reach?
What stage of the marketing funnel are they at (e.g. awareness, evaluation, purchase)?
What are the problems, issues, fears, challenges they face every day? What tools do they use to address these?
Having a specific buyer persona in mind when creating a webinar allows you to adapt both its content and all of your communication to them. A prospect who becomes aware they have a need shouldn't be approached in the same way as a prospect who is ready to make a purchase.
For example, Joelle, our Partnership Manager at Plezi, organized a webinar with Alliance Connexion, a marketing agency focused on the manufacturing sector. Its target audience is manufacturers that wanted to generate more leads. Everything was designed with them and their pain points in mind:
the webinar title highlighted

a key issue and the added value we provide

: "Manufacturers: how to use digital marketing to quickly double your number of prospects";

the opening quote

brings a problem into focus and engages readers

;
the text of the landing page pinpoints the specific issues facing manufacturers and aimed to have maximum impact.
Decide on a good webinar topic
Next comes the choice of a topic. A topic basically consists of a general theme or subject area and the specific angle or point of view you will approach this from. The stronger these different elements are, the easier it will be to provide real added value for your prospects.
Keep your target audience in mind
At the risk of repeating ourselves (just a little bit), you should create webinars to provide value to a specific target audience. It's vital, therefore, that you always keep them in mind when putting together your webinar.
For example:
for a target audience in the awareness stage, the topic shouldn't be too specific, the tone will be more informative, the aim is to share your knowledge with a prospect. You shouldn't be too "salesy" and try to sell your product or service (your audience certainly isn't watching your webinar for that!);
for a target audience in the evaluation stage,

you can, for example, address a specific business issue and provide practical advice or feedback to develop your audience's expertise or understanding;

for a target audience in the purchase stage, on the other hand, you can address a topic that's much more specific, take a more sales-orientated approach, produce a product demonstration webinar, etc.
As a little reminder, here's our quick graphic on different content helps each area of the sales cycle.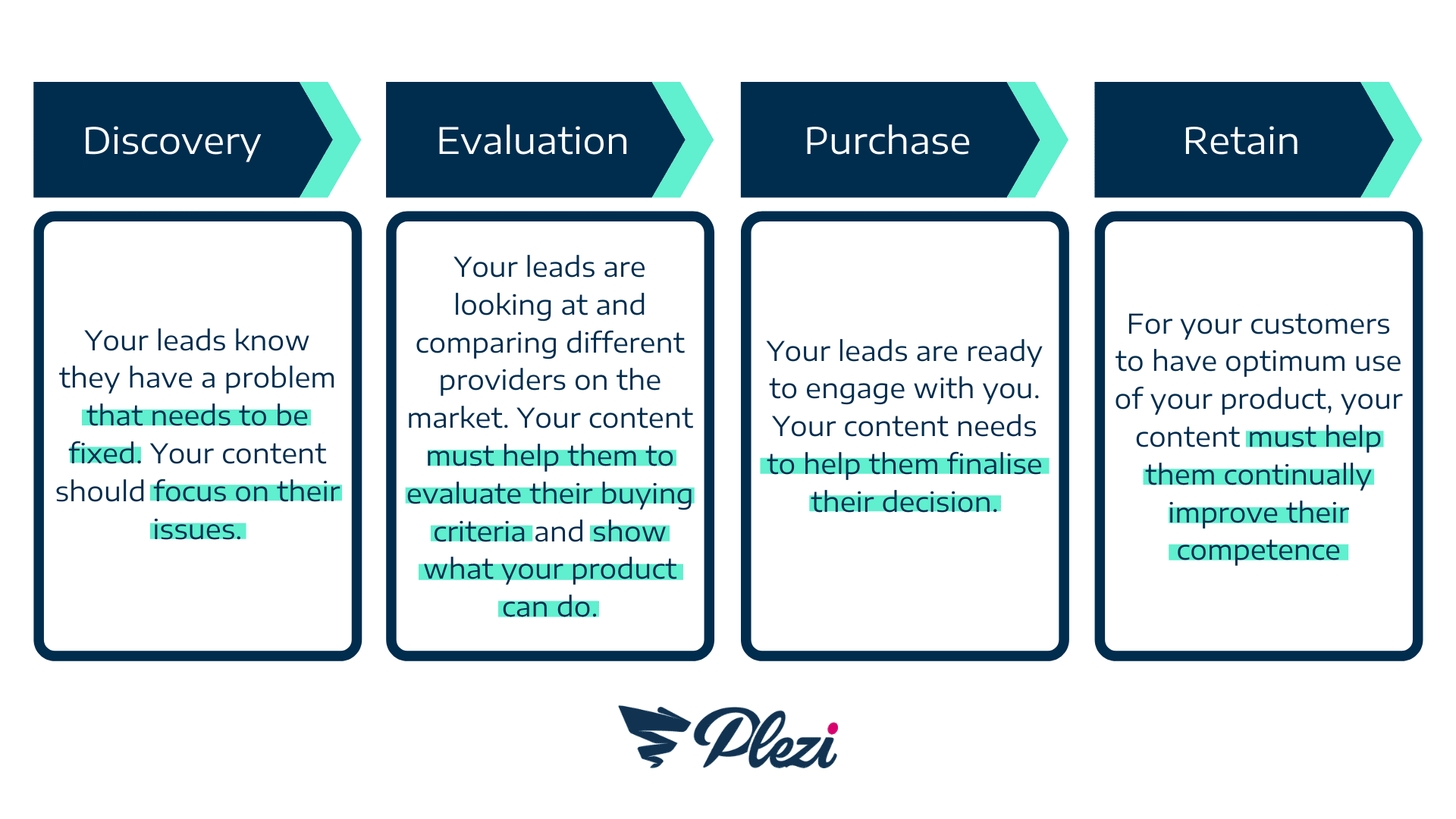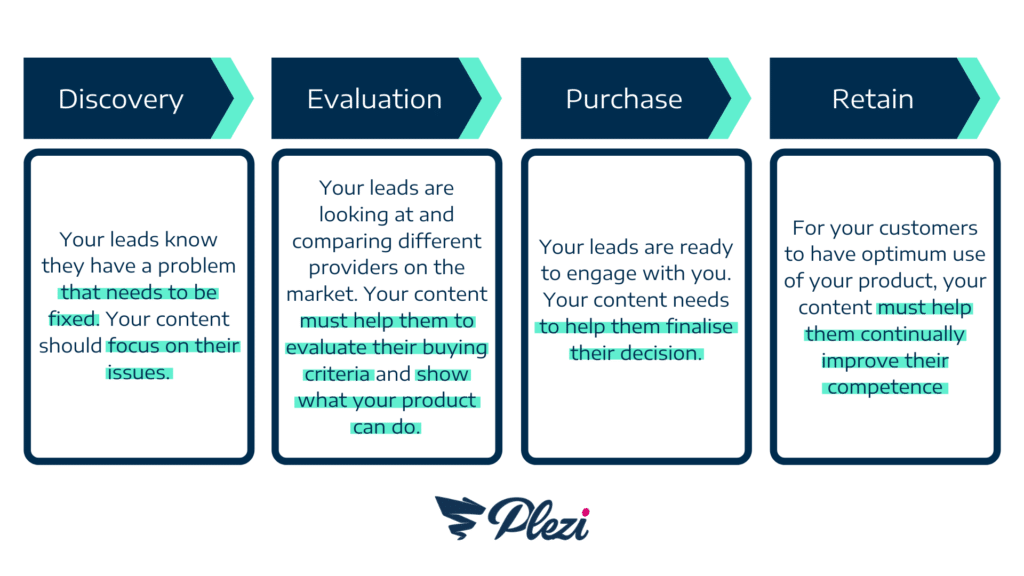 But it's vital to differentiate between product demonstrations, designed to help sell your product or service to an audience that is ready to buy and considering your solution, and webinars, which provide advice or shed light on a specific topic. Because there's nothing worse than signing up for a webinar that is little more than thinly disguised advertising.
Provide "something extra"
This is the number one reason why prospects will watch your webinar and not that of one of your competitors. After having clearly identified your target audience and a topic, you need to ask yourself, "What more can we offer?"
Asking this question helps you to define the angle you will use to approach the topic. What will differentiate your webinar from all the others that have been done on the same topic?
The specific angle you choose helps you to establish your brand identity: specific figures, sharing of experience that's free of jargon, no waffling, etc. Above all, it's a chance to promote your brand values.
Check the SEO potential of your webinar topic
If you're out of ideas or you're just not sure if your webinar topic is a good one, don't forget to look at some of your favourite SEO tools.
On Ahrefs, for example, the "keyword explorer" tool lets you enter a keyword, select a country, and see other keywords that have been entered by users along with their associated search volume. This is great when you're out of ideas!
For example, in the image below, the trend relating to the keyword "webinar" experienced a spike during lockdown and due to various physical events being postponed or cancelled. It almost does the work for you by giving you a fairly accurate idea of which topics you should address.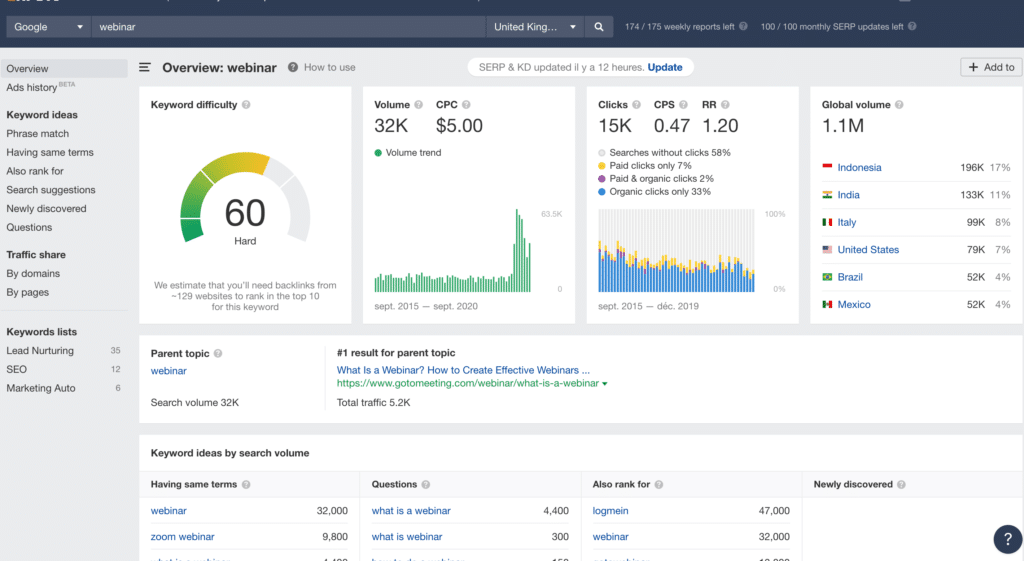 Follow events affecting your target audience
To create a webinar that will really attract prospects, you should be aware of things which affect their day-to-day business. The aim of this is to make them feel like someone truly understands them. To do this, it's a great idea to speak to your sales team to get some feedback from those in the field: how your prospects are feeling, the problems they are currently facing, etc.
At Plezi, we're lucky, because our prospects are a lot like us. Being B2B marketers just like them, we face many of the same challenges. At the end of the year we talk about reviewing our KPIs, at the start of the year about implementing a marketing plan, and during the summer break about how to generate leads during slow periods.
We've created lots of different webinars in the mast year, from "How to get started in inbound marketing" for beginners in the subject, to webinars on SEO, short term vs long term strategies and predictive revenue for those who are more familiar with the subject.
All that, without mentioning Saloon, where we hosted an all-day digital event on Marketing Wild Wild West, with Rand Fishkin, Louis Grenier, Lauren Bigland and many more. You can still catch it on replay!
At Plezi, if an idea for a webinar isn't simply suggested by a marketer, a customer success manager (CSM), or a salesperson, we organize a brainstorming session to quickly generate some ideas. Above all, we draw on our experience and our day-to-day business to ensure we closely match our prospects' schedule.
After an initial discussion, we already have a pretty good idea of what our webinar will be about. Next, we create a dedicated landing page (the subject of the next article in this series on webinars) which helps us to fine-tune the webinar programme. Having to write a description of what the webinar will be about helps clarify the topic and the webinar begins to structure itself.

In fact, your webinar doesn't even need to be all ready to go before you start promoting it. At Plezi, we sometimes start promoting a webinar when we only have a basic outline of what it will cover.
3. How to host a webinar: the speakers
If there's one thing we've realized by using  Saloon (and by organizing more than 300 seminars) it's this: having two different speakers for a webinar is what works best.
All of the webinars mentioned above have often been with a partner who is an expert in the field, so we can add more value to the discussion and widen our network. It also makes the webinar more dynamic, speakers can play off each other and have a real discussion. To attract prospects and address certain topics, there's nothing better than to co-host a webinar with the right invited guest. However, you need to remember a couple of important steps.
Choose the right person for the webinar topic
You should ask yourself, "Who is the right person to talk about this topic with us and who can provide prospects with even more value?"
Depending on your topic and your target audience, you can either choose someone who complements your host (e.g. different profession, different industry) or someone quite similar, enabling them to share their combined experience, for example. You can either use people from your in-house team or invite an external guest. For example, a partner, an expert in the field from another company, or an influencer.
At Plezi, we've decided to try and do more webinars with external guests to be able to address a wider range of topics and to ensure our audience doesn't get bored. They might be getting a bit fed up of seeing Plezi all the time)
Find a topic that allows all speakers to provide value and share their expertise
The advantage of presenting a webinar with an external guest is that you can draw on the experiences of both speakers to provide value.
You should ensure that speakers use the same tone and agree on what the webinar is about, both so that an audience feels there is a connection between them and for the webinar to be of interest. 
That's why our next webinar is with Lucy Heskins, an expert in start-up marketing and a blogger on inbound marketing at Oh,Blimey. Lucy has a very conversational style in her blogs, as well a wealth of real experience beneath as a marketer who really has to deliver meads for smaller B2B companies with niche targets. You can join in on that webinar which will go into how to create a B2B content strategy, touching on personas, different content for different stages (as we saw above) as well as increasing sign-up. Click on the banner to sign up!

You shouldn't worry too much about trying to find THE best topic for a webinar. As always, the best idea is to try and provide that "something extra": if certain topics have already been covered by others, you undoubtedly have specific expertise and experience that can provide value to your prospects. Having a focus on quality, hard work, and originality always pays off and this is even more true when it comes to webinars. What's the best thing you can remember from a webinar? The most unique problem you've faced? Feel free to tell us all about it! 😉