From slow food to slow travel, it seems like a lot of people today want to slow the pace of life down and the marketing world is no exception. One of the latest trends in content marketing is called "slow content".
This basically involves publishing better-quality content less often. But this also implies that you should try and get the most out of your existing content by "recycling" it.
But what are the advantages of recycling outdated or underperforming content and how do you go about it?
In this article, we'll not only tell you why you should become a recycler, we'll show you how to use the Google Search Console to do just that.

What slow content is

Why you should recycle existing content

How to use Google Search Console to find content to recycle

How to use Plezi to create a virtuous circle for content
1. What is slow content?
Slow content is a content marketing practice that involves reducing the pace at which new content is created, mainly in order to improve its overall quality. It's the obvious takeaway from studies on the so-called content shock that occurred between 2015 and 2018. 
During those years, companies were often encouraged to create increasing amounts of online content and to publish it several times a day on social media. Perhaps not surprisingly, this just led to the internet being saturated with content.
The net result is that today, content no longer has the same impact as it once did, and many marketers feel like they have to work overtime just to keep their heads above water. Incidentally, this is also exactly what our own inbound marketing survey has shown.
As a result of this content shock, companies' return on investment in content fell, and you can see the same pattern of events unfolding as with every other buzzword.
But whether we call our strategy inbound marketing, acquisition strategy design, or slow content, we all want the same thing: to attract customers in the best possible way, to make people aware of the real changes in behaviour needed and to test new ideas.
If we analyse content trends in more detail, we can identify two current challenges:
A human challenge: unless you want to look like a spammer, you can't overwhelm your audience with content. COVID has made this increasingly clear. Communication that is too formal or too forced just no longer works. Prospects want high-quality content that's authentic, and that's got to be a good thing!
An algorithm challenge

: posting too often on LinkedIn or Facebook will reduce your reach. And publishing increasing amounts of content that simply addresses more or less the same subject will mean that your web pages are effectively just competing against each other on Google.
So should you just stop creating content altogether? Do you buy a prospecting tool and spam everything for all it's worth?
Of course not. But you also shouldn't only produce better-quality new content. The concept of slow content also implies recycling content that you have previously published to make sure that it's the best it can possibly be.
2. Why you should recycle existing content
Recycling content takes content that you have already published and again puts it through the entire process of optimization, (re)publication, promotion, and automation. It can involve turning one form of content into another (e.g. using excerpts from a white paper as a series of blog posts) or updating existing content to improve SEO or to take account of changes that might have occurred.
The former means that you can recycle the content you do have in a variety of ways:
recycle existing content into different formats. For example, see our article on creating a marketing budget and our kit to help you create one.
turn existing white papers into blog pieces and vice-versa
republish existing blog pieces on social media to give them new life
republish guest blog pieces on your site to increase awareness
turn your articles into infrographics
Give content new life by featuring it in your emailing or Smart Campaigns
The latter means looking at the content that you do have and seeing if it can be improved. At Plezi, we often talk about feedback loops or virtuous circles.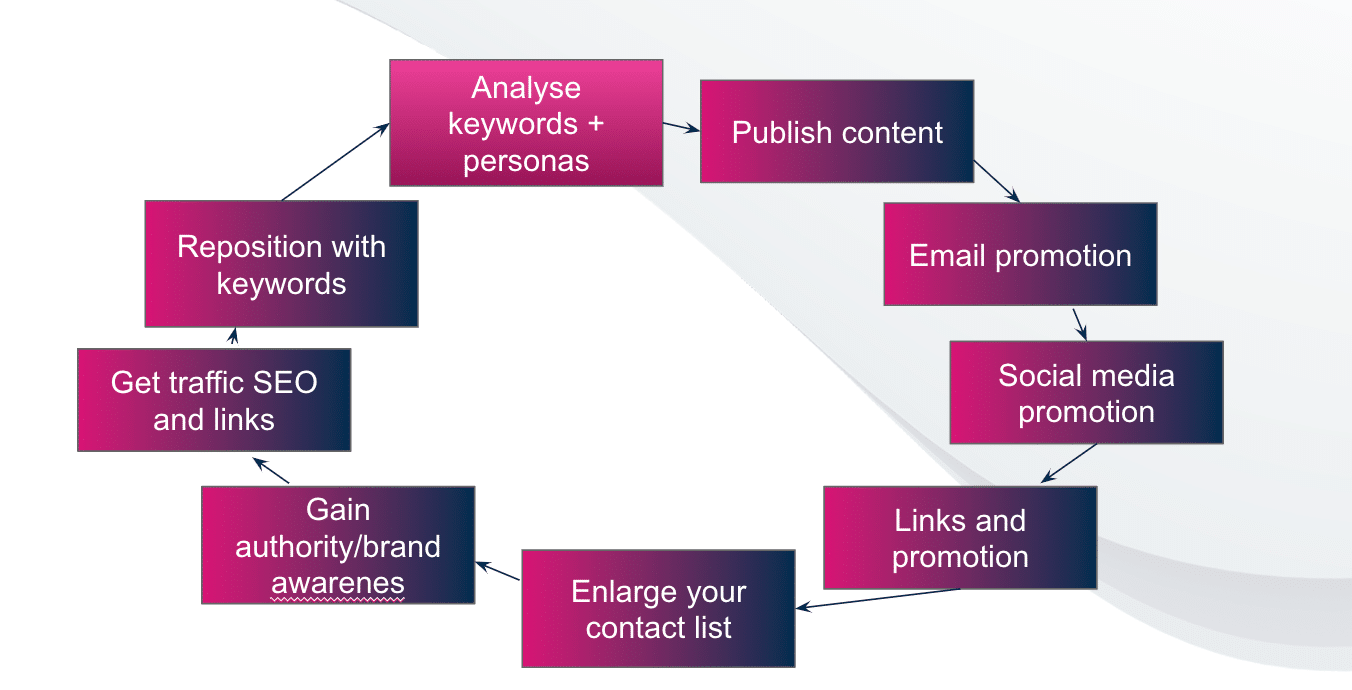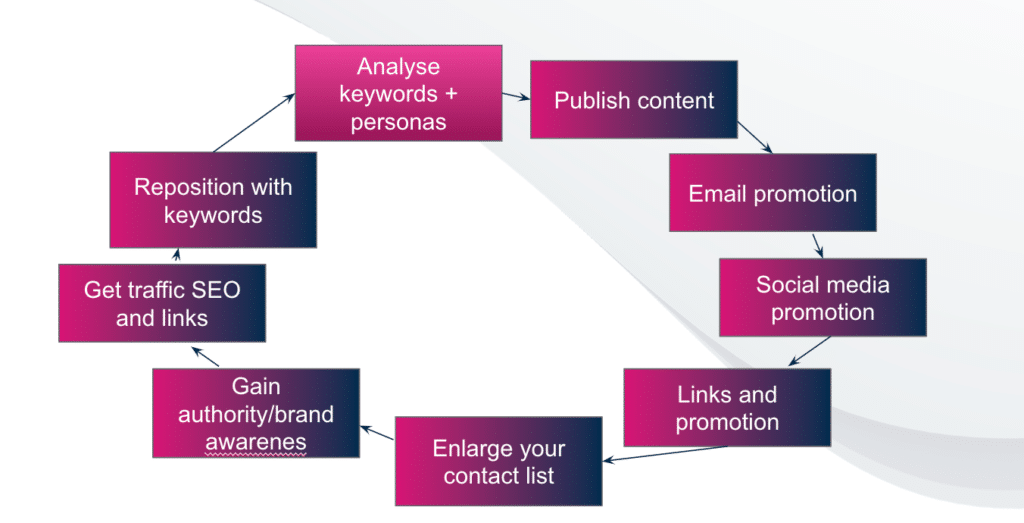 In practice, what a virtuous circle means for content is that we repeat a given process in order to keep making progress:
Our first blog article might be quite average

Our second a little better

We become better able to carry out a specific step in the process

Our third article will be a little bit better again

The 4th might be a flop, but we identify a stumbling block.

The 5th will be better than your 3rd…and so on.
The key, however, is that you don't always have to create new content. Why is that?
When you first create content, it will rank for certain keywords. And they might not even be the ones you were aiming for. You might have also created content without worrying too much about SEO, and that's okay!
Because the truth is that it's always easier to start with existing content and to try and make it better. By recycling content in this way, you can take existing content and optimize it at a later stage. And you'll see that from one blog article that isn't great, you might be able to create several articles which work really well.
The main objective is to get rid of content that doesn't perform well on Google and which we no longer use in order to make room for new content. If you know anything about gardening, it's a bit like weeding. 
3. How to use Google Search Console to find content to recycle
Google Search Console is a bit like the Google Analytics of what happens in Google before visitors actually arrive on your website.
It can be a real goldmine of information. But it can also be a little difficult to get to grips with at first.
Below is a step-by-step guide to finding the different pieces of content you should recycle so you can start putting the idea of slow content into practice right away with your existing content.
The process looks like this:
Filter the results to search for pages with less than X number of visits over the last three months
Then look at only those URLs which correspond to blog articles for example

To see what keywords your individual pages rank for, add each page URL as a filter and click on the "Queries" tab

Look at the average position in search results and the number of page impressions to identify keywords of interest
Then choose one of three options for each page: optimization, redesign, or redirection

Collect keyword ideas for new content
Once you know what content you should recycle, you essentially have 3 options available:
Optimization

: here you don't want or need to change the entire structure of the article. The content has some value and the way it is structured makes sense. It "simply" doesn't perform as well as it could do for SEO. So you could perhaps update it with additional information and then optimize it for SEO.

Redesign

: this is a complete reworking of an article that changes its overall structure. However, it's still somewhat easier than starting from scratch because we already know what keywords the content has ranked on. Also, you will still keep the same page URL for the content (you could change it, but then you'll have to redirect the old one).

Redirection

: this is the most radical solution, but sometimes it might be your best choice. This is the option to take when content is no longer very meaningful. You might, for example, have a number of other articles that deal with the same subject better. So you delete the article in question and redirect the page URL to either (in order of priority): a better article that uses the same keywords, to the blog category of the article, or to the home page of your website or main page of your blog.
In the first two options, the content's publication date should be updated. That's easy to do using a tool like WordPress. Then, in all your marketing actions it is treated like a new article.
4. How to use Plezi to create a virtuous circle for content
Of course, once you have recycled your existing content you still need to promote it. All too often, companies spend a lot of time thinking about content creation, but not about its distribution. And yet that should be where roughly 50% of your effort goes (and possibly your budget).
That's why we designed Plezi as a virtuous content marketing circle rather than a toolbox: everything starts with content and follows a marketer's work processes in order to maximize the lifespan of content.
There are 3 main content distribution stages involved within Plezi:
Publication

, making use of customer segmentation information (e.g. buyer persona, stage of the funnel, scoring) and involving the creation of a landing page for premium content. The aim is to create a solid foundation for the following stages.

Promotion

, with the ability to distribute content on social networks, manage calls to action, create email campaigns, and much more.

Automation, to increase the lifespan of content by letting you automatically send it to prospects when they match your criteria for buyer persona and stage of the funnel (and no, you don't have to create a workflow to do so! Magic, huh?

😜

Here

is a more in-depth article on how marketing automation works

).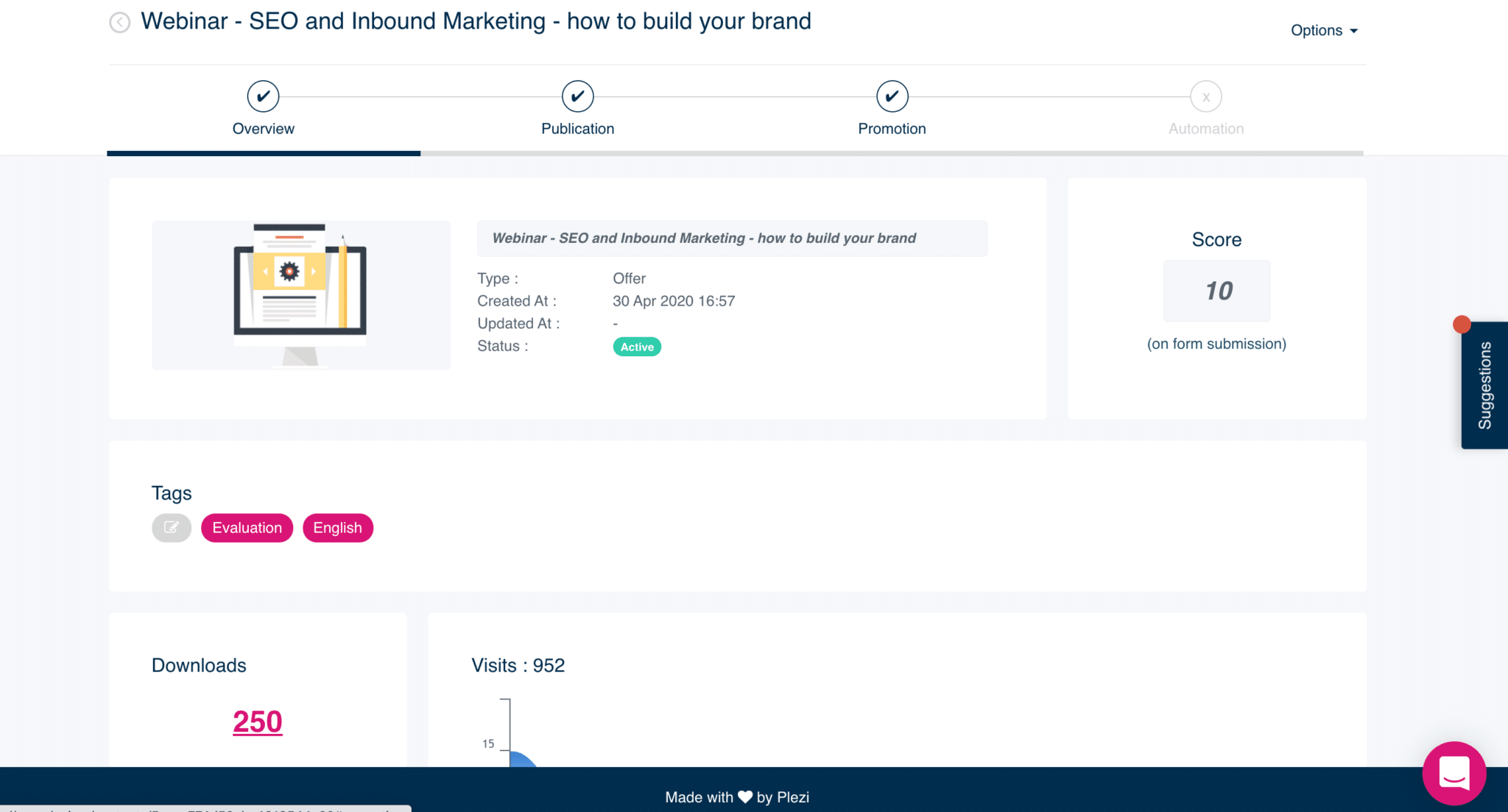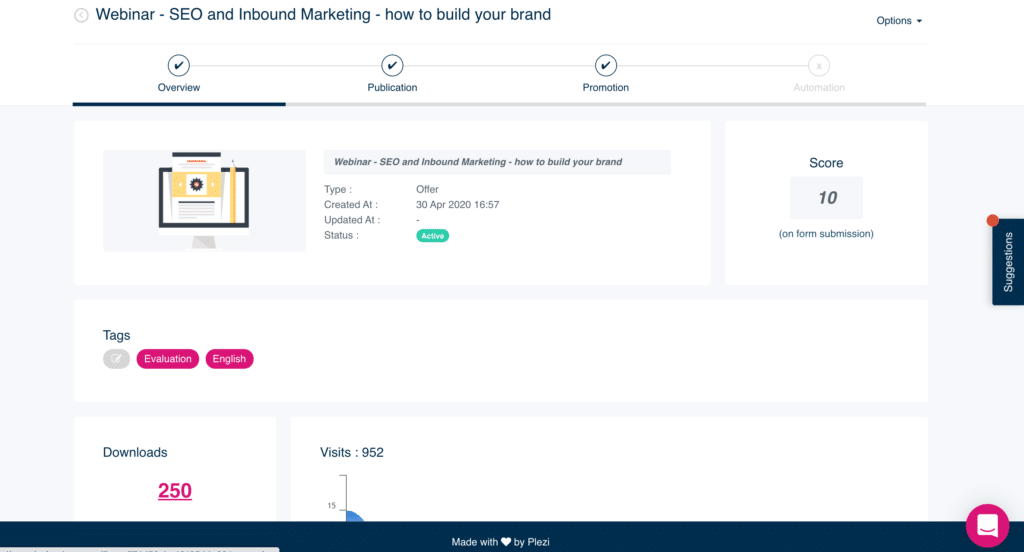 The overall objective is to vary the distribution channels in order to make the best use of each piece of content that you either create or recycle.
That, then, is how we use Google Search Console to recycle existing content. We first thoroughly tested this approach in a one-off case study and have now integrated it as part of our overall editorial and SEO strategy. We carry out a content audit at least once a year, and we're always reintroducing recycled content into our editorial calendar.


Have you already recycled content or plan to do so? Why not tell us about your experience in the comments?👇