At Plezi, we simply can't do without Salesforce. The market-leader in CRM software is essential for supporting the efforts of both our sales and marketing teams. You can integrate Plezi with a wide range of CRM's, and we thought we'd share our experience using Salesforce, to increase the effectiveness of your marketing and sales teams.
When we first went through the process of integrating Plezi and Salesforce, we tested a whole lot of different things so that you don't have to. Now, we've produced this handy guide to making the combination of Plezi and Salesforce your greatest marketing asset.


In this article, we'll look at:
How to successfully integrate Plezi and Salesforce

The benefits of integrating Plezi and Salesforce
1. How to successfully integrate Plezi and Salesforce
In order to integrate the two tools effectively, you first need to take some time to look at your marketing strategy. This is what drives the process of integrating the two pieces of software and is, in fact, what enables you to do so in the first place.
When your marketing plan changes – because it's always changing – you can carry these changes over to how Plezi is integrated with Salesforce. Making gradual adjustments will enable you to connect the two tools even more effectively.
Each year at Plezi, we review various parts of our marketing strategy, in particular by monitoring our sales and marketing results.
To ensure this process is as streamlined as possible, you need to ask yourself 3 questions:
Which leads should be passed on to the sales team?
You should first start asking yourself this question when putting in place your marketing strategy because it helps to frame all your other marketing actions: e.g. content strategy, scoring, creating online forms, and setting objectives.
The best idea, of course, is to agree on an answer with your sales team. By including it in a service level agreement (SLA) between sales and marketing, for example, you'll have a reference document that you can draw on later if needed.
But don't worry, your answer to this question isn't set in stone! It can change over time, and it undoubtedly will.
At Plezi, for example, when we first implemented our inbound marketing strategy, we sent 80% of the contacts we generated to salespeople. Now, however, this figure has fallen to around 20%.
With more experience, we've refined both our process and our criteria for handing over qualified contacts and made these more effective.
What information do sales and marketing teams need?
This information will later be exchanged between Plezi and Salesforce. To do this, you should list all the information your two teams need to qualify contacts. It can be divided into two main types:
Demographic information, which helps you learn more about leads and to qualify them

. For example, their phone number, project timeframe, language spoken, company size. Anything that can help your sales team

complete the BANT framework

. If the marketing team needs other specific information, add this to the list as well. At Plezi, we also include, among other things, a contact's role and business sector.

Behavioural data, which describes how prospects behave on your website

. Plezi can provide information about the content viewed by each prospect, the marketing action used and where prospects came from, as well as a behavioural score which evaluates how ready each prospect is to buy.
We recommend that you don't pass all this information on to salespeople if you don't want to completely swamp them.
We keep some information, like a prospect's viewing history and the marketing campaigns they've been sent, within Plezi. Salespeople can access Plezi directly from a contact's record in Salesforce and can there see a contact's entire viewing history and adapt their approach as a result.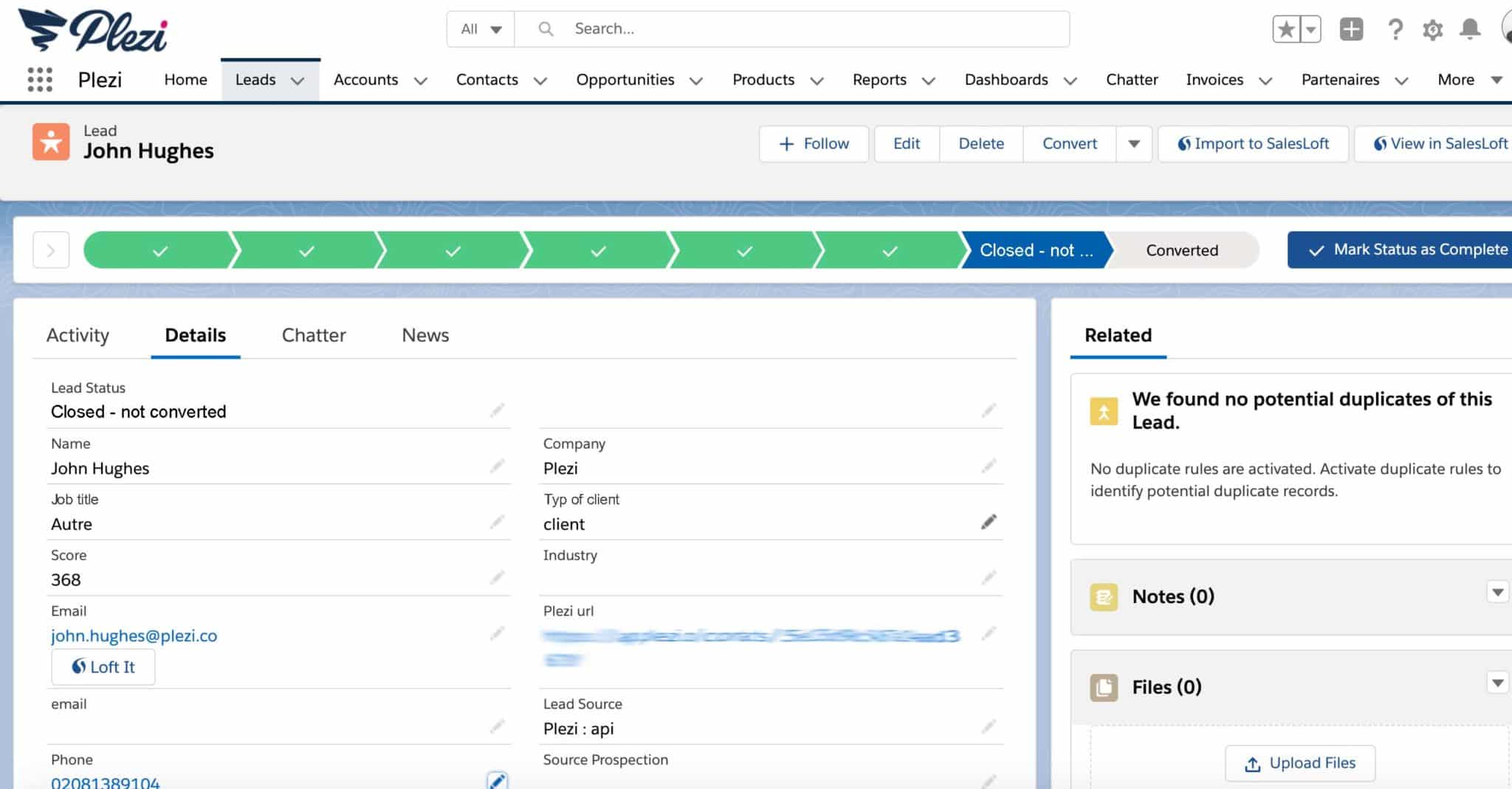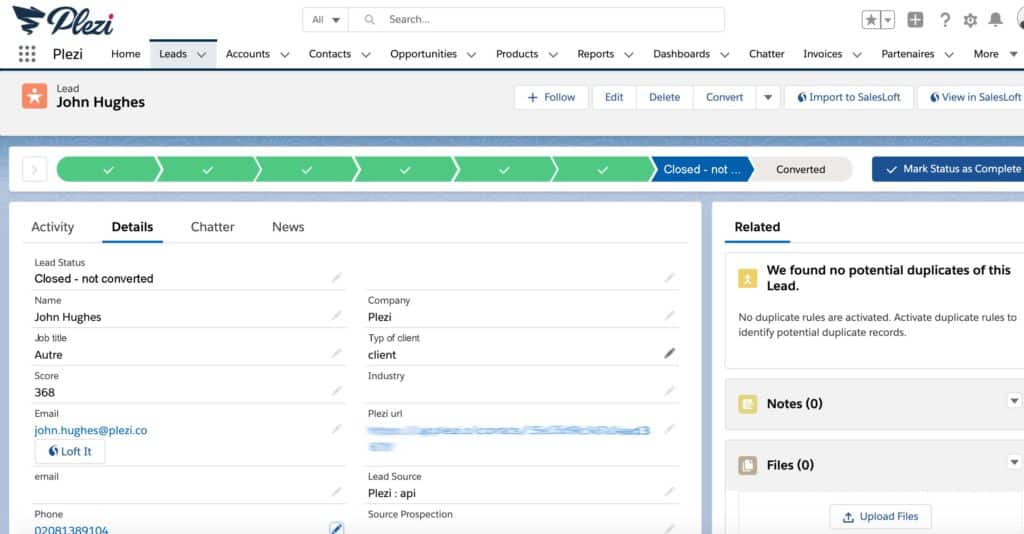 Have you validated the different steps of your sales process?
Validating the different steps of this process will let you better configure the connections between Plezi and Salesforce. In marketing, you have a great view of your lead's lifecycle. By agreeing on the different steps with your sales team, you can configure these when you integrate the two tools and make this process smoother.
At Plezi, we've defined the following path:
New

: the prospect has just entered the CRM

Open – Not contacted

: the sales representative is aware of the prospect and will contact them

Open – Contacted

: the sales representative has contacted the prospect but hasn't yet received a response (e.g. because they are absent);

Converted

: the BANT is validated and your prospect becomes a sales opportunity.

Closed – Not converted: the BANT has not been validated and things stop there… or almost, because it will depend on the reason why a prospect was closed.
Different businesses will have different models, of course, in terms of what they do with their leads. What's more, just because a lead becomes closed, does not mean that it won't be nurtured at a later date.
1.2 Step two: Get technical (but not too much!)
You shouldn't spend too much time during this step. In order to connect the two pieces of software, you simply have to enable certain permissions for both Plezi and Salesforce. Want to know how? We've written an article on how to do just this on our Happy Academy.
Plezi offers native integration of CRMs, which means that the two tools communicate using APIs (application programming interfaces, technical modules that let one piece of software integrate the services of another) and enabling information to automatically move in both directions.
Once the permissions have been enabled so that the two pieces of software can communicate with each other, there are three main steps involved in integrating them:
choose the types of contacts to share between Plezi and Salesforce;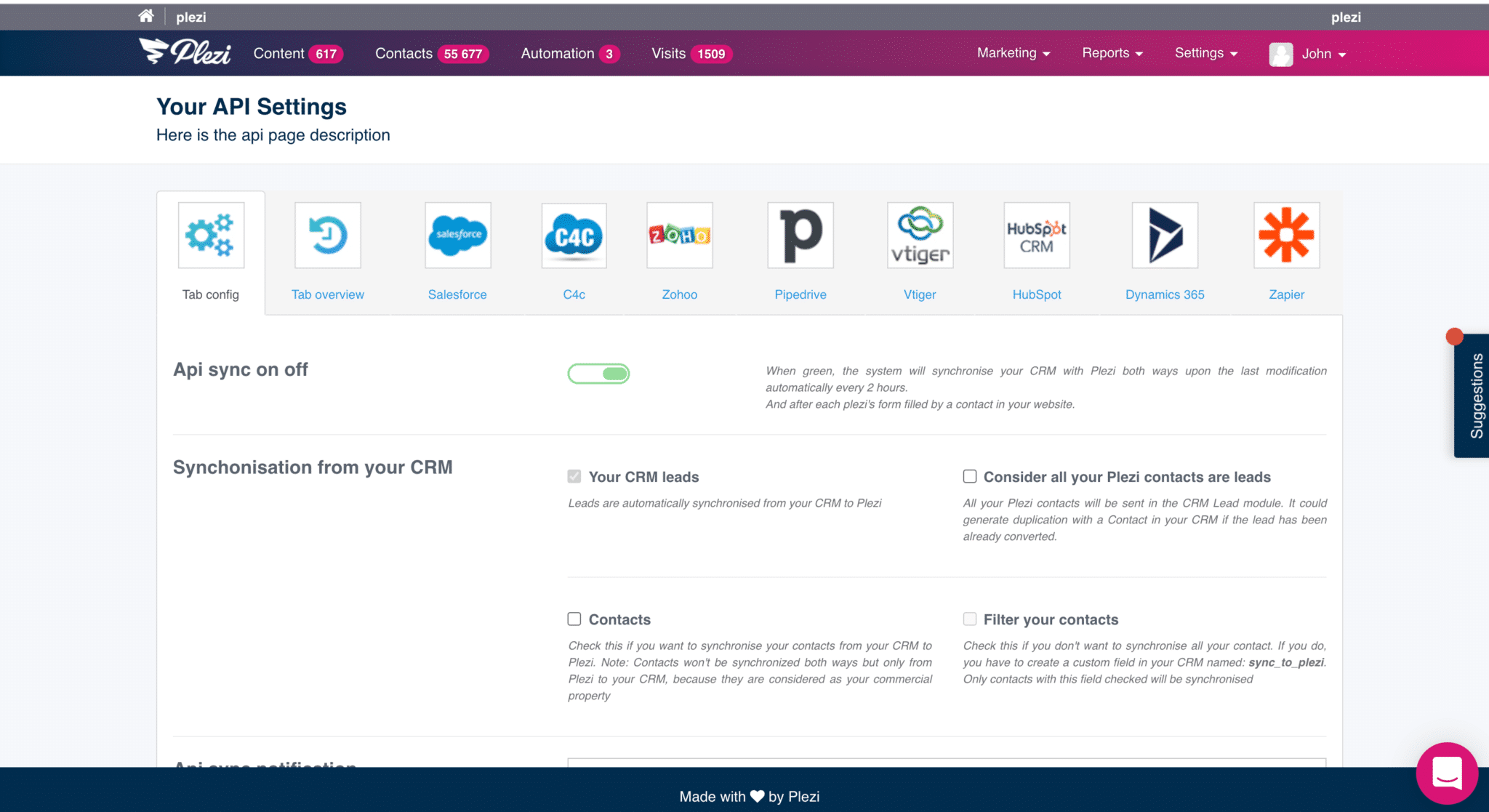 The CRM integration interface in Plezi
create the fields to sync

using the information you have identified beforehand;

map these fields, to know which direction information is transmitted in: from Plezi to Salesforce, or vice versa, or in both directions.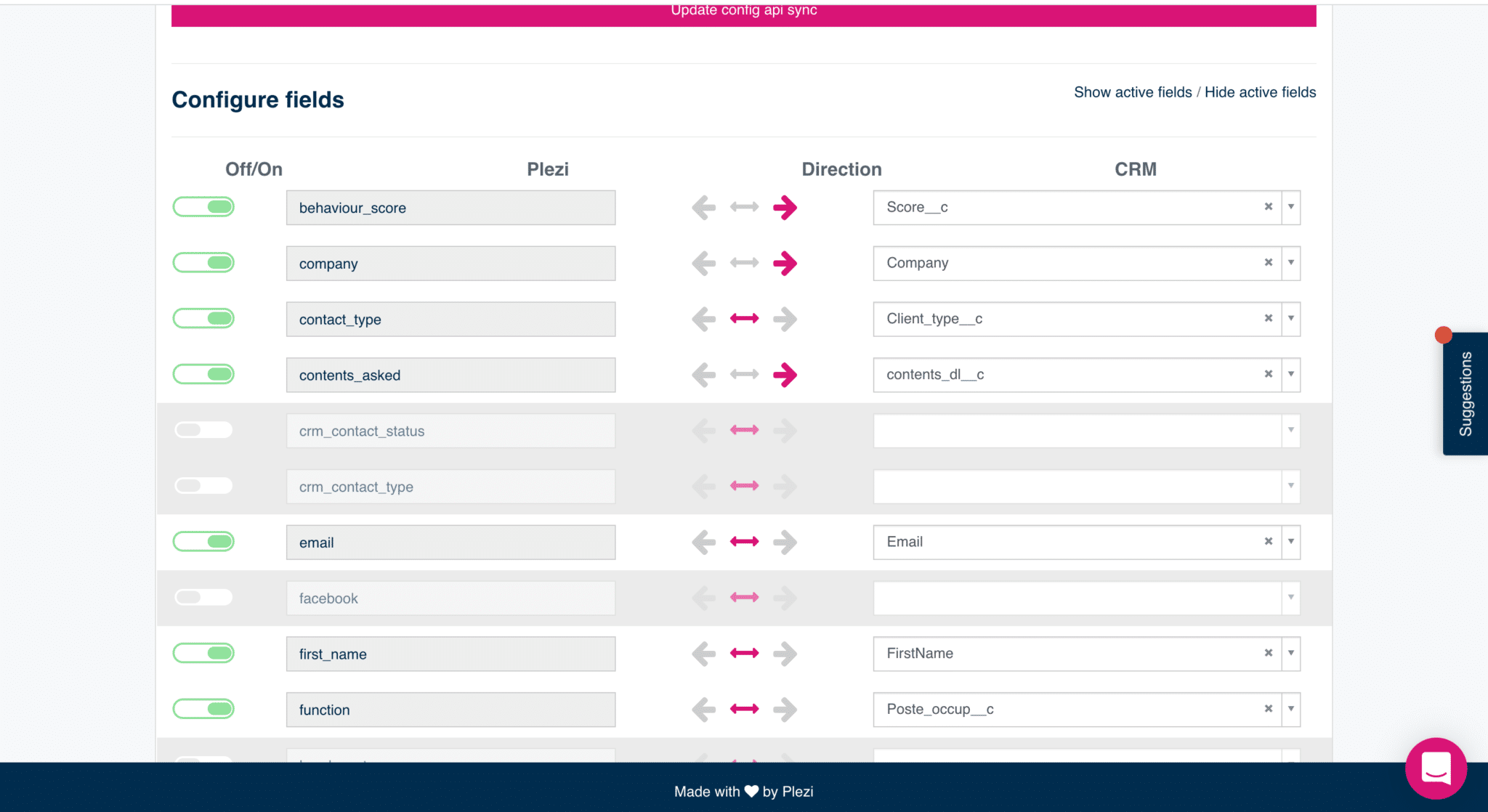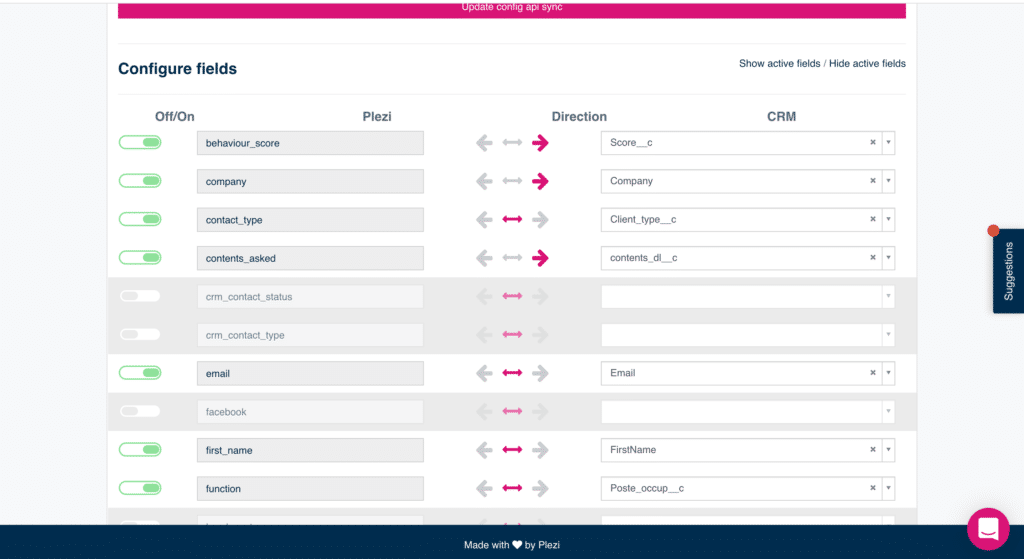 Mapping of Plezi / Salesforce fields in Plezi
For example, in our marketing department we've configured the following fields:
An individual contact's scoring is sent from Plezi to the Salesforce record;

Their lead status is updated from Salesforce to Plezi;

All the essential information fields (e.g. first name, last name, company) can be updated in both directions.
Everyone who integrates Plezi with Salesforce will have their own set of preferences. Among our customers that use Salesforce, hardly any have configured the connection in exactly the same way. It's something that will depend on things like your processes, business sector, and preferences.
2. The benefits of integrating Plezi and Salesforce
Salesforce is a tool we use every single day, even in marketing. Integrating it with a marketing automation tool like Plezi greatly increases its effectiveness and enables us to streamline all our processes.
2.1 Better support for sales teams
It's something we talk about a lot at Plezi, but only because we're absolutely convinced: having sales and marketing teams that are aligned enables you to boost both your productivity and effectiveness.
Integrating Plezi with software like Salesforce enables marketers to support the sales team in their day-to-day actions:
prospecting

, using

behavioural data

collected from Plezi
For example, we've created reports in Salesforce which enable us to collect information on numbers of hot leads, leads who have requested a demonstration etc.
Using the integration between Plezi and Salesforce and our dashboards, we can monitor sales activity as closely as possible and be more responsive. Each week we look at information including the number of MQLs generated, and where these MQLs come from. This gives us an accurate view of the sales appointments made with the contacts generated by marketing and by acquisition channel.


Tracking MQLs in the Salesforce report
advice and support

, making use of prospects'

content viewing history

and the problems they encounter;

sales, using information collected on prospects and enabling salespeople to adjust their approach accordingly.
2.2 Marketing actions that are better focused
Integrating Plezi and Salesforce will also enable you to create a seamless experience from the different paths your leads take, from their first visit to your website to closing a sale.
You can use sales data from Salesforce to continually adjust your marketing strategies, e.g. handling of leads, salespeople's successes. Your job in marketing will certainly be made easier with the help of this new information.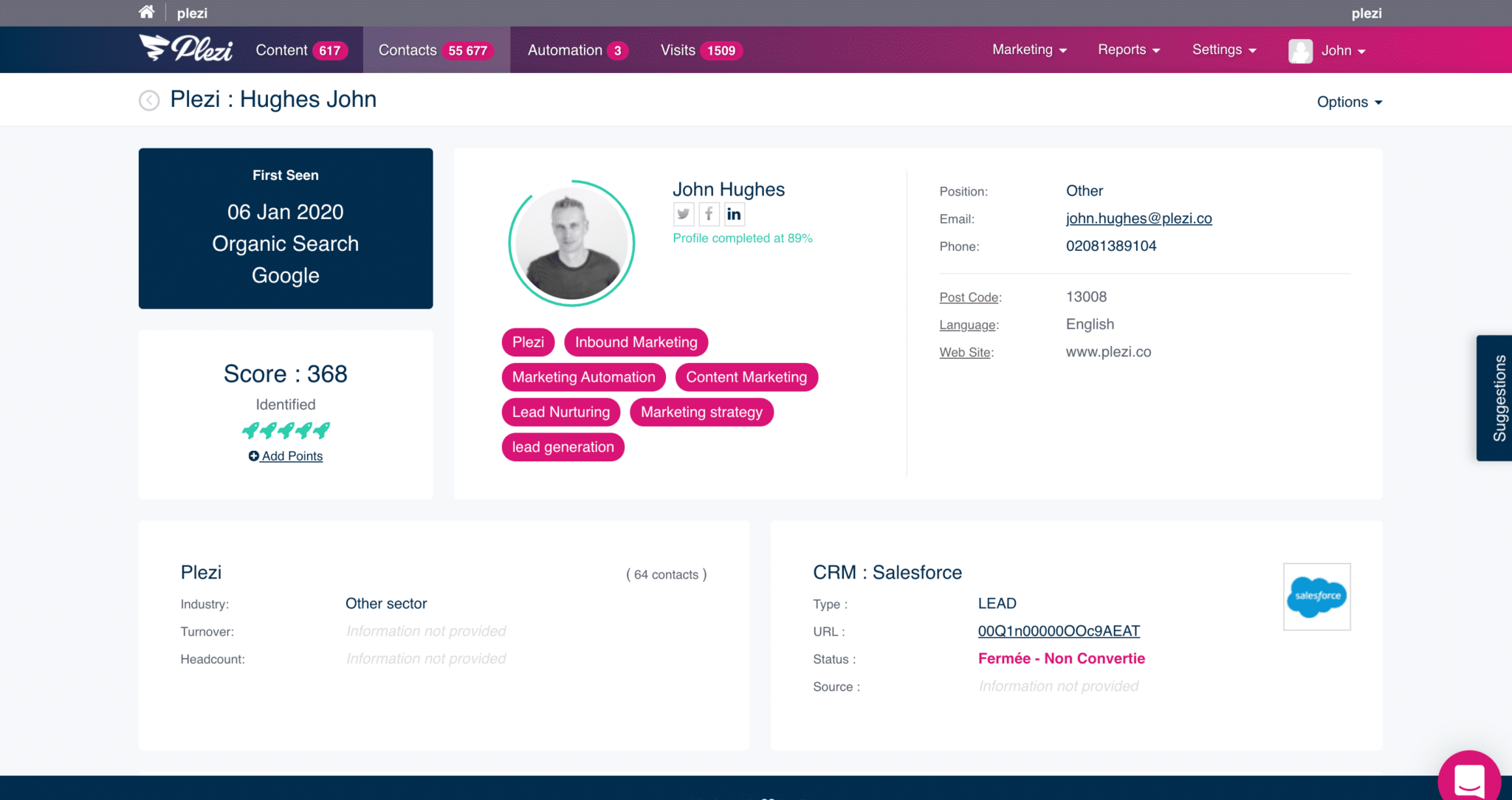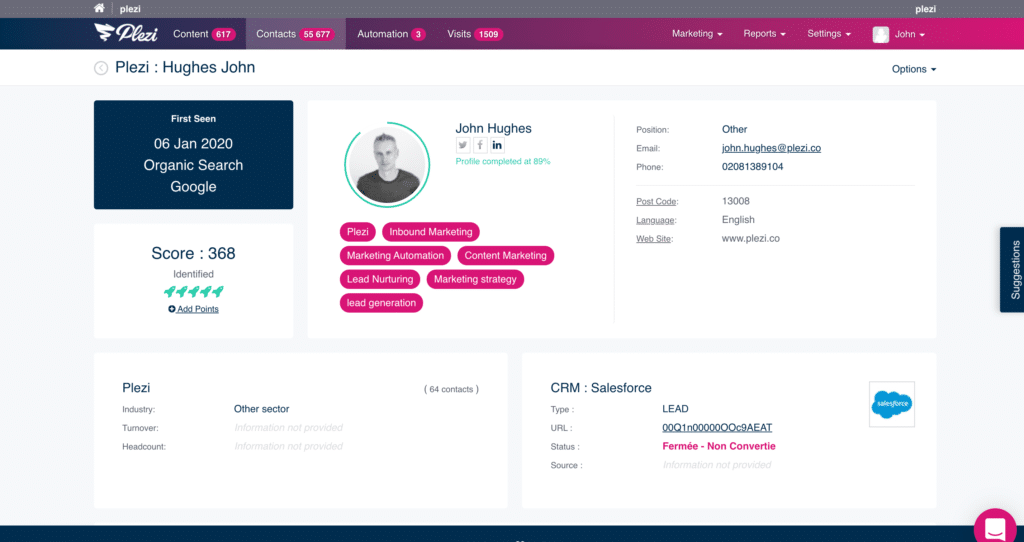 For example, you can measure the impact of your existing content and marketing approaches on prospects and adjust them accordingly or create new content as a direct result of feedback from sales. You can also see which content was effective and turning the lead into an MQL.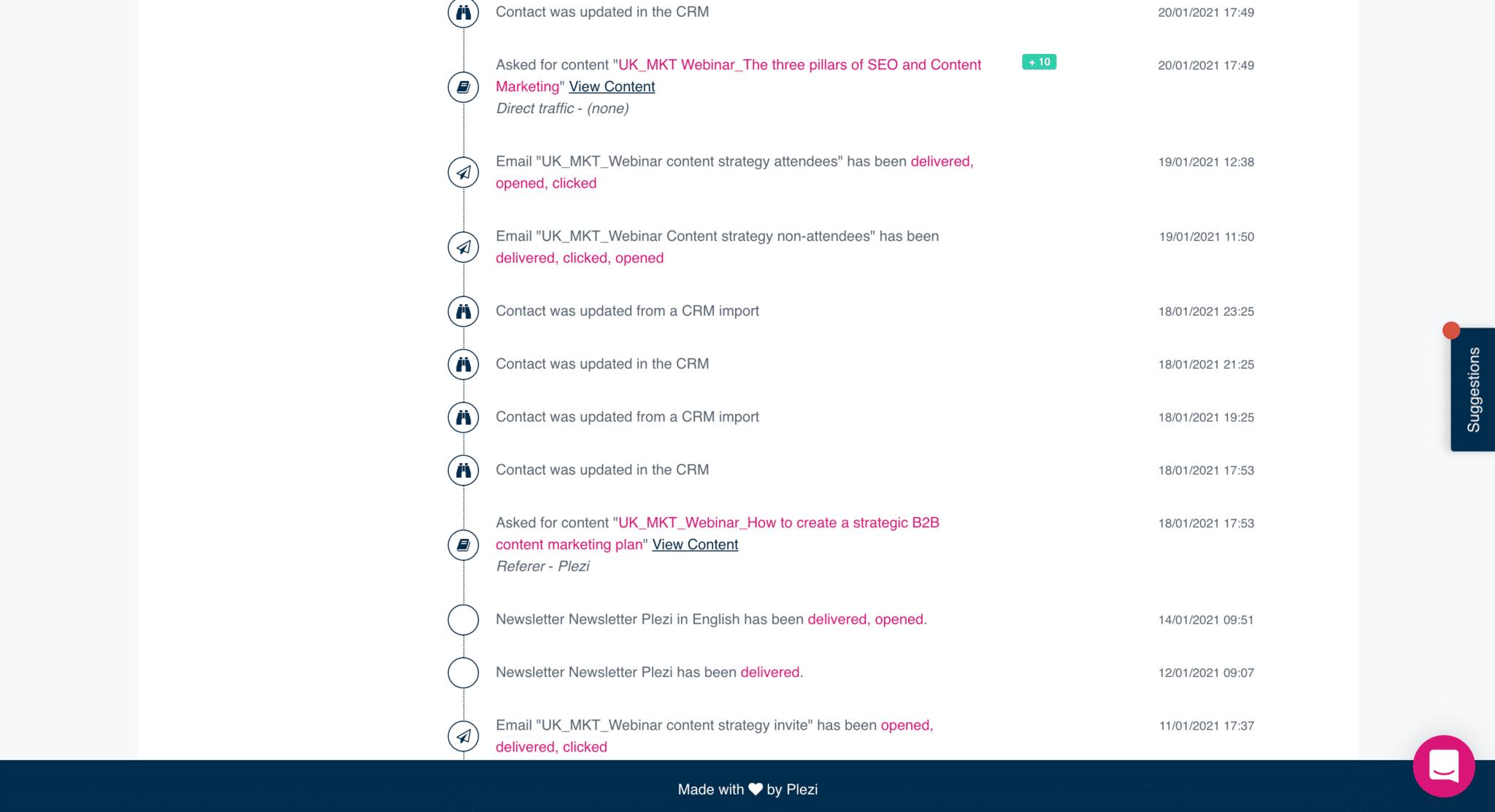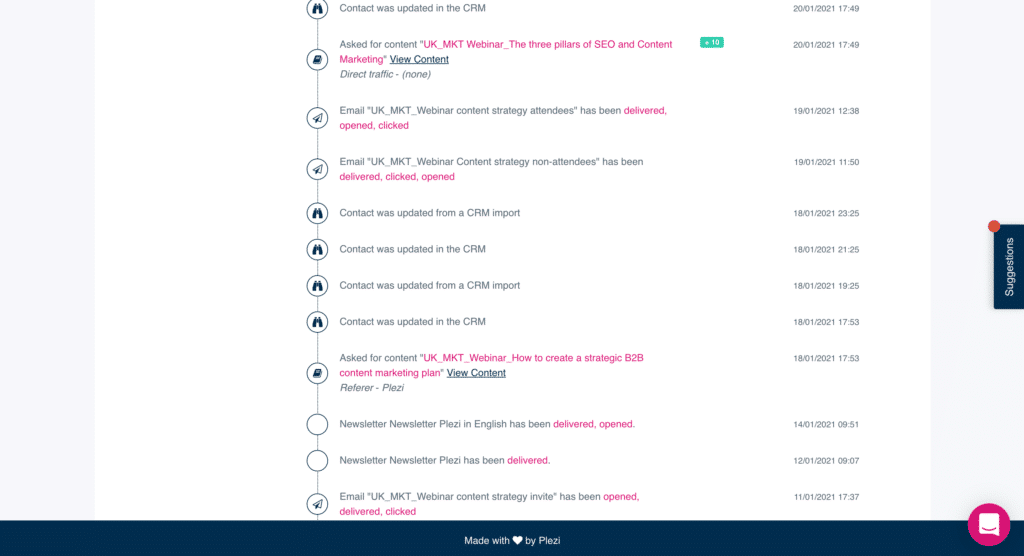 View of a contact record in Plezi
Do you remember the "Closed-not converted" step in the lead lifecycle we talked about earlier? By adding a field that indicates the reason for closing a lead, salespeople can provide us with valuable information that lets us further adjust our marketing actions.
For example:
Many of our leads from Facebook ads were closed because they weren't our target prospects. As a result, we decided to only use retargeting ads.

Many of our leads from LinkedIn ads had projects that were "very long-term". So we changed the content we pushed on this channel.
2.3 Better monitoring of marketing performance
Where communicating information between Plezi and Salesforce in both directions really pays off is by enabling you to better monitor your marketing performance.
See the return on investment (ROI) of marketing actions
By integrating the two pieces of software, you can know how many of your customers are generated by marketing efforts (both overall and also by source or medium) using information collected in Plezi like the marketing action used or where they came from. This information is sent to the CRM and remains there until leads become customers.
Forecast future marketing results
We use the powerful reports available in both Plezi and Salesforce to forecast our future marketing revenue. For the number of contacts generated in any month, we can see how many were closed, resulted in a sales opportunity, became customers, and so on. So we know, almost in real-time, what stage of the marketing funnel our prospects are on.
This lets us calculate conversion rates for each stage of the funnel but also for each channel – this information also available in Salesforce.

By cross-referencing these results with the average times between each stage (once again, this can be calculated from information provided by Salesforce), we can forecast our results over the coming months, or even the coming year.
We can also work in the other direction and accurately define the number of marketing leads we need to generate in order to meet the target number of new customers set in Plezi. Armed with this information, marketing is a real tool for generating new business and acknowledged as such.
To find out how many B2B leads you need to generate based on your business objectives, take a look at our webinar on predictable revenue. And to help make sure that your sales and marketing teams are aligned with your lead generation objectives, check out our smarketing kit.


Integrating Plezi with Salesforce allows you to greatly improve the results of your sales teams and collect valuable data to help refine your marketing strategies. It also lets you ensure that your favourite prospects are handed over to the sales team in the best possible way and that all of your customers have a seamless sales experience. As we said, at Plezi, we're total fans of integrating these two tools. What about you?