Inbound marketing lets you gather information about your prospects in a natural way so that you can provide them with content that is tailored to their needs. This marketing strategy enables you to offer them content with high added value (e.g. white papers, webinars) as part of a conversation and in exchange, to ask them for information such as their email address or contact details.
This information is invaluable to your business. By improving how forms are used on your website, progressive profiling also lets you collect useful data to gradually, and unobtrusively, segment customers.

1. Stop using forms that are too long and repetitive
Let's look at an example: you meet someone for the first time who immediately asks for your name and address, and who bombards you with questions. Because of the thoroughly intrusive way in which they go about things, you probably wouldn't want to tell them anything at all, and that's completely understandable!
It's considered rather inappropriate to ask for certain personal information in the early stages of a relationship. And in a similar way, asking a prospect who simply wants to download a piece of content to fill in a form with 10 required fields is almost certain to scare them off.
Forms that are too long or repetitive can cause the cost of acquiring leads to skyrocket and put the brakes on your entire digital marketing strategy: frustrated or annoyed, your prospects will be unlikely to download your content and leave your landing page.
But there's an easy way to avoid all this: progressive profiling!
2. Progressive profiling: the best way to start a conversation
Definition
Progressive profiling is a technique offered by some marketing automation tools that lets you collect information from your prospects using dynamic forms.
The aim of this process, of course, is to enable you to gradually collect the data necessary to effectively assist prospects throughout the buyer's journey. And by offering them content that addresses their needs, you are much more likely to increase your conversion rate.
So how does it work?
By identifying in advance the information you want from prospects, you can make sure that your forms never ask them for the same information twice or for all the information at once.
Instead, your forms will ask prospects for increasingly detailed information: starting with data requiring a low level of commitment (e.g. email address, first name), and gradually moving to more valuable information such as their company position or telephone number.
Leads are qualified as they move through the marketing funnel rather than by filling out a long form on your website.
As an example, let's say that a prospect that matches one of your buyer personas visits your website:
The first time that they visit one of your landing pages (e.g. to download an ebook), the form will ask for:
their email address

their first name

their last name
During their second visit, to watch a webinar for example, the form will ask for:
the name of their company

their position etc.
And during the third visit, for example, to download one of your case studies:
their phone number

what type of project they have etc.
The questions in the form will then change automatically to ask for more detailed information while your content delivers value to your prospect.
3. The advantages of progressive profiling
This method has a number of advantages to help enhance your lead generation strategy.
Build more detailed prospect profiles and put less pressure on sales
By varying the information requested by forms and doing this in a gradual way, your profiles are both more detailed and more useful: you can transmit better-qualified leads to your sales team, saving them precious time. This reduces the amount of research they then need to carry out to better target prospects and makes their research more effective.
You will be able to better identify leads to call or prospects that should become part of a lead nurturing program before being contacted by one of your salespeople.
At Plezi for example, we like to know more about our prospects' schedules, the timeframe of their projects, or the tools they already use. This information is very useful to our salespeople, and we can ask for it long before we even call our prospects!

Create shorter forms that have a better conversion rate
Your potential customers are both less likely to feel overwhelmed by shorter forms and more likely to provide you with information. Requests that are easier to comply with and less demanding will enable you to build trust with prospects.
Using a short form instead of a long one increases the form's conversion rate by an average of 150%!
At Plezi for example, our website has a conversion rate of 9%.

Example of a form used to download our kit for lead nurturing ROI.
Save time and improve efficiency
This is often very easy to do using marketing automation software, like Plezi for example. By entering the fields you are interested in and based on information already known about a visitor, smart forms enable you to request only the information that is missing.
At Plezi, we have a form template for each stage of the buyer's journey: awareness, evaluation, and purchase.
Our forms then adapt dynamically according to the content that is downloaded. For example, to download 3 separate pieces of content targeted at the "awareness" stage, a prospect must fill in a total of 9 fields. But they only complete 3 at each time, and the information requested is different for each new piece of content. The lead is then qualified gradually and in an entirely natural way.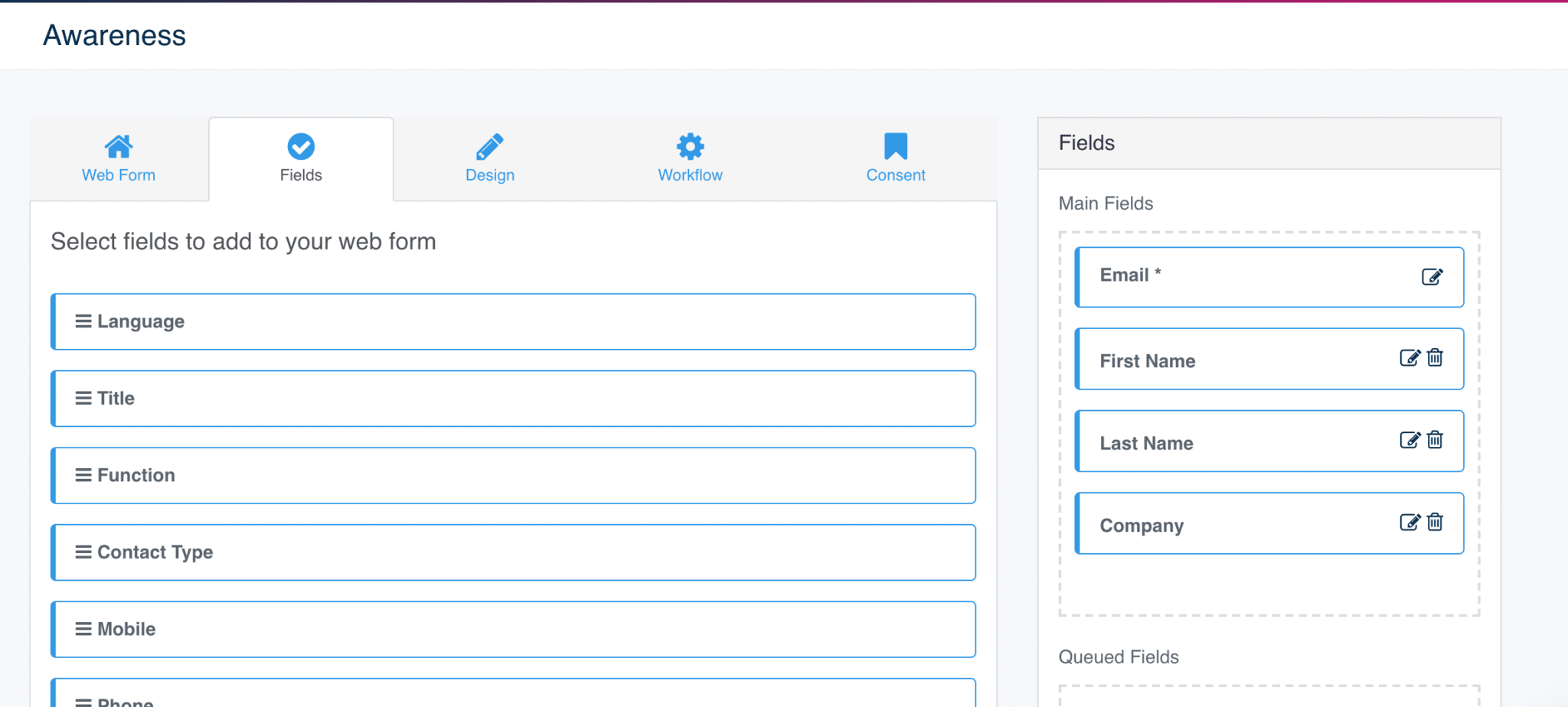 Example of our drag and drop smart forms on Plezi
You don't need to write any special code or lose valuable time: the tool lets you automatically add or remove fields depending on your requirements.
Build trust with prospects and put their mind at ease
If your prospects trust you, they will be far more likely to spend time on your website.
According to Amazon Web Services, 88% of online shoppers say they don't return to a website because of poor user experience.
By using dynamic forms, you will be able to build a personal relationship with your prospects. Each buyer's journey is unique, and by monitoring the content prospects download to collect data in a smart way, you can enhance their personalized user experience.
In this way, you'll not only increase your chances of acquiring new customers, but you'll also encourage the loyalty of those customers in the future.
By making the conversation more natural, progressive profiling helps you create a connection online that has value for both you and your prospects. And enabling your forms and profiling techniques to dynamically adapt will improve the overall user experience of your website.