Ask any marketer about their tools and means of communication and you'll be sure that Facebook and Google are among the first ones to come out. Despite what we hear about their methods, despite rising prices and falling audiences, we continue to use them, because well… where else would we go? But what if we could do otherwise? What if it was time to do something else -and better?
Rand Fishkin, renowned marketer, SEO guru and co-founder of Moz, Inbound.org and now SparkToro has come to save us. Well, almost: in a conference for Marketing Wild Wild West on Saloon, he shared his advice on how to get us out of the Google-Facebook duopoly. Did you miss his talk? Well, here is our summary.

Facebook and Google are not in your corner
It's time to stop thinking that Google and Facebook are nice startups. They may have been, but those days are over, says Rand. Even with our heads in the sand about their negative influences on global political trends, their relentless lobbying to protect their interests at the expense of their employees or competitors and their ethics that have become more than a little shaky, we can't ignore the fact that they have benefited for (too) long from our work as marketers.
Google uses our work to feed their monopoly -and people's addictions.
Think about it: all of the work that makes Google what it is: build sites, produce content, make a relevant Google Business page… comes from us. All this work is then used by Google to push users to their services:
Did you create a lovely My Business page? Google uses it to push users who want to contact you towards Google Maps -and to get into the habit of searching for information here ;
Did you upload a useful video on Youtube? Google cuts out the most "relevant" part of it and, without displaying your name, channel or the rest of your content, offers the information to users who don't even have to click on your profile -or know who you are;
Did you write an article on a subject of expertise? The zero position that we all covet gives us little visibility in the end because the majority of users will read the information on Google and will click on your site to read the rest.
The more lucrative a sector is, the more likely it is that Google will become a competitor: their rapid entry into the world of hotels and flight reservations should have tipped us off. The trick? They don't even have to offer the best content: they'll always be ranked first.
Facebook used us to build their platform… and then cut us off
All the work spent on creating pages, crafting good content for the platform and the hours spent creating or maintaining our communities on Facebook have been reduced to a mere pittance by the latest updates. Feel like you can't reach anyone anymore? You're not alone. The engagement rate of these communities has now dropped to … 0.09%.
Their algorithm is supposed to privilege commitment to truth and quality content. What it actually does is foster the polarisation of opinion, the propagation of false information and hate for profit. Do we really want to still be associated with a company that promotes these values and uses our content to encourage the addictions of their users?
Google and Facebook only play in one category: theirs. Worse, they're lobbying hard to make sure that all the doors stay locked behind them, Rand assures us.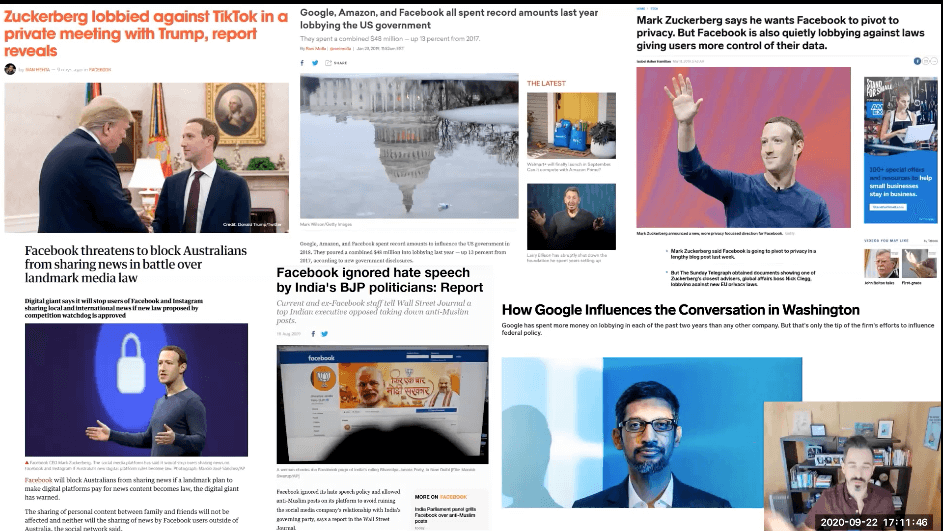 You can't get the same competitive advantage on Facebook and Google you can from other, more diverse sources
Rand compares Facebook and Google's marketing offers to "boulder-pushing" marketing: it's always complicated. If we stop working with them, everything starts from scratch and, if these companies ever want to, access to their services can suddenly become more expensive, more complex or smaller.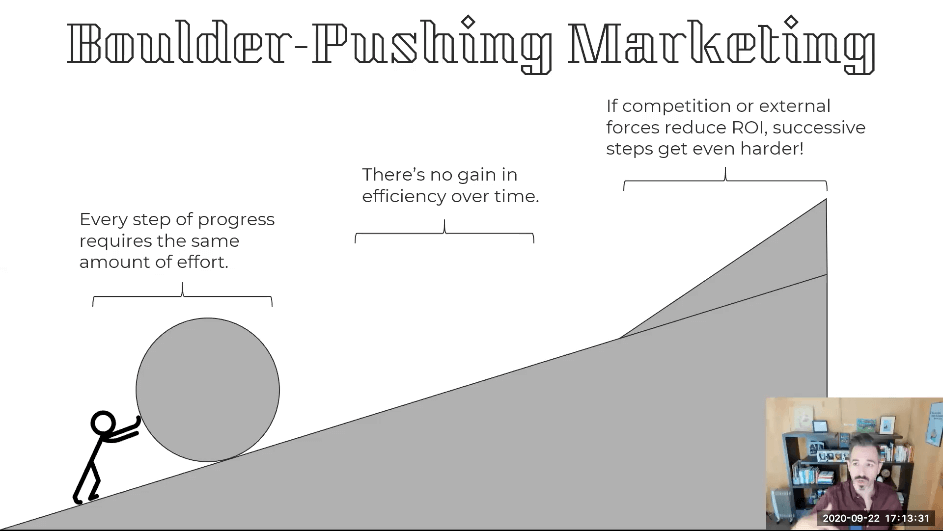 Flywheel marketing, for example, is an excellent marketing technique if you put your mind to it. The principle is simple: strengthening one of our marketing actions by successive actions meant to increase its scope, its audience and ROI. We've spoken about it before at Plezi.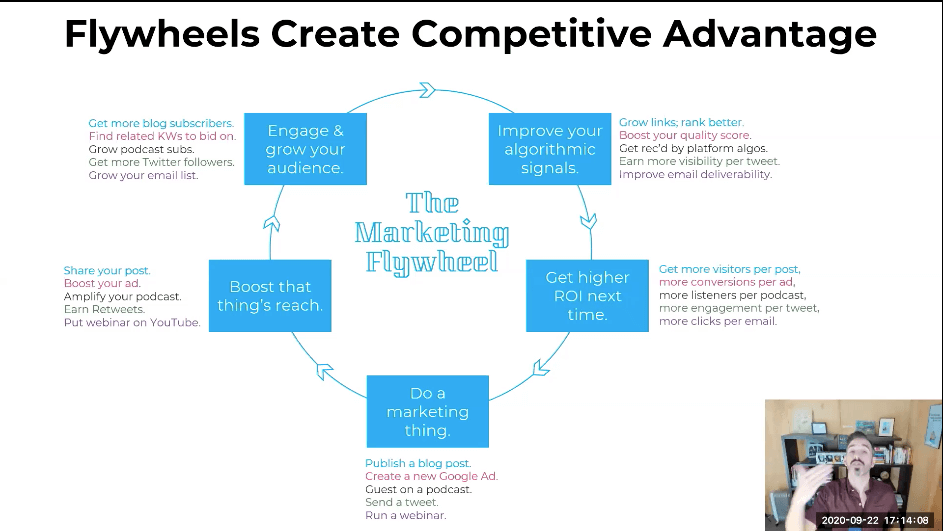 This type of technique, though, is impossible to implement with Google and Facebook alone. Indeed, their monopoly allows them to set prices and therefore puts you in competition with… anyone who can pay more than you can. Many companies who are already very powerful in their respective markets use these means to ensure that prices remain high and inaccessible to the smaller businesses: Rand Fishkin, for example, searched Google for "you're gonna run ads for this?" and… TikTok had already paid for this ad space.

So what do you do when you're a small fish in a big pond? Take a few roundabout paths on which you will have much more impact: specialised sites, professional platforms… In short, as Rand tells us: "Invest where others don't, in ways they won't, with hard-to attribute (but increasing) ROI. That's how you gain a competitive advantage that lasts."
When you build your brand equity elsewhere, the duopoly becomes a better marketing channel
For Rand, the calculation is simple: the more you invest elsewhere, the more Google and Facebook will really help you. Brands that only invest in advertising have the lowest ROI (return on investment). However, if you invest in order to be seen along your prospect's journey, it will be much more effective: affiliated sites, social networks…
To do this, you simply need to ask yourself 5 questions:
Who are my customers and targets? What are their characteristics, their professions?…
What are the messages that really resonate with them?
What sources really influence them?
Where do they engage? Where can I find them and reach them?
How can messages that speak to them be amplified to reach them where they pay attention?
It was with this technique that a small Italian company made Rand buy a $200 mortar and pestle, as he was looking to perfect his pesto. To find out more, check out the Replay on Saloon.
Rand Fishkin's 7 tactical tips for better marketing
1 – Use other people's platforms to drive traffic to your website
Whatever the content you produce with third parties, make sure it redirects to your site. Not your profile on a social network, not your Google Business map… your site, and that's it! To do this, be aware of where our users' shopping journey begins, find the publications that trigger and nudge along those journeys and make sure that you are, somewhat, in them. For some how-tos, have a look at his outreach tips.
2 – If you are buying ads, know your audience better than your competitors.
This is the differentiating factor that will allow you to increase your ROI and lower your costs. If you know exactly where and how to reach your users because you know them well, you will be able to rely on highly targeted advertising.
You can do this by :
3 – Optimize for engagement streaks to get social visibility, followers and traffic.
For that, think about what the platforms want, what your users want, and your publication rhythm.
Give the networks what they want by creating content that will be broadcast: no external links, content that generates comments, with videos or photos…
Make a "message sandwich": alternate engaging messages without promotion, then promotional messages with a call-to-action (CTA), then engaging messages without promotion… and repeat. You should see your follower count and engagement rate increase rather quickly.
4 – Bet on your visuals
Visuals, especially in digital marketing, are a real asset! For this, rely on visuals that:
are branded;

are viral-worthy and meant to be shared (so with your name or logo visible!);

can be reused for "series" on your subjects?
These visuals generate interest and create a sense of expectation for your marketing targets.
5 – Use the news
You can use the feed personalisation in Google's news tab to find good ideas for content to pitch to local newspapers. By typing in google a term defining your sector + the name of your city, you are almost certain to find topics that can get you coverage, publications likely to cover you and types of stories that earn coverage.
6 – Capture every email you can
Email is currently the best marketing tool you can find. Their opening rate is 252 times higher than a Facebook ad and, if you have succeeded in attracting a qualified audience, your ROI will be even higher.
7 – Audit your ads
By keeping an eye on your ads and campaigns, you will be able to understand very quickly what topics interest your targets, what terms they are looking for online and how to adjust your campaigns or content production accordingly.
Facebook and Google can be useful tools, but they must remain just that, and above all, not be at the heart of our marketing campaigns. Many solutions exist to help us reach our niche markets and generate real results. Rand Fishkin's latest advice: "Take that money that you saved and invest it towards beyond-the-duopoly investments !" Can't say we haven't been warned! To dive deep into his examples and all his advice, head on over to Saloon for the replay!