In my discussions with B2B marketers and sales managers, I've noticed that there is often confusion between inbound marketing and content marketing. Many of my interlocutors simply don't know the difference between these two digital marketing strategies. Is this also the case for you? So let's try to clear this up.


What is content marketing?
Take out your content marketing manual, on the first page. And memorize this great definition:
"Content marketing is a marketing technique that consists of creating and sharing relevant media content for a predefined target audience in order to attract and retain customers."
Be careful, content marketing should not be confused with brand content. Brand content is content centered on the brand, and is more used in B2C (for example Oasis with its fruits and its mini-series). On the other hand, content marketing is focused on the prospect/buyer.
The implementation of a digital content creation strategy in a company implies the implementation of an editorial strategy, which means a set of tactics and means to write relevant content.
Why implement a content strategy for your brand? The objectives of a content marketing strategy are the following
Generate qualified traffic on your website via Google, and by qualified we mean prospects
Increase your brand awareness and/or credibility
Establish a relationship of trust and build audience loyalty
Generate engagement from Internet users
In short, by implementing a content marketing strategy, your brand has its own media to address your target customers.
Content marketing tools
A quality content strategy is generally built around the following tools
A blog (composed of editorial articles)
White papers
Social media content
Newsletters
Webinars
Case studies
The list is far from exhaustive. You can also consider infographics, videos, podcasts or any other form of content relevant to your business and your target audience.
But the goal will remain the same: to inform, educate and answer the searches your target customers make on Google in order to accompany them in their buying journey (also called funnel marketing) and to engage them with your brand thanks to a consistent editorial line.
The goal is to give before receiving: we give value through the content we produce rather than trying to sell our products or services.
Content marketing has two components:
The creation of high value-added content (done internally or by an agency or freelance)
The promotion of the content, in order to multiply the entry points between Internet users and your brand: natural referencing on Google (SEO), social networks, newsletters, promotion to influencers, etc.
What is inbound marketing?
Do you understand content marketing? Then it's time to move on to inbound marketing. Again, let's start with a nice definition:
"Inbound marketing is a set of techniques consisting of attracting qualified visitors, generating leads, converting them into customers of your solution and retaining them."
The web has revolutionized the buying journey. B2B buyers now have access to more information before the first sales contact. As a result, they are increasingly empowered, searching for answers to their questions on Google, and becoming resistant to unwanted marketing solicitations from companies.
As a result, inbound marketing allows companies to bring the customer to them and then, once they are well magnetized, to move them along the conversion tunnel until they become customers. The final objective of inbound marketing is therefore to go from point A (1st contact) to point Z (purchase):


The tools of inbound marketing
As you may have understood, inbound marketing is a strategy aimed at attracting prospects and converting them into customers and ambassadors. To achieve these objectives, inbound marketing relies on several techniques and tools:
Content marketing
Web design
Search engine optimization (natural and paid)
Social media marketing
Lead nurturing
Marketing automation (with a tool like Plezi for example)
Content is the fuel of your inbound marketing strategy
Content marketing is one of the key elements of your overall inbound marketing strategy. And yes, because content is the engine of the inbound strategy.
In fact, inbound marketing encompasses all the elements of the marketing-sales process and content marketing is the first step. Content marketing is the foundation of your house.
If it's not strong enough, the whole building collapses. It is a key element because the success of your inbound marketing strategy depends on your ability to produce relevant content and attract traffic to your website.
SEO
Thanks to your quality content, you attract qualified visitors to your site (remember the diagram above, this is the first step in inbound marketing).
The next step is to convert these visitors. To do this, you will include call-to-actions in your content to invite them to take their engagement to the next level. You will create landing pages (to download a white paper for example) with forms to capture leads and then implement your lead nurturing strategy.
The last step is to make content marketing part of an inbound marketing strategy.
Therefore, to skillfully coordinate your content marketing and inbound marketing strategies, you must not only produce and share content that responds to the key issues of your target customers (buyer personas).
But, in addition, in the conversion logic of your inbound marketing strategy, your content will have to cover all the stages of their buying cycle: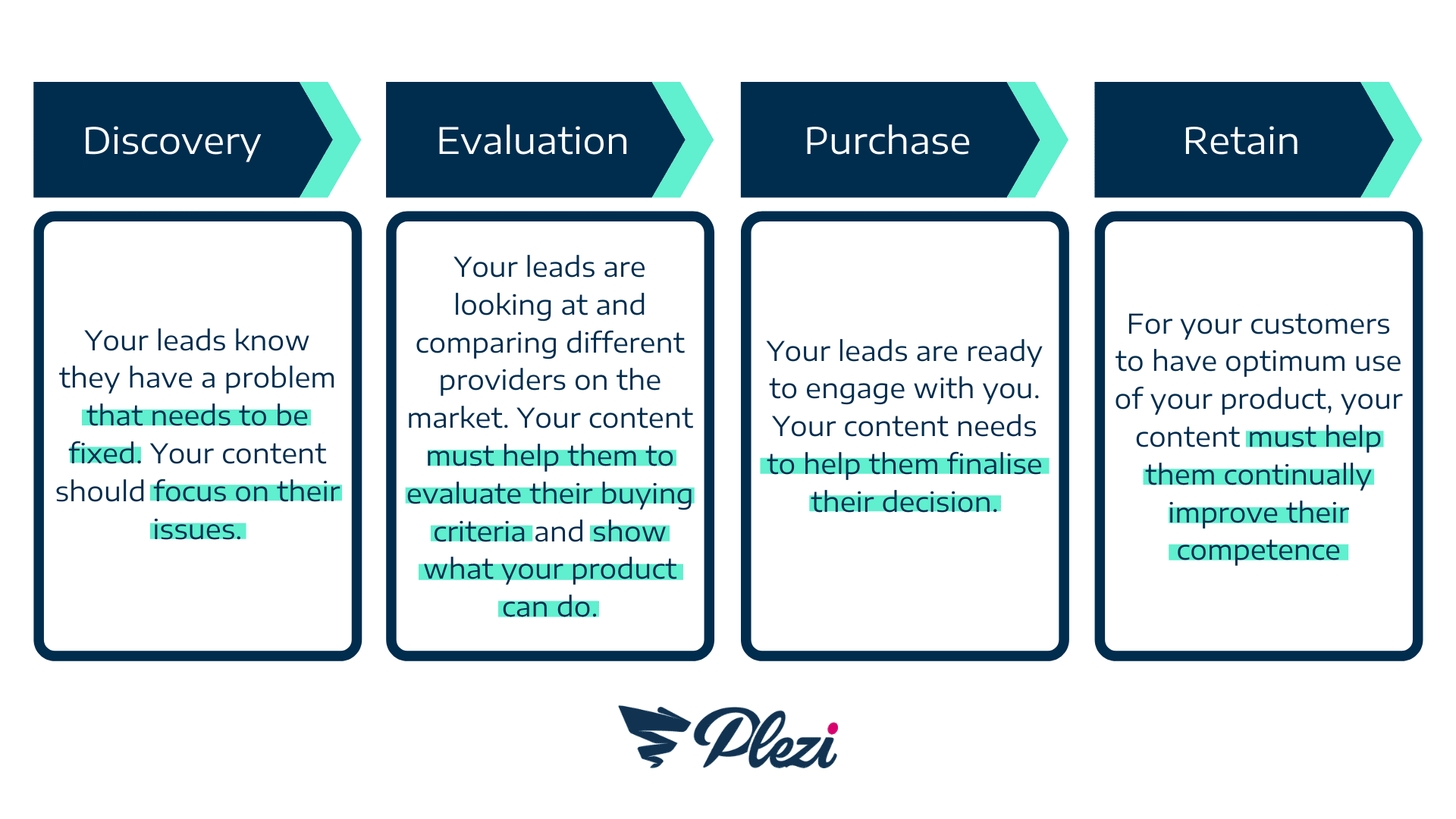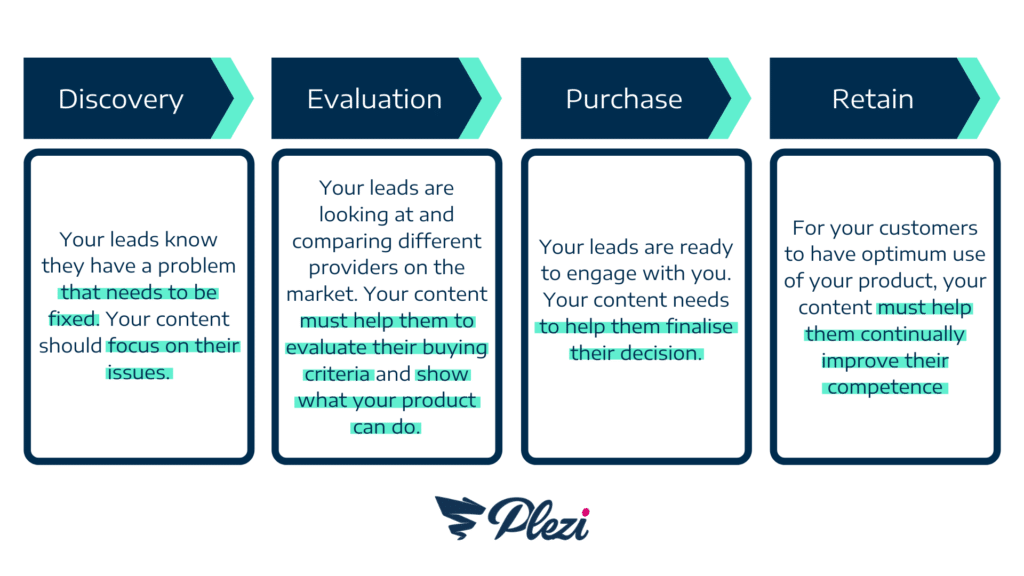 From this point of view, the use of a marketing automation solution allows you to optimize the distribution of product content. Your leads receive personalized content based on their behavior and browsing history. It is the perfect tool to maximize the impact of your content marketing in a logic of conversion.
Social selling
The content created by the marketing team as part of an inbound strategy is not only intended to attract traffic via SEO. One of the challenges for companies is also to engage all their employees in this marketing strategy and to encourage them to share these key contents on their social networks. This approach, called social selling, allows companies' employees (and especially their sales representatives) to bring quality content to their prospects and prove their expertise in their core business.
Again, the goal here is not to sell directly but to create a relationship of trust with its target customers by addressing them as an advisor and not as a salesperson.
With a marketing automation software such as Plezi, it is possible to program publications on the social networks of our employees. Everyone wins: the marketing team ensures that the content produced is promoted to prospects and the sales people benefit from a LinkedIn account (or other) that is regularly updated with quality content and an expert image that will facilitate their work.
Content marketing and inbound marketing are two distinct but complementary concepts. Both strategies are designed to bring qualified visitors to your site in order to engage them with your brand. But inbound marketing goes further than content marketing and covers the entire marketing-sales process, from the first contact with a customer to the repeat purchase.
Nevertheless, a winning inbound marketing strategy can only be built on the basis of relevant web content covering the different stages of the buying cycle. That's why content marketing can be considered as the first step of an inbound marketing strategy. What about you, what stage are you at? Have you started producing key content for your prospects? Have you entered a broader conversion process?
Questions and answers
What is the difference between inbound marketing and content marketing?
Inbound marketing is a set of techniques that consists of attracting qualified visitors, generating leads, converting them into customers and then building loyalty.
Content marketing is a marketing technique that consists in creating and sharing relevant content for a predefined target audience in order to attract and retain customers.
What is the difference between brand content and content marketing?
Brand content is content centered on the brand, and is more used in B2C (like the Oasis brand and its fruits). On the other hand, the content marketing strategy is focused on the B2B prospect and aims at answering his problems while moving him forward in the buying cycle.
What is content strategy?
Content strategy refers to the fact that a company creates content (blog articles, white papers, etc.) in order to attract prospects via its website. The objective is then to move them through the buying cycle thanks to the content in order to transform them into customers.