If you feel like you've actually started to get on top of your inbound marketing strategy and you finally feel like you are starting to get everything right: your content strategy is attracting new visitors, your smart forms help you gather qualified information on your leads… Now that you have their email address, it's time to implement a conversation in order to get to know them better. You want all of them to go through their conversion funnel: but how do you deal with the sheer quantity of interactions needed to do so?


At this point, you're probably looking into marketing automation. It is the simplest answer: however, between an emailing solution and a full-scale marketing automation solution, you don't know what choice is best. You are attracted to the price of the first, but the second offers broader features. We, at Plezi, believe that starting early with a marketing solution can actually help you kick your whole marketing strategy off the ground. Here are 4 things a marketing automation solution can do for you that an emailing solution cannot.
01. Email tracking vs web tracking
Marketing automation and emailing solutions have one thing in common: they both use marketing emails as a way to engage their audience. However, one of the main differences that can be found between both is the way they implement tracking after an email is sent.
Emailing software usually collects the following: 
delivery rate (do these emails pass spam filters? What is their deliverability?) ; 

click rate (did the prospect click on one of the links?) ; 

open rate (did the prospect open the email?) ; 

churn rate (did the prospect unsubscribe?)
This data is helpful to understand the impact of your emails. However, if a prospect does click on a link directing to your website, the tracking in your emailing software ends. You'll then have to refer to your aggregated website data to try and understand their behaviour with tools such as Google Analytics. 
Marketing automation software tracks all of the emailing data listed above and more. As this tool is linked to your website, you can follow the path of your prospect all the way to the pages they visit, the links they click on, the forms they choose to fill. You then not only have visibility on what they did with your email but what they chose to do on your website afterwards. If gives you particular insight on their interests and a global overview of their journey.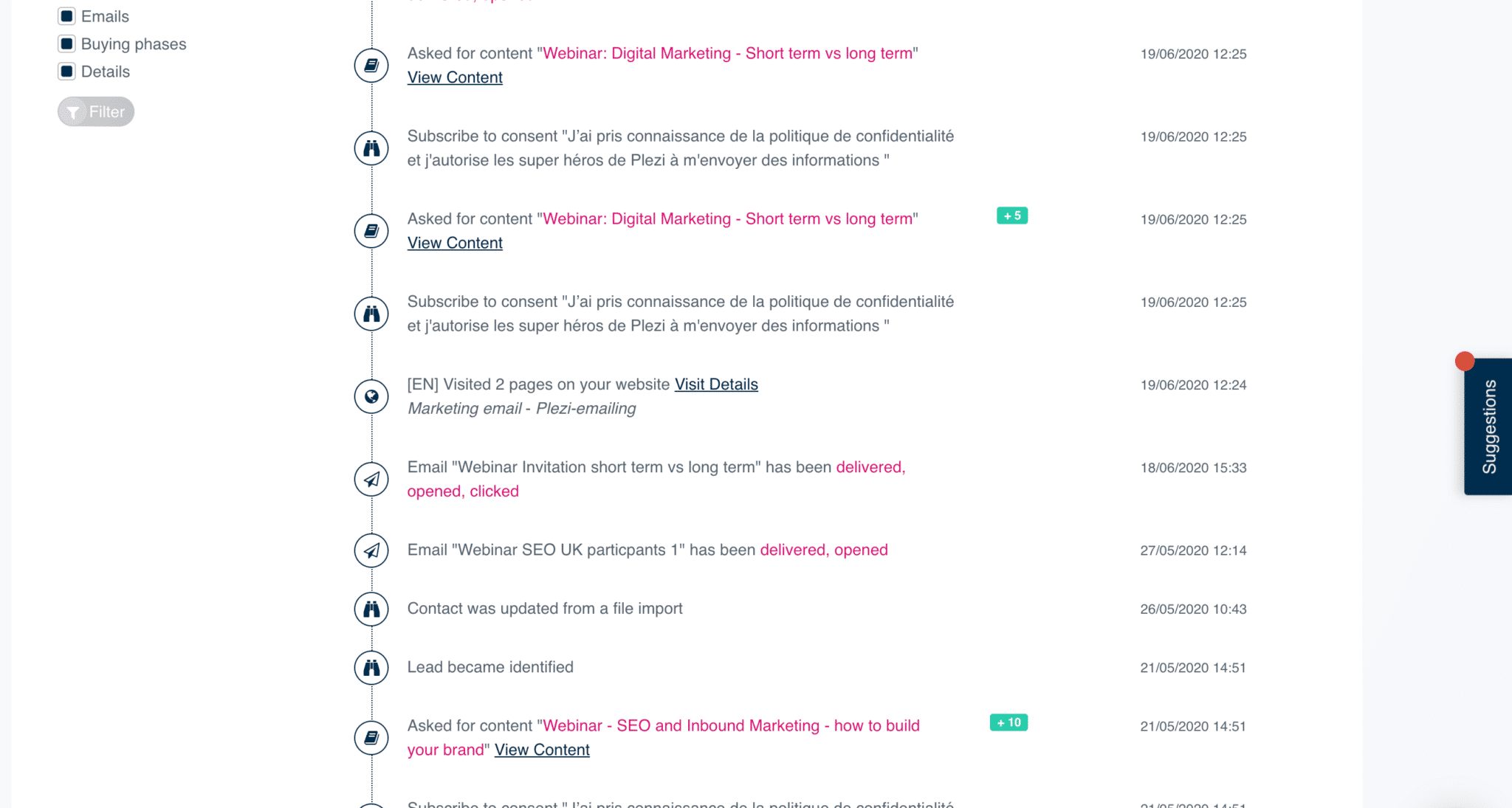 This information can be priceless in order to adjust your campaigns. Here is an example of what tracking looks like on a marketing automation solution like Plezi. 
02. Isolated emails vs flexible campaigns
Traditionally, email marketing solutions created one-shot campaigns in order for you to send emails to a chosen chunk of your prospects. If you wanted to send another, you had to create a new campaign, and so on. 
They have recently moved past this and the best emailing tools (Mailchimp, Mailjet, Sarbacane…) now offer an automation feature in order to complement their campaigns.  
However, these options remain fairly limited: 
prospect segmentation is mainly based on data gathered from previous emailing campaigns in order to automate the next interactions ; 

they lack web tracking features ;

they do not have lead scoring.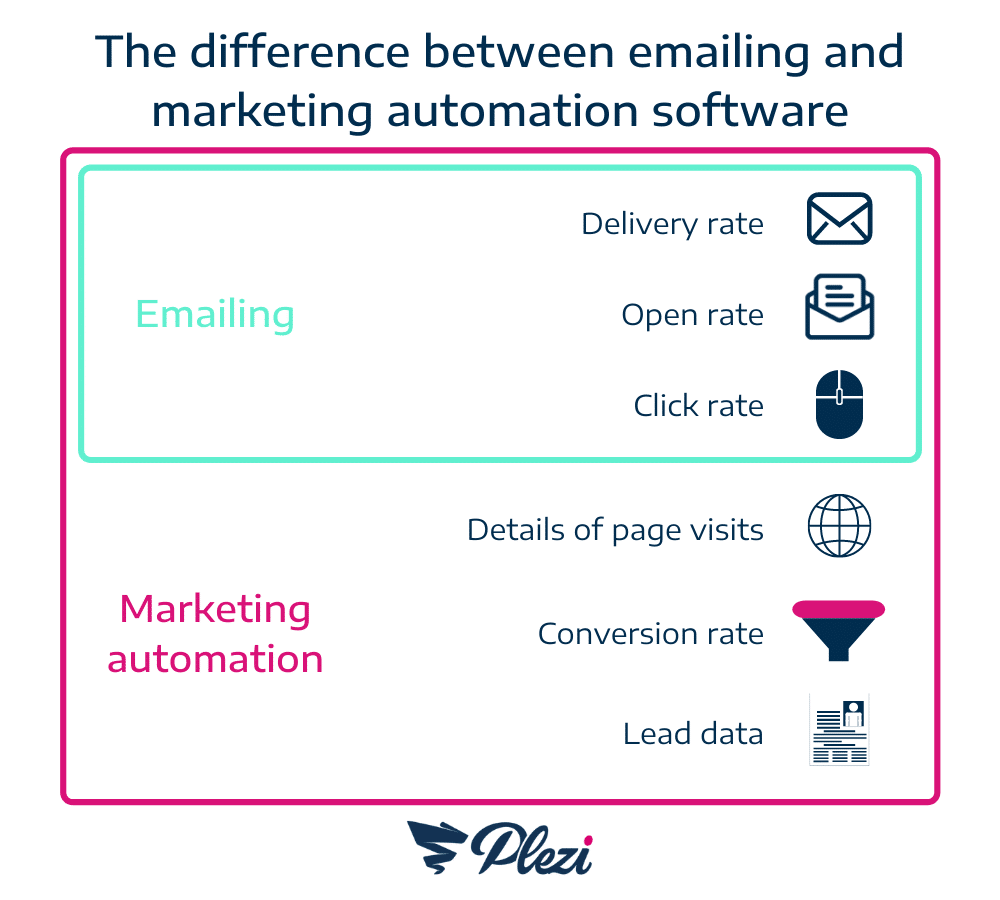 Marketing automation tools, on the other hand, tend to gather data from a wide array of sources: website, emails, social media… The data they gather is contextualized and much richer, and they go as far as scoring your prospects based on their interactions and automatically trigger personalized interactions and messages.
A marketing automation system such as Plezi allows you to send punctual campaigns, newsletters and workflows. We also offer the opportunity to fully automate such interactions by analysing every lead's interaction with you and send them different contents based on their position in the buying cycle. This way, we can truly automate your messages to prospects, with our Smart Campaigns. It means that you can let Plezi send out the right messages to your prospects that speak to their needs. 
Marketing tools also update their rating of your prospects with the amount of information gathered. Lead scoring means that each time a lead visits or engages with your site, points are added to their profile. This method allows the software to uncover profiles rapidly and make sure interested leads (or marketing-qualified leads) are taken care of and passed on to the sales team. 
So, not only does marketing software automatically add useful data to profiles, it also unlocks specific actions when a score threshold is reached. Progressive profiling and lead scoring are the main assets of a marketing automation solution. While the first provides helpful information to the sales team, the second allows a faster journey through the purchase cycle.
04. Estimated ROI vs proven ROI
The tracking features provided by emailing software means you can see if your prospects click on a link in your message -but that's it. If this customer somehow buys your product, you'll only know by running into their name later on your CRM. Actually proving that your emailing campaign is somehow linked to their purchase might be even trickier. Your ROI is tough to determine, and harder to prove to your bosses, as many other factors play in since your email was sent and the prospect bought the product.
With marketing automation, you can follow every step of your prospects' purchase journey with precision. All the information is documented so you can determine which action or campaign is truly efficient and adjust accordingly. Your ROI is not only documented but the figures back it up.
Marketing emails remain a powerful engagement tool in any inbound marketing strategy. The software you pick is crucial to your success. Emailing software is agile, requires very little onboarding and are often very cheap. However, they provide parcelled, static information and allow little room for strategic adjustment. Marketing automation tools, on the other hand, might require more effort at first but truly pay up in the long run and provide a priceless, 360° insight on your prospects and their behaviour. So, what's your pick?
Improve your tracking with this complete guide to UTM parameters for marketing campaigns