Every day, visitors browse your website. But if you want to turn those anonymous visitors into qualified leads, your website needs an essential tool: an online form.
So, how can you build online forms that are both visually appealing and effective when you can't write a line of code to save your life?
In this post, we'll show you what we think are the 10 best free and paid tools to build online forms for your B2B website. With them, you can start turning those visitors into leads in just a few clicks!
Spoiler alert: We've saved the best for last!

In this post, we'll look at:
Contact Form 7

Gravity Forms

Elementor

Google Forms

Typeform

Microsoft Forms

FormCraft

Formstack

Ninja Forms

Plezi One
1. Contact Form 7, the most popular free WordPress form builder plugin
With over 5 million active installs and a rating of 4.4 out of 5, Contact Form 7 is one of the most popular plugins on WordPress. Building your own contact form using Contact Form 7 is easy.
Contact Form 7 comes with a contact form template that can be quickly added to both your blog posts and web pages.
Once you've activated the plugin, just copy the form shortcode and paste it into a post or page. Visitors to your website will then be able to send messages directly to your inbox using the form on your website.
Once you're happy using the basic form, you can add more features by taking advantage of the third-party extensions to Contact Form 7 listed on the developer's website.
1.1 Pros of Contact Form 7
Easy to use;

Quick to install;

Access support in just a few clicks.
1.2 Cons of Contact Form 7
Can be time-consuming to set up;

If you don't correctly insert tags for the different form fields or specify additional content that you want to include in the emails generated by the form, the content of these fields may not be included in the emails you receive;

Lack of advanced features.
1.3 Pricing
Contact From 7 is free to use.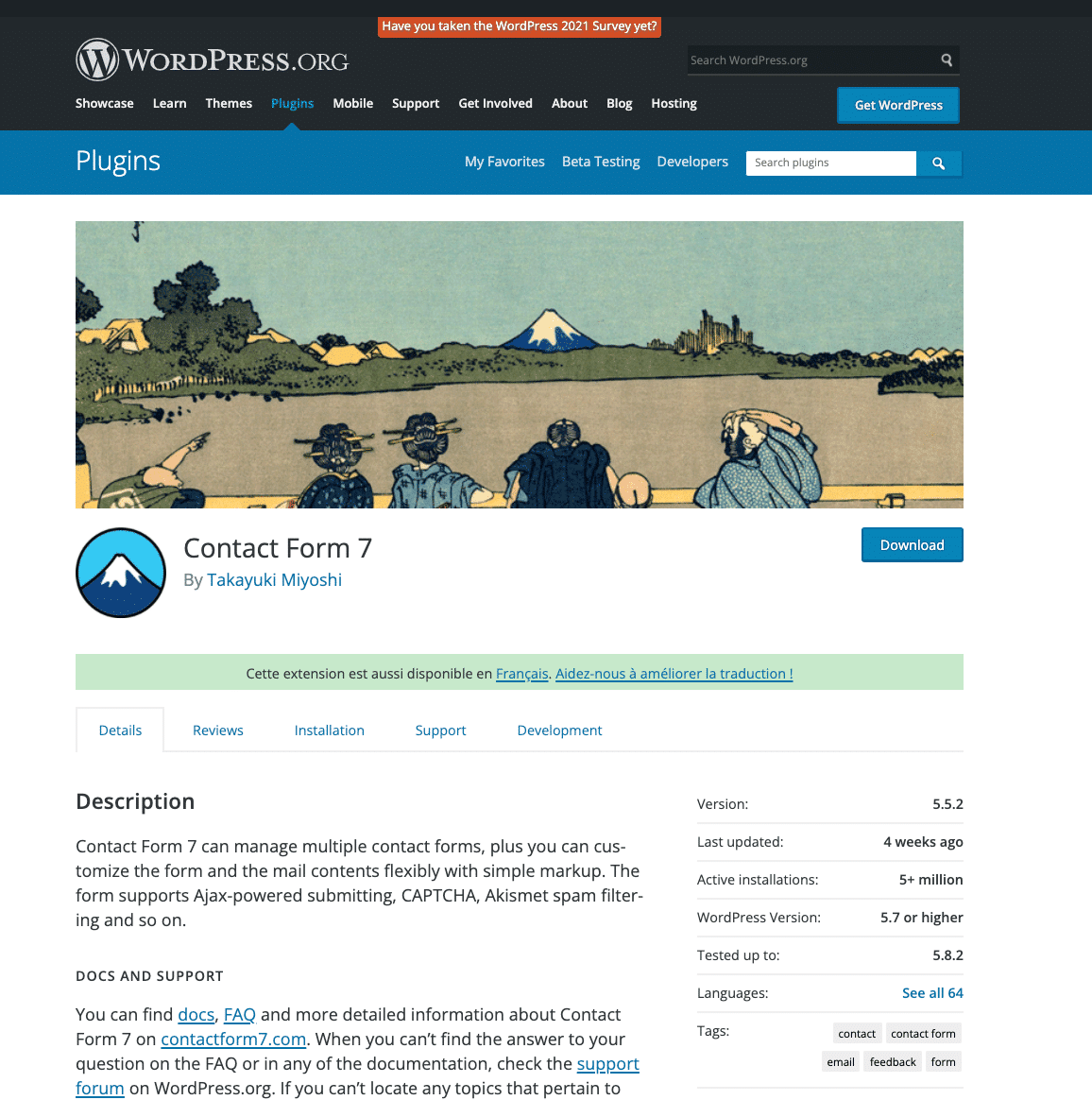 2. Gravity Forms, the most powerful form builder plugin on WordPress
Gravity Forms is an advanced tool that can be used for much more than just creating contact forms.
The interface allows you to choose different types of fields to add to your form. These can then be modified to meet your specific needs. You also have a range of options to determine how most of the field types behave.
Form settings let you:
limit the number of accepted form submissions;

define the period during which the form is active;

require users to be signed in to your website before using the form;

enable form animation
2.1 Pros of Gravity Forms
Tooltips provide additional information in the interface;

Ability to personalize the confirmation message sent to visitors who successfully submit a form;

Form submissions can be viewed in the WordPress Admin dashboard.
2.2 Cons of Gravity Forms
Doesn't come with an existing contact form template. Unlike Contact Form 7, you need to build your own form before you can add it to your website.

No acquisition data;

Only available as a paid subscription.
2.3 Pricing
Gravity Forms has three different pricing plans based on the number of websites you want to use with the plugin:
Basic: $59/year for 1 website;

Pro: $159/year for 3 websites;

Elite: $259/year for unlimited websites.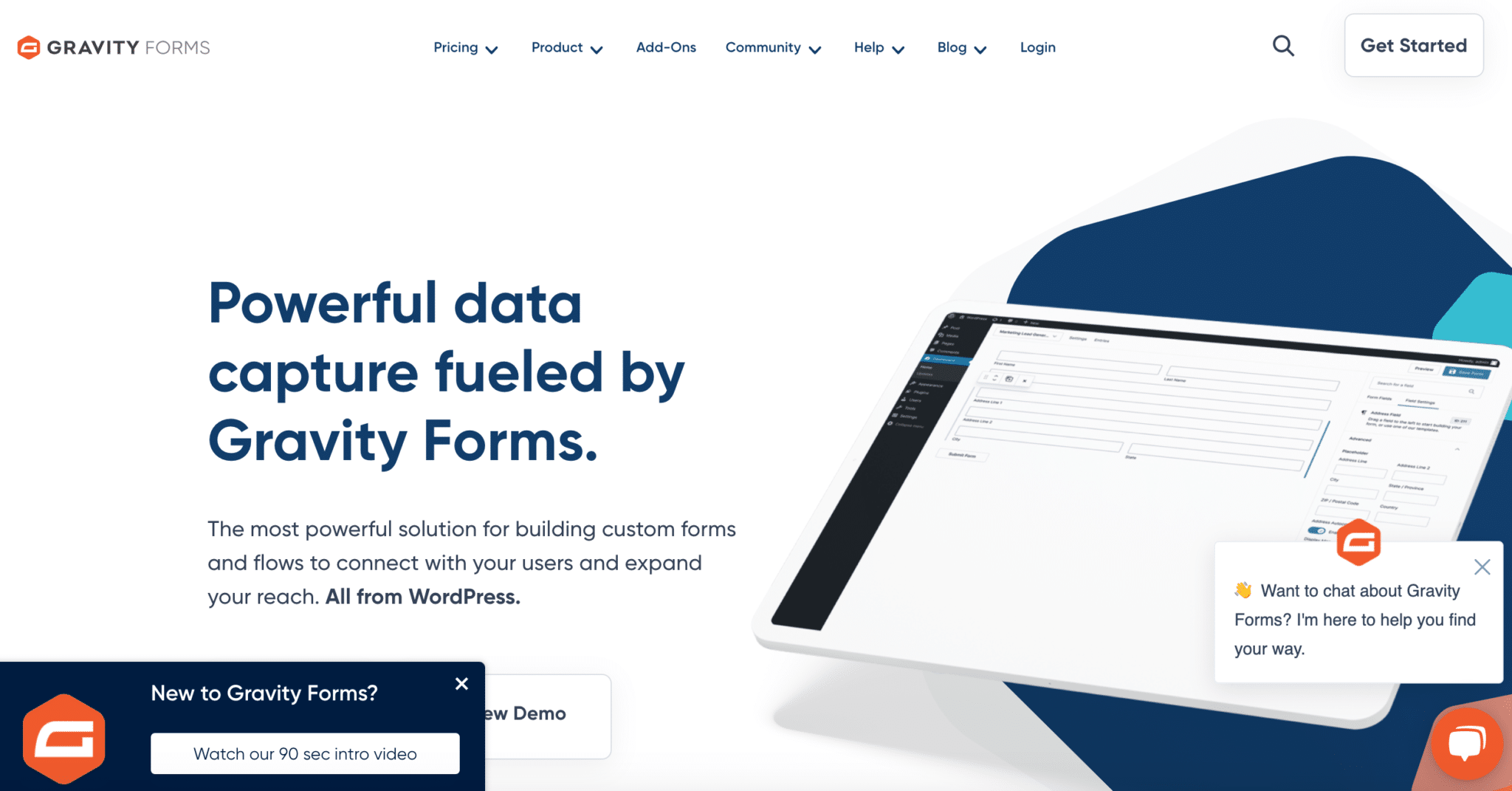 3. Elementor, the website builder that includes its own forms
With Elementor you can build easy-to-use forms using the tool's drag & drop functionality and edit them visually in real-time. You have full control of the form design and can control every aspect of the page layout.
One of Elementor's strong points is its intuitive interface, which you can use to easily build personalized online forms. This is something that isn't possible with standalone WordPress form builder plugins.
Elementor also lets you build multi-step forms, include hidden fields, receive email notifications, send confirmation emails, forward forms to a different email address, and more.
3.1 Pros of Elementor
A large choice of field types;

Easy integration with more than 30 marketing automation and CRM tools;

Advanced spam filtering features;

Easily personalized.
3.2 Cons of Elementor
To use the free version of the tool, you need to install a third-party plugin and embed the form into the blog post or page you created with Elementor.
3.3 Pricing
Five paid pricing plans are available based on the number of websites you want to manage with Elementor:
Essential: $49/year for 1 website;

Advanced: $99/year for 3 websites;

Expert: $199/year for 25 sites;

Studio: $499/year for 100 sites;

Agency: $999/year for 1,000 sites.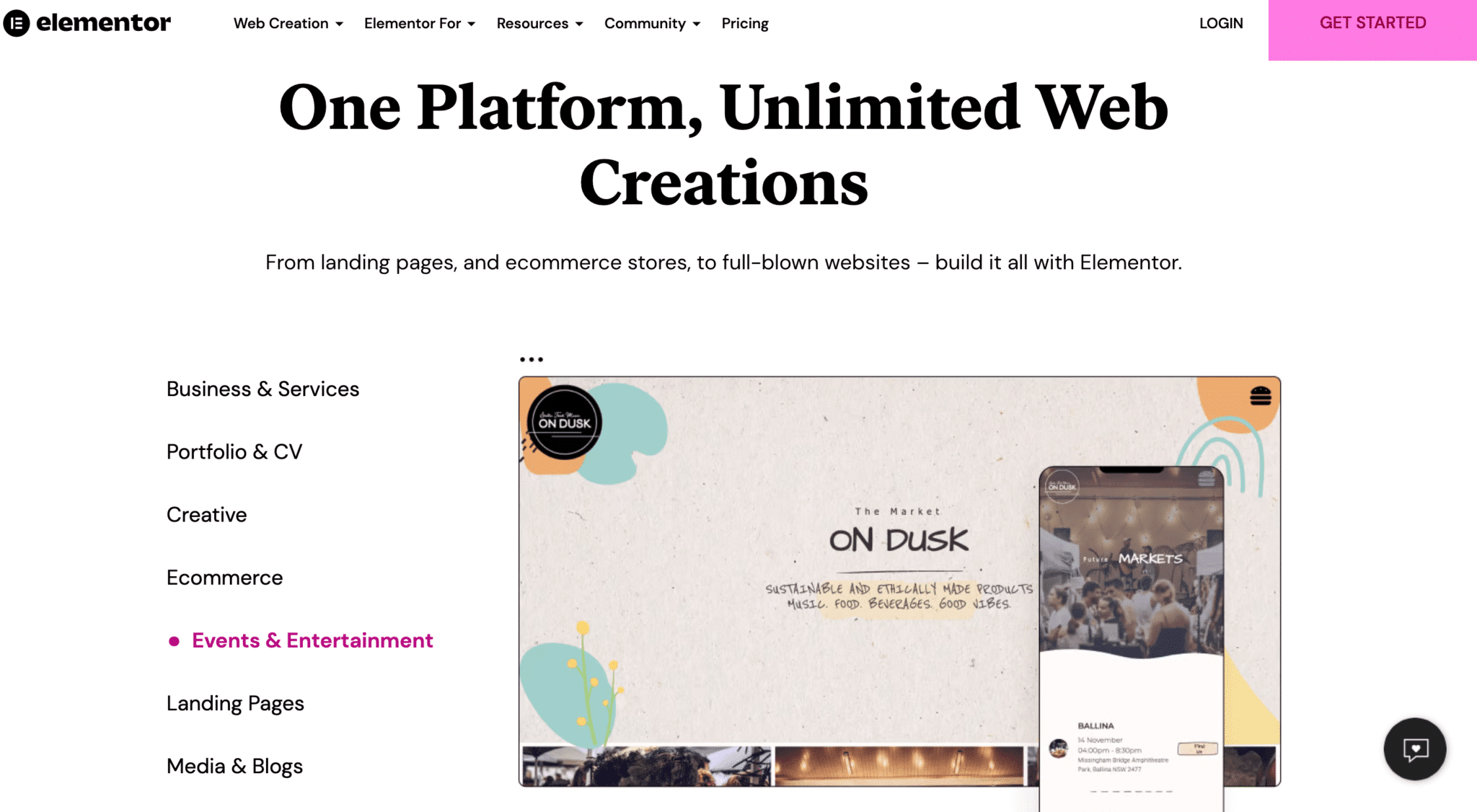 4. Google Forms, for an unlimited number of forms
Google Forms is a free online tool for users with a Google account that lets you create surveys, questionnaires, and quizzes. It's a comprehensive tool that lets you use not only text, but also multiple-choice questions, tables, drop-down menus, and more.
Once you've published your Google Form online and shared it using the public and private sharing options, it automatically collects form submissions as people fill it out and send it.
Part of Google's Workspace suite of web applications, the tool automatically imports form data into Google Sheets for easy analysis.
4.1 Pros of Google Forms
Easy to use;

Available from Google Workspace;

Basic ability to personalize the visual appearance of forms.
4.2 Cons of Google Forms
Limited ability to choose questions to ask and field types;

Better suited to online surveys than seriously collecting information from leads;

Difficult to integrate into a website;

Doesn't provide marketing data. This makes it difficult to manage the information and data collected in your surveys.
4.3 Pricing
A lot of form builder tools let you build a certain number of forms for free before requiring you to use a paid plan. One of the big advantages of Google Forms is that it lets you build an unlimited number of forms for free, at least using your personal account.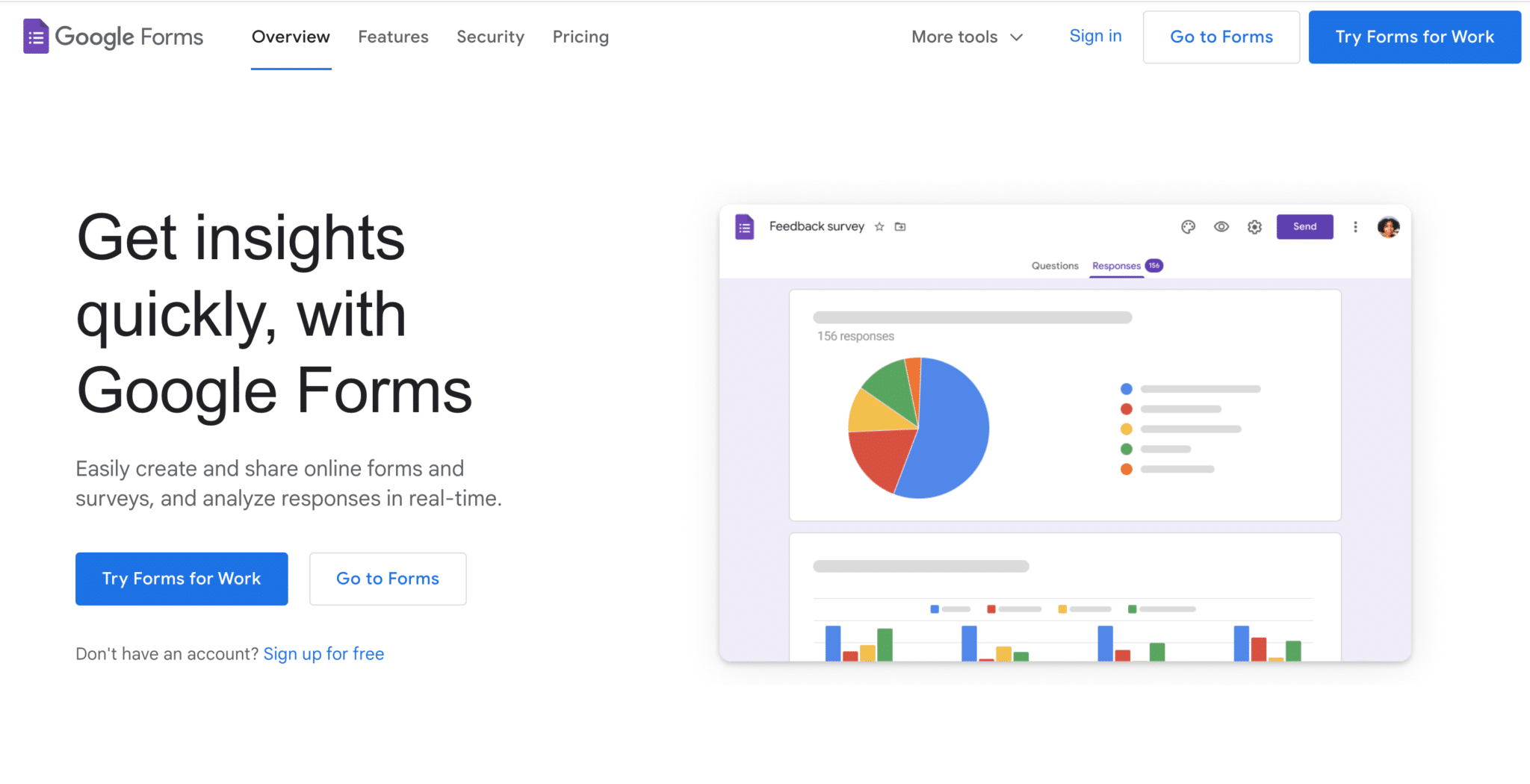 5. Typeform, to ask visitors one question at a time
Typeform is something we use at Plezi, often for qualifying leads, surveys, understanding our buyer personas, customer satisfaction and so on.
Typeform has taken an innovative approach to building forms. With its intuitive design, this software reveals only one form question at a time to visitors.
One of the most common ways to use Typeform is to collect information about leads. But it can also be used effectively for customer surveys and user research.
From the tool's back-end, you can see:
who viewed and submitted your form;

what the form completion rate is;

what the average time for completion is;

where visitors abandoned a form.
5.1 Pros of Typeform
Comes with more than 100 ready-to-use form templates – a bit like the Canva of forms;
Easy to make changes to content and layout;
Useful features when embedding into a website, very visual;
Easy integration with other tools.
5.2 Cons of Typeform
Visitors need to look at a lot of screens to complete a lead qualification form;
Can soon become difficult to obtain accurate marketing data (e.g., acquisition data);
Requires additional features integrated using Zapier in order to collect and analyse data and review form submissions.
5.3 Pricing
A free version of the tool is available, but you have to pay to use all the features included in the templates. More importantly, the pricing plan you chose determines the number of form responses you can receive each month. There are three different pricing plans:
Basic: $25/month, billed annually (100 responses/month included);

Plus: $50/month, billed annually (1,000 responses/month included);

Business: $83/month, billed annually (10,000 responses/month included).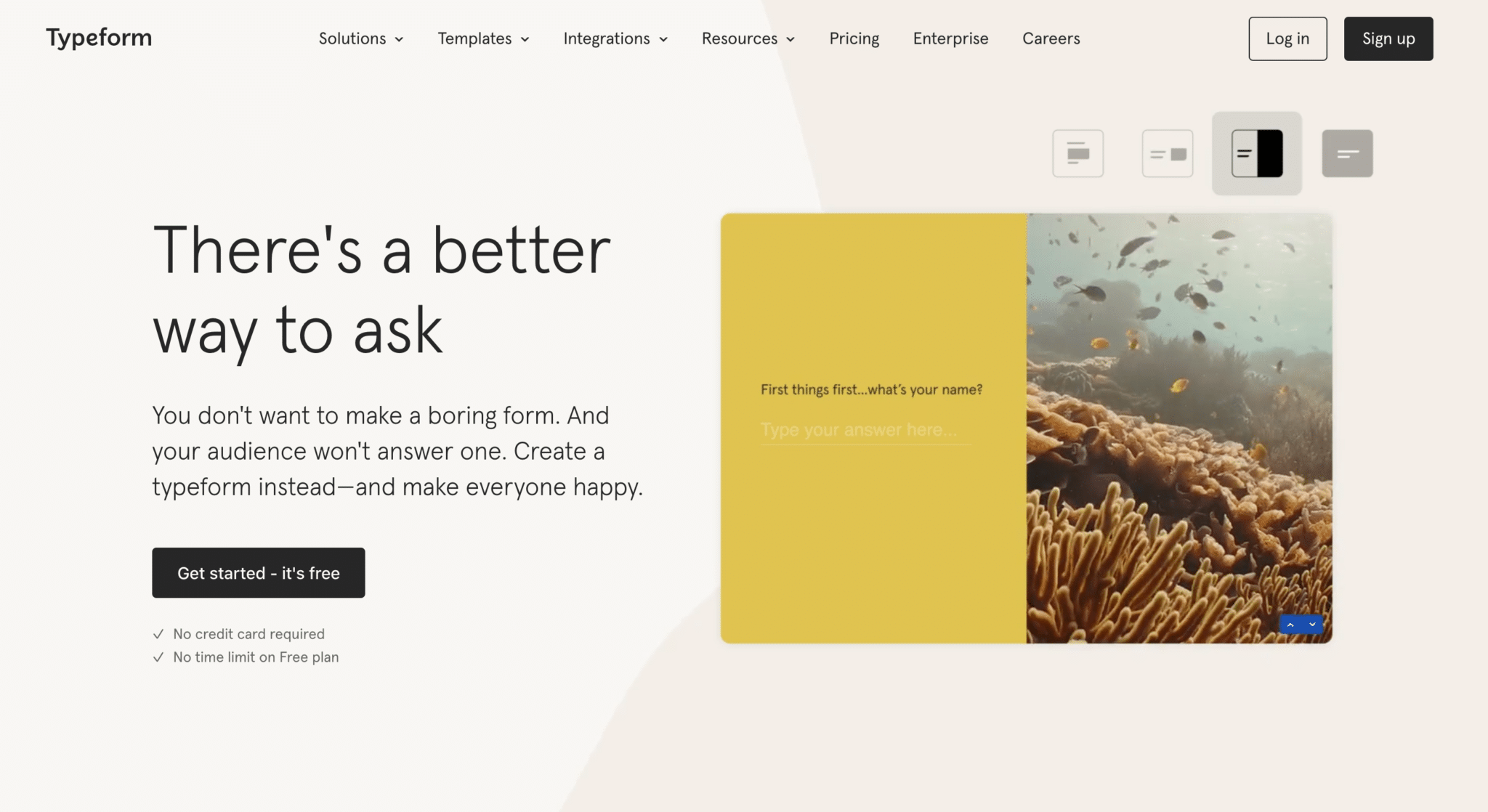 6. Microsoft Forms, to easily share your forms
Microsoft has a form builder tool that is similar to Google Forms. You already have access to it if you have an Office 365 licence, but Microsoft Forms can also be used by anyone with a Microsoft account.
You can also change the settings of a particular form to enable people who don't have a Microsoft account to complete a survey or quiz. In this case, form submissions will be anonymous. If you want information on who has completed a form, you can ask respondents to include their names as part of your questionnaire.
In addition, Microsoft has recently launched Microsoft Forms Pro. This enhanced version of the tool enables you to incorporate your company's branding, integrate it with Microsoft Dynamics 365, and implement workflow automations.
6.1 Pros of Microsoft Forms
Personalized forms with an easy-to-understand visual layout;

Good user experience;

Responsive on mobile devices;

Results can be easily exported to Excel for further analysis.
6.2 Cons of Microsoft Forms
Difficult to embed into a website. You will need to have the embed code for the form and add it to your blog post or page in WordPress;

Doesn't provide marketing data and can't be integrated with other tools. This makes it difficult to manage the information and data collected in your surveys.
6.3 Pricing
Microsoft Forms is free to use by anyone with an Office 365 licence or with a Microsoft account.

7. FormCraft, for building drag & drop forms on WordPress
If you use WordPress, you need to know about FormCraft.
This WordPress plugin lets you easily build forms using drag & drop. The plugin code has been optimized so that it's lightweight, meaning you don't have to reload a page. FormCraft is one of the most popular and useful form builder tools currently available.
In addition to building simple survey forms, FormCraft can also create complex forms using the different configuration options it provides. You can build anything from a simple contact form to complex, dynamic, condition-based forms, like:
newsletter sign up forms;

feedback forms;

meeting forms;

complaint forms

request for quote forms.
7.1 Pros of FormCraft:
Easy to embed into web pages;

Build professional forms on the fly and collect form submissions;

Has many useful features that let you build visually appealing forms with minimal effort.
7.2 Cons of FormCraft
Use is limited to WordPress and can't be integrated with another CMS;

No free version.
7.3 Pricing
FormCraft is not available as a free version. Instead, it comes in one of three different bundle packs.
The Basics Bundle includes 3 add-ons and is available for a one-off payment of $49. The most comprehensive version of FormCraft, the Everything Bundle, is available for a one-off payment of $129. The tool comes with dozens of features and several different built-in templates. So, these one-off payments still represent a good investment for WordPress users.
8. Formstack, for seamless integration with Salesforce
Formstack's drag & drop functionality lets you build online forms without writing a line of code. In addition to collecting customer data, this tool can be used to automate tasks in just a few clicks.
Formstack's customers like its easy-to-use, intuitive interface. The tool's conditional logic functions let you build forms that dynamically show or hide fields based on the previous choices made by leads.
If you choose the Pro pricing plan, Formstack offers seamless integration with Salesforce. All forms only send data to Salesforce to guarantee data confidentiality.
8.1 Pros of Formstack
No separate integration or connector is needed to create quick, visually appealing online forms for Salesforce;

Several ways to send data to Salesforce and use it in workflows;

Creates Salesforce-ready forms for a variety of needs, including:




– address updates;




– signing of waivers/release of liability;




– event registration;




– customer satisfaction surveys;




– online orders;




– e-commerce.
8.2 Cons of Formstack
Quite expensive – probably not suitable for small businesses or individuals.
8.3 Pricing
Formstack offers a 14-day free trial, but after that time, three pricing plans are available:
Starter: $50/month, billed annually;

Teams: $83/month, billed annually;

Pro: $208/month, billed annually (only this option includes seamless integration with Salesforce).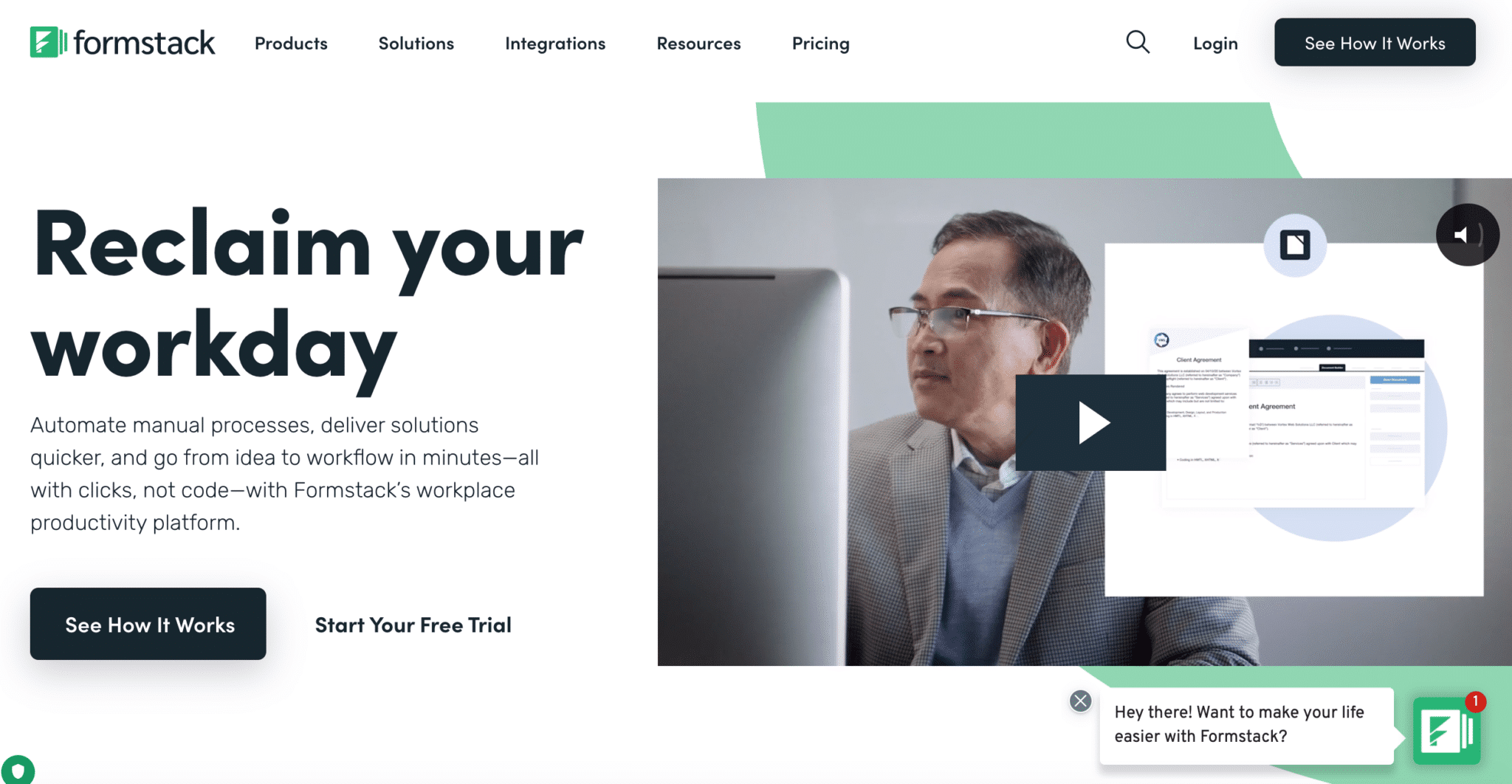 9. Ninja Forms, for building free forms on WordPress
With over a million active installs, Ninja Forms is one of the best WordPress form builders available.
While Ninja Forms is a WordPress plugin like FormCraft, there are several differences between the two tools. Unlike FormCraft, Ninja Forms does offer a free version of the tool. There is also no limit to the number of forms you can build with this, or the number of fields you can add to each form. There are around thirty different field types you can choose from, including:
user information (e.g., name, address, email, phone number);

checkbox lists;

paragraph text;

ReCAPTCHA;

anti-spam;

star rating.
Unlike many other WordPress form builders, Ninja Forms lets you start building forms without immediately forcing you to choose a paid plan.
9.1 Pros of Ninja Forms
Possible to add additional form fields to existing templates, change the order of form fields, and more;
Ability to add descriptions to form fields (e.g., instructions on information they should provide);
Ability to enable developer mode in the settings, giving you more personalization options.
9.2 Cons of Ninja Forms
Not the biggest selection of templates – there are 16 to choose from, plus a blank form option;
Limited ability to change the look of the form template on your web page. Ninja Forms is designed to inherit the style of your WordPress theme, including fonts and colours, so that your form fits seamlessly into your website.
9.3 Pricing
Ninja Forms is packed with features that you can use for free, but the paid plans provide even more tools for marketing, customer relationship management (CRM), and accepting payment. You can choose an annual subscription, which can be expensive, or only select the add-ons that you need.
For more layout and styling options, Ninja Forms offers an add-on that can be purchased separately, or which is included in the personal subscription.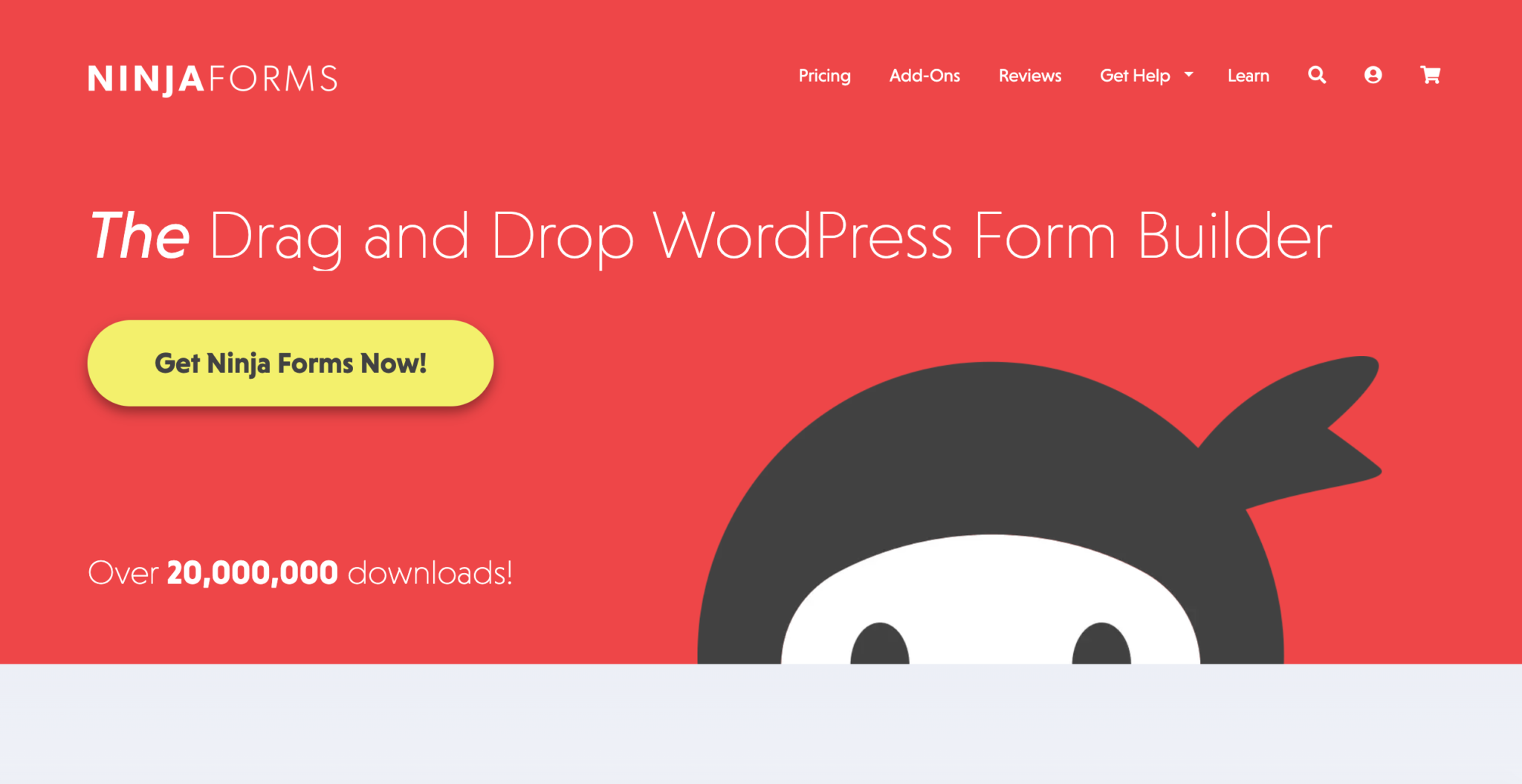 10. Plezi One, to generate leads
What if we told you that Plezi has a drag & drop form builder that also lets you create scenarios quickly and easily?
Plezi One is our latest product. Our future freemium offer is now available in beta (which means that it isn't finished, but we'll give you free access in exchange for your feedback!). It's our best kept secret, in fact!
The purpose of Plezi One is simple: to let you generate more leads on your website and give you a better understanding of the acquisition and conversion processes.
Using Plezi One, you'll be able to quickly multiply the number of forms on your website and multiply the chances of converting visitors into leads. And it works. Users of Plezi One increase their conversion rates by an average of around 100%.
10.1 Pros of Plezi One
Existing templates for each part of the form according to the types of content: automated emails, thank you messages, required fields;

Simple to manage GDPR compliance;

Tells you everything about a lead: where they come from (e.g., "social networks – LinkedIn") and how they behave on your website.

The perfect tool if you want to start to convert more online and learn about those leads.
10.2 Cons of Plezi One
A limited number of form fields (less flexibility than with a tool like Typeform, for example);

Lack of integrations with other tools in the beta version.
10.3 Pricing
Plezi One is free to use, but you need to sign up to do so. The good news is that we release more places to test the beta version of our tool every week. Why wait, when you can join a select group of users with advanced access?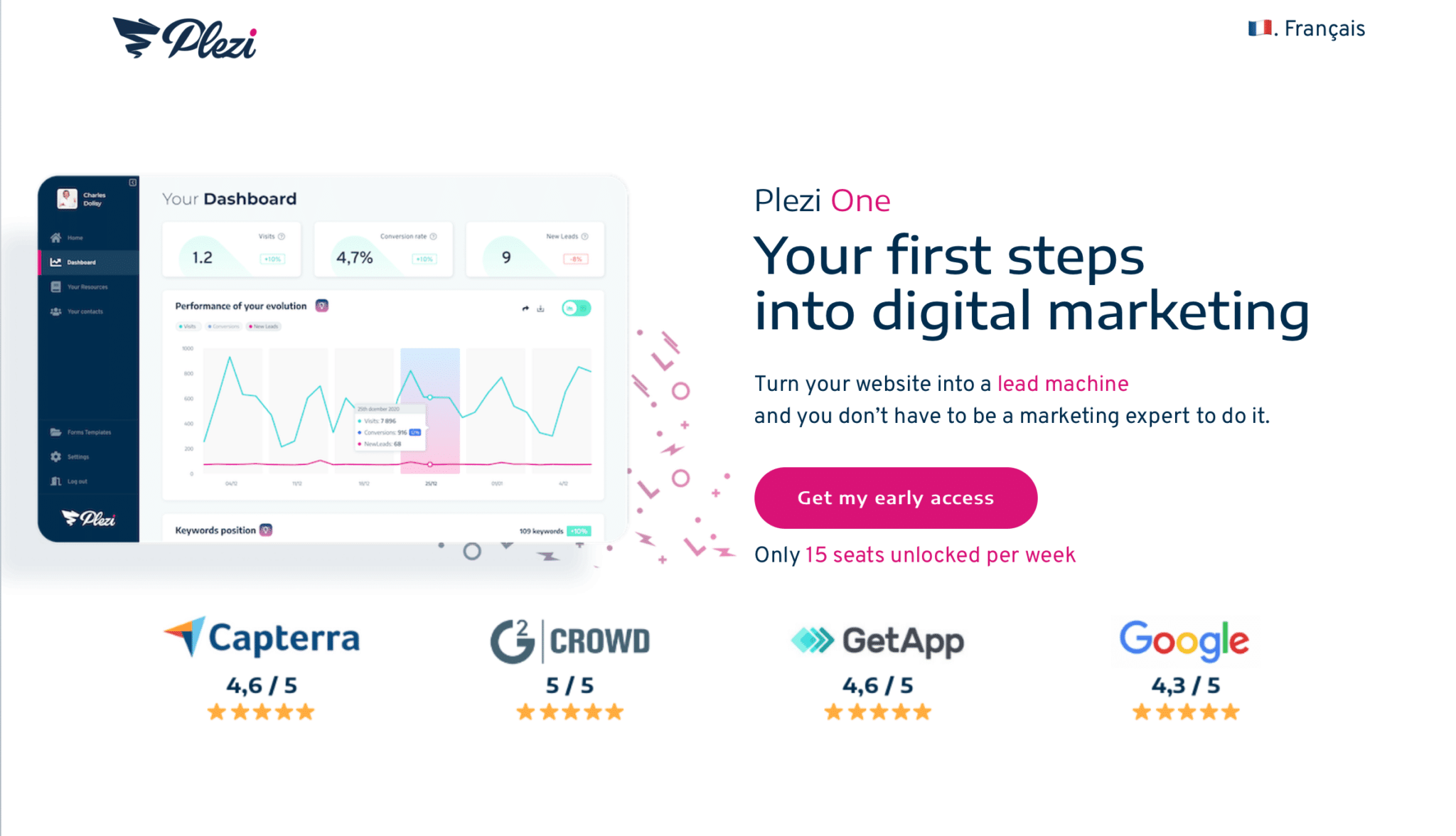 There are a large number of form builder tools available. All of them have similar basic features. But if you want the ability to personalize forms and perform in-depth analysis of the data collected, there's not that many options to choose from. The most important thing is to know what your company's objectives are and to choose a tool that will help you achieve them.
We hope this post will help you choose a tool that lets you build personalized forms for your B2B website. If there's anything you think we haven't covered, why not get in touch or tell us about it in the comments below?