Marketing automation is a great way to save time if you are a marketer -you won't hear us ever tell you otherwise. However, badly managed, automation can lead to aberrations from a human point of view: too many emails sent in a row, hyper-generalisation of prospects… 
In response, perhaps, to these extremes, a theory has emerged (and we like it a lot): Human to Human marketing, where the brand's DNA defines communication as a whole, prospection and product vision. 
In his book, "Marketing 3.0", Philippe Kotler also argues for an approach that turns away from the product (our offer is the best) and customers (look how useful it is to you) to favour a values-based approach: this product will make us cooler, smarter, overall better… According to him, consumers are increasingly looking to identify with brands and humanise their relationship with them.

However, with the arrival of marketing automation in our daily jobs, many people have launched into the race for workflows at all costs, at the risk of sounding less and less human. So how can we design, think, communicate, sell… but still be true to ourselves? At Plezi, staying human is our priority. We've tested a lot of tools and methods to do so, and here's what we've learned!
1. Why marketing conversations should be as human as possible
Guess what? Our buyers, even in BtoB, are actual people! Even more than in BtoC, customers are looking for a trusted partner, an offer or a service to help their daily life. They are therefore very sensitive to values and vision. Emotions hold power for those who want to get closer to prospects and customers and to better convey key messages. Without empathy, marketing is hollow… and prospects feel it!
 At Plezi, it's in our DNA: Plezi means "delight" in Creole, and we try to spread these values throughout all our processes: our communications, our interactions with our clients, our ways of working… We try to maintain our values in each everything we do – and certainly in our communication or the way in which we nurture our leads. When permitted, we love to bring together our prospects, clients and partners for exchanges, practical workshops and events. 
We do everything we can to ensure that relations with our prospects and customers are above all oriented around their satisfaction and a sense of proximity. That way, they choose our software knowing exactly who we are and become part of a community that works for and with them. By making our brand image a driving force in our marketing strategy, we can multiply the results tenfold.
2. How to humanise your marketing in B2B
Set the tone
Whatever the format or channelm, it is above all your tone and choice of subjects that will enable you to humanise your conversation with prospects and build customer loyalty. 
On social media: stay true to yourself! A cheerful tone and a bit of humour go a long way and prove that there are people behind the screens. Just because we do BtoB doesn't mean we shouldn't show who we are. On Linkedin, messages that work best are the ones that are a little offbeat and bring value to viewers without necessarily trying to sell them anything. At Plezi, we have put our trust in all our co-workers and we all post messages on our personal accounts to enrich Plezi communications as a whole. More than just one voice, Plezi is the sum of individuals, and this can be felt even in the way we reach out to people on social media.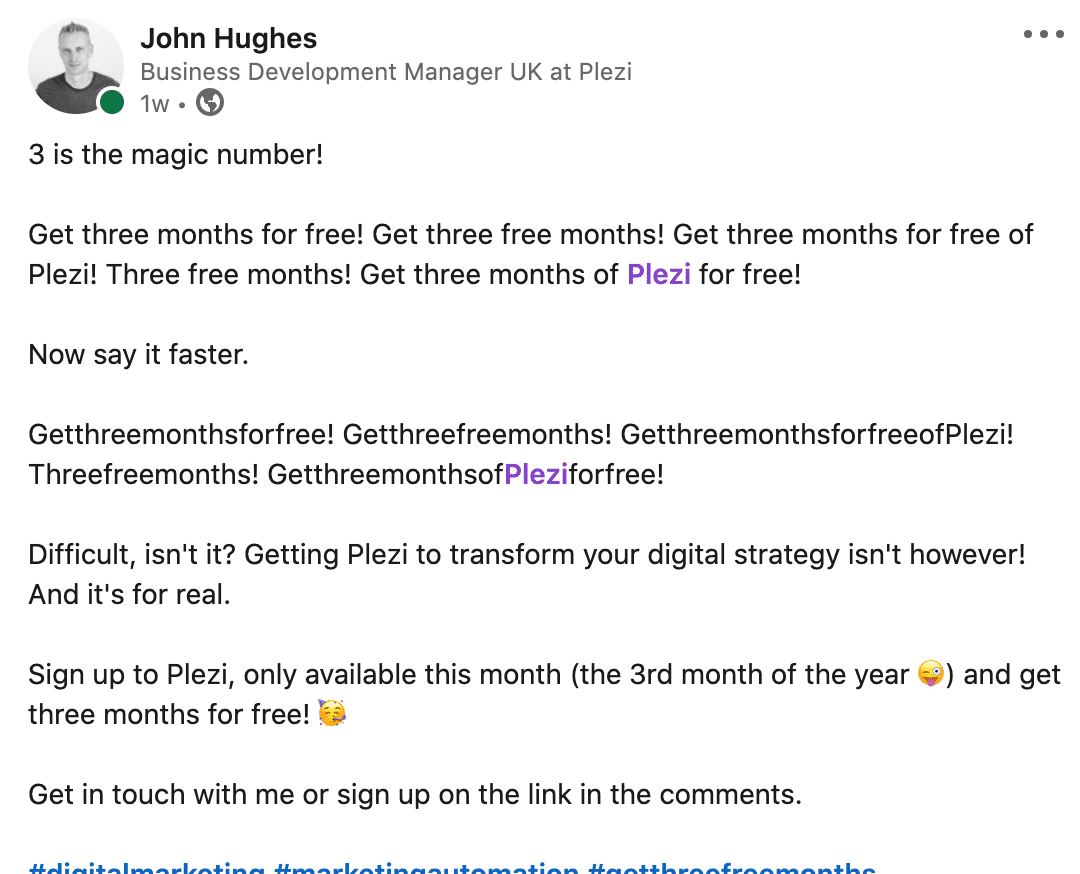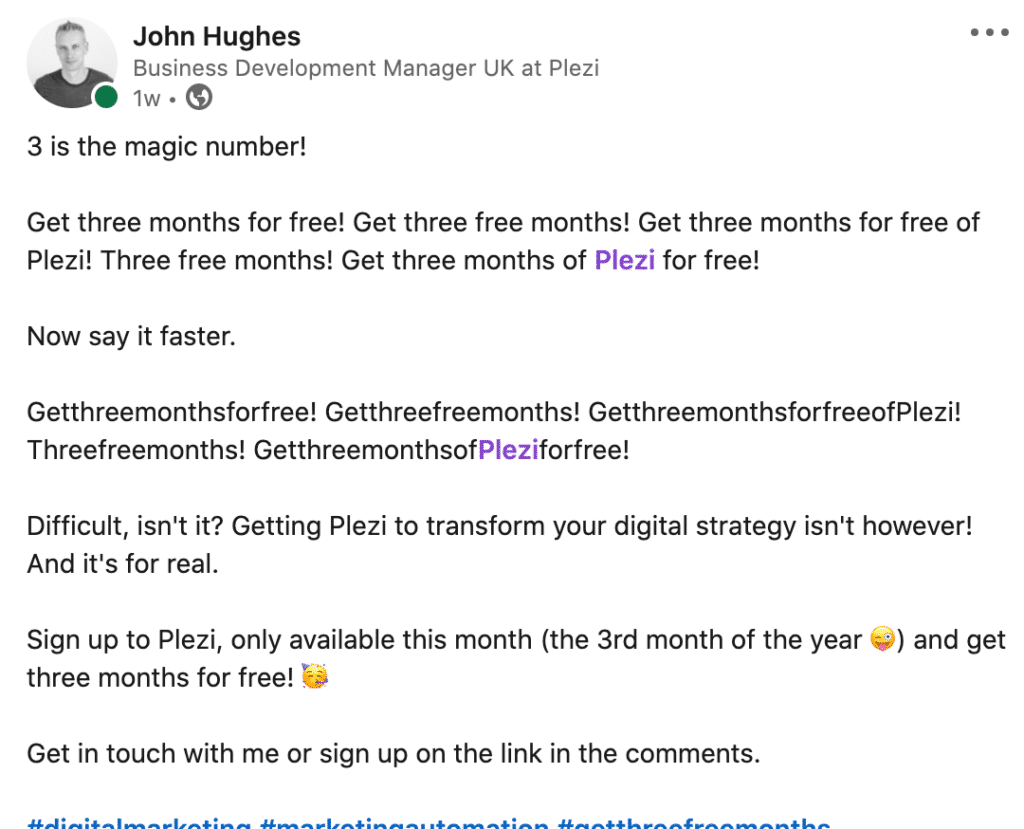 When designing content, keep thinking of your prospects and their realities. At Plezi, we share our feedback when we can. It's part of who we are! Our offer helps us to understand what our prospects can go through: they are marketers, and so are we. That's why we create content like our kits (marketing budget, buyer persona, editorial planning…), based on our shared experience, to help them get their work done! It's by showing attention and empathy that we reach our prospects, who know that, above all,  we understand them and want to help them.  In the end, we create the kind of things that we would like to find online!
Think of your webinars as a conversation, not a presentation: webinars are an amazing opportunity to engage with our prospects and create proximity. The best way to do this is to reproduce real-world conditions: 
present in a small group in order to engage in a dialogue and make the whole thing more interactive by going back and forth, 

share your own experience and practical tips, 

reply to questions on the chat and bounce back from their remarks as you go…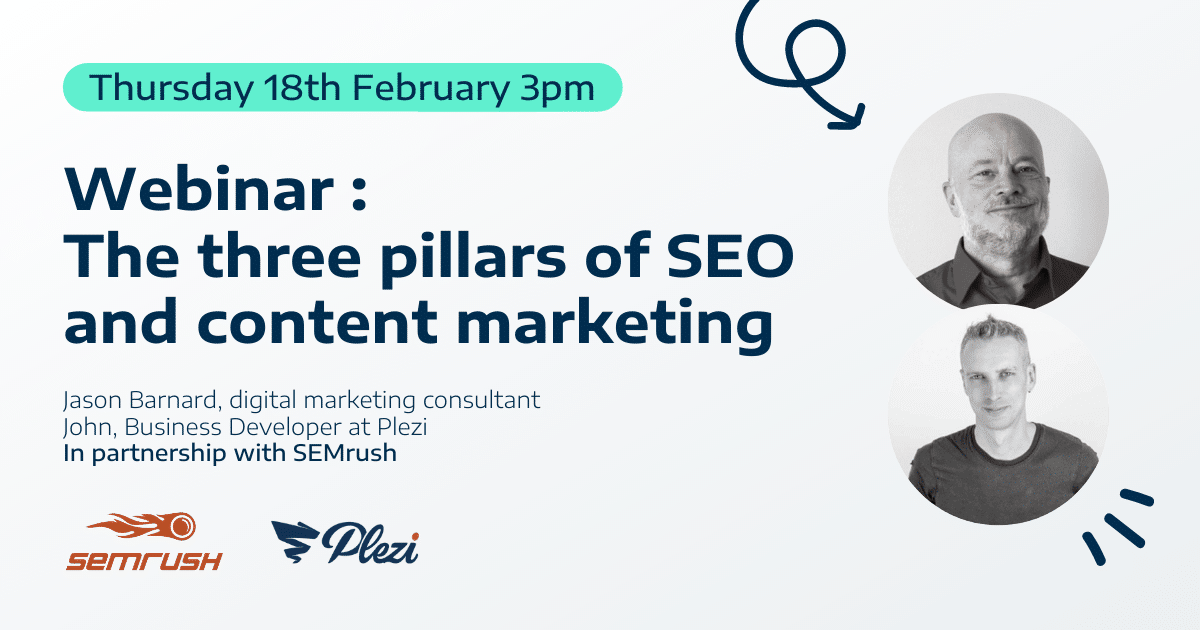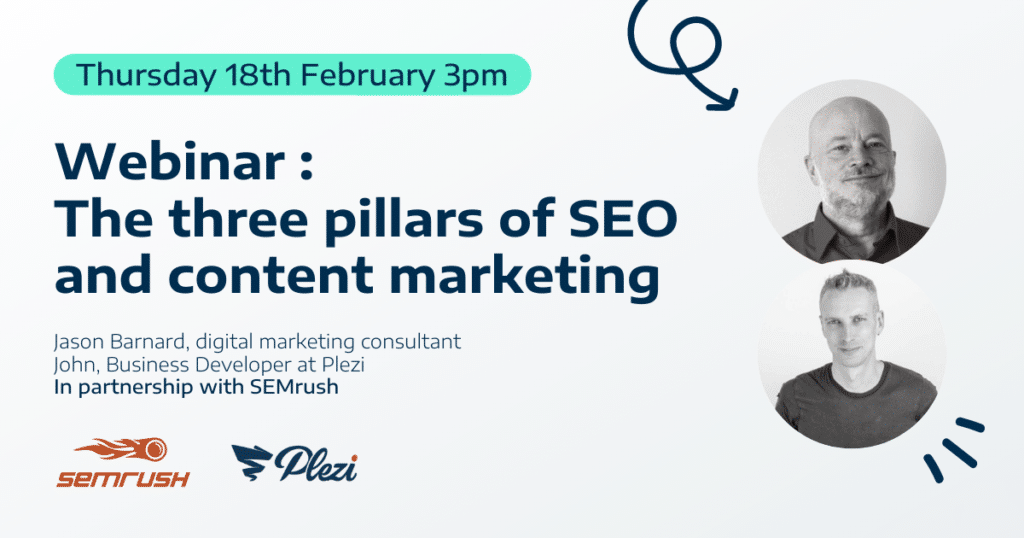 Webinar prep is a key moment to give our prospects extra attention. If you can automate the touchpoints for before and after, in order to engage your audience, it will really help you. When communicating around the webinar, don't hesitate to show your faces! Not only is it more fun, but it also boosts registration rates.
3. How to automate your marketing and stay human
At Plezi, we like to stay close to our customers, prospects and partners. That's also why we were looking forward to meeting everyone at events and during Plezi Day in 2020. For reasons we all know, these plans were really shaken up. 
Our challenge for the rest of 2020 turned into keeping these relationships in a digital form only with our new prospects. We created original webinar content, revamped our newsletter so it fits our tone better, created a new welcome workflow, wrote new emails for the Smart Campaign… In many ways, it is also thanks to our automation that we were able to keep in touch and engage with our community. Here's what we've learned about automation that stays human:
Keep your workflows simple to avoid the robot effect
We like workflows, but we like to keep them for targeted interactions: this is where they are at their most powerful! As long as we use them for a precise objective, they make our lives easier and help us focus on high-value tasks. 
At Plezi, for example, we created a "welcome" workflow for our new prospects. We spent most of our time on our tone: how do we address new contacts, how do we introduce ourselves, what content do we offer them first? With our workflow editor, the implementation was done in just a few clicks once all this thinking had started, and we ended up with a natural-sounding, human-feeling result that felt just like us.
Prioritise personalisation over general automation
In BtoB the sales cycle can sometimes be long and the discussion must be of high quality in order to qualify prospects and make sure they move forward in the sales funnel. Our challenge as a marketer, then, is: how to automate and remain human? 
For our part, we focus on personalisation. Each prospect is a fully-fledged individual with their own questions, goals and expectations… It's impossible to offer relevant content if we automate by generalising! 
The Smart Campaign identifies content that might interest each of our prospects thanks to a system of tags and site behaviour. We can personalise nurturing to the information given by the prospect (their position, interests…), their behaviour (browsing history), and their position in the sales funnel. 
In this way, we use the best of automation without its disadvantages: no content sent if it has already been read, no off-target articles… Just a real personalised discussion, as if a marketer was behind each person browsing our content.
Automate your newsletter to focus on what matters
One of the best ways to showcase your tone and your approach to marketing and to keep in touch with prospects is through a newsletter. For us, it is automated: Plezi's intelligent editor block grabs and integrates our latest published articles into the template. That way, we can focus on the substance of the newsletter and what we want to tell.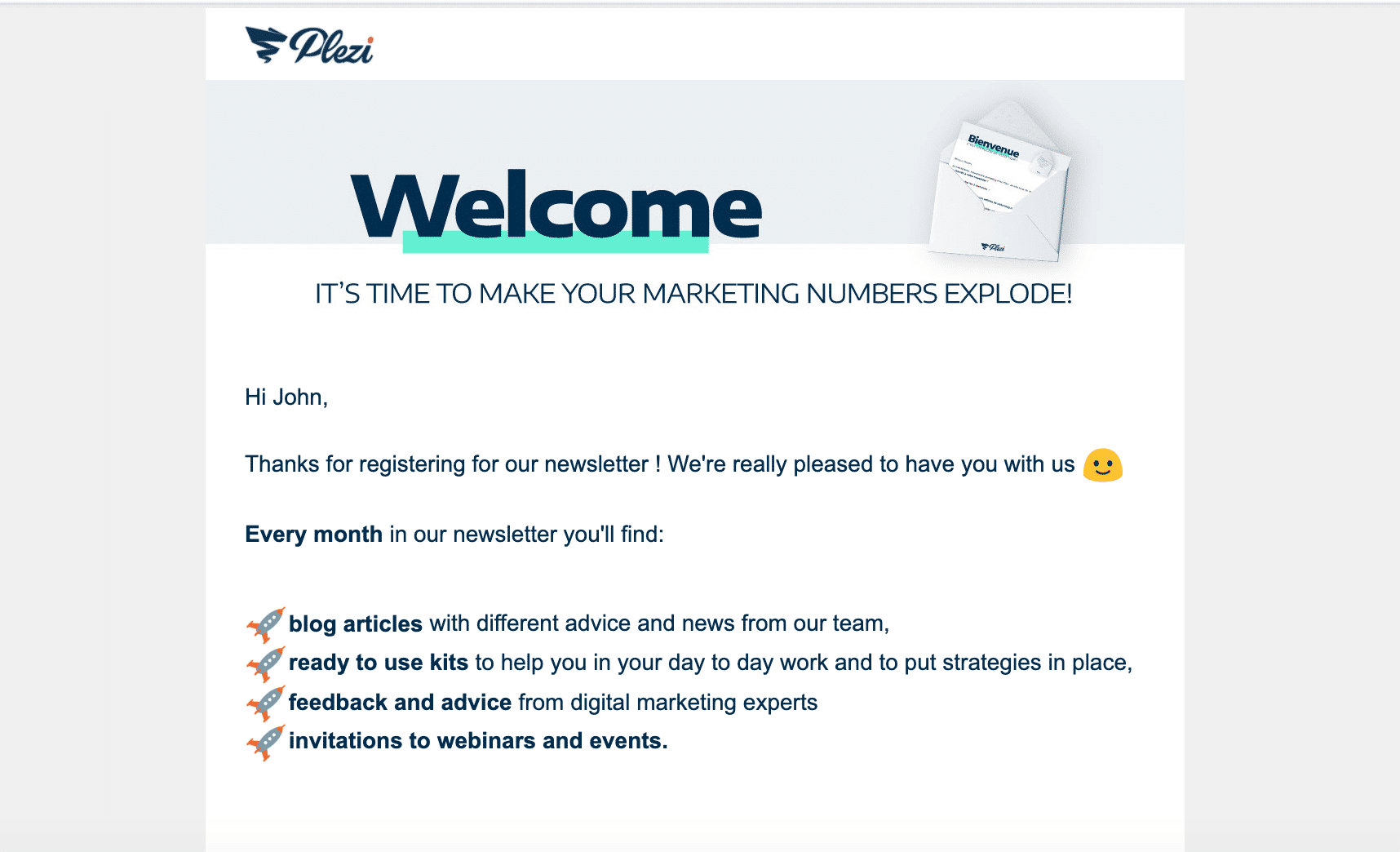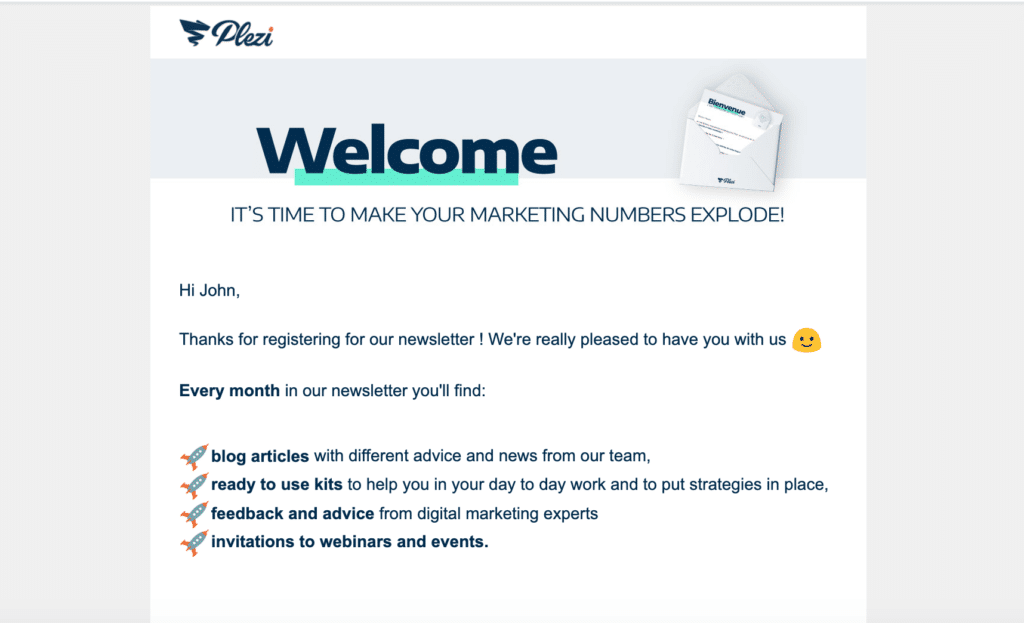 An example of the Plezi welcome mail
Thanks to the time saved we recently changed the tone and approach of our newsletter. This redesign has allowed us to show our personality and get closer to our prospects. And it works: we often receive responses to the newsletter that bounce back on our remarks, react to our topics… Thanks to the automation of certain parts, we can keep it human and engage our prospects in a natural way.
In the end, humanising digital marketing in the inbound age a question of clever automation. It's not all about lengthy workflows and complicated scenarios. Save time in a clever way so that you can focus on the essentials: reminding your prospects that there are people behind your screen, behind your offers, behind your products. Marketing seeks to create dialogue: don't frustrate your prospects by offering them robotic answers and standardised processing. They deserve better -and so do you.