Marketers love to make predictions, and they love being in control. But in today's digital and automated world how can a marketer best spend their time? How do you successfully use marketing automation in this mix? In the era of artificial intelligence, how can you best use your energy to get results?
At Plezi, we would say it is by being creative with your marketing. In fact, the fun part, is creating a campaign and coming up with interesting ways to attract and convert your audience. The part afterwards, is where you put in place a really effective method to understand how well those campaigns are going, automate out certain repetitive tasks and take your leads on a journey and that is where marketing automation will help you.
The term marketing automation covers a range of tools that aim to save the marketer's time. And because time is money, the return on investment becomes attractive for businesses. However, even if the purpose and method remain similar, uses vary significantly between B2C and B2B.

1. B2C and B2B Marketing Automation: two very different uses
In B2C marketing automation tools consist in gathering as much information as possible on consumers in order to push them to buy more. This is done by cross-referencing data and through algorithms each more complicated than the next.
In B2B, marketing automation mainly consists of supporting a lead through the purchasing cycle in order to accelerate the decision-making process which takes several months. But in the end, the first thing that comes to mind when talking about marketing automation, is the word "workflow".
When it comes to B2B marketing automation, normally, very little of it is done through alogoirythms.
Also, marketing automation as a whole is often summarised with this winning trio: trigger, rule, content: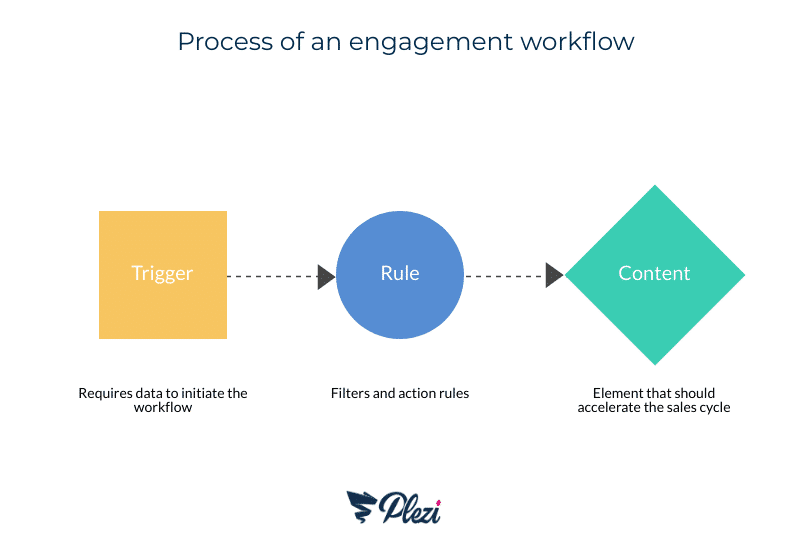 In human language, this means: "If Mr. Smith does this, send him that."
The marketer will create engagement workflows, because it's cool, and it's rewarding. They'll create lots of them, so that the slightest action on a website will trigger a workflow.
Consequently, marketing automation will look something like this:
But that's not all!
It's often been said, you need to make contact six times to make a sale, so you don't send ONE single piece of content, you send a whole series of content. So shouldn't it be the size of the workflow that counts? Why only send one email when you can automate a whole series of emails?
And there we go: because all marketers are doing the same thing, prospects are being subjected to the hard law of sales and marketing pressure:
So, is marketing automation bad? Are we mad at Plezi?…
Of course not. Marketing automation cannot be summed up by a simple workflow, the reality is more complex. Good marketing is using a mix of contributing factors.

2. Workflows = trying to predict the prospect's behaviour
Creating workflows comes back to making assumptions on what your leads will want to do next.
If prospect 1 downloads content X, there's are a strong possibility that they will be interested in content Y. If they open my email, there's a strong chance that they like my product. So, I'm going to offer them a demo.
The problem?
It is almost impossible to predict anything. It's extraordinarily difficult to predict how a person will react to prearranged set of messages. Particularly if you have segmentation in your audience, more than one offer or a range of buyer personas.
The second problem: how do you manage marketing pressure when a lead is part of several workflows?
 How many times have you received several emails in a row because you've taken certain actions on a company's website?
The third problem: should I update my workflows each time I publish a new piece of content?
In the end, the real question is: where do you want to invest your time as a B2B marketer?
3. What is a marketer's worth?
There are things that we do better than machines do, and other things that we don't.
Predicting the behaviour of a consumer is better left to a machine (or luck).
Creating poor-quality content: you can leave that to the machines too. To create content with high value-added, only humans are capabale of this (for the time being at least).
Our multiple discussions with B2B marketers show us one thing: the best know which battles to pick. 
The "growth hacking" trend worships "hacks", but sometimes that can be even more time consuming that real old-fashio,ed marketing.
The value of the marketer consists in determining where they add the most value, and acting as the conductor of an orchestra in order to combine the best tools to create a real "marketing machine", meaning tools and methods that can be scaled as the business grows.
This is what we did at Plezi, for example, with our "smart campaigns": engagement workflows that don't use the trio: trigger, rule, content.
Pieces of content are distributed according to each stage of the purchasing cycle. They receive "tags" allowing segmentation based on interests or targeting and are directly integrated into these campaigns. The lead will experience "marketing pressure" in accordance with where they are at in the purchasing cycle, and the "most suitable" content for that moment will be sent to them. 
No workflow, no time wasted.
Imagine, for example, each time you create new or important content: you would have to update all workflows and come up with numerous rules to be able to automate its distribution to the most suitable prospects. With smart campaigns, it is done in three clicks.
Of course, to do this you need to let the algorithm work, but the gain is huge:
• the content sent is the most relevant
• the marketing pressure is appropriate and will not "kill" the business relationship
• you forget workflow updates as soon as you produce a new piece of content
Finally, you have more time to create content, a lighter mental workload, and therefore a much greater ROI. So, B2B marketers, stop trying to predict the unpredictable!

Workflows can be relevant to very specific objectives such as accelerating the purchasing cycle. They are perfect for proposing the next action for key uses but should under no circumstances constitute an overall strategy. In the end, as soon as a workflow has more than two stages, there's a strong chance that you're being impertinent…
P.S. for those that prefer manual gearboxes to automatic ones, we also have workflows at Plezi. 😉