You've implemented an inbound marketing strategy and your website is generating leads. But when your sales team contacts them, they find that most aren't yet ready to buy. Sound familiar? How then can you turn those leads into customers? You need to support leads through the buyer's journey and move them towards purchase in a process called lead nurturing. Fortunately, there are a range of different tactics you can start using straight away to do just this.

In this post, we'll look at:
8 lead nurturing tactics to turn leads into customers
What is lead nurturing?
Lead nurturing is the process of demonstrating to leads how they can benefit by choosing your product or service ahead of the competition. By answering their questions and helping them to solve problems at each stage of the marketing funnel, you can educate leads and gain their trust. This greatly increases the chances that leads will choose you when they're ready to make a purchase. Companies that nurture leads as part of an inbound marketing strategy make 50% more sales at 33% less cost compared to those that don't nurture leads.
Let's say that you've produced a webinar which has enabled you to collect the contact details of those who registered. Many of these might be new leads. But if your sales team contacts these leads immediately after the webinar, they'll find that most of them won't be ready to purchase your product or service. Many might also be put off by what they see as a pushy approach.
A much better idea is to send them a series of personalized emails after the webinar with links to blog articles or inviting to them to download other content like white papers on the same topic. This lets your leads learn more about a topic they are interested in. It also lets you build a valuable relationship with them.
8 lead nurturing tactics to turn leads into customers
Marketing automation software makes it easy to implement a range of different tactics that will let you nurture leads and turn them into customers. Here are eight highly effective lead nurturing tactics you can start implementing now.
1. Segment your audience by interest
Each of the leads you generate will have different interests, needs, and probably be at a different stage in the buying cycle. If you are going to send each of them the right content at the right time, you need to have some way of segmenting your contact database. By personalizing the content that you send leads, you provide them with more value and increase their chances of moving towards purchase.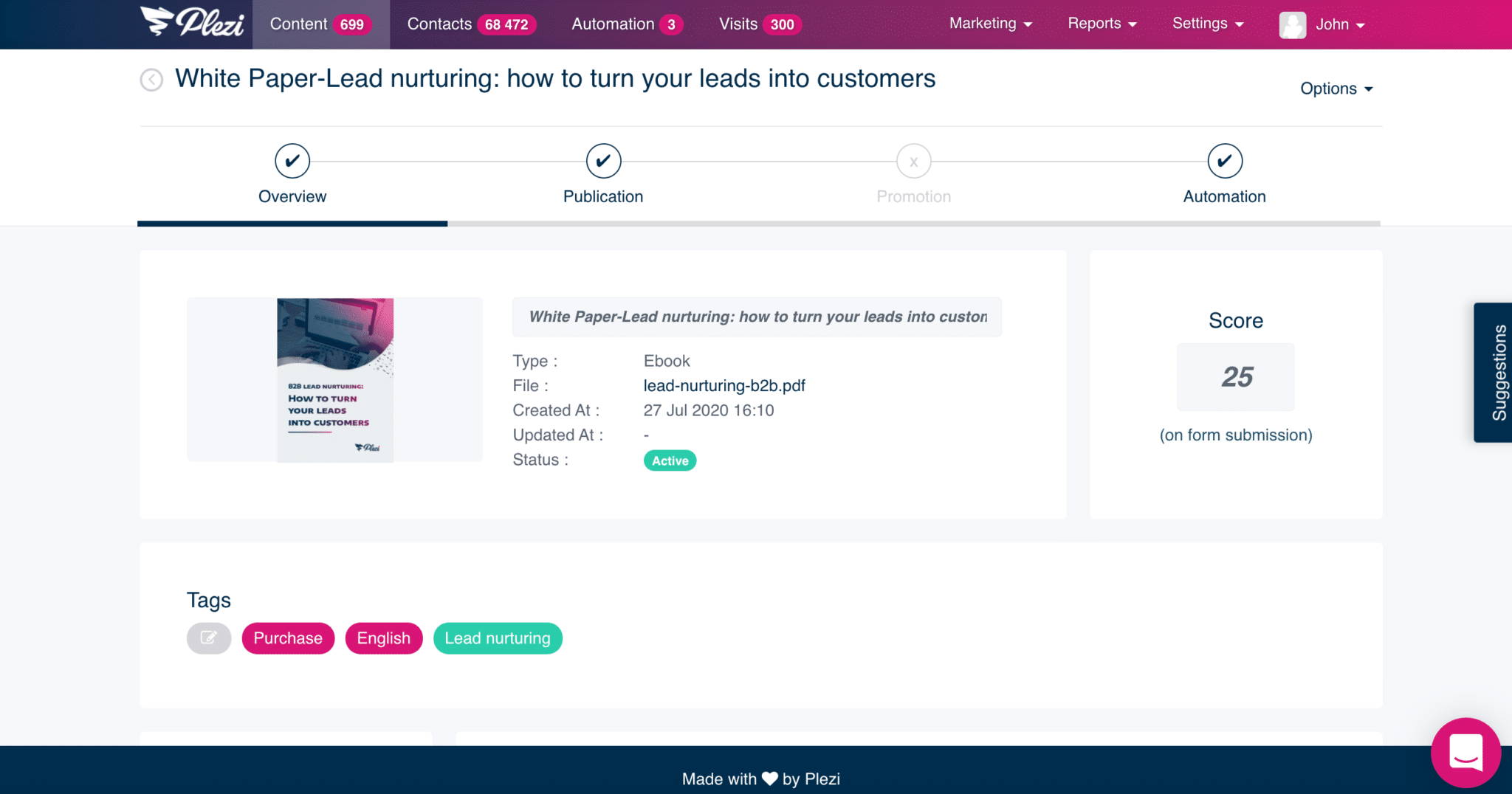 An example of tags linked to different content on our site
Plezi uses tags to classify your website content very precisely. These tags can include things like topic, stage in the marketing funnel, and target buyer persona. They let you target different segments in your contact database based on content they have already viewed. This makes it impossible to send content to the wrong lead, or to send them the same piece of content twice.
2. Have a system for scoring leads
Lead scoring is a technique that is used to determine what stage of the buying cycle leads are in and ultimately when they should be passed to the sales team. By scoring leads you ensure that you only send leads content that is likely to be of interest to them. It also makes sure that your sales team only contacts those leads who have moved through the marketing funnel and are ready to buy.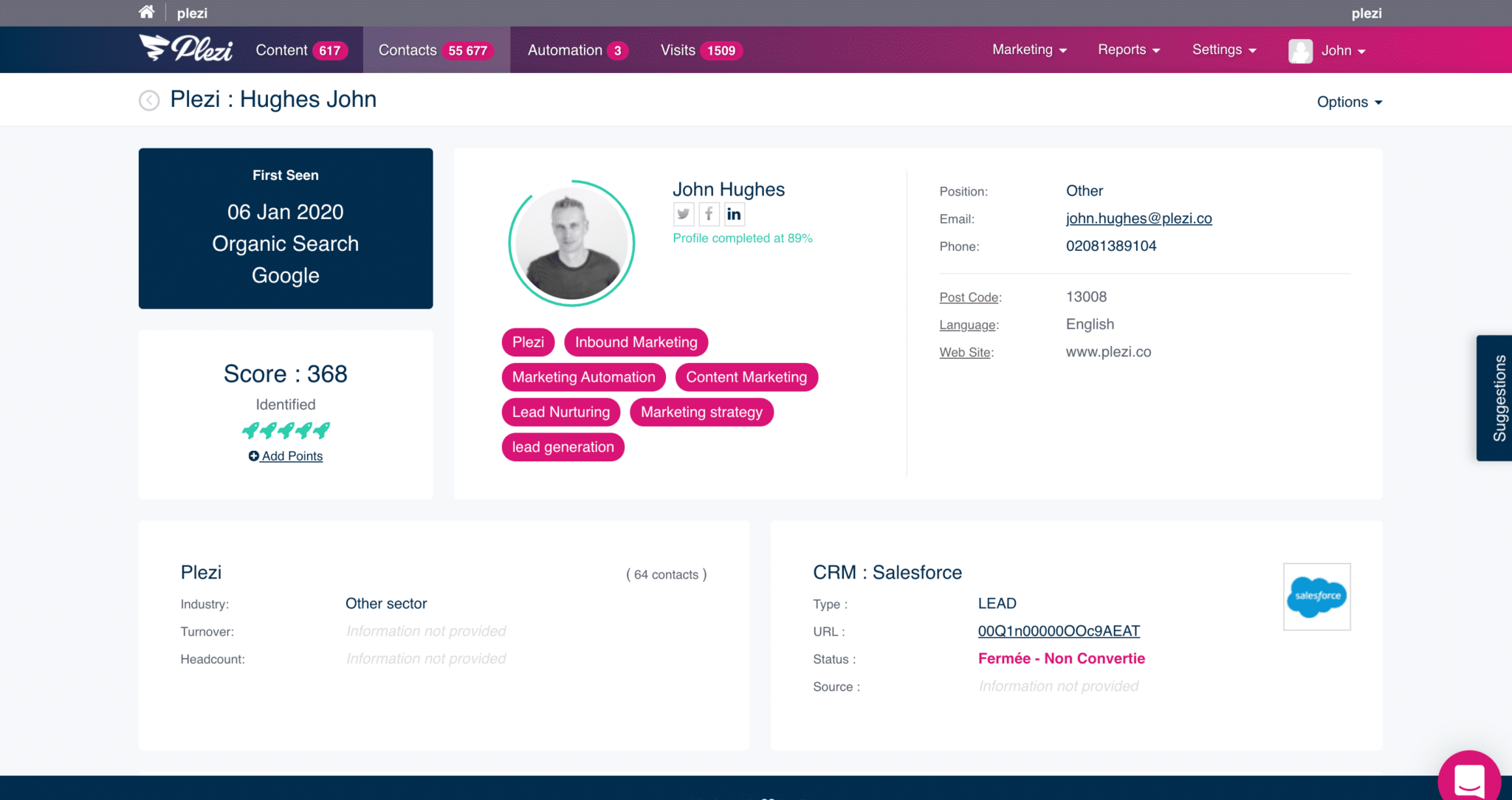 Marketing automation tools like Plezi let you assign each price of content a numerical value or score which is then automatically attributed to any lead who views it. This gives you a real-time view of where each of your leads are in the funnel and lets you know when they are ready to be passed to sales.
3. Leverage targeted content
Once you have a good idea of a lead's specific interests and position in the buying cycle, you can better target the content that you send them. Above all, you need to make sure that your content addresses their pain points, which will be different at different stages of the funnel. Doing so will streamline the buying process for leads and enable you to optimize your conversion rates.
Start by mapping your existing content to the different stages of the marketing funnel. This will let you see if you have any gaps, and possibly suggest ideas for new content. Different types of content typically work better at different stages of the funnel. Creating an editorial calendar will let you better manage the content creation process and ensure that you address the specific pain points of leads at each stage of the funnel.-
4. Use workflows to send personalized emails
A workflow is a set of automated marketing actions triggered by an event. Typically, this is when a lead does something like viewing a webinar or creating an account on your website. Used in a targeted way and with a specific objective in mind, workflows can be a very effective way to nurture leads.
Workflows are even more effective if they are used soon after a lead has taken some action on your website. For example, at Plezi, we use a workflow comprised of two or three emails to welcome leads when they sign up. The first introduces our company and outlines what leads can expect from us. The next provides links to the various resources on our website. And the third email presents our product in more detail. We often say with workflows, the more simple the goal, the better.
5. Send newsletters
Another great way to nurture leads and keep them up to date with what's happening in your business is to send them an email newsletter. As well as news items, these can also include things like the latest webinar replays and blog articles on your website. Newsletters are also good at re-engaging leads who might be stalled in the buying cycle.
At Plezi, we use our software to automate our email newsletter. Our software automatically searches for the latest content on our website according to certain criteria and integrates this into our newsletter template. This saves us valuable time and lets us concentrate on writing an introduction that will make leads want to click through and view content.
6. Implement a smart campaign
Many companies that use marketing automation software mainly use workflows to nurture their leads. But these can be tricky to get right and quickly get unwieldy if they aren't used with a specific objective in mind. At Plezi, we mainly use the key feature of our software to nurture leads, the smart campaign.
Based on the content that leads have viewed, a smart campaign can determine their position in the buyer's journey, their interests, and intention. This lets you personalize the emails and content that you send them to a very high degree. It also frees up time for your marketing team, who no longer have to create and manage workflows manually.
7. Nurture leads on multiple channels
Email is certainly a very effective channel to nurture leads. But in today's B2B environment it shouldn't be the only one you use. You need to effectively be present where your leads are. In addition to email marketing, this might typically involve things like sharing content on social media or using a paid retargeting advertising campaign.
Although a channel like social media is typically used to generate new leads, it can also be a good place to nurture existing leads as well. By sharing content on social media, you increase the reach of your content. It also gives you an opportunity to multiply touchpoints with leads by interacting with them and answering their questions.
8. Align your sales and marketing teams
If you want your lead nurturing strategy to be truly effective, your sales and marketing teams have to be well aligned. By identifying the exact point at which a lead becomes a marketing qualified lead (MQL) and ready to be passed to the sales team, you ensure a smooth buying experience for leads and optimize your chances of turning them into customers.
It's a good idea to formalize the relationship between sales and marketing in a Service Level Agreement (SLA). This sets out the responsibilities and objectives of each team and ensures that they agree on definitions of key terms. At Plezi, we've also produced a smarketing kit to help you align your sales and marketing teams and create a good working relationship between the two departments.
B2B lead nurturing is vital for the ongoing success of your business. By freely providing leads with content that answers their questions and helps solve their problems, you can build a valuable relationship with them. These lead nurturing tactics will help you to do just that and give you the edge on your competitors when leads are ready to make a purchase.
Do you already use some lead nurturing tactics? How effective are they for your business? Why not tell us about them in the comments below?