Inbound marketing lets you increase traffic to your website and generate leads in exchange for online resources.
And for this to happen, you first need to get your leadership team on board with the idea. Luckily, even if they are largely unfamiliar with digital marketing, almost all bosses understand that salespeople need leads to do their job.
But it can often be difficult to convince them to actually start using a lead nurturing programme. In fact, there is widespread misunderstanding of the issues involved and how it can help the entire business.
You might find yourself being answered with something like: "Why? We already generate plenty of leads. Sales have enough on its plate with those."
As marketers, you might have to actively show your boss that lead nurturing enables you to:
generate high-quality leads, thus saving salespeople time;

create a comprehensive process for converting and assisting leads throughout the buying cycle;

consolidate contacts and content in one location, essential if you want to personalize your interactions with leads and generate engagement.
The aim of this article is to provide marketing managers who want to start using a lead nurturing programme with the information necessary to convince their superiors. Here, then, are several different approaches you can use to do just this. They can be used either by themselves or in combination with others, according to what's likely to work with the person you need to speak to in your business.

1) Point to statistics
If your boss is rather sceptical of, or just unfamiliar with digital marketing and inbound marketing, you'll need to do more than just present a simple outline to support your case.
In order to convince them of the benefits of lead nurturing, they will need to be reassured. So, you should support your case by citing different sources.
Lead nurturing works.
The proof?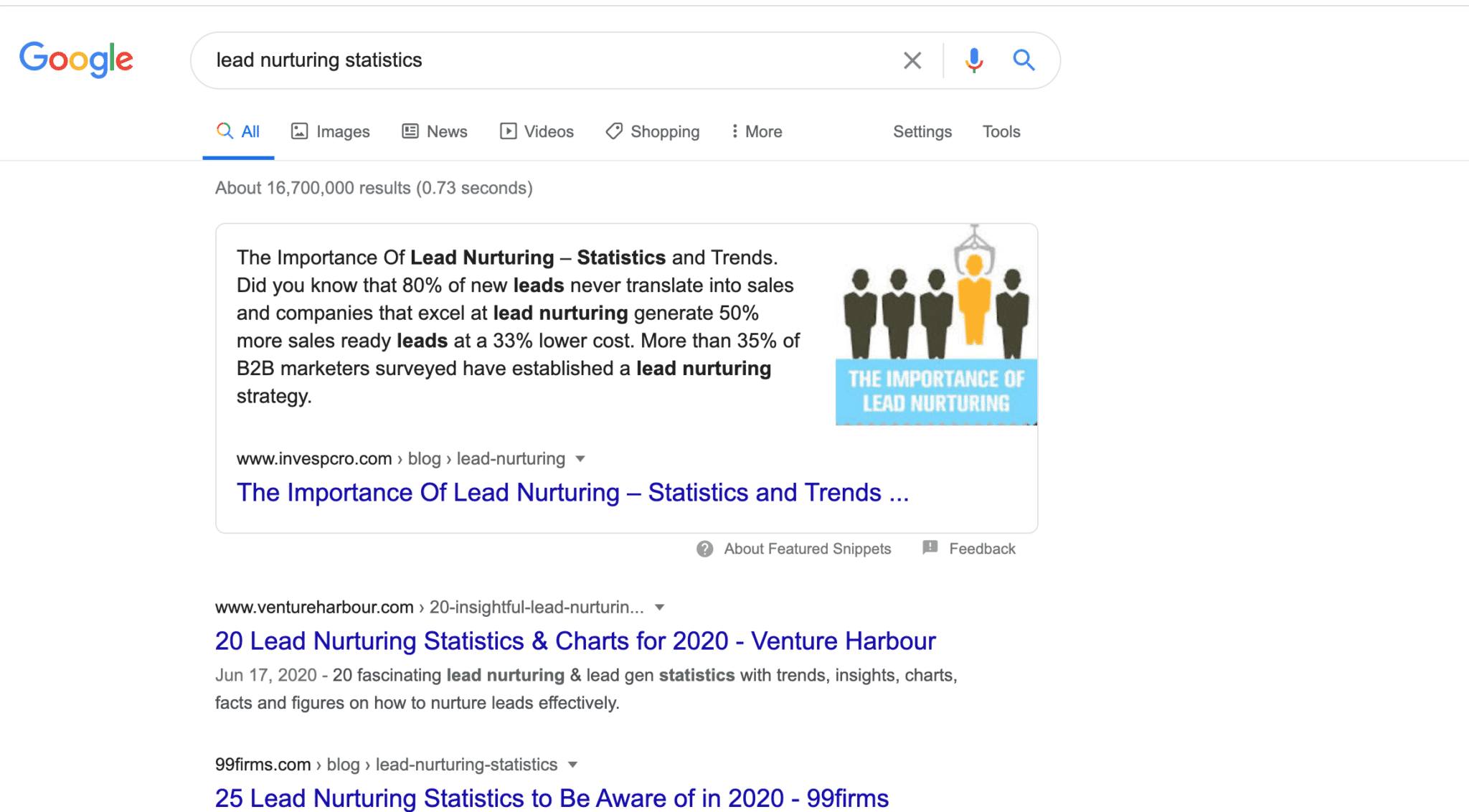 There are a number of studies that show the value and effectiveness of lead nurturing and that lead nurturing will reduce the sales cycle and bring more customers, and which have the figures to prove it. A simple internet search will turn up ample evidence of this:
For example, you could cite the following figures:
According to Hubspot, 74% of companies say that converting leads into customers is their number one priority.

Companies that excel at lead nurturing generate 50% more leads who are ready to buy at 33% less cost.

Companies that use an effective lead generation method and good lead management practices increase their sales performance by 9.3%
Some of the best sources of information include:
Developers of marketing automation software: e.g. Hubspot, Marketo, Plezi

Digital marketing agencies: Ascend2 regularly publishes the results of research on lead nurturing;

Market research companies, like Forrester Research.
2) Demonstrate the ROI of lead nurturing
Before investing in a lead nurturing programme, any pragmatic boss will want to have an accurate estimate of the ROI they can expect to see from it.
That's normal. Lead nurturing is linked with creating content and an investment in marketing automation software.
Every pound invested, therefore, needs to generate more revenue.
For a paid Google Ads campaign, this is easy: a lead costs 5 pounds.
Simple.
It's also easy to evaluate the ROI of landing pages or forms: the conversion rate increases, so we have more leads. And more leads, in principle, means more customers.
But calculating the ROI of lead nurturing can be a little more complex. Lead nurturing enables you to do 3 key things:
1/ Save salespeople time:
Each thing that a salesperson has to do X number of times and for each customer can be automated. For example, if each prospect always asks to see a case study before buying, this can be automated as part of a lead nurturing strategy.
2/ Shorten the sales cycle
:
Syncing a marketing automation tool with a CRM will enable you to measure the time it takes to convert each lead into a customer. Implementing a lead nurturing strategy will enable you to shorten the sales cycle by several weeks or even months.
3/ Convert more leads into customers
Lead nurturing makes it easier to speak to leads and potential customers, that salespeople haven't had the time to address. This makes perfect sense with discounted offerings, where "hunting for sales" is just no longer profitable.
The aim of an inbound or lead nurturing strategy is to automate exactly those actions that a salesperson would have carried out. Ultimately, this allows for additional sales to be made with a minimum acquisition cost.
To help you put an accurate figure on the ROI of a lead nurturing programme, we've developed a tool to calculate the ROI of an investment in lead nurturing that you can include in your presentation to your boss.
3) The time for lead nurturing is now!
If the person you're trying to convince is hesitant or undecided, they might generally agree with what you have to say about lead nurturing. But they might also find any number of reasons not to commit right away.
Typically, they are the king of "Yes, but…".
What are the most common objections at this stage?
"Yes, but we don't yet generate enough leads."
If you generate too many leads to handle them "manually", then you already need a process to classify them, nurture them, and pass on only those with the most potential to sales.
"Yes, but we don't have enough content."
Of course, you need content to implement a lead nurturing programme. But 4 or 5 articles and a piece of premium content can be enough to launch a basic campaign. There will always be time to grow the amount of content you have and to scale-up your nurturing programme. And it is possible to get started with just a small amount of content.
Not forgetting that all content you produce will help you to increase the value and worth of your brand, More than just a page on your website, more than simply emails, inbound marketing shows your target market that you understand who they are. That if you create quality content, you will be able to reap its rewards long term, increase your SEO – and start to get some leads. For some ideas on how to do this – take a look at this article. 
"Yes, but we don't have the in-house team necessary to get started."
Here again, you can start with the easy things and support employees to take on increased responsibilities.
Because what happens if you don't start now?
Your sales team may be swamped with unqualified leads. Salespeople will see their workload increase without more contracts being signed as a result. You won't have any data on your marketing campaigns – what is working and what's not. They'll complain about the poor quality of the leads they're given. And you will lose opportunities for sales in the funnel.


Meanwhile, your competitors who have implemented a lead nurturing programme will be reaping the rewards of doing so.
4) Lead nurturing is even more effective with the right marketing automation software
For those who are unfamiliar with lead nurturing and marketing automation, the difference between the two can be unclear.
Simply put, lead nurturing is a marketing tactic and marketing automation is a tool.
According to a US study, 70% of companies that use marketing automation report an increase in the number of qualified leads.
Currently, you may be doing social media, you may have a tool for emails, perhaps you are still doing a lot of outbound, or have no vision on how well you attract and convert leads on your site or blog. Email alone is not enough. Marketing automation will allow you to do everything – attract, convert, nurture.  It will give you an overall vision of your website, your campaigns and, crucially your leads.  Sure, the tool won't do everything by itself, but marketing automation enables you to nurture leads smarter: e.g. by using tracking, segmentation, smart campaigns, lead scoring, emailing, data, analytics and more.
As the world has been transformed digitally in the last year, it is not enough to have your site merely as a shop window, you need to be able to see the effectiveness of your marketing strategy, be able to analyse how well your web pages are doing, be able to speak about more than just your product, but to make your brand, expert, customer-centric.
Once you can engage with people online, you can nurture in order to identify quality leads in your target market to help increase the revenue for your company. 
What's more, you will be able to constantly improve your content, website and pages, as well as have a clear vision of how your inbound strategy is working. The key for any B2B marketer is to be able to target and speak to their key buyer persona. Automation allows you to focus on them, with scoring, lead nurturing and data to improve your all-over strategy.
It's also essential to choose software that is best suited to your sales and marketing needs.
To help you do this, you should first assess your current sales and marketing practices to identify what your needs actually are. Then, you can evaluate the different software available on the market.
5) Lead nurturing is the best way to align sales and marketing
If your boss is more familiar with sales and marketing processes, you should have less trouble convincing them of the benefits of lead nurturing. Particularly of this last point: lead nurturing helps break down barriers between marketing and sales.
This is the best way to convince those who almost despair at seeing "the old way of doing things" disappearing and marketing practices evolving. Now there are no more silos, and sales and marketing departments are well-aligned.
Why is it crucial for the two to be aligned?
Consumer behaviour has transformed the buyer's journey. Customers now demand a personalized, omnichannel customer experience that is also seamless. At any given moment, you need to be able to locate a lead in the customer acquisition funnel and know how ready they are to buy in order to trigger the next appropriate action.
Lead nurturing lets you build this sales machine. By carefully dividing the customer acquisition funnel into different stages you will be better able to predict future revenue.
Lead nurturing is the final step in inbound marketing and the vital link between marketing and sales. Without lead nurturing, it's almost impossible to properly manage leads and to effectively convert them into customers. But lead nurturing comes at a cost. To convince your boss, you'll need to be able to clearly explain the issues involved and what is at stake. You'll also need to highlight lead nurturing's ROI and adapt your pitch to the company's specific business context.