Search engine traffic accounts for about half of the traffic on the internet. So, it's essential that your website uses the right keywords to rank well in searches made by prospects. It's difficult, however, to rely on using simple, generic keywords because there's too much competition for these online.
By targeting long tail keywords, your website can rank for keywords that have less competition and which are highly relevant for your prospects. The goal is to find niche keyword combinations and gradually optimize your content over time to improve your ranking. So how do you find just the right long tail keywords that will have an effect on your business?
Plezi have developed an (almost) fool-proof method to easily find the right long tail keywords for you.
In this post, we'll tell you how long-tail keywords work and how to use them to increase the visibility of your website. We'll also give you some examples of long tail keywords that we've used in our content and which have delivered results.


1. What is SEO "long tail"
1.1 A short history of the long tail
These days, we usually talk about the "long tail" in the context of Search Engine Optimization (SEO). But the term originally comes from the world of e-commerce. In 2004, Chris Anderson, editor-in-chief of the American magazine Wired, published an article in which he developed the idea of what he called the "long tail".
Anderson found that e-commerce websites generated most of their revenue by selling relatively small quantities of many different niche products. Most of their turnover comes from these sales and not from selling large quantities of a few popular products. SEO specialists quickly realized the potential of this idea and applied it to internet users' search engine queries.
1.2 What the long tail means for SEO
In SEO, the long tail refers to a group of searches that, by themselves, generate low amounts of traffic. But when added together, these searches can account for up to 80% of the overall traffic of a website.
The long tail can be contrasted with the short tail. The short tail refers to a small number of search queries that individually generate significant amounts of web traffic. Short tail queries involve generic keywords or "head terms" (e.g. a brand name, one- or two-word phrases directly related to the topic searched for). Long tail queries, on the other hand, consist of complex keyword phrases that use 3 or more words.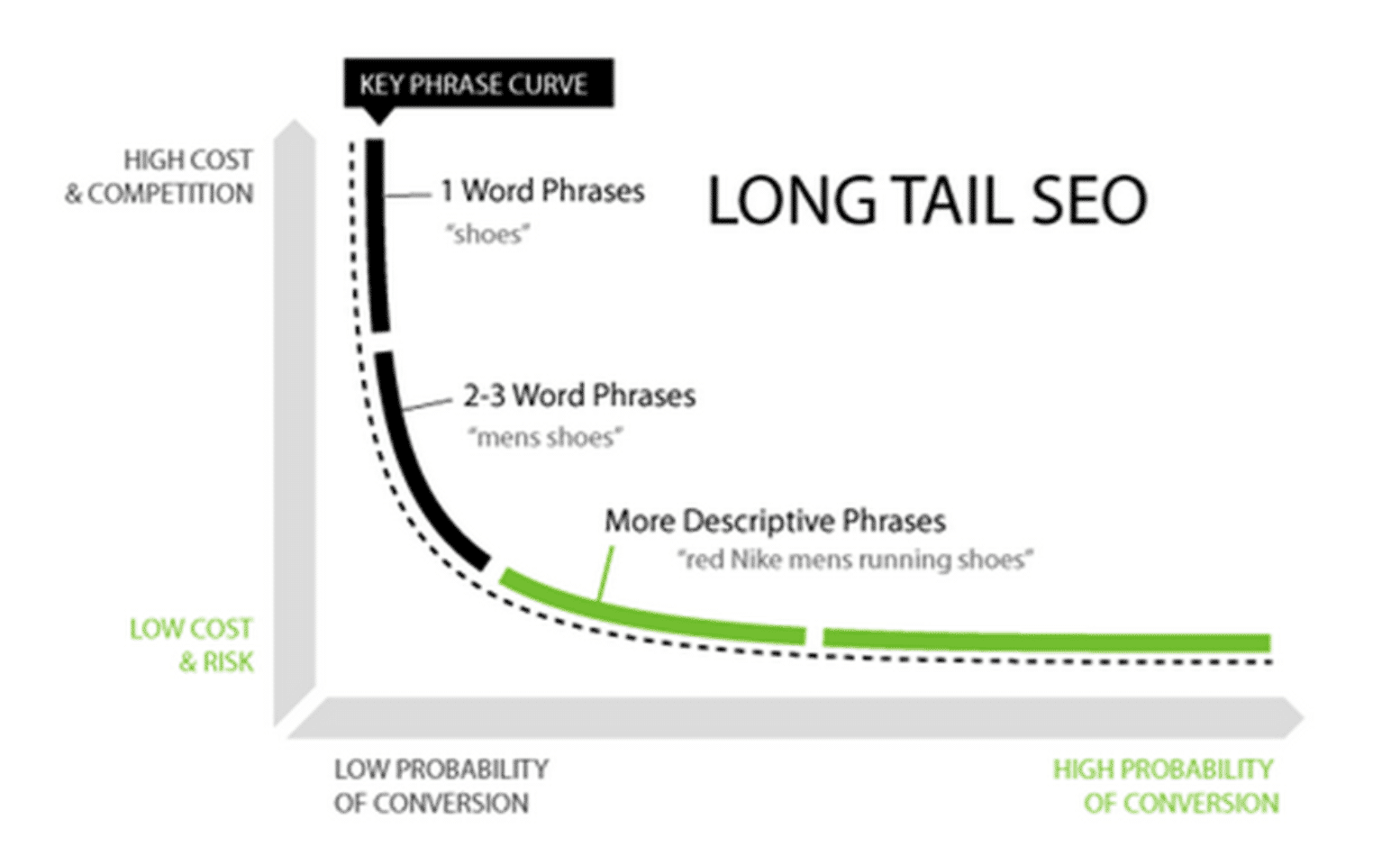 Let's look at an example. Let's say you're looking to hire a copywriter for your website. If you simply enter the short tail keyword "website copywriter", Google shows you 20,700,000 search results.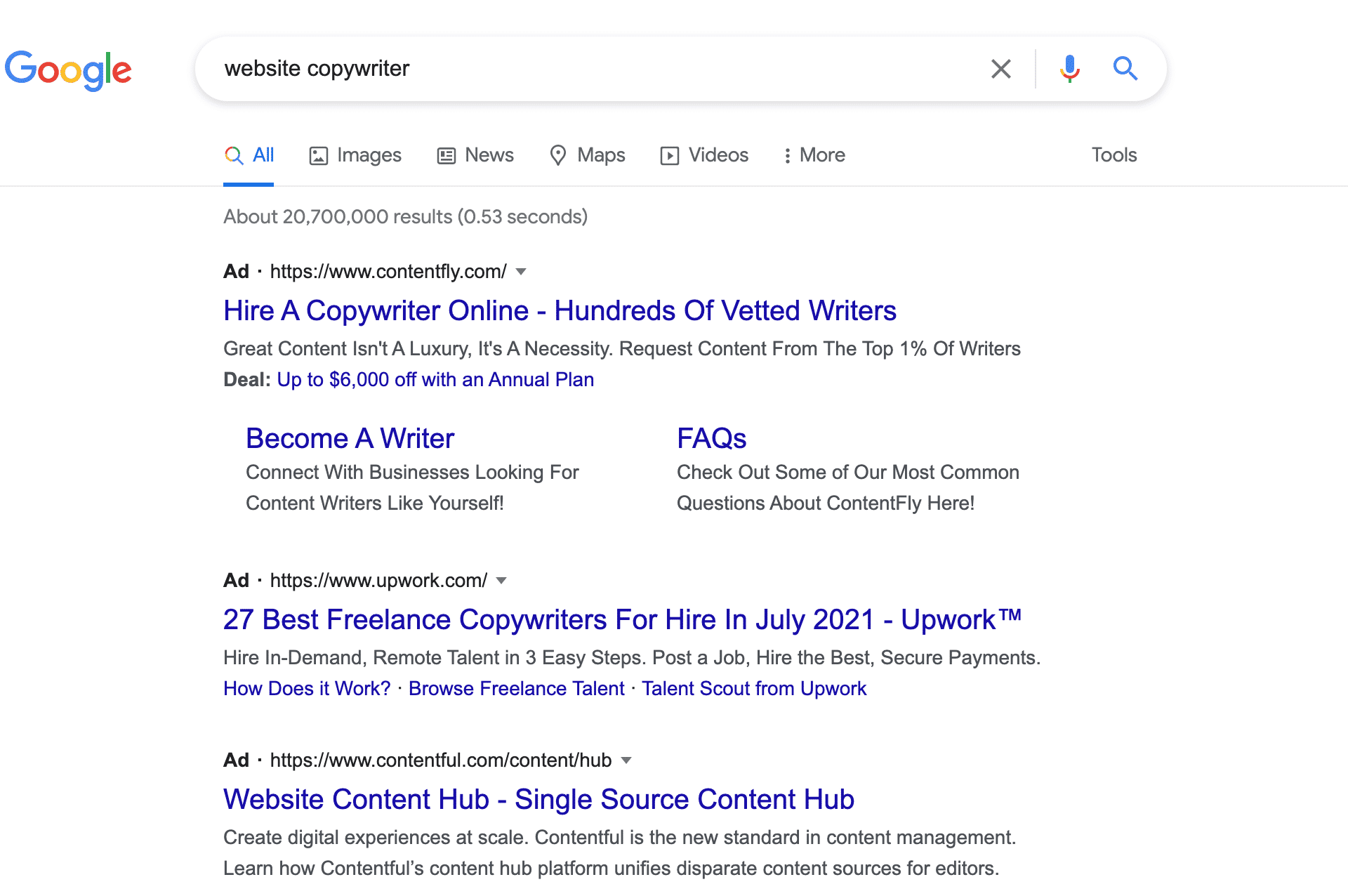 Entering this generic short tail keyword, you can see that the first results in Google aren't really what you're looking for. But if you refine your search by entering the long tail keyword "freelance website copywriter automotive sector", what happens?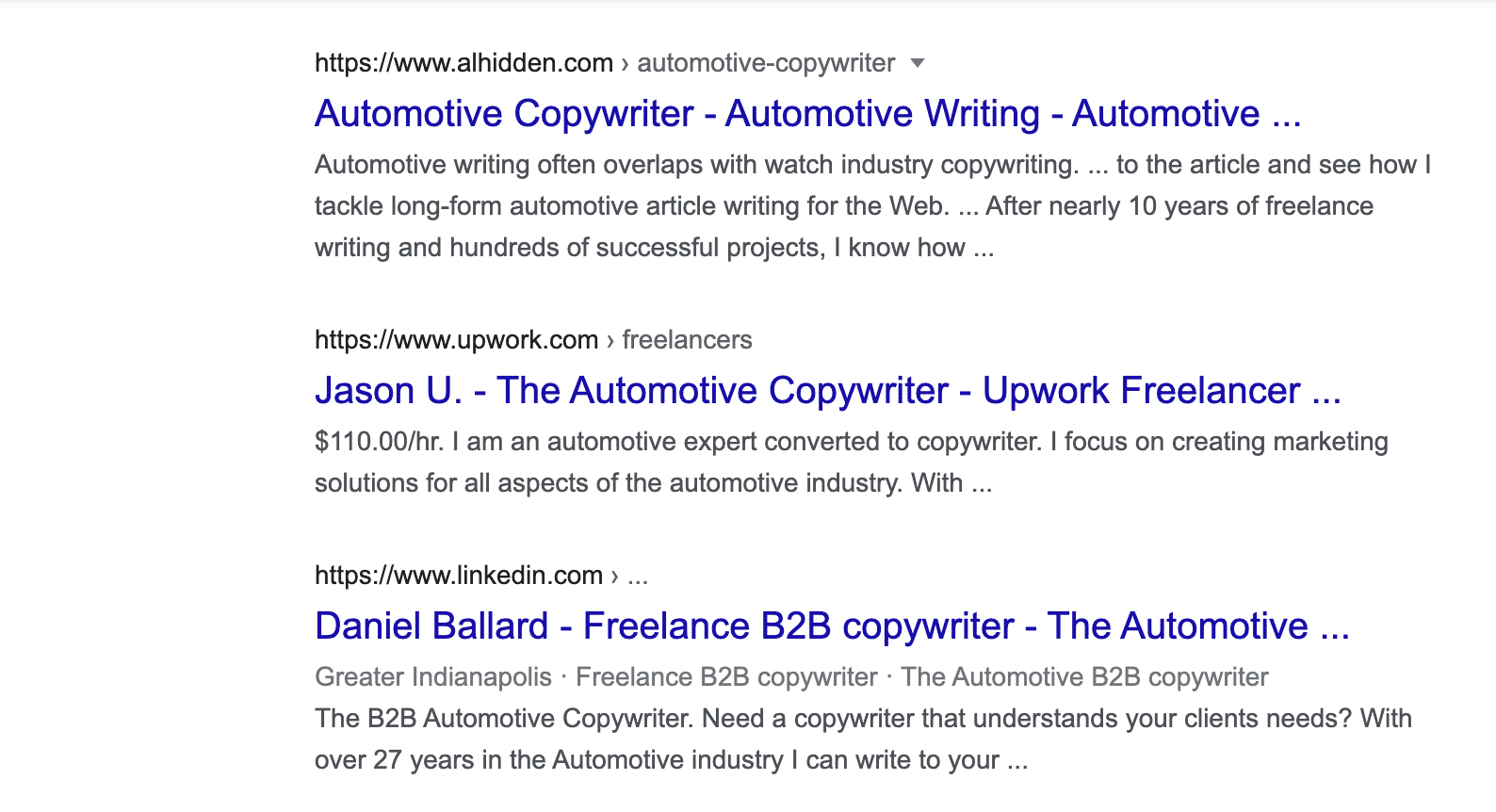 The first thing you can see is that this time Google only produces 1,340,000 results. There is much less competition for this long tail keyword. In addition, the search results are much more specific.
What does this example tell us?
There is an enormous amount of competition for generic short tail keywords. If you want to rank well in search results for these keywords, you need to dedicate a lot of time and resources (and money) to do so. You might end up generating a lot of traffic to your website, but it won't be very qualified traffic.
Now put yourself in the copywriter's shoes. It will be much more beneficial for them to target specific long tail keywords that match their areas of specialization, for example. There is less competition for these and the website traffic they generate will be much more likely to be part of their target audience.
1.3 Why you should use long tail keywords in content marketing
You might think that because short tail keywords generate more web traffic, it's a better idea to rank highly for these.
But in practice, there are a number of reasons why you should focus on using long tail keywords instead. Long tail keywords have less competition, they are more relevant to your prospects, and they are more cost-effective. A study by one of our favourite SEO tools, ahrefs, found that more than 29% of keywords with more than 10,000 searches per month are comprised of three or more words. 
In one of his blog posts, Neil Patel talks about Amazon's revenue sources and notes that 57% of their website sales come from long tail keywords. Also, longer keywords are better at converting website visitors into customers, even more so when these are sales related.
Better qualified traffic
A marketer's role is primarily to generate qualified leads for sales teams. By itself, the amount of traffic generated isn't very relevant as a KPI. But the amount of qualified traffic generated is.
If you want to optimize your conversion rates at each stage of the marketing funnel, you need to qualify leads and remove those that aren't part of your target audience.
By using long tail keywords, the website traffic you generate will automatically be better qualified from the start. Some visitors might already be ready to make a purchase. In any event, you can be sure they are looking for specific information. They will be more receptive to both your content and offering and your conversion rates will improve as a result.
Long tail keywords have less competition
Long tail keywords can also provide you with a better return on investment. Not only do they generate more qualified traffic, but they are also more cost-effective.
That's because there is much more competition for short tail keywords. You need to invest a large amount of time and money in SEO if you want to outrank websites that have been around for some time, and which have high domain authority for the keywords in question.
Long tail keywords, on the other hand, are used much less frequently. That makes sense. The more specific the keyword, the fewer competitors there are who will want to make use of it. So, by targeting long tail keywords, you can quickly improve your ranking in search engines results for these.
When you create a new website, or if you haven't put much effort into SEO so far, it's therefore a good idea to start by targeting long tail keywords. By ranking well for these keywords, you also improve the domain authority of your website. This will ultimately give you a much better chance of targeting generic short tail keywords with high search volume.
They will generate increasing amounts of traffic
According to Moz, 70% of Google searches involve long tail keywords. And this number is likely to increase. Why?
Internet users are increasingly aware that a generic search query will provide them with generic search results, many of which won't be what they're looking for. They're more likely, therefore, to search using a longer combination of specific keywords.
In addition, the development of voice search lets internet users express their search queries using natural language, as they would in a conversation. Again, as a result, search queries are longer and more specific.
So long tail keywords generate better qualified traffic than short tail keywords at a much lower cost. Now we'll look at how you can find long tail keywords that are relevant to your business and your target audience.
That is way you should definitely include long tail keywords as part of your SEO strategy.
2. How to find long tail keywords
2.1 Google search suggestions
When someone starts entering a search query in Google, the search engine automatically completes it with suggestions based on actual searches by other users.
After a long day at work, you might want to unwind, and enter the search query "exercise".
Google offers you some more specific suggestions related to your query. If you want to further refine the selection of long tail keywords, you can repeat the operation using one of Google's suggestions:

And if you market an online exercise coaching app, for example, you now have a good number of long tail keywords to use.
2.2 Google related searches
Google also provides you with more long tail keyword ideas in its related searches section. These indicate additional searches that are related to your initial search query. If we use the previous example, Google displays related searches for the query "exercise at home" at the bottom of the search results page.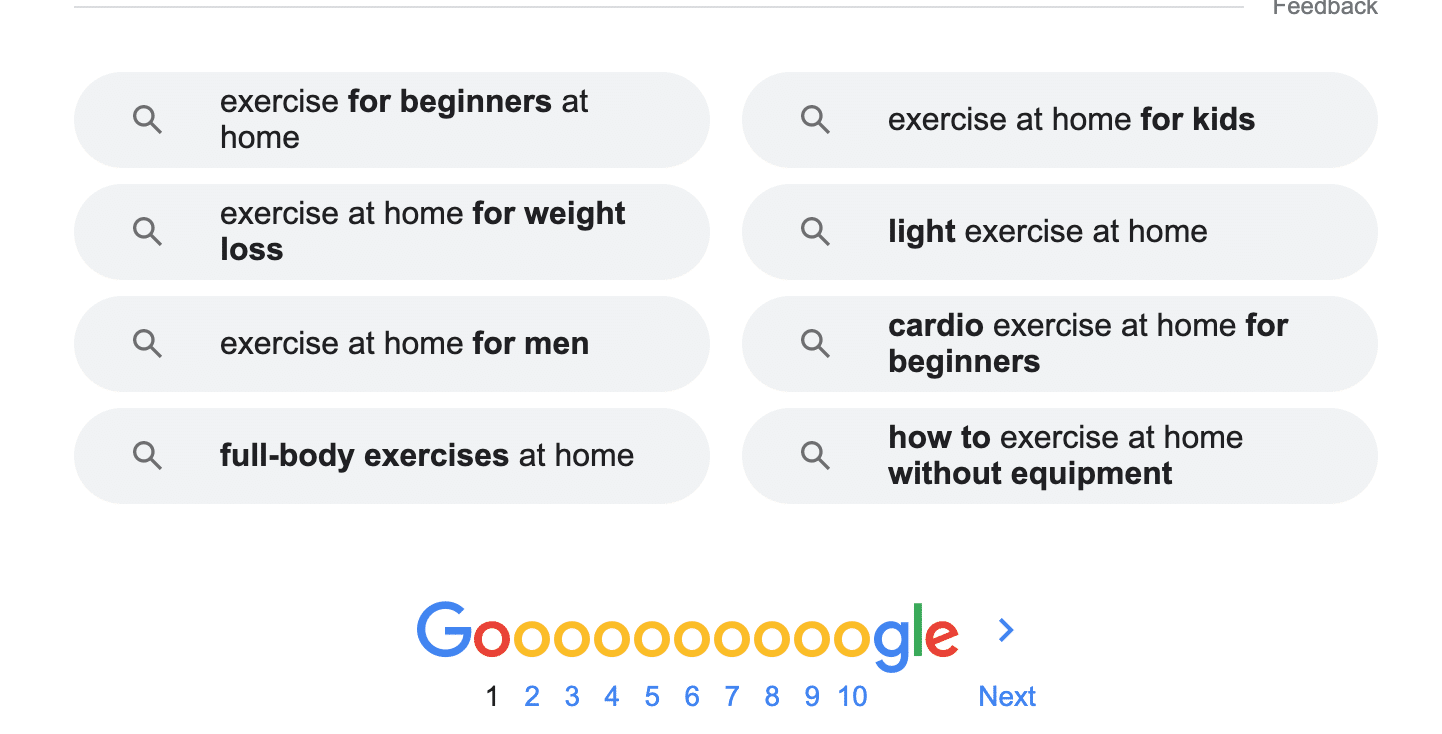 2.3 Google's "People also ask" feature
This box that appears on the search engine results page, lists questions asked by other internet users on the same topic as your search query. These questions can provide you with both valuable information about what users are searching for and ideas for long tail keywords.

2.3 Competitor analysis
When putting together a list of relevant long tail keywords, it can be useful to check out which ones your competitors are using. What keywords is their content ranking for? There are a number of different tools available which let you analyse the keyword strategy used by your competitors.
SEMrush
SEMrush is an all-in-one SEO platform. Among other features, it lets you identify the keywords that your competitors rank for.
To do this, go to the SEO dashboard, enter the URL of a competitor's website, and click on "Organic Research" in the left-hand column.
This will give you both a list of organic keywords used by your competitor and a list with new keywords that they have recently ranked for.
SEMrush also displays the websites of main competitors on which you can repeat this operation.
Keywords Everywhere
This tool provides a selection of long tail keywords for each of your Google search queries. It is available as a free browser add-on which is quite comprehensive.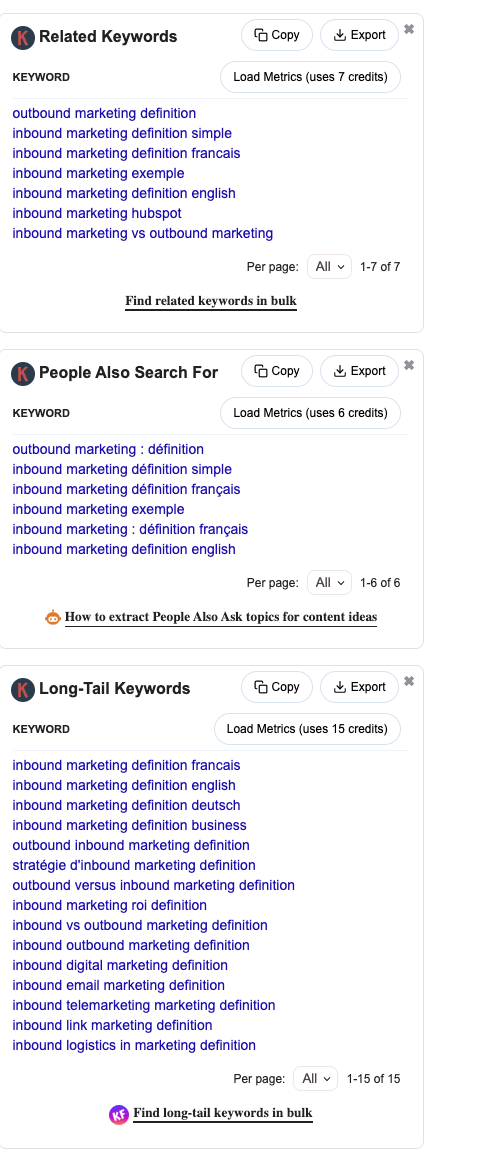 Question-and-answer websites
Quora is website on which internet users can ask all kinds of questions which others then answer. Some questions (especially those featured highest on the site) about your area of expertise can provide you with very useful long tail keywords.
2.4 Keyword research tools
There are several tools available which will help you to generate a list of relevant long tail keywords. These all work in a similar way. Simply enter a generic keyword to receive suggestions for related long tail keywords.
Google Keyword Planner
The keyword research tool associated with Google Ads enables you to filter your search in different ways. Doing so will let you add to your list of long tail keywords.
In addition, Google Keyword Planner also provides information on the search volume and level of competition for each keyword.
Ubersuggest
This free SEO tool that was purchased and improved by Neil Patel generates hundreds of long tail keyword suggestions for each search query.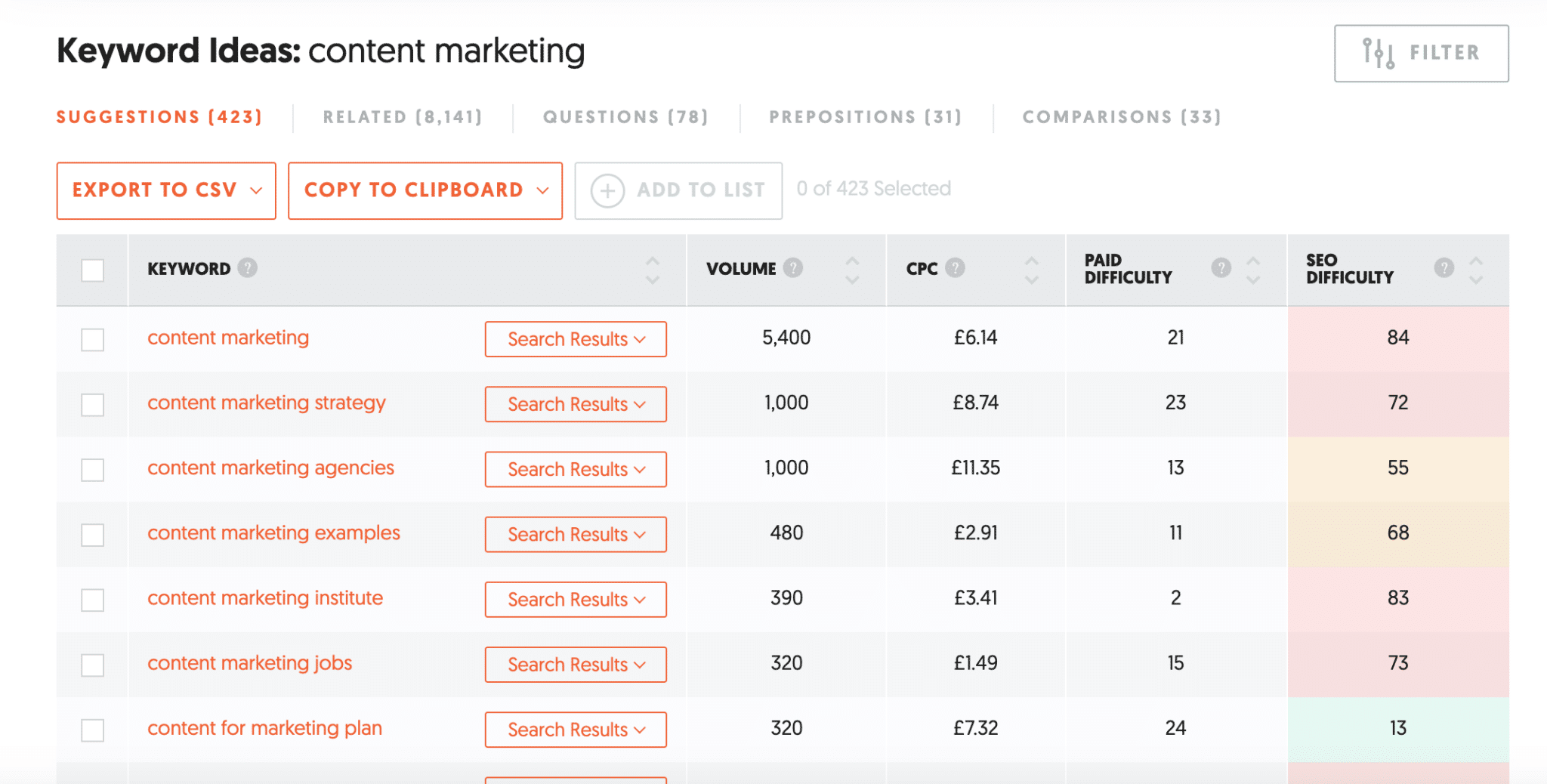 Answer the Public
Answer The Public is a quirky tool that provides keyword suggestions in several different formats, for example in the form of questions.
2.5 All-in-one SEO tools
The main all-in-one SEO platforms (e.g. SEMrush, Ahrefs, Moz) all have a feature that provides keyword suggestions.
2.6 Find long tail keywords using your own content
Google Search Console provides accurate information about the search terms that visitors have entered to access your content.
This means you can use Google Search Console to find ideas for long term keywords.
To do this, start by selecting those blog posts that rank well in search results. For each of these posts, Google Search Console will show you the actual search queries entered by internet users. You can then add these to your list of long tail keywords.
3. How to use long tail keywords
Once you have a list of long tail keywords, how can you use these as part of your content strategy?
The first step is to list the different keywords in order of importance. This list should be based on the following criteria:
Search volume: Along with keyword suggestions, SEO tools (e.g. SEMrush, Moz, Ubersuggest) will also indicate the search volume for each keyword. You should focus first on those keywords that have a higher search volume.
Level of competition

: most SEO tools will also indicate the level of competition for each keyword. You could try and rank for "medium tail" keywords (with typical search volumes of between 1000 and 5000 searches per month) if they have a relatively low level of competition.

Keyword relevance

: just because you might be able to rank for a particular keyword, that doesn't mean it's very relevant to your prospects. So, it's a good idea to verify the search intent behind a particular keyword by looking at the search engine results page (SERP).

SEO potential

: the goal here is to find keywords that have the greatest potential for improving your SEO. You can either try and rank for keywords that are underutilized or identify keywords that produce average search results. To reach the first page of search results for these keywords, you need to provide better quality, more comprehensive content than is currently available.
After listing your long tail keywords in order of priority, you can now incorporate them into your editorial calendar.
That's because you don't just research long tail keywords to please Google, but also to find ideas for content that is of interest to your target customers.
You should plan the creation of content around the keywords that you are targeting.
In theory, to do this you first need to have well-defined buyer personas and a good understanding of the SEO health of your website, in particular what keywords you currently rank for.
3.3 Use long tail keywords in written content
To write a blog post that is optimized for SEO, and especially for long tail keywords, it's a good idea to group together keywords related to the same topic.
Then, in the same post, you can make use of a number of these related keywords, for example: content marketing, web content, content creation, content strategy. By doing so, you help give search engines like Google a better idea of what the post is about.
In SEO, it's also important to use keywords that are semantically related, or which have a similar meaning. To reach your target audience, you have to understand the intent behind their search queries. To indicate to search engines that your content answers a specific query, you should include words with similar meanings in your post or create a content cluster that internally links different posts on your website.
Use long tail keywords to find good ideas for content
Out of ideas for your next blog post? Your list of keywords makes it easy to find ideas for content of interest to prospects. The questions that they frequently ask could be turned into a blog post, for example. The topic for our blog post, "What is the difference between a lead and a prospect?", directly answered a specific query that our prospects had.
This is a long tail query, and yet this is one of the most viewed posts on our website. Often, simply having content that meets a specific need from prospects (even on a niche topic) is the best thing to do.
Add long tail keywords to the text of your post
When we say add keywords, we don't mean at the expense of clear writing and which your prospects will find interesting to read. Google will punish you for what it sees as keyword stuffing. On the other hand, clearly written blog posts that answer specific problems and whose meaning and context reflect the title of the post are rewarded.
For example, our post on lead magnets ranks well for the keyword "lead magnet example". It also ranks well for several different long tail keywords.
However, these long tail keywords don't necessarily appear in our content, and if they do, that might be unintentional. We've used keywords in the text and headings of our post, but we haven't directly written "example of a lead magnet" anywhere. We've provided some examples of lead magnets throughout the post and Google has understood our intent.
Use keywords to structure posts
Some topics might have many possible long tail keywords associated with them, and you can use these to help structure your post. For example, the questions asked about a particular topic can give you a good idea of the different sections you should include. You should also remember to include relevant keywords in each different section or subsection, both in the text itself and in headings, to ensure that you've covered everything.
Work on your introduction
Search engines like Google place particular importance on the introductions to blog posts. One of the best ways to ensure that a post ranks well in search engines is to use long tail keywords in the introduction in a way that doesn't feel forced.
 One of our most visited posts has a short introduction that  works very well in this way. It uses a mixture of different long tail keywords and shorter words that have a similar meaning.
Optimize existing posts using long tail keywords
In Google Search Console you can identify those keywords that different posts rank for, but for which they could rank higher. You can then use these keywords in a new post, or recycle an existing post to include these, making use of all the best practices mentioned above.
By using of long tail keywords, you can generate better-qualified traffic to your website and improve your ranking in search engines for terms for which there is much less competition. Monitoring what keywords your content ranks for and the traffic KPIs of new content will enable you to improve your website SEO over the long term. This will let you continue to optimize existing content and generate ideas for new content. You should remember that on-page SEO in written content is only one aspect of improving your ranking in search engines. Both the technical SEO of your website and your link building strategy are also very important.
By using long tail keywords in your content, you can generate better qualified traffic to your website and improve your ranking in search engines for these less competitive terms. Monitoring what keywords your content ranks for and the traffic KPIs of new content will enable you to improve your website SEO over the long term. This will let you both optimize existing content and continue to generate ideas for new content.