Email is still one of the best ways for marketers to communicate with leads and customers. It's an incredibly versatile medium which lets you define the specific tone of your communications and show your personality. And you can do so much more with B2B emails than simply use them to send direct marketing material.
At Plezi, we've tried a lot of email marketing strategies covering a wide range of situations. In this post, we'll give you what we think are the 10 best email formats you can use to engage your leads.

Here we'll cover:
A welcome email

An email newsletter

An email to promote content

An email to highlight a customer testimonial

An email inviting leads to a webinar or event

An email survey

An email with important company news

A personalized email encouraging leads to request a product demo

An email to promote a special offer

A seasonal email
The different types of B2B emails
There are several different types of email that you can send to contacts in digital marketing. Broadly speaking, these include:
emails to engage contacts

, sent to a list of subscribers (e.g., leads, customers) at a certain time and designed to elicit a certain action; 

transactional emails

, sent after a visitor, lead, or customer takes a certain action (e.g., subscribes to your newsletter, downloads premium content).
While transactional emails are obviously important for your company and its relationship with contacts, in this post we'll mainly look at emails to engage those contacts. That's because the email formats below are fundamental to driving engagement from leads and customers. 
1. A welcome email
Aim: to welcome new subscribers to your newsletter. This should present your company, your product or services, and what subscribers can expect from you in terms of communication. 
Using marketing automation software, this email format can easily be included in a workflow to welcome new subscribers, especially if you have a lot to say. However, to ensure you don't leave anything out or include too much information early on, you should think of it as a stand-alone email.
Best practices for this email include: 
Add links to your best performing content or content designed to engage new subscribers. This should encourage them to take the next step in the buyer's journey while moving them forward in the marketing funnel; 

Use this email to gather more information about recipients by suggesting content to download, a survey, or encouraging them to follow you on social media; 

Indicate how often you send emails so that recipients can look forward to the next one. For example, "Every month you'll receive our newsletter with an invitation to one of our webinars and links to two new pieces of premium content to download".
(Example: Plezi's welcome email)
2. An email newsletter
Aim: to establish regular contact with your subscribers, usually on a weekly or monthly basis. 
Unfortunately, you can't just click your fingers and have a B2B email newsletter that delivers immediate results. To get there, you'll first have to engage your audience and send them the right content.
 It's a good idea to: 
Make sure you vary the content presented in the newsletter. This can include blog posts, events, product or company news, premium content, promotional material (if used subtly), specific content of interest to your target audience, and surveys. 
Take care with the newsletter's layout and design. Clearly separate the different sections and ensure that it is visually appealing. 

Be careful not to include too much! Subscribers should be able to read your email newsletter in 10 minutes at the most. 
Automating your newsletter can be a great way to produce a high-quality newsletter quickly. If you're already a Plezi user, you can automate the selection of content presented in your newsletter, enabling a high degree of personalization. Plezi selects content based on your criteria and preferences. By using our system of tags, it will select your most recent posts and most popular posts for your different buyer personas. 
Our newsletter, called the Newsbetter, includes a variety of different content: company news, surveys, blog posts, links to quirky tools, and premium content. (And if you haven't yet signed up, it's not too late!).
(Example: an excerpt from our last Newsbetter)
3. An email to promote content
Aim: to encourage subscribers to read a new blog post, download a white paper or kit, or watch a video or webinar replay. 
This email format is used in a lot of B2B email marketing campaigns. But it should also be used sparingly. For example, to promote a very in-depth blog post or a great piece of premium content. If you want to avoid giving your subscribers email fatigue, you certainly shouldn't be sending this email every time you create new content.
You should:
Keep it short and provide a teaser for content you want them to download; 

Take care writing

the email subject line

Highlight the problem this content addresses, the benefits for subscribers of reading this content, or the "top 3 reasons why you should read this content"; 

Highlight other reasons to read this content. Include social proof (e.g., "This kit is already used by 300 professionals in your sector"), highlight contributions or testimonials from industry experts, or include a free offer on premium content for a limited time.
In the example below, we clearly indicate the problem addressed by our guide and highlight three things that contacts can learn from this content.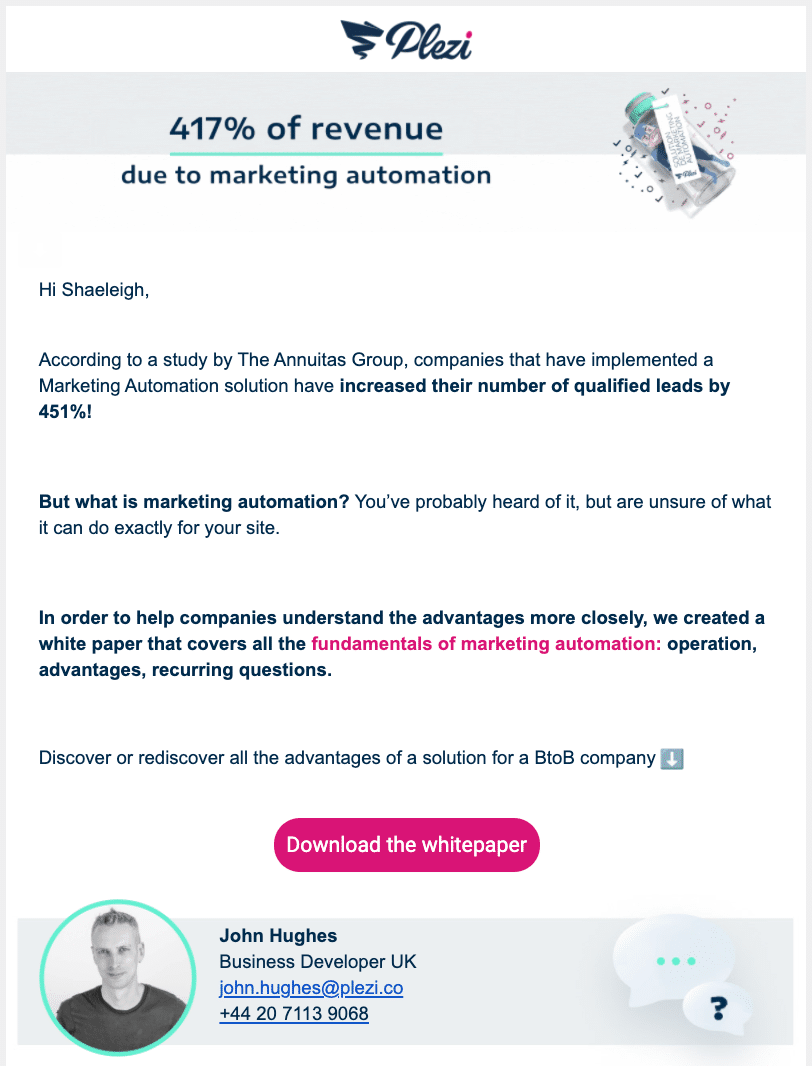 (Example: email to promote our guide "Why use marketing automation software")
4. An email to highlight a customer testomonial
Aim: to have subscribers read a case study that includes a testimonial from one of your customers (and therefore create interest in your products or services).
This email lets you give those leads who are well advanced in your marketing funnel a little nudge in the right direction.  These leads might be more convinced to try your product or services after reading a case study involving one of their industry peers.
You should:
Include a powerful or glowing quote from the customer in question;

Include specific figures, including results achieved by the customer; 

Include a photo of the customer involved the case study to create a connection; 

Outline the information contained in the case study. This isn't just sales content. It represents a customer's practical experience of using your product or services and their feedback that subscribers can read; 

Indicate the problem encountered by the customer which your product or services have addressed to help recipients identify with this. 
Below is one of our emails to promote a case study. This includes a quote in the banner and clearly highlights both the problem addressed as well as the results achieved by our customer.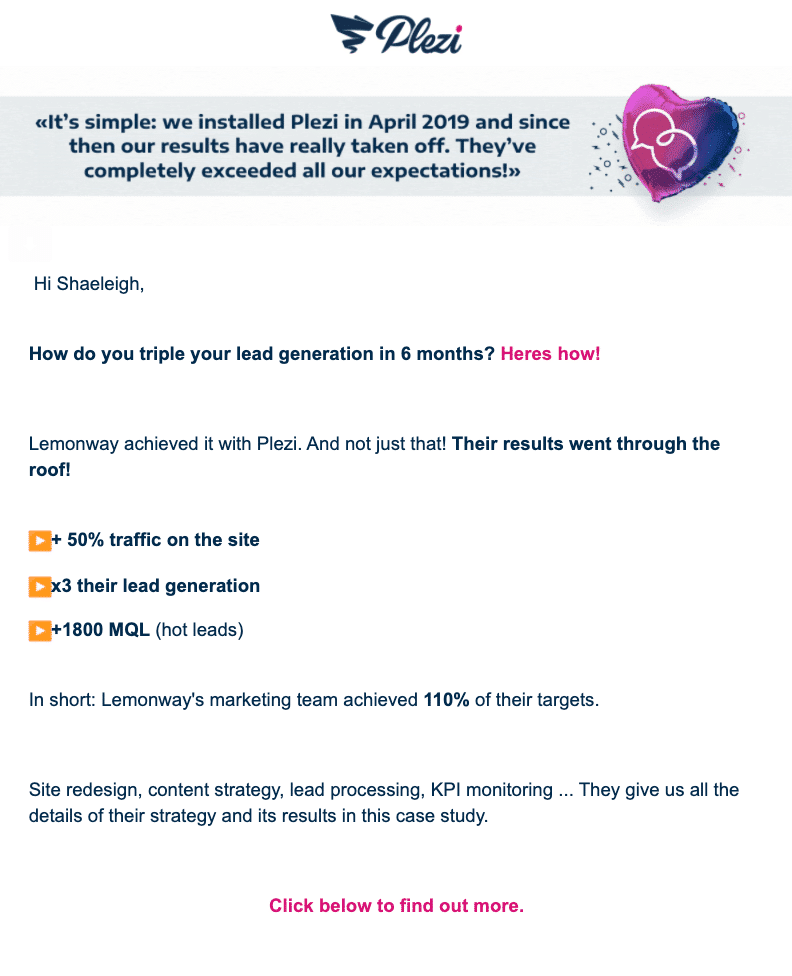 (Example: email to promote our case study with Lemonway)
5. An email inviting people to an event or a webinar
Aim: to encourage recipients to sign up for your next event or webinar. 
Email can be a great way to invite contacts to events or webinars, provided you work on your mailing list. We've already written a blog post with a whole lot of tips on how to promote a B2B webinar, but here are some best practices for the email that you send: 
Include several different calls to action (CTA) that send recipients to the registration page. These can say things like "Register now", or "Sign up". The idea is to test different messages according to the email you send and compare click rates to find out which CTA works best; 

Keep it short. The text of the email should only highlight the most important details of your event. If the webinar addresses a topic that is useful to or which will engage your target audience, the title alone should be enough to drive sign-ups! 

Outline the event programme to encourage contacts to attend; 

Use a series of several emails to test different formats:

One that presents the problem and the potential benefits

One that introduces the speakers and highlights the ways the audience can interact with them (e.g., Q&A session, surveys)

One that presents an exclusive offer (e.g., all participants will be first to receive a guide). 
In the email below, we used a prominently displayed CTA, a clickable banner, outlined what will be covered in the webinar, and encouraged participants to view the webinar live.
(Example: email sent to invite contacts to our Webinar on SEO and Content Marketing)
6. An email survey
Aim: to learn more about your subscribers. 
Communication isn't just a one-way street. A good way to start a conversation with your subscribers and leads is to try and learn more about them. The more you know about them, the easier it will be to send them high quality content that delivers value. It's a win-win situation.
Some good practices:
Indicate how subscribers stand to benefit by completing the survey (e.g., exclusive content, be first to receive a case study, a small gift, entry into a contest to win a prize); 

Indicate how long it should take to complete the survey. If this is too long, it can discourage recipients from responding, so it's a good idea to keep your surveys quite short; 

Clearly present the aim the survey; 

Include a clear, engaging CTA 
7. An email with important company news
Aim: to share important news about your company with subscribers. For example, acquisitions, fundraising, new products, or receiving an award. 
According to a study by Chadwick Martin Bailey, 26% of people who sign up to a B2B mailing list do so because they want to learn more about a company. That doesn't mean that you should only be sharing corporate news. But it is proof that subscribers appreciate you sharing a bit of news about your company, especially when it's well presented, and this helps make your relationship with leads more human. 
It's a good idea to:
Provide some background context for any announcement you make; 

Specify how this event will impact your leads and/or customers, depending on who the email is being sent to; 

Either send just a simple email or redirect subscribers to a page on your website with more information about the announcement if you feel this is appropriate. 
8. A personalised mail encouraging leads to get a product demo
Aim: to shorten the buying cycle of leads by suggesting a meeting or a demonstration of your products or services. 
It's a good idea to:
Be careful about who you target. It's better to send this email to 10 hand-picked leads than to send it to 50 whose buyer's journey you still lack information for; 

Make sure the email is written in a very personalized way, as if it was sent by a specific person. In Plezi, for example, you can use the "Simple text" template in our editor to create a marketing campaign that feels very human. 

Personalize your email even further by using

dynamic fields

such as the first name of the person you are sending it to or the name of their company. To do this, you need to be sure that the information you have already collected about them is accurate and up to date; 

Keep it short and tempt leads by trying several different subject lines; 

Use a clear and precise call to action (CTA) that is well highlighted in the email. 
9. An email to promote a special offer
Aim: to shorten the buying cycle of leads by promoting a limited offer (e.g., a promotion, free additional features). 
As with the email that encourages leads to request a demonstration, your aim is to speed up the buyer's journey of leads in the conversion funnel. This also means ensuring you target the right audience and that your contacts have been well segmented. As a rule, your interactions with leads must become increasingly personalized as they move further in their buyer's journey 
Best practices for writing a B2B email to promote a special offer: 
Carefully target the contacts who will receive this email. By using Plezi's system of content tags, for example, you can target contacts in the purchase stage potentially interested in your special offer; 

Explain the reason for your special offer and how leads can take advantage of it;

Highlight the limited nature of the offer (e.g., in time, number of places);

Highlight the benefits of the product or services involved; 

Include several calls to action (CTA) in the email; 

Redirect recipients to

a landing page

created especially for this offer. 
For example, for our"Three months off" we wrote the email below. This worked very well because we targeted a specific segment of our target audience interested in online events. We included a catchy, personalized preheader, several CTAs as buttons and in the text, as well as an invitation to reply to the email for those who don't like clicking on buttons. We also highlighted the limited time that the offer was available for and quoted statistics and real-world examples. 
(By the way, this offer is no longer available 😉)
10. A seasonal mail
Aim: to use specific times of the year as a reason to communicate with contacts. 
Yes, even B2B email marketing can have seasonal content. And you can use certain times of the year to speak to some of the issues or challenges being faced by leads at these times. 
For example:
In July or August, suggest white papers to read while travelling to their holiday destination or highlight how your product or services can support them in off-peak periods;

In December, send an end-of-year email that reviews your company's highlights for the year or your most popular content

In January, wish recipients a Happy New Year and present your company's resolutions or describe how your products or services can help them keep theirs. 
The possibilities are almost endless! The most important thing is to address the issues and concerns of leads at times that are especially important for them.

B2B emails are highly versatile, can be very informative, and still haven't been exploited to their fullest. They are often the best way you can keep in touch with contacts and encourage leads to take specific actions. What B2B email formats do you like to use? Why not tell us about them in the comments below?