As marketers, you probably spend most of your time creating content. And that's normal. Creating high-quality content requires you to research a topic, prepare a brief, think about SEO, and then actually sit down and write it. But once your content is published, you might be tempted to spend less time promoting it. After all, you've done the hard work, right?
But if you want your content to generate both leads and traffic, then it's also vital that you promote it well. In recent years, we've tried promoting our content in a lot of different ways and we wanted to share some of the things we've learnt by doing so.
In this post, we'll tell you 10 ways you can promote your B2B content and how you can use these to generate traffic and qualified leads every day.

The best ways to increase the visibility of blog posts online
By doing some basic groundwork, promoting content online can greatly increase the reach of your posts and ensure that you haven't just wasted your time in creating it.
1. Leverage the power of social media
Social media can be a very effective channel to promote B2B content. It lets you both generate leads and raise brand awareness. The latter tends to have more indirect results for your business, but it can be of great benefit in the long term.
But each social network has its own codes. You don't use Twitter in the same way as Linkedin, and vice versa. And that can sometimes make social media tricky for marketers to navigate. It can also be hard to get started, and you can never really be sure what posts are going to be successful.
That's why we asked a pro for some advice. According to our brand manager, Lisa, you shouldn't overlook the huge benefits social media has to offer. Always provide some context for your posts and keep things as simple as possible.
She has five tips to help you get the most out of social media:
avoid paying for sponsored ads at first

: you can do a lot with free posts to start with;

focus on the social networks used by your prospects

. For B2B, this is mainly Linkedin and Twitter;

Don't be afraid to express an opinion to give feedback in a post. Also include a small list of the main points covered in the content you are promoting. Above all, be natural. Storytelling can work very well for B2B business accounts on social media. But be careful not to say too much. Posts that are too long won't make people want to read your content. And your post will have greater reach if you include an attention-grabbing visual, like a gif or video;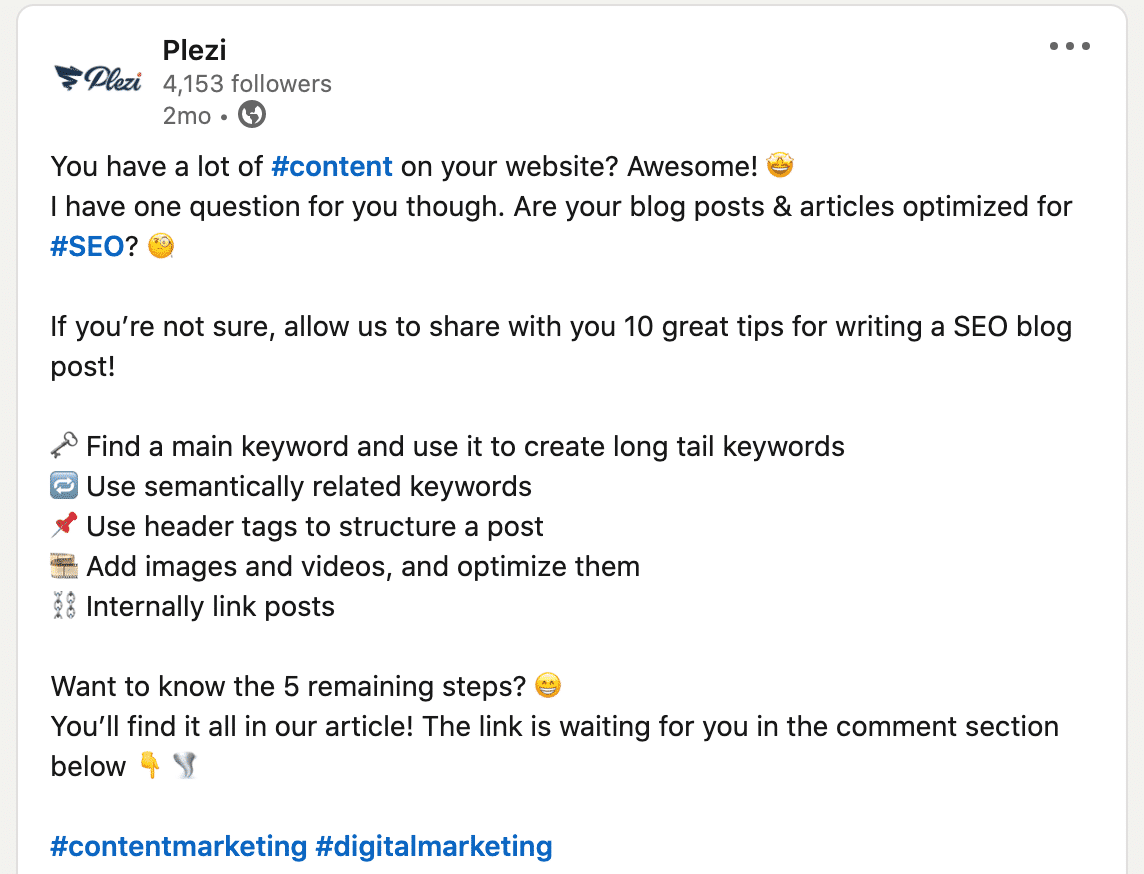 (Example of a LinkedIn post in list form promoting one of our blog posts)
start with a problem faced by your prospects

(their "pain point") and present your content as providing part of the solution;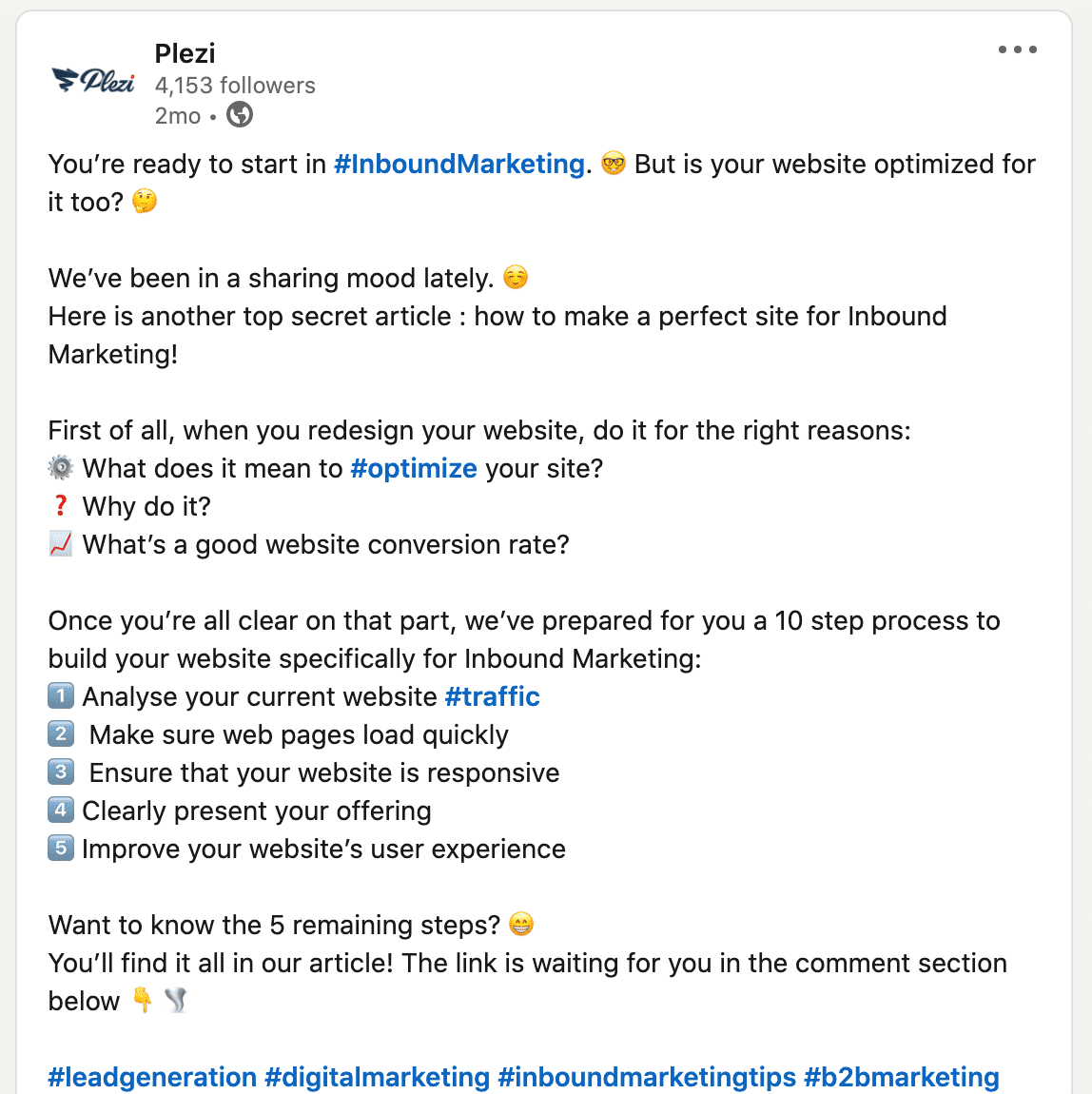 (Example of a LinkedIn post that highlights a pain point before presenting a solution to the problem)
spend several months promoting a specific piece of content by highlighting different aspects of the content in each post. But don't forget important times of the year. Some content naturally works better at certain periods. For example, content about how to write an annual marketing plan will work better at the end of the year and into early January.
At Plezi, we ask our colleagues to help promote our content using their own social media accounts. This can be done in Plezi with just a few clicks. Lisa also encourages us to create our own posts every week, and the results are impressive!
2. Build links between posts to offer prospects more information
Google will reward comprehensive posts that are linked to other posts on the same topic. Over time, this will improve your ranking in search engines for the topics you cover the most.
You can build two types of links to your blog posts:
Backlinks from posts on external websites
These should be on the same topic as that covered by your content. A number of online B2B publications or digital marketing blogs might create content that covers many of the same topics as you do.
If one of your posts could complement or add to the information contained in a post on their website, send them an email asking them for their opinion of your content and if they would like to include a link to your post. This strategy can work very well, provided that your post really adds something to theirs.
Internal links from your own posts
After making a note of the different posts you've written on a specific topic, you can easily create links between them at relevant places in the text. At Plezi, we often use Google to do this. This also gives us a better idea of which of our posts appear when we search for a particular topic. For example, to search for our posts about SEO, we type: "blog:Plezi [space] SEO".
These internal links between posts can take some time to put in place, but they can also be highly effective. As a result, visitors will spend longer on your website, and individual posts become a portal to more information.
Whatever type of links you use, it's a good idea to think about what you need to do to put these in place ahead of time. That way, when you're writing a post you can identify links that could be created to or from other content.
3. Use sponsored ads to target a specific audience
When you are ready to look at using sponsored ads on social media, these can generate highly qualified traffic to your blog. Their ability to target a specific audience can be a valuable tool for your business.
Whether you use Facebook, LinkedIn, Twitter, or even Pinterest and Reddit, each social network offers a specific way to target an audience that you need to learn how to use. You can also consider creating a Google My Business listing to boost SEO and show that your company is active. This is free and can increase your visibility if you're business has some face-to-face interaction with customers.
Whatever platform you use, you should:
clearly define "Clicks on the website"

(available on most of these channels) as the campaign objective, enabling you to generate as many clicks as possible at the minimum possible cost;

carefully define your target audience

using things like demographics or how close they are to purchase. For example, a post designed for the "Purchase" stage of the funnel should only be promoted to a very specific audience or used in a retargeting campaign. While an "Awareness" stage post can have a wider target audience;

create at least two versions of your ad

for each post. This will let you try out different taglines or visuals.
At first, you might be hesitant about paying for clicks to your website. But the better qualified the traffic is that comes to your website, the better your leads magnets are likely to work. This could mean visitors sign up for your newsletter or click on a call to action to download premium content, for example. By carefully designing your sponsored ad campaigns on social media, you greatly increase your chances of sending qualified traffic to your website.
4. Promote content in communities used by your prospects
Consider promoting your content in communities used by people involved in your core business. These could include online forums, Linkedin or Slack groups, and WhatsApp business groups. The key is to do this sparingly and sensibly. You can offer your content, for example:
to answer a question asked in the group;

to add more information to an existing answer or on a specific topic being discussed;

to follow up on remarks made by others.
5. Promote content during webinars
Promoting content during a webinar on the same topic, especially when you're sharing practical tips, can greatly increase the number of times content is viewed and enhance the experience of those watching the webinar.
At Plezi, we prepare a list of content to promote before the webinar takes place. Then, during the webinar, one of our colleagues posts the content talked about in the webinar chat at the appropriate time. Participants really appreciate the extra information if this is done intelligently.
6. Reach a larger audience with industry experts
Whatever your area of business, you can be sure that there are certain people who are widely regarded as industry experts. These people often have a large network that is already interested in content on topics you address. That makes them a group that could be interested in your content.
But you shouldn't bombard people you don't know personally with questions or requests to get access to this group. You need to build a relationship with these experts over time. You might start by asking for advice, offering help where you can, or inviting them to register for a webinar, for example. These industry experts will be much more likely to share your content if they know you and find your content of interest themselves. Of course, you should also be prepared to return the favour.
(An example of a post promoting Plezi One from Lukasz Zelezny)
7. Recycle content to increase its lifespan
Promotion is all about timing. And your content has a certain lifespan. If a particular topic continues to be relevant for your sector, but the content you've created on that topic is a little out of date, it's a good idea to give it a makeover. By updating certain information and republishing it, you can use it to generate more traffic to your website.
How to increase the visibility of content with existing contacts
Promotion is all about timing. And your content has a certain lifespan. If a particular topic continues to be relevant for your sector, but the content you've created on that topic is a little out of date, it's a good idea to give it a makeover. By updating certain information and republishing it, you can once more use it to generate traffic to your website.
For example, we update our blog post "How to generate leads in summer" every year and republish it just before summer. It's a good way to gain visibility on social media and create content without spending too much time doing so.
How to increase the visibility of content with existing contacts
Promoting content online lets you generate new traffic and leads. But you also need to promote it to prospects already in your contact database who can be nurtured towards purchase. At Plezi, we promote new content to existing prospects in three main ways.
1. An email newsletter, so prospects don't miss our latest posts
We always share all our recent posts in the newsletter we send to prospects every month. This helps subscribers improve their understanding of different topics and move closer to purchase. It also lets us promote new content to an audience that has already shown an interest in a specific topic.
2. Single email campaigns, to improve the reach of important new content
We create a specific email campaign for each piece of content that has required more time and effort than a blog post. Examples of this include white papers and other lead magnets. In the email written to accompany this content, we outline some of the areas covered, include a strong image, and do our best to make prospects want to read the content in question.
This email is also targeted to specific prospects. Using Plezi, it's easy to target a very specific audience. By using your contact list, you can create your own targeting criteria, which allow you to quickly see who should be included in this email campaign. These criteria can include things like interests, role, or a specific webinar viewed. By contacting an audience potentially interested in your content directly, you increase both the visibility of content and conversion rates. You also don't risk bothering prospects who are unlikely to be interested in this content.
3. Smart Campaigns, to nurture leads in a highly personalized way
The Smart Campaign is like a marketer's best friend. It lets you send the right content to the right prospect at the right time. By using it, no two emails that you send to prospects are the same. It's a highly effective tool that you can use to showcase content and accompany prospects in a highly personalized way.
We add all our premium content to it: white papers, webinars, practical kits, and our most comprehensive blog posts on specific topics that can help move prospects further in the buyer's journey.
If you've spent valuable time creating content, it's vital to promote it well if you want to generate leads and traffic to your website. Promoting content using the right channels will also provide you with a better return on the time and resources invested in the content creation process. To help you organize this process, from creating a brief to promoting content, we've produced a kit that you can download to put together an editorial calendar in no time at all: