Being able to correctly qualify all the leads you generate can be a complex process. How can you be sure that they are ready to be passed to your sales team? Are you missing any vital information about them? 
You can also collect plenty of information about leads and still have them fall out of the conversion funnel. How can you make sure that doesn't happen without having to sort through countless Excel files identifying information duplicated elsewhere, or which is out of date? 
In this post, we'll look at how digital marketing and marketing automation can make it easier for your teams to qualify leads. We'll also look at how we do this at Plezi, and how you can best use the information you have about leads. As a bonus, we've also included feedback from our sales development representatives (SDRs) on how marketing automation helps makes their jobs easier.
1. Use digital marketing to collect information about leads
In digital marketing, it's not enough to simply generate leads. You also have to be able to easily collect information about them. A digital marketing strategy lets you cover the entire buyer's journey of your prospects. Once implemented, it can run like a well-oiled machine that lets you qualify leads even when business conditions aren't ideal or with very little content. 
B2B buyers now spend a lot of time online doing research before deciding to purchase a particular product or service. The time that they use to increase their knowledge of a particular topic or to try and solve a problem for their business is crucial! 
By being where your potential customers are looking for information, you can raise brand awareness, support them with content, build trusting relationships with them, and as a result, gradually qualify them. 
There are two main tools that you can use do this: 
online forms, placed on your website to provide access to premium content

(e.g. white papers, webinars, newsletters)

in exchange for information about leads. At Plezi, our smart forms never ask leads for the same information twice;  
tracking scripts, which recognize visitors to your website and record their activity and interests (e.g. blog posts read, content downloaded). 
Digital marketing can therefore let you easily collect two types of information about leads: 
demographic data, entered by leads themselves on your website (e.g. professional email address, role, sector)
behavioural data, collected by cookies on your website based on their browsing history (e.g. their interests, their questions)

2. Record information in a detailed lead profile that can be easily sent to the sales team
At Plezi, we have two simple requirements when qualifying leads:
we want to qualify them as best as possible before passing them to the sales team to make their job easier; 
we don't want to spend any more time than necessary collecting this information and making it useable.
We designed our lead profile pages in Plezi with these two things in mind. These automatically collect all the information about our leads in one place and in a format that's also easy to use.
Plezi adds all the data collected from our website or our content about a specific lead to their own dedicated profile page. This includes:
all the information entered by leads in online forms;
all data based on their activity and behaviour on our website;
how long they have been in our contact database and the last time they visited our website; 
the channel they first came to our website from (e.g. social media, organic search)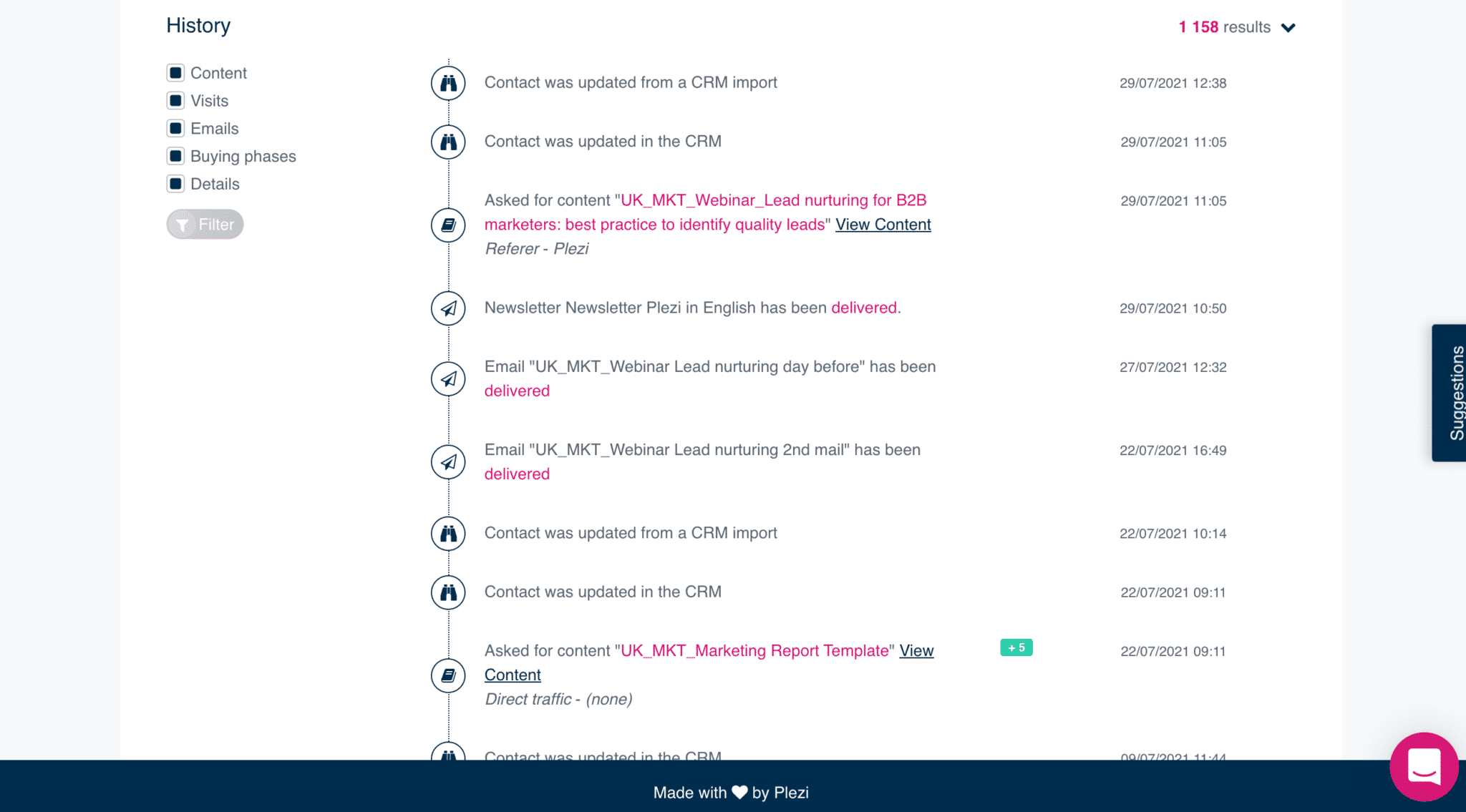 "We know before we call a prospect if they have a definite project in mind or if they are just looking for more information at this stage based on the content they've downloaded (i.e. behavioural data). "   SDR at Plezi. 
Our tip: By integrating Plezi with Salesforce, all the information contained in a lead's profile page in Plezi can be automatically sent to your CRM when they are ready to be passed to sales (and classed as an MQL because of their score), enabling the sales team to better manage them there.
3. How to best use this information
3.1 Knowing more about prospects helps marketing create content that better addresses their needs 
Content is the lifeblood of any digital marketing strategy. And if you want to create content that better addresses the issues and challenges prospects face, you need to know as much about them as possible. 
At Plezi, we use tags to classify all our content as accurately as we can. These tags might include things like topic, stage in the marketing funnel, and target buyer persona. When a lead views this content, this is added to their lead profile page with all the relevant tags. This gives us a good idea of what sort of content they are interested in.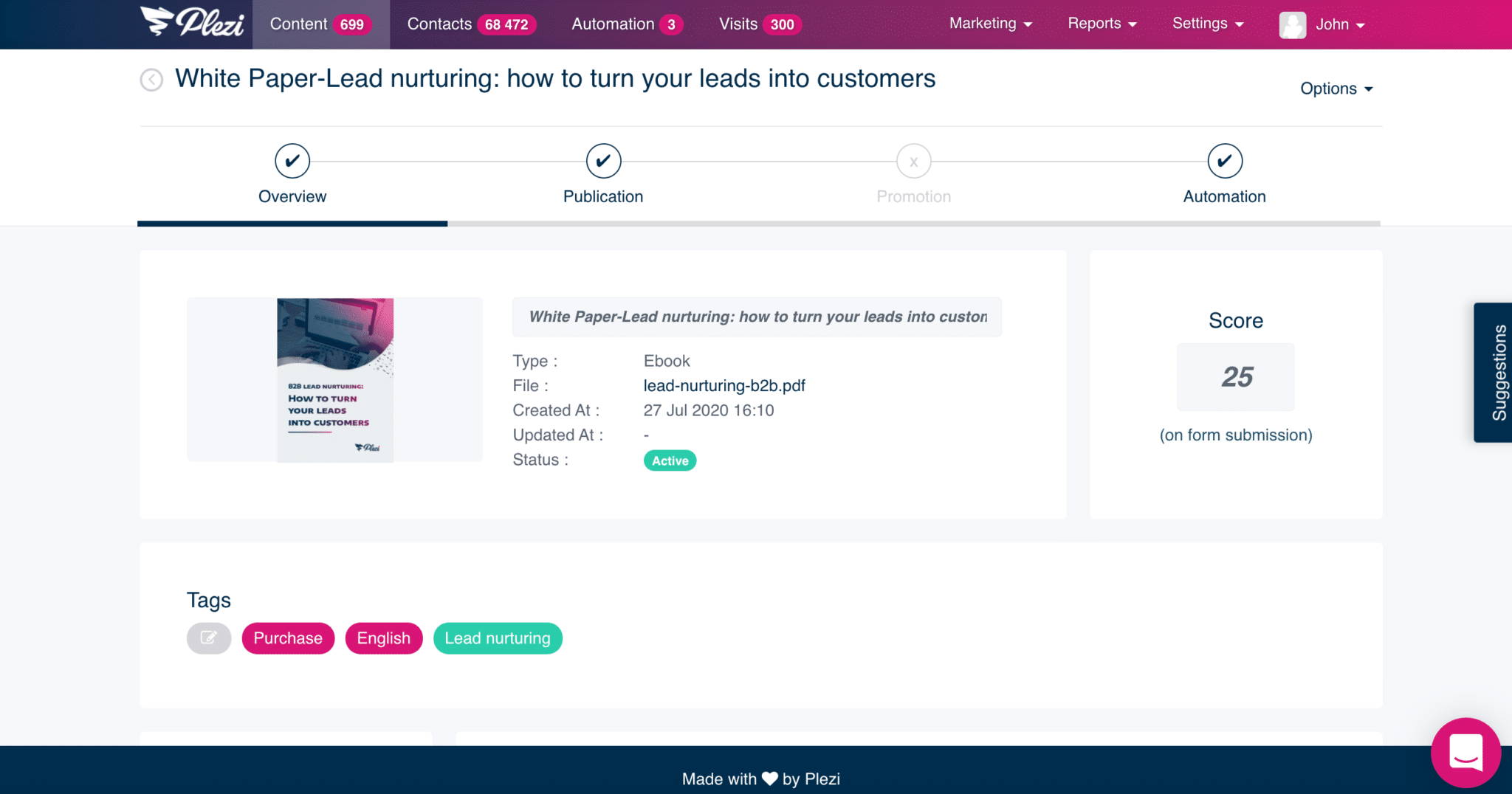 We also analyse what makes certain posts popular. Is the topic of particular interest to specific prospects? Or is it because it is targeted at the right stage of the funnel for a specific persona? 
Plezi can even give you advice about what posts to write. The software's smart campaign feature enables us to send content to each of our prospects in a highly personalized way. None of them are sent the same email and content. The smart campaign then tells us if we lack content to address one of our prospects' specific needs. 
3.2 Marketing is better aligned with sales, making their job easier 
Your sales team can also benefit from the advantages of using marketing automation. By providing them with more accurate information, they can be more effective and convert more prospects into customers. Plezi's lead profile page helps make their job easier in a number of different ways:
Streamlines the transition from marketing to sales: as soon as a lead reaches a certain score in Plezi (e.g. due to activity. or pieces of content viewed), they are classed as a marketing qualified lead (MQL) and automatically sent to your CRM to be qualified by sales development representatives (SDRs); 
Provides increased knowledge of leads

: salespeople can use the interests and browsing history of leads to know more about the person they call during the prospecting stage, for example. This helps them highlight the right features of your product or service.
"It's very useful to be able to see how a lead has interacted with us. This helps break the ice at the beginning of the conversation and make it more enjoyable. You can say to them, "I see that you've viewed this piece of content, what did you think? Does that provide you with the answers you needed?"  Alexandra, SDR at Plezi.
"Tags give us a general idea of what interests a prospect has and the sort of things they are doing to improve their marketing strategy. This means we already know what questions to ask each of our leads in order to get an appointment with them." SDR at Plezi. 
Improves time management

: information that would normally only be obtained through a lengthy process of qualification and prospecting is collected automatically and available in just one click. You also no longer have to create lead profiles manually or copy and paste information from different sources. Integrating Plezi with your CRM means that everything is completely automated in both tools. 
"In sales, our time is money. We save a huge amount of time when qualifying leads by not having to look for information on LinkedIn or another platform. This makes us more effective and our contact with leads more targeted to their needs" SDR at Plezi.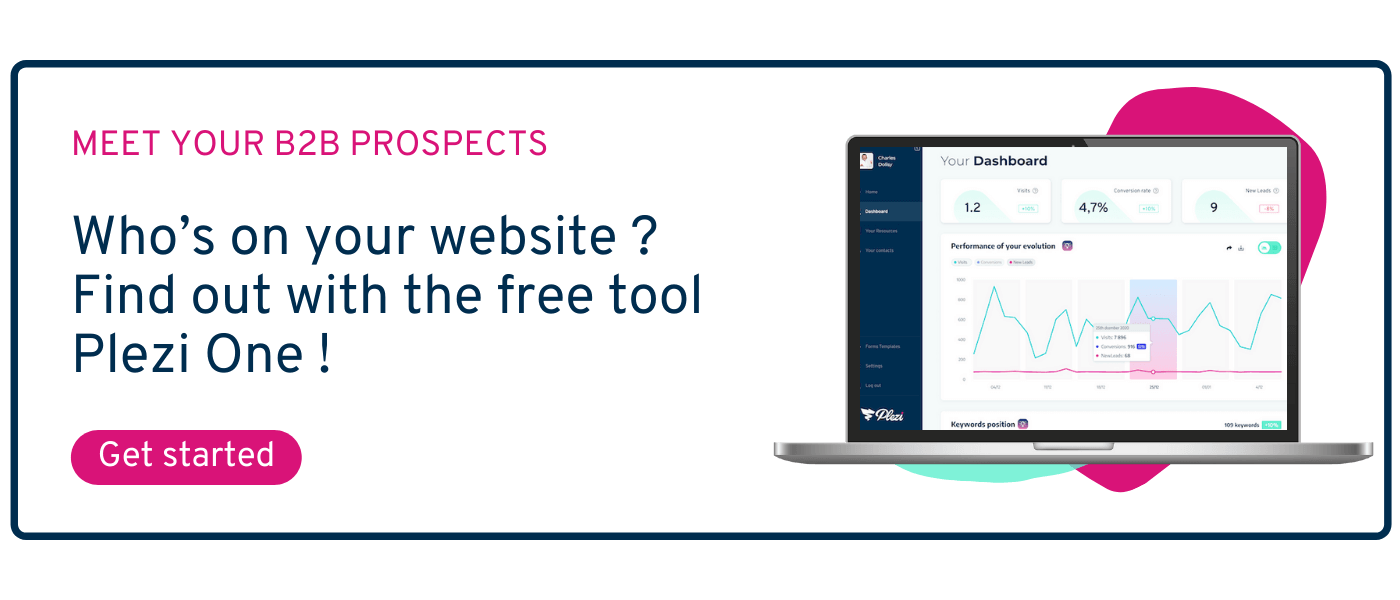 Digital marketing can enable you to gradually qualify leads in a way that makes sense to you. And both salespeople and marketers can benefit as a result.  Marketing automation makes it easy to collect and compile information about leads, from their first visit to your website right up until purchase and beyond. This lets you streamline the entire buyer's journey of your prospects and convert more of them into customers.